Photographed by James White

UHQ


HQ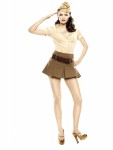 MQ

Scan
Interview
All Is Vanities... Nothing Is Fair.
Kristen Stewart
Age:
17.
Provenance:
North Hollywood, California.
Your first glimpsed her as...
Jodie Foster's doppelganger daughter in Panic Room (2002). "[Director] David Fincher does a lot of takes," Stewart says. "There was this one scene we must have done, like, 80 times. I didn't know that it wasn't the norm. Now I wouldn't be as chill with it..."
Because now she's a prolfic industry veteran, with four films due out this year.
Namelt, In the Land of Women, The Messengers, The Cake Eaters (the directional debut of Mary Stuart Masterson, with Stewart in the lead role), and Sean Penn's Into the Wild, based on the Jon Krakauer book.
But is this the life for her?
Not necessarily: "I want to go to college for literature. I want to be a writer. I mean, I love what I do, but it's not all I want to do - be a professional liar for the rest of my life."
Still, Kristen's no brooder:
"I love big-band music, and I'm taking swing classes now. I can't wait till I'm going to be able to be tassed up in the air."
Source:
#1
#2