| PART 1 |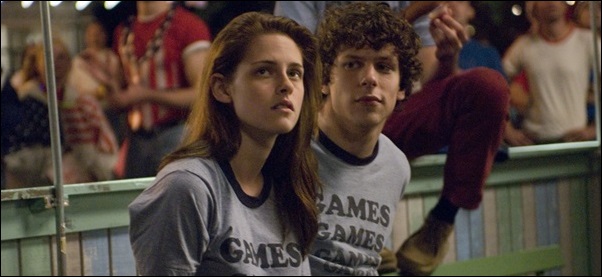 Here's the Master Post #2 for 'Adventureland' & #JesseStew! ♥
Please keep in mind that reviews can contain spoilers, lots of spoilers, and that negative reviews can be interesting to read.
If you have more reviews, feel free to email me. :)
REVIEWS
••
The NYC Movie Guru
: During the summer of 1987 in Pittsburgh, James Brennan (Jesse Eisenberg), a teenager desperate for cash, accepts a job at an amusement park called Adventureland. He befriends his coworkers, Connell (Ryan Reynolds), a technician, Lisa P. (Margarita Levieva), a sexy, flirtation girl, as well as Frigo (Matt Bush), his friend who had already been working there for a while. When he's not getting stoned or drinking booze with those coworkers, he's flirting with Em (Kristen Stewart), another coworker. There's much more to Em than meets the eye, though, and she's too insecure about her troubles to allow herself to embrace her true feelings for him. Bill Hader and Kristen Wiig provide some brief comic relief as the goofy, laidback married couple, Bobby and Paulette, who own the theme park. Little does he know that Connell is actually cheating on his wife by having a sexual affair with Em, though. The closer that James gets to her emotionally, the more she backs away in fear and the more James doesn't know how to read the mixed signals.
Of all of the actors and actresses in the film, Kristen Stewart radiates the most charisma and gives a moving performance that shows that she can handle a complex role quite well.
Jesse Eiseberg adds some charm and sweetness just like he did in The Squid and the Whale. All of the characters, especially Em and James, have a lot of growing up and maturing to do, especially when it comes to understanding the harsh truths about love and relationships. Writer/director Greg Mottola, who also directed Superbad, keeps the juvenile, sex-related humor at a low level and, instead, combines drama and romance with moments of genuine tenderness. There's surprisingly very little mean-spiritedness to be found here and none of the characters become annoying or over-the-top. Most importantly, Em and James have some authentic chemistry together and you actually want them to be boyfriend and girlfriend, despite all of their flaws and insecurities. Ultimately, Adventureland manages to be a sweet, funny and mature drama. It has more tenderness and much less crassness than what its lousy, deceptive trailer leads you to believe.
Kristen Steward shines in a raw and tender performance bursting with charisma.
••
Combustible Celluloid
, Jeffrey M. Anderson: Rating 3,5/4
Just like last year's Nick and Norah's Infinite Playlist, here's another movie that somehow understands young people in America, rather than pandering to them. Part of who they are is the music they listen to, and Adventureland immediately establishes them as soulful, intense, thoughtful and a bit sad with a track from The Replacements ("Bastards of Young"), followed quickly by the Velvet Underground and Hüsker Dü.
The film takes place in the summer of 1987 in Pittsburgh, PA. James (Jesse Eisenberg) is looking forward to a trip to Europe and grad school in New York in the fall. But his father gets a demotion and suddenly all bets are off; James must stay behind and get a job at the local theme park, Adventureland. (On the plus side, his pal leaves him with a bag full of joints to help pass the time.)
There, he meets a ragtag collection of sorry souls, most of whom are in the same spot as James. He falls in love with Em (Kristen Stewart), but finds a workplace soap opera unfolding. Em occasionally sleeps with the married Connell (Ryan Reynolds), who claims to have once jammed with Lou Reed (even though he gets the names of the songs confused). And sexy, but airheaded Lisa P (Margarita Levieva) suddenly starts showing interest as well.
The heartbreak and drama unfolds in an emotionally realistic way: everybody acts with the best intentions, or at least out of personal vanity (or personal protection). At the sidelines, we have looming adulthood, with its promises of superficiality, alcoholism, disease, death and endless misery. This may be their last carefree summer, the last time that they can get stoned at work.
And, of course, since the movie comes from director Greg Mottola (Superbad), we get our share of crude jokes as well, mainly in the form of James' lowlife childhood friend Frigo (Matt Bush), who insists on the occasional crotch punch.
But the film's main concern is the characters, and they're a genuinely tarnished, genuinely appealing bunch. I once spent a summer not unlike this one, and it feels as if Mottola did as well.
••
Big Daddy Kev's
: Rating 4/5
Adventureland is the perfect coming of age story with great performances and a beautifully written script. I was thinking of being hacky and writing a line like; "I just visited Adventureland and really enjoyed the ride." That line has probably already been used by someone. No offense if you are a critic and used that line. I thought of it too! No matter how old you are, there is always a film you can relate too or that reminds you of a time when you were younger. Stand By Me is probably one of the more famous films in that category. Growing up, The Sandlot was the go to for my age group. I was just able to recognize parts of my life in each of the characters. A similar experience happened for me when I saw 2007's Superbad. To me, that was the most accurate representation of high school I had seen on screen, at least for my age group.
Ironically, Adventureland had a similar effect on me but deals with the college years. Both films were directed by Greg Mottola, but this time around instead of Seth Rogen writing a script about his high school years, Mottola steps into the writer's chair. Mottola actually worked at the real Adventureland theme park in Farmingdale, New York on Long Island. The film is based on a summer in 1987 and stars Jesse Eisenberg (Rodger Dodger, The Squid and the Whale), Kristen Stewart (Twilight, Panic Room), Bill Hader (Superbad, Hot Rod), Kristen Wiig ("SNL"), Ryan Reynolds (Van Wilder, Smokin' Aces), Marin Starr and Margarita Leviena (The Invisible).
I am aware that many people have a dislike for Kristen Stewart but when you watch her in a film like this, what is not to like? She is such a natural actress and really just owns her character. Her on screen chemistry with Jesse Eisenberg is so natural. There was not one second where my mind left the movie. I was 100% locked into the film and always believed that these characters were into each other. This is how I felt about Stewart's performance in Twilight. She is just great on screen and always makes me believe her character.
The same goes for Eisenberg. I especially related to him because of personal reasons, but he really captured that awkward phase guys go through when they are trying to find that special someone. I especially enjoyed the music that played when these two characters were together. There were some great 80's rock songs pumping throughout the movie as well! It was great to hear Rob Halford's voice on the big screen.
Mottola's script and overall film will really resonate with a lot of people. A lot of people will expect Superbad. The funny story about that is I tried to book an interview with Mottola and I told the publicist that I loved Superbad. She literally stopped and said, "Kevin, this movie is nothing like that at all." The sad part is that all of the advertisements state that the film comes from the director of Superbad. The advertisements are doing exactly what they are meant to do though. It will get people in the seats but they don't care how the person takes in the movie. All they care about is whether the movie makes money.
My only real criticism with the movie was the fact that the actors seemed a little young to be playing these parts. They had a very high school feel to them. Eventually, I was able to get over that fact but there was a little bit of a disconnect in the beginning.
The movie makes you feel good and is very light, while being heavy at the same time. I am giving the flick a 4 BDK rating out of 5. It is totally worth the matinee rating. You will be laughing throughout the film. Don't let me discourage you when I say it is nothing like Superbad. It is still very funny but it is not that same style of gross-out humor. The comedy is actually a little more thought-provoking.
••
Jo Reviews
: Rating 3/5
Not only is the park a place to earn a paycheck, but it turns out to be the grounds of affairs and lies. Who knew drama could come from such a fun place? During these hot summer days James begins to be drawn to Emily who seems withdrawn from society. When James feels rejected by Emily he agrees to go on a date with the hot rides girl, Lisa (Margarita Levieva). Caught in a triangle between lust and love what will James do? It's an adventurous ride that takes many twists and turns. Back to the days of boy likes girl, girl likes different boy and so on so forth.
"Adventureland" is an enjoyable ride, but towards the end you find yourself ready to get off. A lot of the relationships and characters are undeveloped, but that aside they were all entertaining in their own aspect.
Kristen Stewart and Jesse Eisenberg had great compatibility and handled the teenage angst to perfection.
The film flawlessly captured the decade. Not to mention it had some of the best music from its period. "Adventureland" offered great humor, but could have been cut back twenty minutes and would not have been so extended.
••
The Detroit News
, Tom Long: Rating B
'Adventureland': Not just another teen movie
"Adventureland" is the follow-up to writer-director Gregory Mottola's huge hit "Superbad." So the natural response is to think general teen anxiety-insanity antics built around a sweet core of humanity.
Think again. It's not that "Adventureland" doesn't hit on many of the same subjects as "Superbad" -- it is a coming-of-age film, after all. But there's a lot more real angst going on here and the immature hijinks are definitely secondary.
Another big difference is that the most commanding presence on screen is not the neurotic virgin James (Jesse Eisenberg), although he is certainly the film's center.
But the movie belongs to Kristen Stewart ("Twilight") in the role of conflicted love interest Em.

Eisenberg essentially channels Michael Cera's character from "Superbad," while Stewart works outside of the teen movie box, generating heat while aching with confusion.

It's a bit as if Meryl Streep had been plopped in one of the "Porky's" films. Except Mottola is consciously pushing the genre.
The basics are there. James has just graduated from college yet the only summer job he can get before grad school is at a local amusement park run by a couple of amiable goofs (Bill Hader and Kristin Wiig) whose employees are a standard if well-drawn mix of losers, geeks and hotties.
But there's also Mike (Ryan Reynolds), the slick, slightly older janitor who woos new employees with anecdotes from his would-be rock and roll life.
And there's Em, who James falls in love with. Complications follow, which are actually somewhat complicated.
Yes, you've seen much of it before, and the nervous James character is now officially a cliché. But
Stewart makes you care anyway. This, folks, is an actress.
••
What Would Toto Watch?
: "Adventureland" is set in 1987, which allows for some goofy period fashions and an endless loop of "Rock Me, Amadeus" gags. The period doesn't play into any other factor of the film, though, but audiences will be too amused to care.
The film brims with smart humor, touching remembrances of courtships past and a thoroughly detailed workplace that will resonate even with those who never mopped up vomit at a fun palace.
Stewart is so much better here than in "Twilight." She's tortured but grounded, a young woman scrambling to assemble a version of herself for which she can be proud.
Eisenberg does his best Michael Cera – the two could literally be interchangeable – but he's just sensitive enough to carry the film. He gets plenty of assistance from "SNL" regulars Bill Hader and Kristen Wiig, who delight as the park's Mom 'n' Pop owners.
And then there's Frigo (Matt Bush) the latest in the fine line of Stifler standouts.
"Adventureland" loses inspiration in the final 20 minutes, falling back on formula to wrap an otherwise charming tale. It's still the best comic ride of the year.
••
Slate
, Dana Stevens: All this sounds like a retread of raunchy, deliberately outrageous teen sex comedies— American Pie, say, or Mottola's last film, Superbad. Instead, Adventureland harks back to the introspective teen rom-coms of the 1980s, with Jesse Eisenberg in the John Cusack role. The gangly Eisenberg, with his soulful gaze and unruly mop of curls, is adorable enough to spread on toast, as anyone who saw him in The Squid and the Whale can attest. And the amount of screen time devoted to James' emotional, as opposed to hormonal, fluctuations makes Adventureland as likely to appeal to girls as boys. Kristen Stewart, who gets more ethereally lovely with each screen appearance, plays a darker and richer variant of the disaffected schoolgirl she played in Twilight. And Ryan Reynolds, an actor I've never really gotten the point of before, invests his potentially unappealing character—a would-be musician with a weakness for jailbait—with unexpected layers of pathos and humor.
The film doesn't go to archival extremes in its period correctness (it's not, like last year's The Wackness, a nostalgic museum piece), but the details feel just right: The cool girl wears army fatigues and drives a dented hatchback. As the meek wife of Adventureland's cheapskate manager (Bill Hader), Kristen Wiig wears sublimely awful blue jeans, high-waisted and acid-washed. The tacky disco the kids frequent is called Razzmatazz, and the nice restaurant reserved for special dates is called (this one kills me) The Velvet Touch. The soundtrack captures the way pop music can function as the backdrop of a love affair: It includes a few classic '80s touchstones (the Cure's "Just Like Heaven," the Replacements' "Unsatisfied") but also unearths worthy smaller hits like Crowded House's "Don't Dream It's Over."
Perhaps the outsized affection I feel for this modest little movie is partly generational: I'm only two years younger than Greg Mottola, and in the summer of 1988, one year after the film takes place, I was a college grad with a degree even more useless than James' and a crap job at a bakery. But surely you don't have to have lived through the summer of Iran-Contra and Robocop in order to remember (or look forward to) how the worst summer job ever can turn into the ride of your life.
••
Filmjerk
, Edward Havens: Rating A-
Sometimes, a critic is going to connect with a movie, even one they can admit has some major problems, because it so mirrors their own expereinces. "Adventureland" may be writer/director Greg Mottola's slightly fictional version of his own lost summer working at a theme park in 1987, but it easily could be my own lost summer working at a theme park in 1988.
Not that anything that happens to James Brennan and his fellow carnies is exclusive to the period or the location. Pretty much anyone who worked as a teenager or early twentysomething within a group of peers, be it hawking toys to park goers or selling popcorn to moviegoers or working at a fast food joint, had similar experiences with love and lust and heartbreak and sex and drugs and alcohol and rock 'n' roll and crazy bosses and jackass customers. And it is that universality that should help it find it audience. One did not ever have to have worked in a cubicle to find the humor in "Office Space," and one does not need to have worked at an amusement park to find the humor here.
One cannot talk cinematic comedy in 2009 without mentioning Judd Apatow, even if, as in the case of "Adventureland," he had nothing to do with a specific film. Apatow's connection to "Adventureland" is that this film is being sold as being from the director of the Apatow-produced "Superbad," which is factually correct but thematically completely off-base. Though "Superbad" was adequately directed by Mottola, the film's success with critics and audiences showed that, like David Green Gordon with "Pineapple Express" last summer, that any director could make a successful comedy with a strong enough script and case. For Mottola and hopefully Green, their success in the Apatow universe will give them the clout for a while to bring forth more of the personal cinema both were known for before their blockbusters. In "Superbad," Mottola tried to inject moments of warm friendship between all the moments of lunacy. "Adventureland" too has many moments of lunacy, but its a far more subtle craziness, the kind that most people deal with on a day to day basis. There is not a single moment in "Adventureland" that compares to Michael Cera's wry take on his buddy getting a fake license that simply names him McLovin or any of McLovin's wild antics with the two police officers. No, Mottola is far more interested in finding the humor within the pathetic existence of a young person working a minimum wage job they know is or should be below them.
And the truth of the matter is, not a whole hell of a lot really "happens" here. It's just life, unfolding as it does one second at a time, and how this small group of people deals with it. James Brennan, subtly and expertly played by "The Squid and the Whale" star Jesse Eisenberg, finds himself in a situation that I'm sure many young adults find themselves in today (although the film was made before the current global financial crisis began): fresh out of college, discovering everything he counted on for his future has vanished when his father is unexpectedly demoted at work, and forced to take a menial job at a second-tier amusement park when he realizes his spoon-fed upper middle class existence has given him zero training in the real world. And like all good stories, discovering who is truly is in the face of unexpected change. Over the course of the summer, James strikes up a friendship with Joel (Apatow alumnus Martin Starr), who will always be a nerd no matter how hard he tries to mask, falls for the fair fellow carnie Em ("Twilight" star Kristen Stewart) while inexplicably being pursued by ride operator hottie Lisa P (Margarita Levieva from "The Invisible"), and drawn in to the strange world of the park's maintenance guy Mark (Ryan Reynolds), who uses the self-perpetuated rumor that he once jammed with Lou Reed to score points with the more impressionable park workers, especially of the female persuasion.
Mottola's subtle approach to the story's humor allows us to laugh at what's happening to James and his buddies out of familiarity. There's no bludgeoning of the audience with audacious moments. No explosive moments where things turn from good to bad or worse in a heartbeat. No A-list actors in fat suits and bald caps blurting out expletives like machine-gun fire for no other reason than isn't it funny to see an A-list actor in a fat suit and bald cap blurting out expletives like machine-gun fire. It's good old-fashioned situational comedy, the kind we rarely see in cinematic today, and the film works so well because of its four main characters and the actors who play them.
Eisenberg and Stewart do have good chemistry together, and it's fun to watch them spend the summer circling each other, trying to figure out if the other person really does mean something to them.
But the film really belongs to Starr and Levieva, both who gives their secondary characters far more gravitas than what was probably written or expected of them, and the film improves measurably whenever they are on screen.
But with so many secondary characters required in some sense to keep the story moving along, the film does suffer from a lack of development of these characters, all of whom are well cast, but it seems as if Mottola tried to hire good and somewhat recognizable actors to make the bridge to the audience for that connection. James's parents and Em's father and stepmom only have a few moments each to do their part for the sake of plot development, but that's pretty much all they are, plot points. "Saturday Night Live" stars Bill Hader and Kristen Wiig are the Adventureland... well, it's never really made clear if they are the owners of the park or just the managers, but either way, neither really adds anything other than name recognition. Hader, with his unbecoming mustache, mostly sleepwalks through his moments on screen, save one mildly amusing moment where he tries to liven up a horse race-themed ball rolling game, while Wiig makes Hader look positively electrifying with another of her now-standard severely underplayed mousy performances. Of the remaining supporting cast, Reynolds does try to bring something more to his wannabe rock star small fish stuck in an even smaller fish bowl, but it's still pretty much a throwaway characterization.
Those of us who grew up in the 1980s will no doubt be taken back down memory lane by the film's soundtrack, with what is tantamount to one of the greatest mix tapes of that decade. When Bob Stinson's great opening riff from "Bastards of Young" comes blaring out of the speakers at the start of the movie, any half-serious 1980s musicologist should find a smile crossing their face (because, let's face it, you can never have enough Mats in an 80s-themed movie). And while we are subjected to some of the horrors of that musical era (Animotion, Falco, Mary Jane Girls and Whitesnake are just some of the cring-worthy artists thrown in to be cringe-worthy), that throwaway junk is more than balanced by a liberal dose of Lou Reed and Velvet Underground (which was required listening to us teens and early twentysomethings in the late 80s), plus Big Star, Hüsker Dü, The Jesus and Mary Chain and The New York Dolls. There is little doubt many of us now fortysomethings will go home after watching the movie and hop on iTunes to make their own mix CD of the songs presented here.
Despite its faults, "Advetnureland" brings the joys and pains of menial minimum wage work in a mostly delightful manner, and should find a receptive audience for many years to come.
••
The Denver Post
, Lisa Kennedy: "From the director of 'Superbad' comes a pretty good movie . . ."
OK, that last part isn't quite the money quote running in ads for "Adventureland," but it is the kind of honest assessment writer-director Greg Mottola's authentic dramedy deserves.
Adventureland is the name of the Pennsylvania amusement park where James Brennan finds himself working during a summer between undergrad and graduate schools.
The tarnished zircon of a park is not unlike the Long Island establishment where the writer-director worked while attending Columbia University. James lands a job as a carny when his parents (Wendie Malick and Jack Gilpin) can't fund a summer in New York City.
And so the grad, whose friends guffaw about "lone signifiers" and his status as a virgin, finds himself trying to keep people from claiming the biggest prizes at an assortment of lowly booths. He also falls in love.
Bill Hader and Kristen Wiig provide goofball relief as the park's proprietors. At times, the film's makers work too hard to nail the moment: James' Pacer is just the beginning.
This theme park's theme song is nothing so hip as Lou Reed's "Take a Walk on the Wild Side." Instead, it's one of those 1980s one-and-a-half-hit- wonder imports that wafts from the PA system. There's got to be a workers comp case in there somewhere.
Jesse Eisenberg as James, while so lovely in "The Squid and the Whale," isn't as compelling here.
James' angst comes less from being a virgin than being an upwardly mobile thinker taking a downward gig.
"Twilight" star Kristen Stewart plays Em Levin. She brings enough subterranean fury to Em to pose the thought: How much better would "Adventureland" have been had it been told from Em's vantage?
One thing is for certain, had it been unfunny, character Tommy Frigo, deliverer of below-the-belt punches, would have been out of the picture.
Although James and Em are in their 20s, we wondered too often, "Exactly, which generation is this?" Such is the nature of nostalgia and pop culture. Layer upon layer of meaning and gunk suggest we all own "a moment" comprised of many.
Running through this dramedy is the theme of Jewish identity. Em vents a bitter analysis of her father's visits to synagogue during her mother's illness. And Martin Starr, wearing long hair and thick glasses, quietly boosts the film as Joel Schiffman.
The sensitive observer and lover of Russian literature sees all and knows much, gifts that do little to protect him from the wounds of bigotry.
Ryan Reynolds plays Mike Connell, the park's handyman and cad. He once, so the rumor goes, played with Lou Reed. We know, seemingly years before James does, that there's something going on between Mike and Em.
"Adventureland's" other minor celeb is Lisa P. (Margarita Levieva). And the perfect image in a film that is strong on atmospherics occurs as James and Lisa P. sit in a dormant park ride smoking weed as steam rises from a nearby plant.
Not unlike many a summer gig that filled your life with oddsters and anecdotes, "Adventureland" seems to gain a warm, fond glow as time passes. That may be a modest achievement. But it proves Mottola has a sweet sensibility for intimate grins, as well as broad yuks.
••
SFGate
, Mick LaSalle: Movies about young love and that one great summer constitute one of the most abused of genres - too much formula, too many lies, too much trying to stay within the PG-13 rating while presenting this R-rated time of life. And then a movie like Greg Mottola's "Adventureland" comes along to make us think, why aren't there more young love movies? Why not one every week? Few stories have more impact, and nothing could be more universal.
If making movies were only a matter of having feelings, everyone could do it. Mottola, who wrote and directed, has big emotions invested in this story, which is based on his own experiences working at an amusement park the summer after college. But he also has the crucial ability to translate that emotion into words and images, so that an audience can feel it as well.
And so we get a scene, about a third of the way in: It's the Fourth of July, at the end of a long day. James (Jesse Eisenberg) and Emily (Kristen Stewart) are taking a break, watching fireworks, and suddenly something happens, not just to them, but also to the viewer. You can actually feel it - their exhaustion and reinvigoration, the summer night air and the wordless bonding of two people. Something in the chemistry of the moment breaks the pattern. The fireworks lift them out of their lethargy and promise a reality outside themselves, the hint of something glorious embodied by this other person.
James is trying to save money for graduate school - he's set to go to Columbia in the summer - and Emily is working just to have a place to go besides her father's house: Her mother died two years ago, and he has married a woman Emily despises. There's also an ugly side to Emily's story, an ongoing affair with a married man (Ryan Reynolds), the kind of fellow who 20-year-olds might think is cool but whom any 30-year-old would peg as pathetic. Eisenberg is a skilled comic actor, slightly mannered, but truthful in the ways that matter.
Stewart is even better, suggesting levels of anger and self-disgust, betrayal and life disappointment beneath a surface of dignified composure. With both young actors, we don't just see the characters but also the mature adults they might become.
Thirteen years ago, Mottola made a superb independent film called "Daytrippers," with Hope Davis and Liev Schreiber. In the years after, he became a TV director, but he scored a big hit directing "Superbad," the best comedy yet to come out of the Judd Apatow school, because of its sensitivity and bigness of spirit. With "Adventureland," Mottola is using some of the stock from his "Superbad" triumph to make the kind of personal film he should be making, that he probably would have liked to have made in the years following "Daytrippers."
Let's hope he gets to make more of them.
••
TV Guide
? Cammila Albertson: Rating 3/4
Touted in ads as the latest raucous comedy from the director of Superbad, Adventureland isn't what it looks like -- but it's still good. With an even makeup of one part '80s nostalgia, one part rowdy teen farce, and one part pensive, emotional drama, the film may seem a little modest at first (especially for those expecting it to push the fantastic limits of manic R-rated teenage hilarity the way its predecessor did), but don't write it off as emo. Most of the sentimental stuff is genuine and sweet. And, yes, there are plenty of dick jokes.
It covers all the requisite ground for a nostalgic coming-of-age summer comedy/romance (the hero discovering his dad's vices, an embarrassing case of arrested virginity, flagrant use of "Rock Me Amadeus"), but Adventureland works because it does all of that really, really well. That's partly thanks to a spot-on cast. Eisenberg carries the movie with a graceful balance of charisma and nerdiness, tempering his athletic build and cut-from-marble cheekbones with a guileless stammer (even if he does sometimes sound like he's doing an impression of Michael Cera), and
Kristen Stewart is fairly irresistible as the sometimes awkward, always disarming love interest, Em
. Ryan Reynolds also turns in an impressive performance, in what turns out to be a kind of self-effacing role for an actor who made a name for himself playing the fast-talking cool guy.
Adventureland is also delightful because it's intensely sincere -- something hard to pull off in a movie set in the dated, but not yet historical past. Because the movie never feels sneering or mean-spirited, it makes this particular past feel like your own, even if your formative summers never involved menial labor, acid-wash jeans, or torrid first romances with reticent brunettes. It all inspires a sense of affection that makes it easy to love, whether the hero is pouring his heart out, or just enduring a good old-fashioned punch to the testicles.
••
FilmThreat
, Scott Mendelson: Rating 3/4
In Hollywood, political capital often comes in the form of a one-time free pass to make whatever movie you want to make. If you're Paul Thomas Anderson, you capitalize on "Boogie Nights" by getting New Line Cinema to fund "Magnolia." If you're Darren Lynn Bousman, you use your hundreds of millions that you've made for Lionsgate over "Saw" parts II, III, and IV to get them to finance that horror rock-opera you've always wanted to make: "Repo: The Genetic Opera." And, of course, most famously, if you're Cameron Crowe, you use the huge financial and critical success of "Jerry Maguire" to get funding for an autobiographical coming of age story that eventually becomes "Almost Famous." (Even Gus Van Sant got to take a bite out of "Psycho" after pleasing the masses with "Good Will Hunting.") All of these films were deeply personal passion projects, and each of them were financial under performers. After that one freebie, each of the directors went back to making movies that would theoretically turn a profit.
Now it's Greg Mottola's turn. After scoring a major commercial and critical hit in August, 2007 with "Superbad" (and then watching producer Judd Apatow get all the credit), Mottola has gone the Cameron Crowe route, using his limited capitol to fund a deeply personal, autobiographical saga that fictionalizes the writer/director's coming of age.
The end result is "Adventureland," a down-to-earth, almost gritty variation on the cliched "young man comes of age with the help of a hot girl" sub-genre that is ripe for satire in the wake of "Almost Famous," "Napolean Dynamite," "Garden State," "Thumbsucker," and "Charlie Bartlett." Some of these are better than others ("Almost Famous" is one of the best movies of this decade, and "Thumbsucker" is insanely well acted), but they almost all fall into the trap of adolescent fantasy. What separates "Adventureland" from something like "Garden State" is a commitment to realism and plausibility. In fact, at times, it is almost too realistic given the location's inherent value as a comic prop. For a film set primarily in an amusement park, it isn't terribly amusing.
It's 1987, and James Brennan (Jesse Eisenberg) was fully expecting to spend his post-college, pre-grad school summer touring Europe with friends. Alas, economic woes have crippled his family, and he is forced to spend the summer working as a minimum-wage-earning games operator at a local amusement park. Things perk up when he runs into Em Lewin (Kristen Stewart, now a pop-icon as "Twilight's" Bella), a fellow employee who catches his fancy. As James attempts a potential romance with Em and navigates his way through friends and foes at the park, life lessons are learned, mistakes are made, and James has the opportunity to find out what kind of person he wants to be for the rest of his life.
There are almost no plot developments in "Adventureland" that will surprise anyone in the audience. But the picture does have a shaggy charm, and that is due to the down-to-earth acting and Mottola's refusal to paint any of his characters as completely good or completely evil. While certain supporting actors (including Ryan Reynolds, Bill Hader, and Kristen Wiig) threaten to fall into stock types, the dialogue keeps them individualized. And the film never passes judgment on the actions of its inhabitants; everyone comes off as mostly sympathetic, even if we may disagree on their choices. Like "Thumbsucker," this is a coming-of-age tale that makes sure its characters are people first and eccentric types second. And, another rarity, the female lead is given as much of a story arc as the male lead.
Kristen Stewart's Em is not merely a prize to be won, but a flesh and blood human being with her own issues to resolve.
As admirable as "Adventureland's" intentions are, the fact stands that the film just isn't all that funny. While never intended to be as broad as "Superbad," it also fails to take advantage of the amusement park setting that should be its calling card. I can't recall another comedy that took place in a theme park, so there is certainly material to be mined. But the rides and games of "Adventureland" barely make an impact. Frankly, the park could be switched out for any other workplace (such as a bowling alley) without affecting the somewhat rote romantic comedy storyline one iota.
Nonetheless, I am aware that I am coming close to critiquing the movie I wanted to see, rather than the film that was made. Taking that into account, I will acknowledge that the film works in the arenas that it chooses to play in. The dialogue is sharp and authentic, the acting is spot-on, and there is a refreshing lack of artificial whimsy. I appreciated the cliches that are avoided (such as a potential second-act romantic dilemma), and I acknowledge that the film is a better than average version of its sub-genre. "Adventureland" is a good, solid little film, and I suppose that is enough for its makers.
But the novelty of setting a comedy at an amusement park is as underutilized here as it was in "Beverly Hills Cop III." The opening act has fun with the setting, but the film then quickly forgets its novelty. It's the rare movie that is almost too realistic and too down-to-earth. For me, "Adventureland" brings to mind that climactic line from "The Man Who Shot Liberty Valance": "When truth becomes legend, print the legend." The movie may be a relatively authentic account of Greg Mottola's summer of love, but there is a part of me that wishes he embellished just a little bit.
••
Hollywood.com
, Peter Hammond: WHO'S IN IT? - The whole cast is superb led by Jesse Eisenberg (The Squid and the Whale The Education of Charlie Banks) who is simply terrific in a breakthrough performance that proves Michael Cera is not the ONLY one who can play nerdy-but-thoughtful young guys trying to navigate their life's path down the winding road of uncertainty. Eisenberg as James deftly manages writer/director Greg Mottola's (Superbad) droll dialogue with effortless timing and delivery.
Kristen Stewart as Em shot this role before Twilight and is sensational — her best screen work yet.
As his slacker best friend Joel Martin Starr underplays it nicely creating a three-dimensional character in just a few scenes. Hot newcomer Margarita Levieva is hysterical as Lisa P the park's resident tease and gossip while SNL stalwarts Bill Hader and Kristen Wiig do their usual flawless comedic thing as the Adventureland owners. Ryan Reynolds is the perfect jerk as the joint's self-appointed married skirt-chaser.
WHAT'S GOOD? Expectations might be: It's just another gross-out teen comedy. But the real surprise is the sweet nature of the script and strongly-etched characters. Working in the world's worst job is a good starting place for Mottola's musings on love and relationships — and it's just as pertinent now as in the time the film is set. For those who still have a jonesin' for all things '80s the nifty soundtrack full of choice items from the era is retro-cool (except for that "Rock Me Amadeus" tune).
WHAT'S BAD? - It's a key plot point but it's hard to see why Stewart's character would get so attached to such a slimy married guy like the one Reynolds plays.
FAVORITE SCENE - A restaurant scene where James pours his heart out to Em and reveals his virginity for the first time is very funny and painfully honest.
BEST DOWNER LINE - In giving Em a custom-made gift the morose James says: "I made you a tape. These are my favorite bummer songs — pit of despair stuff."
••
Canoe.ca
, Kevin Williamson: Rating 3,5/5
Don't be duped: Just because Adventureland is "from the director of Superbad" doesn't mean there's more McLovin to be had.
Truth is, for those primed for yet another round of teen-sex rowdiness, this coming-of-age flick may feel like a mystifying case of nerd-and-switch.
Sure, there's pot, snark and bouts of near-adulthood anxiety aplenty, but there's also a disquieting gravity that pervades this tender, well-observed study of young stagnated lives.
For some, it will feel like a rollercoaster ride to snoresville.
But for me, it rang pitch-perfect: Poignant and honest, with such a keenly felt eye toward period detail -- the movie has both feet planted in 1987 -- that younger audiences may be as baffled by its soundtrack (highlights include Falco's Rock Me, Amadeus) as by its measured, melancholy vibe.
If anything, director Greg Mottola appears more inspired here by John Hughes (director of Pretty in Pink and The Breakfast Club) than mentor Judd Apatow.
Based loosely by his own time toiling at a theme park, Mottola casts Jesse Eisenberg (The Squid and the Whale) as James, a pensive cash-strapped college graduate living with his parents and forced to take a summer job at a dog-eared Pennsylvania amusement park operated by ditsy couple Bobby and Paulette (Saturday Night Live's Bill Hader and Kristen Wiig).
It doesn't take long -- seconds, in fact -- for the virginal James to tumble head-long in lust for sexy-cool arcade chick Em Lewin (Twilight's Kristen Stewart).
No wonder: she's introspective, prickly and damaged.
She's also, although he doesn't know it, involved with the park's married but developmentally arrested mechanic (Ryan Reynolds) who, local legend has it, once jammed on stage with Lou Reed.
Both leads are superlative.
Gawky Eisenberg manages to convey the intellect and mirth behind his habitual awkwardness.
Registering with equal wit and depth is Stewart -- better served by go-nowhere misfits than emo vampires -- whose Em is far more complicated and resonant than most objects-of-affection in similarly guy-centric films
.
Despite his Superbad success, Mottola is foremost an independent filmmaker, as those who saw his debut The Daytrippers knows.
With Adventureland, he aims for a balance between tones -- retaining enough of Superbad's goofball bearing to please the crowds while also imbuing the crudeness with authentic emotion.
And he mostly succeeds: The characters never trip over the comedy. And vice-versa.
Is the movie best appreciated by those who lived through Reagan-era conservatism?
Probably.
But that doesn't make its themes and situations any less identifiable.
Who hasn't, after all, had a summer job they loathed or forged impossible friendships with similarly mired people?
It's timeless.
••
QNetwork Entertainment
, James Kendrick: Although it is marketed as coming from the director of the raucous Superbad (2007), Greg Mottola's Adventureland is a different kind of coming-of-age story, one that has just enough oddball gags and adolescent humor to fill a two-minute trailer, but whose heart and soul are deeply invested in the slightly shaky, awkward, geek-chic moroseness of indie-art dramedy. Mottola, who got his start with the Sundance-winning black comedy The Daytrippers (1996), trades Superbad's raunch and slapstick for a sweet, but sometimes heavy-handed sensitivity that is more reminiscent of David Gordon Greene than anything to come out of the Judd Apatow factory. He and cinematographer Terry Stacey (The Door in the Floor) signal the film's intentions right away with a soft, slightly grainy image and handheld camerawork, capped with abstract shots of midway lights during the opening credits and a late '80s soundtrack that is heavy on both the cool (Lou Reed's "Satellite of Love") and the ironic (Falco's "Rock Me Amadeus").
The best scenes in Adventureland are the ones between James and Em, as they develop a genuine chemistry that is based on their shared sense of dislocation, but is complicated by the fact that they search for rootedness in vastly different ways: His is all cerebral, lost in books that feed his fantasies about the perfect nature of true love, whereas hers is cynical and tough, hiding in potential self-destructiveness. Their romance unfolds in a way that is completely natural--that is, sweet but awkward, moving forward in stutters and stops that Eisenberg and Stewart convey with blessed naturalism that constantly draws our attention to the fragile nature of what they are building together.
Although he has Jonah Hill's hair and Michael Cera's discomfort, Eisenberg creates his own character in James, a rare young man whose wears his "scarlet V" of virginity not as shame, but as a quiet badge of honor, albeit one he often has difficulty explaining to others (one of the film's most endearing moments is when he tries to tell Em why he decided against sex with a former girlfriend after reading Shakespeare's "Sonnet 57").
For her part, Stewart is excellent as Em, giving depth and a real sense of sadness to the character that is reflective of everything that was missing in her stiff portrayal of a similar character in the teen vampire romance Twilight (2008).
This isn't terribly surprising given that Mottola has a gift for working with actors and treats his characters with generosity, which adds nuance and layers to those who might otherwise come across as one-dimensional (for example, Reynolds' adulterousness is played as a self-knowing tragic flaw from which James can learn, rather than just a slimy preoccupation on which a subplot spins).
If Adventureland has a fault, is that it is perhaps too self-consciously poignant and gentle, which means that it must have just enough quirky, movie-ish comedy to qualify as something other than two hours of unbridled post-collegiate angst. While Mottola keeps the visual excesses of the late Reagan era in check, he gives us some blatantly comic characters in Bobby (Bill Hader, still wearing his SNL Daniel Day-Lewis parody moustache) and Paulette (Kristen Wiig), the park's primary operators whose respective overenthusiasm and distracted mumbling make them feel like they stumbled in from another movie. The film's general looseness makes some of its comedy feel a bit shoehorned, perhaps because Mottola never quite manages to integrate it into the story's overall rhythms as Zach Braff did so genially in Garden State (2004). Nevertheless, Adventureland works in its own way, with an inherent sweetness and sincerity that gives its modest summertime story a sense of authenticity.
••
ReelTalk
, Frank Wilkins: The marketing campaign for Adventureland is an insidious plan. Miramax is selling the film as a follow-up to Superbad. But while that film represents writer/director Greg Mottola's breakthrough hit, his latest comedy, Adventureland, is so much more. It doesn't go for the lowbrow brand of irreverent belly laughs that Superbad and its stable of Apatow raunch-com siblings so dearly covet. In fact, it's really not a comedy at all. Rather, it's a sweet, heartfelt coming-of-age drama with loads of sensitivity and bigness of heart. In other words, it's better than Superbad, and associating the two is a disservice to both films.
As the plot unfolds we notice that not much really happens, yet we're instantaneously drawn in by Mottola's perfectly illustrated moments of teens doing what teens do. Their conversations feel real, their actions are natural and never seem forced or scripted. And the innocent attraction that the virginal James develops for Em reminds us all of our first love and the blossoming of our worldly existence. Similar to how we "grew up" with junior Rolling Stone Magazine writer William Miller (played by Patrick Fugit) in Almost Famous, Eisenberg's James allows each one of us to imagine a second chance at growing up.
And Stewart handles her Em with such deep and dignified composure that we root for the pair despite her numerous flaws and bouts of angst and self-disgust. The two have an electric chemistry that rivals that of any on-screen couple in the last decade or so. This could end up being Stewart's best role in her young but burgeoning career. She's that good here.
Adventureland is fueled by an '80s rock soundtrack that not only steeps the film in the moment, but also guides us through the "summer of love." Whether it be with The Rolling Stones's Tops -- which Mottola actually wrote into the script -- or David Bowie's Modern Love, every song is lovingly selected and perfectly placed to tell Mottola's semi-biographical story.
Don't expect the raunchy comedy you've been sold on Adventureland's advertisements and trailers. Do expect one of the best films of the year thus far.
••
Scene Stealers
, Eric Melin: First things first: Although "Adventureland" is written and directed by Greg Mottola—who directed "Superbad"—it is not the same kind of over-the-top comedy as that movie (which was written by Seth Rogen and Evan Goldberg). If you go in expecting "Superbad II," like most people this weekend will thanks to the film's marketing campaign, it may take a while to adjust to the movie's pacing and subtle characterizations. But don't worry—"Adventureland" is a terrific film all by itself.
There is one comparative line to draw here, however. Mottola's semi-autobiographical movie feels like what might have happened the year that the "Freaks and Geeks" came home from college. Mottola directed six episodes of Judd Apatow's TV show "Undeclared," a college-aged follow-up to the now-classic-but-canceled "Freaks and Geeks." Like Apatow, he has an uncanny ability to find the natural rhythm of uncomfortable exchanges between emotionally unsure people.
Those moments are at the heart of this touching and seemingly effortless film, which finds James Brennan (Jesse Eisenberg) spending the summer after college graduation at his parents' house in a Pittsburgh suburb. "Adventureland" explores the last gasp of James' old life and the transition to adulthood. (It's fitting that The Replacements' ode to aimlessness, "Bastards of Young," opens the movie.) He's desperate to grow up, but his progress is stopped in time when he's forced to work a shitty job at a rundown amusement park.
The year is 1987, presumably because Mottola's own experiences also coincide with this time period, but the setting also gives the film a simultaneously innocent and nostalgic vibe. The theme park becomes the meeting place for all James' friends, including romantic interest Em (Kristen Stewart)—also home from college—who has a similar attitude towards the summer job and has lived through her own recent personal tragedy.
Everybody who works at Adventureland is stuck in neutral, from the socially awkward and increasingly bitter Russian literature student Joel (Martin Starr), to Connell (Ryan Reynolds), the married maintenance guy who regularly cheats on his wife. There's also Lisa P. (Margarita Levieva), the well-endowed trendy girl that all the guys fantasize about, and the married couple (Bill Hader and Kristen Wiig) that run the park from a trailer with a quiet, forced pride.
The hierarchies of high school are always in play. Lisa P. is at the top of the heap, one of the lucky ride operators, while James is pegged as more of a "games guy." Connell is the older cool guy, having supposedly once "jammed with Lou Reed." He's one part Matthew McConaughey from "Dazed and Confused," while also trying to set himself above the younger employees by referring to them as "kids." Of course, James looks up to Connell. Reynolds is perfectly cast, playing a sad, older version of some of his past roles. If "Van Wilder" is still around in his early thirties, he's probably banging high school chicks in his Mom's basement.
Mottola's direction is assured and impressively naturalistic for a teen-oriented comedy. He cuts through the cliches and expresses the longing that most movies of this ilk couldn't find with a compass. He also has a way with his actors, getting subtle performances out of all of them (even the usually 'bigger' talents of Saturday Night Live's Wiig and Hader). Eisenberg (who also starred as an introspective young talker in "The Squid and the Whale") brings a Woody Allen-type neurotic touch to James, who's goal of saving his virginity for the right girl isn't so much a conscious choice as it is an extension of his idealism. Em, on the other hand, is way beyond that, redirecting all her confusion and self-pity from her crappy homelife into a hollow secret relationship.
You can see the conflict in their romance coming a mile away, but that's not a criticism at all. In a more formulaic movie, that inevitable "blow-up" moment can leave you feeling cheated if the film has done nothing to foreshadow the characters' actions. In "Adventureland," you empathize with Jesse and Em even when they make poor choices. It's a sign of how much they mean to each other that they can't quite communicate it.
This brings up another great element of Mottola's script: There are no "bad guys." There are just three-dimensional people who sometimes do stupid things. This goes for Jesse and Em as much as it does for the characters that draw them apart (who, in turn, also have their sympathetic moments). You'd think he'd have learned more about women in college, but when he's with Em, James immediately starts talking about how his heart was broken recently in a knee-jerk play for sympathy or maybe a misguided attempt at showing maturity. He's also kind of a pompous egghead who feels like he has to prattle on about Shakespeare in order to impress. It's impossible, though, to hate him or anybody else in "Adventureland."
Although the dialogue is right on for the time period and very funny (As much fun as it was, that's a kind of realism that can't be said about "Juno."), Mottola is also quite adept at letting a lack of dialogue speak loudly as well. In one telling scene, Em gives James a ride home and pops in a cassette. Without saying a word, the two glance at each other, the windows, the stereo, and the floor. The scene is certainly about their mutual attraction and curiosity, but it's also about status. What's unspoken is that Em is feeling out James' musical tastes. As they both try to pretend nothing is going on, James makes his move, reaching for the volume knob to turn it up. A connection is made. (The song is Husker Du's "Don't Want to Know if You're Lonely" and is one of many great tunes on the soundtrack.)
Music plays a big part of "Adventureland." A key moment of self-confidence and realization for James comes from seeing someone he looked up to getting a song title wrong. A little detail like that calls the person out as a fraud. And while awful 80s one-hit-wonders like "Rock Me Amadeus" play ad nauseum at the park, Mottola doesn't dress everybody in the movie with outlandish 1980s clothes and use the setting as a crutch for cheap jokes. He's more interested in getting it right. The movie has its moments of fun with the 80s, but it doesn't dwell on them.
"Adventureland" captures perfectly that feeling of weightlessness just before impending adulthood. At once a personal and generational film, it also carries a poetic kind of melancholy that's unique to movies of its kind, save for maybe "Say Anything" or "Dazed and Confused."
This point loomed heavy in my mind after a second viewing of the movie: When somebody throws up in "Adventureland" (In a movie populated by rollercoasters and drinking, that's kind of a given), it's not presented as a big gross-out laugh like it would be in a more obvious comedy. Instead, it's just something that happens. People throw up. And, like the messiness of life—someone is going to have to clean it up.
••
Urban Cinefile
, Louise Keller: She is bewitched by a vampire in Twilight and
here Kristen Stewart takes a shine to a nerdy would-be writer she meets on their summer job at Adventureland. It is yet another impressive performance from 19 year old Stewart, who just shines as brightly here as she embarks on an emotional journey with another troubled soul.
Her journey is matched by Jesse Eisenberg's protagonist James, who like the uncool, unworldly William from Cameron Crowe's Almost Famous, has plenty of living, learning and growing up to do. Greg Mottola's auto-biographical coming of age story has plenty of heart and although the elements of a first-love plot with all its complications are not new, the script is a good one with detailed, compelling characterisations. The crassness of Adventureland is a cover for the hidden dreams of the excess-loving teens who work there.
Stewart and Eisenberg are strong central leads
and much of the satisfaction of our journey in this enticing film, comes from our involvement and resulting angst in the minutiae of every day life.
When we first meet Eisenberg's tousled haired virgin James, his dreams have just been dashed. He has been dumped by his new girlfriend and his dreams of going to Europe after graduation fade when his parents' financial situation changes. New York Journalism School seems far away and James' self-esteem is at an all-time low when the only summer job he can score is in the dreaded Games section of fun-fair Adventureland. Surrounded by laughing plastic, gaping-mouthed clowns with and giant, gaudy fake bananas with googly eyes, James begins his coming of age. And then he meets Stewart's soulful Em, who does not want for anything financially, but who needs to get out of her father's house where her obnoxious stepmother rules. But there are complications: Em already has a secret relationship with the married, handsome, smooth-talking and desirable Mike Connell (Ryan Reynolds, well cast). And James doesn't know about that - yet.
Much of the film's appeal lies in the relationships between James and his gawky friends. Friends like Martin Starr's Joel, the bespectacled, Russian literature loving, Slovak language specialist, and Bill Hader's hilarious odd-ball fun-park manager Bobby. James' initial popularity is almost entirely prompted by the stash of weed he brings with him, including his date with the sexy It Girl, Lisa P (Margarita Levieva). The humour is laid back and subtle and there's a splendid collection of songs that aptly describe key moments in our lives. The mark of a good film is one that extends beyond its target market, as in this case; it's not only the teen market that will be well satisfied by the journey.
••
FilmInk
, Hernan Alcerreca: In 2007, director Greg Mottola hit a comedy high with the hilariously raucous Superbad, a laugh-out-loud fest that achieved the perfect balance between raunchiness and syrupiness. Let's get one thing out of the way: Adventureland is no Superbad. To Mottola's credit, though, it's obvious that the director is deliberately trying to avoid repeating the same formula.
Loosely based on Mottola's own experiences working at an amusement park, Adventureland tells the story of James (Jesse Eisenberg), a recent college graduate forced to find a summer job after his parents inform him that they won't be able to pay for his future education in New York. With no experience whatsoever, the only job that James is able to land is at a second-rate amusement park - and then he immediately fails to comply with the place's golden rule: "Nobody ever wins a Big Ass Panda". James fits right in with the park's other employees (a charming collection of outcasts and has-beens) and understandably falls for cutie Em (new teenage idol for the Emo generation, Kristen Stewart).
Mottola's script plays every romantic comedy cliche ad nauseum, but favours melodrama over laughs. The scarce humorous moments come courtesy of Bill Hader and Kristen Wiig as the awkwardly amusing park owners - it's a shame that they get so little time on screen. Adventureland's saving grace is its cast.
Jesse Eisenberg and Kristen Stewart nail their adorably flawed characters to a T, leaving the audience with no other choice but to root for them.
It takes no genius to guess the movie's ending - or, for that matter, any of the plot devices. What's perplexing is why Mottola opted to make his comedy laugh-free.
••
ABC
, Margaret Pomeranz: Rating 4/5
ADVENTURELAND is Greg Mottola's second feature film as writer/director after THE DAY TRIPPERS in 1996. He's been working in television and did direct SUPERBAD two years ago, but his personal cinematic take is actually worth waiting for.
ADVENTURELAND is nothing new thematically, it's a coming of age story about James Brennan, (JESSE EISENBERG) whose plans to go to Europe with friends in the summer of 1987, are dashed when his father loses his job.
Instead he finds himself working in a downmarket amusement park with a whole range of malfunctioning young people.
Also working at the park is the girl of his dreams, Em, (KRISTEN STEWART) who is lovely but elusive and somehow connected to the park's Lothario Mike, (RYAN REYNOLDS).
This, as I said, is a familiar story but what Greg Mottola does with it is remarkable for the details of observation, the smart dialogue and the compassion he has for his characters.
And the music of the era is well integrated into the film. Casting is really fine, JESSE EISENBERG who so impressed in THE SQUID AND THE WHALE, is excellent as the slightly nerdy but not-a-loser James, and
he was lucky to get KRISTEN STEWART before she became too busy making TWILIGHT movies because she is just beautiful and nuanced in this
.
There's an honesty about this film that's at times painful, but mainly it's just funny and very sweet.
••
Movieviews.ca
, Ryan Cracknell: Growing up, there's something about summertime where changes always seem to happen. Without school there to take up the day, there's time that needs filling. This often leads to different experiences or adventures that stretch personalities and take people out of their regular comfort zones. Perhaps that's why a lot of coming-of-age movies take place during this time of year. Greg Mottola's Adventureland is no exception.
In his follow-up to Superbad, Mottola hops on the nostalgia train setting Adventureland in 1987. The film centers around recent college grad James Brennan (the always awkward Jesse Eisenberg) who's plans to travel abroad before heading off to law school are thwarted by a crappy economy. Without his parents cash, James gets a job manning the carnie games at Adventureland, a local amusement park. Initially nervous and none too pleased about taking such a lowly job, James soon finds the benefits of being surrounded by other equally cynical folks at similar crossroads in their lives. Through days at work and nights with his Adventureland brethren, James has some of the coming-of-age experiences required for growing up in the personality sense rather than the traditional measure of years.
Adventureland finds much of its comedy in its often brutal honesty. Like Superbad, Mottola sticks more with the outsiders who dwell on the fringes rather than the cool cliques or those on the opposite end of the spectrum. Adventureland focuses on those who are often lost in the shuffle, meaning the majority of us. This brings a believability to the film's themes that are easy to connect with.
The film's tone is somewhat somber as nobody has any real direction for their lives. Marriage, the tradition symbol of being grownup, is largely portrayed with disconnect. The married couples shown are either delusional about the world around them or they're off cheating with someone else. It's hardly the place in life to be eager to join.
Another big plus of the film is the cast. Although Eisenberg hasn't drifted much from the character he played several years ago in the excellent and overlooked Roger Dodger, he brings an excellent level of awkward normalness that is impossible not to connect to.
Twilight's Kristen Stewart is a pleasant mystery in her role as Emily
, the object of James' desire. Emily is down-to-earth and beautiful, the essence of the perfect girl – at least on the surface. But as the film dwells in everyone's imperfections, there's complications that make it less predictable and more real-feeling.
I did find there's some excessive dwelling in the film's story, which causes Adventureland to drag on at times. But even in those cases there's solid comedy or a good line to keep it from becoming annoying. Adventureland uses nostalgia as a hook to tell a touching and timeless coming-of-age tale that takes familiar material and spins it just enough to make it feel fresh again.
••
Screenwize
: Rating 3,5/5
Coming of age films are a dime a dozen, but you'd be hard pressed to find one that gets it quite a right as Greg Mottola does in his semi-autobiographical film Adventureland. Having just graduated college, James (Jesse Eisenberg) has his life mapped out, beginning with a summer backpacking around Europe, then a degree in journalism from Columbia to prepare him for a career writing travel prose that, Dickens or Orwell, unearths the world of the downtrodden classes. Yep, James is a bit of a pretentious pratt, but sweet and well-meaning. Poor James has the rug pulled out from under him when his father is demoted at work and his parents can no longer follow through on their promise to pay for it all, and he must get himself a dreaded job, however a degree in medieval history and romance languages has ill-prepared him for the real world ("I'm not even qualified for manual labour," he laments).
Adventureland is the theme park James finds himself working in, but the life he had planned starts to lose relevance as he meets new friends, especially Emily (Kristen Stewart). Mottola is better known as the director of Superbad, but this film is a far more mature work, and not just in terms of its humour. His screenplay hits the right notes between irony and sentimentality, and though not laugh-a-minute, is full of warm small moments. Music by indie rock act Yo La Tengo supports these moments, as does a soundtrack that compliments the film's 80s setting, including Crowded House to mark a new year's celebration, a Lou Reed mix tape as a plot device, and with Falco's Rock Me Amadeus playing ad nauseum in the theme park and giving James (and us) a pain in the eye.
Young leads Eisenberg and Stewart are terrific
(she is Bella in Twilight, and it's good to see her in a less whiny and insipid role), but the strength is in Mottola's ensemble of supporting characters, including Wendie Malick as James' mother, dishy Ryan Reynolds as the theme park's resident pants man, and Saturday Night Live's Kristen Wiig and Bill Hader as the park's owners. While Adventureland has all the appeal of indie hits like Juno or Donnie Darko, I suspect it won't be around long – I'd get in and see it while you can.
••
Bitter Balcony
, John Rojas: Greg Mottola's follow-up to his mega-hit "Superbad" takes horny youths and recreational drug use to the amusement park. "Adventureland" is the story of James (Jesse Eisenberg), a recent college grad who is still plagued by the V-word (virgin, in case you were wondering). His plans to go the Europe for the summer are halted when his father gets demoted at work, forcing James to stay with his parents in Pittsburgh (Pittsburgh has had a nice run of films shot in their city lately). James, who needs dough to move to New York for the fall, isn't seeing many job opportunities in his major "Comparative Literature and Renaissance Studies." With slim options, cash-trapped James accepts a job in the last place he wanted: the run-down theme park Adventureland.
Mottola uses the '80s as the backdrop for "Adventureland," applying some of the formulated aspects which made those '80s movies so cool. But this film avoids the silliness of most of those films, adding layers to the characters and setting. The melancholic climax of "Superbad" takes full shape here where James and Em grow as people – making you want to cheer for them.
The film also brings up issues of religious and social backgrounds that keep some kids from forming bonds. It is an aspect more substantial than the usual bully/dweeb battle, in-and-out crowd duels that plague youth romantic comedies. I think this movie suffered from bad advertising in its theatrical run, since it is not the raunchy farce Mottola displayed in "Superbad," but a character-driven dramedy that abandons foul humor and Jonah Hill's annoying rants. This is a pretty good film.
Accolades in the acting department for all cast members, especially Ryan Reynolds and Kristen Stewart.
Reynolds, who plays a guy who could have easily been despicable, adds a sensibility to an emotionally detached Connell. Reynolds' most famous performance from his early acting years, Van Wilder, seems to come full circle with Connell, since he approaches the handyman like a guy who can't give up the irresponsibility of youth while real commitments stand in his way. I like this actor - I just hope he can stop doing junk like "The Proposal."
Stewart, for her part, shows honesty with Em. Stewart's simplicity serves right for the movie's heroine, since a lots of her emotions need to stay under her skin, and she evokes them when they mean the most.
Hopefully she will stick around before the 2022 airing of "Where Are They Now?" tries to figure out what happened to that pretty girl who fell in love with the world's lamest vampire.
P.S: This movie's soundtrack is awesome! Lou Reed, Squeeze, INXS, and even Expose tunes get star treatment. Veteran indie rockers Yo La Tengo fill out the score nicely.
••
DigitalSpy
, Simon Reynolds: Rating 4/5
Greg Mottola's semi-autobiographical comedy Adventureland finds college graduate James (Eisenberg) forced to take a job at a crumbling amusement park as his plans for a summer trek across Europe implode. Stationed on games, he ponders his future, falls for arcade girl Em (Stewart) and faces danger at knife-point when he refuses to hand over the unwinnable giant-ass panda fluffy toy. Mottola's previous film Superbad was a raucous teen comedy aimed at the groin. Adventureland is an altogether more sensitive, measured offering, examining young people experiencing emotional rollercoasters as turbulent as the ones found in the eponymous theme park.
With his third feature film, Mottola has deftly steered through coming-of-age clichés and corny sentiment to create a moving comedy drama. There is something slightly off-kilter about theme parks at the best of times, and Adventureland makes the most of that quirkiness by populating itself with a cast of weird and wonderful characters. There's Joel (Starr), a pipe smoker and quoter of Russian literature; managers Bobby (Hader) and Paulette (Wiig), both sticklers for park rules; maintenance man and alleged one-time rock star Mike (Reynolds); Margerita Levieva's popular totty Lisa P; and the crotch-punching Tommy (Matt Bush).
Eisenberg has been on Hollywood's radar since an impressive turn as a reluctant Lothario in 2002's Rodger Dodger. His youthful appearance has kept him from progressing into different kinds of roles, but he's found a niche playing offbeat, smart young men. In Adventureland, he does Michael Cera better than Michael Cera - the awkward gait, the aloof charm, the ability to diffuse tricky situations with a quip is all on display here. Eisenberg juggles James's many neuroses and frustrations with a sharp intelligence and self-assuredness.
Playing off him is Twilight's Stewart, another young star who possesses a spark behind the eyes that suggests she's always emotionally present when captured on film.
Adventureland's biggest revelation, though, is Ryan Reynolds as a thirtysomething repair man who regales the theme park's employees of his exploits with Lou Reed. Normally super-charged and energetic, Reynolds gives an astute performance of contained despair. He's a big fish in a small pond, stuck where he is because he married young. His affair with Em, and slightly creepy relationship with his younger co-workers, is an attempt to recapture a lost youth. Mike isn't a genuinely bad person, just misguided and resigned to a life of bitter disappointment. This gives James's battle with him for Em's affections even more dramatic weight.
Some may scoff at Adventureland for sailing too close to a tried and tested story formula, but it's funny, heart-warming and more meandering and whimsical than you'd expect from a mainstream Hollywood comedy. Events resolve themselves predictably - but Mottola, Eisenberg and Stewart earn that happy ending by barely putting a foot wrong through the preceding 107 minutes. Instead of dispatching its hero on a rowdy European jaunt to become a man, Adventureland presents the more realistic notion that growing up can sometimes happen when you least expect it.
••
TimeOut
, Tom Huddleston: Rating 4/5
One of comedy mogul Judd Apatow's most creditable achievements has been allowing underappreciated directors a shot at mainstream success. Take Greg Mottola: despite making a promising debut – 1996 indie charmer 'The Daytrippers' – this filmmaker was languishing in TV purgatory until Apatow hired him in 2007 to direct pottymouthed-teen two-hander 'Superbad'. That film's success led to a production deal for 'Adventureland', a more restrained but equally insightful study of the high-school comedown.
It's summer 1987, and James (Jesse Eisenberg) is all set for a character-building European adventure, until the shock revelation that his parents' financial blunders have hoovered up all his travelling money. Strapped for cash and trapped in his Pennsylvania hometown, James signs on at the local amusement park, uncovering a world of emotional intrigue, sexual indiscretion and frustrated ambition.
There's nothing groundbreaking in 'Adventureland' – the plot amounts to little more than the usual round of infatuation and heartbreak, betrayal and self-discovery – but it's Mottola's approach that makes it special. His technique is to treat his teenagers not as overgrown kids but as unformed adults, awkwardly testing the limits of their emotional, moral and intellectual identities. It's as much about trial and error as adolescent romance, as James and pals try out different personas and partners until they find a style that fits.
It doesn't always work: some characters get short shrift, while the collision between soul-searching and slapstick jars. But as a sweet-natured character comedy – and a subtle exercise in generic boundary-pushing – this is a real charmer.
••
Eye For Film
, Anton Bitel: Rating 4/5
Adventureland begins at a transitional point in its protagonist's life. At a student party in 1987, 22-year-old James Brennan (Jesse Eisenberg) is celebrating his graduation, and is in the process of being dumped by his girlfriend – but at the same time he is looking forward to a 'transformative' summer Euro-tour with his friend Eric (Michael Zegen), and to studying journalism in Grad School at Columbia when he gets back. Oh, and James is a virgin, meaning that, even as several doors are closing in his life, there is still at least one left to be opened.
All this may sound like the set-up for a crass student roadtrip movie, as well as for a rose-tinted (or cringe-tinged) slice of voguish Eighties nostalgia, but the truth is rather different. Here reality takes the form of hard Reaganomics, leading to the demotion of James' father (Jack Gilpin) and the downsizing of James' own dreams, as the sensitive romantic is faced with the necessity of staying home in Pittsburgh and getting a summer job if he is to afford the apartment rent for his future studies in New York. After discovering that his literature degree amounts to little in the world of work, James finally turns to a minimum-wage job at local downscale amusement park Adventureland.
At this 'fun-tastic' venue, amid the rigged games, vomit-covered rides and suspicious-smelling corndogs, James discovers a community of similar misfits, losers and outcasts from Yuppie-dom. There's Joel Schiffman (Martin Starr), a pipe-smoking, impoverished 'pragmatic nihilist' who is majoring in Slavonic literature while moonlighting as "cabbie, ride operator, marijuana delivery guy". Or Em Lewin (Kristen Stewart), who works at the park to escape her troubled homelife. Or Tommy Frigo (Matt Bush), an idiotic eternal child (in a sweatband) who also happens to be James' next-door neighbour ("he used to be my best friend – and then I turned four"). Or manager Bobby (Bill Hader) and his girlfriend Paulette (Kristen Wiig), who go to manic lengths to keep their beloved park ticking over with next to no money. Or Lisa P (Margerita Levieva), the unflappable Catholic shit-stirrer whose arse is "the Platonic ideal". Or maintenance man Mike Connell (Ryan Reynolds) who, milking to the full the story that his rock band once jammed with Lou Reed, is the closest thing that Adventureland has to a living legend (and a permanent fixture). James is quick to fall for Em, but she is already having an illicit affair with older, married Connell, and in the love triangle that emerges, some characters (if not all) will learn to grow up and move on.
Watch the trailer for Adventureland, and you might be expecting an outrageous gross-out flick akin to the saucy rites of passage from such Eighties sex comedies as Porkys (1982), Zapped! (1983) and Screwballs (1983). In fact what you will get is far closer to the character-driven drama of a John Hughes film, with all the broader laughs serving as a perfectly balanced sideshow to the more restrained main event. Drawing from his own experiences working at a Long Island amusement park during his student days in the late 1980s, writer/director Greg Mottola (The Day Trippers, Superbad) unfolds his story with astonishing understatement. If James is a virgin, he is pursuing love rather than fleeting sex – and if he is caught (twice) with a 'boner', the offending bulge is never actually shown. If Mike Connell and Lisa P are erotic rivals, they are humanised rather than demonised. And if life is a bit like a roller-coaster, no one ever – ever - comes out and says as much.
At its core, Adventureland is a surprisingly sweet and tender coming-of-age romance, peopled with (mostly) intelligent characters trapped in utterly believable situations that are shown warts and all, but with sympathy rather than contempt. The Eighties setting feels lived in rather than a mere opportunity for the sort of nostalgic wallowing/distanced ridicule that blighted The Wedding Singer (1998), and the main players are as aware as the viewers of the inglorious naffness of their circumstances. In one key scene, James says he would rather stick an icepick into his ears than have to hear one more time Falco's ubiquitous rock anthem Rock Me Amadeus (played on repeat through the park's loudspeaker system).
Everywhere else, though, the soundtrack is key to the film's carefully modulated sense of time and place, interweaving an eclectic compilation tape of Eighties pop with a new score by Yo La Tengo (who have themselves been playing since the Eighties). It is one of those rare music mixes where the songs, for all their familiarity, feel as though they were written specifically with the scenarios of this film in mind. INXS' Don't Change has never sounded better, and will have many viewers staying behind all the way through the final credit crawl.
Add to this some winningly low-key performances, a slacker sensibility that refuses to subscribe to the American Dream, and some genuine laughs, and you have a film that feels both wise and real, and that might just make you wish you were young all over again – not out of some misplaced love of the Eighties, but rather for the thrill of having the rest of your life still ahead of you.
••
ViewLondon
, Matthew Turner: Rating 4/5
Sweet-natured, frequently funny coming-of-age movie with a superb script and delightful comic performances from a terrific ensemble cast.
The Good - Jesse Eisenberg is perfectly cast as James; he comes across as a better looking teenage version of Woody Allen and delivers a series of extremely amusing one-liners.
He also has appealing chemistry with Kristen Stewart, who brings a lot of depth to what could have been one of those manic pixie dream girl-type roles and also demonstrates some hitherto unsuspected comic timing.
In addition, Mottola has assembled a terrific comic cast that includes: Ryan Reynolds, whose likeable charm transforms what is, on paper, an essentially unsympathetic character; Martin Starr, who's both laugh-out-loud funny and quietly heartbreaking as Joel; Margerita Levieva, who, like Stewart, brings unexpected depth and complexity to the character of the universally lusted-after Lisa P; and a wonderful double act from comic geniuses Bill Hader and Kristen Wiig as park managers Bobby and Paulette, who basically steal every scene they're in.
The Great - The script crackles with great dialogue throughout and also manages to be genuinely moving without the usual nose-dive into sentimentality.
Worth seeing? - Adventureland is a hugely entertaining coming-of-age comedy with great characters, a witty script and delightful comic performances. Highly recommended.
••
Matt's Movie Reviews
: Rating 3/5
A coming of age tale based loosely on the experiences of writer/director Greg Mottola, Adventureland is a surprisingly dense teen flick, yet its unfortunate forays into religion bashing undermines its overall effect.
Set in the summer of 1987 – a time of no mobile, computer console, or internet stimulation – Adventureland focuses on the plight of recently dumped high school graduate James (Jesse Eisenberg), a young man of keen intellect and stern morals, who holds a firm belief that sex must be attained through true love. Hence he is a virgin.
Eisenberg plays the role well, yet many claim that he is coppin' the trip of perennial teen movie nice guy, Michael Cena. But really, what are they both but a retread of Dustin Hoffman's The Graduate?
After his parents (Jake Gilpin and Wendy Malick) cash flow runs dry, the over qualified James is forced to take on a summer job at theme park Adventureland, in order to raise money for tuition at NYU. There he meets the desirable
Em, played by a perfectly cast Kristen Stewart, whose spunky attitude and smouldering looks suits her role and the films 1980s backdrop well
.
A romance develops, but is threatened by Kristen's on the side relationship with married maintenance man and local rock god, Mike Cornell (a wonderfully restrained Ryan Reynolds).
Surprisingly low key and crude free, Adventureland leans itself more to the teen soap opera of John Hughes, than the immature, albeit entertaining, comedy of Superbad.
Since his own personal experience has been woven into the script, Mottola has written characters which have depth and a tinge of the realistic to them. Save for Bill Hader's and Kristen Wiig's theme park owners, Adventureland's only two pure comedic personalities, who although entertaining, do not fit with the films other more grounded characters.
Yet a glaring flaw is found in its depiction of its pro-faith characters, which are written as either bigots, or hypocrites. Cause for celebration amongst the secular set, yet not even close to reality.
Catholic's especially are given a hard time. First is an occurrence between potential lovebirds, nerdy Jewish agnostic Joel (Mike Starr), and good Catholic girl Sue (Paige Howard, other daughter of Ron), where the latter rejects the former due to his ethnic heritage. She is later branded as an anti-Semite, who probably supports apartheid and homophobia as well.
Next comes theme park hottie Lisa P. (Margarita Leviea), the resident cock tease who will not give it up that easily due to her Catholicism, even though she may be willing to give head, according to Cornell's expertise on the matter. Perhaps Mottola's revenge on a past crush?
It is frustrating and unfortunate that these moments occur, since Adventureland contains memorable performances which boosts its bittersweet nostalgia tale, and a maturity which not many of Mottola's peers can match. A welcome throwback to teen dramas of old, yet its harsh judgement of the religious is glaring.
••
The Will Leitch Experience
: Rating B+
1. Stories about wayward, thoughtful youth during that one … last … summer before adulthood are prevalent enough that they probably deserve their own genre. (Hell, even I wrote one of them.) Typically, the author is looking back at himself (or herself) at that age, which means their protagonists are inevitably smarter and more wordly than they probably really were at that age, and listen to far cooler music than the empty-headed pop they were truthfully listening too. (Though I suspect the Venn diagram between "Nelson listeners" and "screenwriters" shows little crossover.) Greg Mottola's Adventureland is about a wanna-be writer post-grad who gets stuck working at a silly amusement park in the summer of 1987 who falls in love, smokes a lot of pot, has various misadventures and learns a little about himself in the process. It's not about the notes in a movie like this; it's how it plays them.
2. Mottola directed Superbad last year, which presumably allowed him to direct this, clearly a passion project. (One hopes Pineapple Express' David Gordon Green is awarded the same privilege.) He feels the film acutely — James, the lead character played by Jesse Eisenberg, is pretty much Mottola, and he doesn't bother hiding it — and does sometime make him a little wiser that he'd really be. And the love story (James slowly falls for Em, a Lou Reed-loving pre-Goth kid with parental issues but a good soul) is touching in parts but never quite grows out of the puppy love you'd expect from teenagers. Which brings up another point: These kids are actually 22 years or old or so, which is a little old, I suspect, for the arrested development they display here. It's odd to see these minimum wage park workers, who don't look a day over 19, dropping by the pub for shots and a beer. But one gets the sense the film is so autobiographical (Mottola worked at such an amusement park while studying at Columbia) that Mottola can't help but replay his youthful scenes so they work out the way he wanted them to, so that everyone reacts the way he wishes they had. There's nothing wrong with that; the film, thankfully, avoids the awkward-teenage-dorkdom that you'd suspect from Superbad and the trailer. They might not look it, but these kids are grownups … well, close to it, anyway.
3. At its best, Adventureland conjures up another big-hearted youth movie, Say Anything, in its ability to empathize with every character on screen. The movie lacks the iconic image of the boombox scene, but it shares its desire to be fair to everybody. Ryan Reynolds' park mechanic is cheating on his wife with Em, but he's never made out to be some lecherous monster, and even quietly cares about James. James' parents might be forcing this job on him because of financial woes, but the movie's smart enough to subtly show the toll those woes have taken on them as well. I particularly enjoyed Bill Hader and Kristen Wiig as the married park managers, who know this park is silly but still take it seriously, respecting it as a romantic genesis for their own union. (It's a clever stroke: I imagine a late '70s film about Hader's Bobby falling in love with Wiig's Paulette in his summer job … but rather than moving on to bigger and better things, he just stays and runs the park with her for the rest of his life.) Even the "hot girl," the flirty and cheesy Lisa P., is, behind the big Aquaperm hair, a scared Catholic kid who teases all the boys just to make sure she doesn't get in any real trouble. Every character gets several moments to shine. The movie allows them to breathe and live and understands that they're not just supporting characters in this kid's story. They have lives outside of this movie.
4. I'm not sure the particulars of the casting, but the James role, on the surface, seems tailor-made for Michael Cera. I'm glad Mottola didn't go that way, though. Eisenberg, as reedy and pimply as he might be, has a little more heft to him, less obvious comedic befuddlement. He's got more hair on his chest, so to speak. When he swoops in to kiss Em for the first time, he's not a stupid kid fumbling; he's almost imperceptibly more virile. The film takes him seriously, and because it's Eisenberg (who hits every note dead perfect), you do too.
The real find, though, is Kristen Stewart as Em. She's not an actual find, of course; thanks to Twilight, she's The Next Big Star. I think she's got the chops. There's a stoicism to her, a little bit of Jodie Foster fierceness. It was surprising to learn she's only 18; she plays an older character here, and even though she looks 18, you absolutely buy it. There's a haunted intelligence in her eyes, and one suspects once this Twilight business is over, she's going to grow into a serious actress. She's vulnerable in this film, but not precious; at the end, when she's dealing with a distraught James in a pouring rainstorm, it's clear who's in charge. We are going to be hearing from her for a long, long time.
5. Again, a film like this is in the notes it plays, and I have to say, Adventureland is a total charmer. It has a light touch, recognizing how urgent everything is to the characters without weighing everything down with import (while still never being condescending to them). All told: Everyone in this movie is nice. That's awfully rare, and certainly appreciated. And any time the movie starts to wear out its occasionally angst-y welcome, Mottola just falls back on the soundtrack, which is lively, fun and nostalgic without being cloying. Is it cheating to sometimes let Big Star, Husker Du and Crowded House stand in for your characters' emotions? Maybe. But that doesn't stop your foot from tapping. It's a film of overwhelming goodwill. You'll like everyone in this movie, and you'll leave the theater thinking they would probably like you too.
••
The Independent
, Anthony Quinn: Rating 5/5
Greg Mottola's Adventureland is a film for anyone who has ever been young, had their heart broken, done a rotten holiday job, or flipped over a pop song.
Does that cover everyone? It is a coming-of-age picture which seems not so different from any other but hits delightfully odd notes thanks to Mottola's terrifically smart script and a cast of mostly eager young actors.
Jesse Eisenberg (from The Squid and the Whale) plays James, a voluble, insecure college grad whose plans for a cultural summer in Europe go belly-up when his family suffers an economic setback. Forced on to the job market (this is the late 1980s, when there were jobs), James ends up working at a grotty Pittsburgh amusement park called Adventureland. He's soon versed in chiselling the customers at his game booth, where no one (the management insists) is allowed to win the giant-ass stuffed panda. Customers insult and occasionally threaten him, the Tannoy blares out "Rock Me, Amadeus" on a loop, and James just has to grin and bear it.
Most of the male employees lust after the park's babe, Lisa P (Margarita Levieva), but James is beguiled by Em (Kristen Stewart), a watchful, wryly funny girl who in turn responds to his innocence (he's still a virgin) and his endearing sense of honesty. They really get on, these two, but Em is secretly involved with a married guy and can't bring herself to break it to her younger admirer.
Around this central pairing orbits a fantastic support cast: Joel (Martin Starr) is James's closest friend, a philosophical pessimist who thinks he's too ugly and poor to get a girl; Frigo (Matt Bush) is another pal who always greets James with a rabbit punch to the nuts; Bill Hader and Kristen Wiig make a superbly eccentric double-act as the park owners; and Ryan Reynolds plays the fix-it man Connell (Ryan Reynolds) whose past as a rock might-have-been (he supposedly jammed with Lou Reed) dazzles James for a while.
Mottola, who once made a great little comedy called The Daytrippers and a more raucous recent one in Superbad, thumbs through his own back pages here, and the depth of feeling he invests is palpable. He never oversells the Eighties as an era – a quick glimpse of Reagan on TV or a Neil Young 1984-85 tour T-shirt – and selects a soundtrack that perfectly mixes the good (Hüsker Dü, The Replacements, Lou Reed), the naff (Judas Priest, Falco) and the guilty pleasure (I loved hearing Wang Chung's "Dance Hall Days" again). There's even a glorious imitation of a Rush drum solo. I wouldn't be surprised to hear that Mottola hand-picked every song.
Between trips to the local disco and smoking skinny joints in the moonlight, James and Em conjure that tender, fleeting sensation when two people realise they're in love for the first time.
Mottola has written them beautifully, but it's Eisenberg's raw-boned awkwardness and Stewart's banked-down sense of hurt that bring them alive.
There is one baffling moment when one Adventureland employee splits up from another because she's Catholic and he's Jewish; I didn't know Pittsburgh was riven by sectarian tensions, and certainly not as late as the 1980s. But one takes it on trust from Mottola, because he gets everything else bang-on. This fond remembrance of his own dancehall days is "modest" in the best way. It understands the folly of youth but forgives it, too, reminding us of how wonderful it is to live so intensely. So allow me a juvenile formulation of my own: I couldn't love anyone who didn't love this movie.
••
Sky
: Rating 3/5
Following the success and excess of Superbad, director Greg Mottola is back for teenage kicks in a lower key with this self-penned tale of McJobbers on a quest for some summer lovin' (as opposed to McLovin' on a quest for jollies).
Wisely, Mottola doesn't try to reinvent the comedy wheel. He's simply taken the plot-free route of Superbad, made the like-for-like swap of Jesse Eisenberg for Michael Cera, upscaled the romance, downsized the slapstick, and set it all in 1987 for the sake of nostalgia.
Even then, it wears its Eighties trappings lightly. Only the ubiquitous tatty, screen-printed T-shirts, the absence of mobile phones and the constant aural bombardment of Falco's Rock Me Amadeus give away Adventureland's place in time.
The result is a quietly amusing and refreshingly straightforward look at the limbo between teenage irresponsibility and the grim reality of adulthood.
James (Eisenberg) is all set for a mind-broadening, pre-college trip to Europe when his parents' sudden financial shortfall means that he must get a summer job instead.
Unused to putting his sharp mind to menial tasks - "I'm not even qualified for manual labour!" - he eventually finds himself amongst the nerds and nimrods who man the sideshows at Adventureland, a theme park so cheap that it's a sackable offence to allow customers to win a giant-ass toy panda.
The only respite comes from booze, weed, and the hope of catching the eye of any female co-worker bored enough to take pity on a fellow loser.
But where most of the guys are struck by the Barbie Doll charms of day-glo hottie Lisa B (Margarita Levieva), James prefers the company of the paler but much more interesting Em (Stewart). Better yet, she likes him too.
The trouble is, she's secretly sleeping with Connell the maintenance man (Reynolds) who not only jammed with Lou Reed, but is also very married.
While the regulation boy-meets-girl scenario meanders through the usual ups and downs, it's the boys and girls themselves who raise Adventureland out of so-what slackery.
With Eisenberg and Stewart making a credible centre
, Bill Hader and Kristen Wiig figures of daffy fun as the park's owners, and Reynolds playing his philandering dog with a rueful shrug, everyone adds to the buzz.
Even the stock characters raise a smile with banter that astutely captures the mentality of a generation that's always thought the world owes it a living.
And with a soundtrack that eschews the usual Eighties standards in favour of Crowded House, The Cure's Just Like Heaven and the awesome Dance Hall Days by Wang Chung, it's the movie equivalent of hanging out in the park with a tape-chewing beatbox and bottle of cider.
Review in The London Paper
rating 4/5 by Jonathan Croker


(Thanks to @07words)