Photographed by Michael Thompson on June 2, 2009 in Los Angeles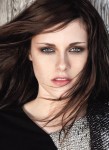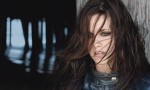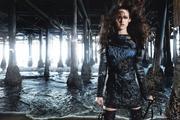 Scans
November 2009 issue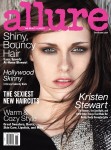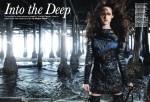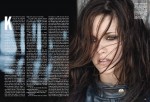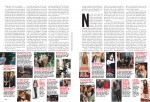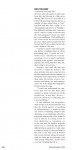 Behind the scenes/Interview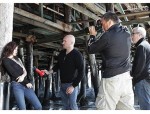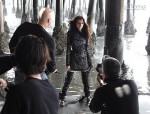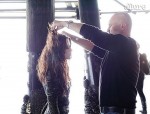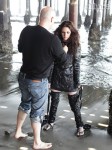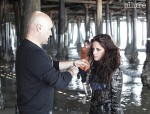 Interview
Allure
- 19-year-old actress Kristen Stewart swears she's boring. But we (and millions of obsessed fans) beg to differ. See these exclusive outtakes from her shoot with photographer Michael Thompson under the piers at Santa Monica State Beach.
Stewart arrived at the shoot with a twisted ankle—an injury that occurred while shooting The Twilight Saga: New Moon , which opens this month. When Allure creative director Paul Cavaco (above right) suggested, half-jokingly, that one of the security guards hired for the day could carry her back and forth from her trailer to the set, she laughed.
"Imagine if the tabloids got a hold of that one!"
she said.
A group of paparazzi gathered nearby to watch Stewart at the shoot.
"I want to call their parents and say, 'Do you know what your child does for a living?' They need to learn some manners,"
she said. Here, the actress poses in a leather-and-lace dress by Rodarte.
For a cool, undone look, hairstylist Serge Normant (above) applied volumizer to Stewart's roots and balm to the ends. He blew her hair dry and added waves with a curling iron.
"The best part? I was the last person to style her hair before she chopped it,"
Normant said.
"Kristen is amazing looking. I just gave her a bit more edge,"
said makeup artist Dick Page, who smoothed a dot of foundation mixed with cream bronzer on Stewart's face. He traced her eyes with black liner, topped it with gray and bronze shadows, and applied black mascara. He finished by dusting the actress's lips with beige highlighting powder and adding beige lip balm for shine.
"What people told me [when I signed on to Twilight ] was that there would be a lot of fan girls, people who love the books,"
said Stewart.
"But people don't tell you that as long as you're living in Los Angeles, it's a show every second of your day. It's like the Kristen show. And it's so boring!"
On her nonchalance about Hollywood glamour, Stewart said,
"I go outside, and I'm wearing a funky T-shirt and my hair is dirty, and people say, 'What's wrong with her? She needs to invest in a hairbrush.' I'm like, Don't you get it? I'm not that girl! I never was that girl. It's not like I was really clean-cut last year."
Stewart confesses she wasn't a fan of the Twilight books before taking the role of Bella Swan, but she believes the character is one of the more relatable in the vampire genre.
"You're so very much with Bella. You're so in her shoes that it's a vicarious experience. It's addictive."
Because she has difficulty switching into interview speak, Stewart has been accused of seeming indifferent or too-cool-for-school.
"I spend so much of my time guarding against sounding insincere about something that I would die for,"
says the actress.
"Maybe I'm overcompensating.... I care so much. And it gets reported as the opposite."
Source:
#1
#2
#3
#4