NOUVELLE photo de Kristen avec des fans ajoutée - Live Chat de 'New Moon' à Mexico avec Kristen & Taylor (2 novembre 2009)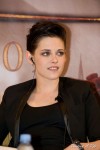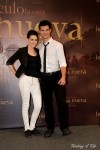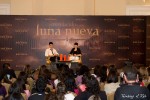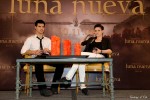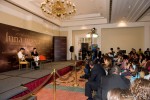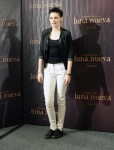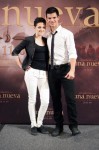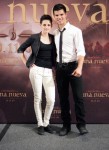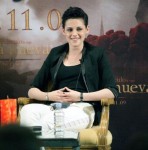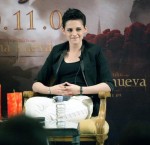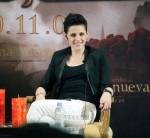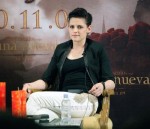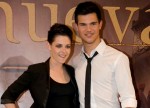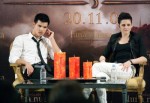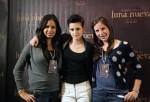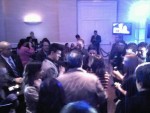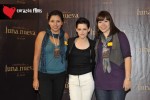 Transcript via
- This videochat with fans was also a press conference. They wanted a press conference entirely made by fans, no media. It's a little hard to make this transcript because the translator's voice was in her way, and mind you, her translations were not very good. She translated some things incorrectly and Taylor and Kristen couldn't understand her, so in some questions they just answered another thing completely.
"We've been here for 12 hrs but it's been really good" Kristen says, and the questions begin.
Online Fan asks: "Who are you fans of?"
Taylor says he's a big fan of Kristen. Kristen says she's a big fan of Taylor. Audience goes "awwww".
"What is it like to be a girl who loves a wolf? What is it like to play a wolf? What real life things do you use for this performances?" actors can't understand the horribe translator, translator asks fan to reformulate her question, fan asks "what is it like to play a girl who related herself to vampires and wolves, and how has thing affect your life?". Kristen says "To a certain extent it's hard to play these characters. We were actors before making this movie. The fact that he's a vampire defines pretty well the situation and the relationship (people Lol), and it's easy to be in her shoes. There's other interesting creatures and characters. But Jake is totally the best! (she tells directly to Taylor, they laugh awkwardly.
Taylor: "the series has impacted my life in a huge way, for instance, I'm in Mexico right now (audience cheers). He says he wouldn't be where he is if it wasn't for Twilight. Thank you for giving me the opportunity to visit you guys".
Taylor: "Personally, I wasn't a fan of books or reading. And I started reading Twilight and realized that the story was amazing."
Kristen: "Yes, and characters were easy to relate to. In this production literally everyone was so immersed in reading the books, and obsessed. They didn't just read the script."
Taylor: "We're also promoting the books"
Online fan question: "In the first movie Jacob says he doesn't believe in stories and fantasies, and then he's a werewolf. How would you describe the change in Jacob?"
Taylor: "There's a huge change in this movie. My job was to continue what stated in Twilight. In Twilight Jacob is always smiling, he's very happy. But in the middle of NM as soon as he transforms himself I had to find a new personna. And I had a pre-transformation and post-transformation moments sometimes on the same day. He went from one mental state to another one. It was a huge challenge but it was very fun".
Fan says: "First of all, you're both beautiful. My question is, from the 3 directors which has captured the best the spirit of the book?"
Kristen says: "I don't know, there's no right or wrong. I think each of them has their own different opinion and style, but working in the second one because of the material, I don't know, we were lucky because to have someone very compassionate, considering and understanding. Especially to me, he was willing to step down to my level and understand my needs, it was amazing, Chris is amazing. They are very different from each other, but each of them was very necessary, and that's why each had their own movie".
Fan says she agrees.
Online fan asks: "Kristen, would you like to participate in the soundtrack of the movies? Making a duet either with Rob or Taylor?"
Kristen: "No!"
11 year old fan asks: "Taylor, would you have liked to play the role of edward?"
Taylor: "Yes, absolutely. I mean, I'm on Jacob's side, but they are complete opposites. Neither of them is better or worse, it all depends on what you like depending on what you're like. I had a lot of fun with Jacob, but I'm curious to see what Edward is like".
Online fan asks: "If you could be another character in the movie, who would you be?"
Kristen says: "Alice. I love that. I would've liked to be Alice".
Taylor: "Is Bella an option? Her character is amazing, her mind is crazy. I would've liked to see what is it like to be in her mind, and what's like to feel what she feels, torn between two people. It would be fascinating but scary".
Fan asks: "Which would be the ideal ending for Bella and Jake in your perspective?"
Taylo: "I don't know. I don't want to force Bella to do something she doesn't want to do. Jake ends up with her daughter (laughs). But if she ended with Jacob it would've been nice. If not, they were not meant to be".
Online fan asks: "If you could choose for Bella, who would you have chosen for her, Edward or Jacob?"
Kristen: "The only way that I can justify her decisions, is that evethough they change, she is in love with Edward and not with Jscob. Who would I choose? I don't know. She has many options, and according to every option, the outcome is different. She needs to follow her heart, even if it's not for the best".
Fan asks: "Have you ever fallen in love with your best friend?"
Taylor: "Um….No! Not yet anyway. I would not be opposed to it, though. That's what I love about the relationship with Jake and Bella, they can talk about everything and grow together, I love it".
Kristen: "No".
Online fans asks: "What's the craziest thing that a fan has done for you?"
Taylor: "I've already told this story too much. There's some interesting things. Fans made underwear for me. Someone decorated a skull, it was interesting, someone made it for me and I kept it in my room. We've had very creaive things, scrapbooks, very talented people."
Kristen: "Very creative fans. Some of them have made videos, they have put together al of the videos from the movie and added different music. Tons of very creative stuff. Excellent job".
Fan asks: "Why would Bella have to choose Jacob and not Edward?"
Kristen: "Why? Why should I question this? I need to take these off (headphones), it's distracting. he's the best option because she's smiling a lot with him, she's not worried about anything, it's easy. She chooses Edward because Jake is not an option. She's altered by Edward, she's addicted to him. If he wasn't a vampire, maybe she wouldn't be addicteed to him".
Host: "What was the most difficult thing to do in New Moon?"
Taylor: "One of the hardest things for me was the weather. It was so cold in Vancouver, and I didn't have to option of wearing a lot of clothes, so I was freezing, and I couldn't shiver. Jake is not supposed to be affected by the weather, so that's what I had to play. But I was freezing".
Kristen: "The hardest part…. There are no words to describe it. You have to have a lot of imagination to imagine what it's like to touch a vampire and be with him. Going back and forth and one day being happy and then sad the next moment. Because you don't film movies in order, so one day I'm being a zombie without Edward, and another day I'm very happy with Jacob so it's hard".
Host: We're sure you're doing a great job.
Fan asks: "If you could add one thing from one character to your character what would it be?"
Taylor: "You must've given a lot of thought to your question. I stick with Jacob and I'll keep Alice's energy and phychic abilities".
Kristen: "Characters within the book? I don't know. It's a tricky question"
Taylor: "Would you like to have any of the powers the vampires have?"
Kristen: "Well Bella needs to become a vampire so she can do different things already. I would've answered better your question, but I haven't given it much thought before."
Taylor: "I stick with Jacob".
Fan asks: "How hard is it to be so young and so famous?"
Kristen: "I do this because I really loved the projects. If I could take walks after filming and not having problems, I would be very happy."
Taylor: "Being like you were before, with yout family, that would be great".
Kristen: "It's like you're betraying yourself, you always have to handle yourself properly and behave because people who are interviewing you can't see you beeing too upset or weird".
Host: "At least you could come over to Mexico, despite being so famous!"
Fan: "Is here any character from a movie or a book that you would like to play?"
Taylor: "You can see my performance of Jacob Black in new moon"
Kristen: "I don't want to say because it means a lot to me and I don't want to jinx it, because maybe one day I'll play it."
Taylor: "But we can't wait for you guys to see the movie!"
Host thanks them for being there and asks for a final round of applause.
Taylor: "Thank you for having us. we've had a lot of fun."
Kristen: "You guys are so amazing, thank you for being so nice".
Source:
#1
#2
#3
#4
#5
#6