Ancien Portrait de Kristen, Robert & Taylor pour USA Today désormais en UHQ (2010)


Photographed by John Gress in Chicago on May 5 -

Photographiés par John Gress à Chicago le 5 mai



HQ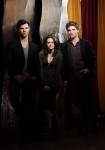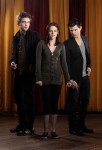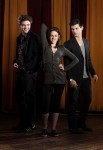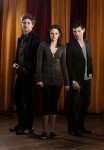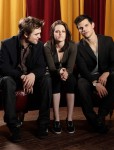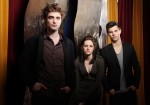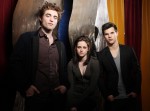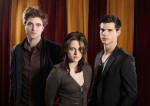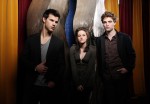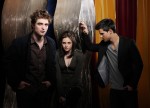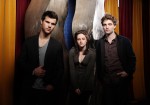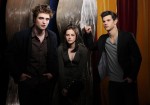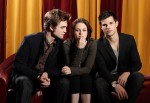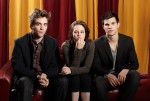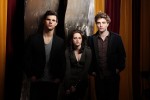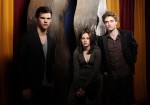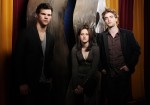 LQ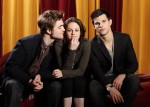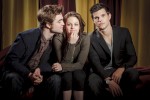 MQ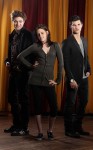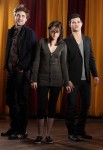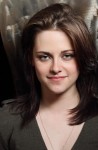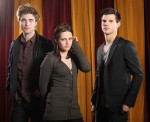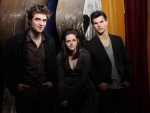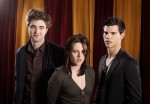 HQ tagged - HQ taguées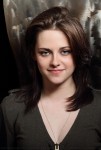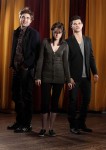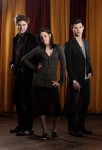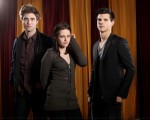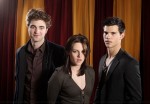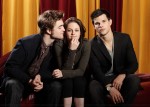 Scans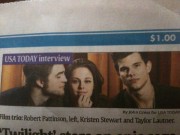 Interview
CHICAGO — Dashingly disheveled Robert Pattinson has an infectious, high-pitched laugh that would never do for his seductive vampire lover-boy, Edward Cullen.

By Susan Wloszczyna

Buff-and-polished Taylor Lautner is pocket-size compared with the looming stature of his werewolf counterpart, Jacob Black.

Casual yet cool Kristen Stewart can be a real chatterbox, unlike her moody Bella Swan, the high schooler in a romantic tug of war between these two supernatural objects of teen desire.

Lucky girl, right? "Yeah, but that's in the movies," Stewart says about bringing to life the modern-day Gothic heroine from the insanely popular Twilight book series (85 million copies sold so far). "I'm just the ultimate fan. If you read a story and you like it andconnect to it, it probably means you've inserted yourself in the story, and I get to do that on the most glorified level possible."

Hollywood fantasy regularly blends with everyday reality for these three blazing-hot rising stars. It has taken a while for a cultural navigator like Oprah Winfrey to zero in on the heat behind the literary-spawned phenom. But on this early May morning, Twilight fever is raging at Harpo Studios as the actors file into the backstage area after taping a show that aired Thursday. The occasion? Eclipse, the third chapter in an already billion-dollar worldwide franchise that arrives June 30.

The actors are unfazed by the shrieking adoration of a largely female audience, many in black Twilight T's — Team Edward and Team Jacob are duly represented — and all handpicked for their passion for the epic movie series based on author Stephenie Meyer's four-part saga.

"It's so nice sometimes, preaching to the converted," says Pattinson, 24, the London-born overnight sex symbol and primary reason for the screams. Thanks to his devoted worshipers, he has been elevated from a little-known Harry Potter supporting player to one of Time's 100 most influential people in the world in less than three years. They were out in force the night before at a Winfrey-sponsored screening of an unfinished print of Eclipse. Afterward, a firestorm of fan Tweets rife with "OMGs" gushed about the much-anticipated sequel to 2008's Twilight and last year's New Moon.

Once Stewart, 20, painstakingly signs Winfrey's guest book and Lautner, 18, stops practicing his grape-tossing parlor trick, the castmates settle into a buttery leather sofa to talk about such topics as the iconic moments that are re-created in Eclipse, run-ins with other celebrities and what the post-Twilight future holds.

The fame game

But, first, the pain of fame that comes from being on the paparazzi's most-wanted list is addressed. When New Moon opened last fall, barely a day went by without seeing a headline about Lautner and country cutie Taylor Swift or speculation on whether Pattison and Stewart are a real-life couple.

Although, lately, the frenzy has calmed somewhat, judging by the number of Twilight-free magazine covers at grocery checkouts. "I don't know if this is the actual reason why, but we have gotten better at hiding over the last year," Pattinson says.

"That's totally the reason," Stewart concurs. "They just make up a story to go along with the pictures. If they never get the picture, there's no story. We are just good hiders now."

Such subterfuge includes neither confirming nor denying that they are in a relationship. Yet there clearly is some sort of special connection between the two, what with their playful teasing and personal asides. Let's just say it wasn't Lautner who placed a hand on Pattinson's leg during a portion of the interview.

But all three take their Twilight-related duties to heart, whatever they might require. Stewart even leaps up in a panic at one point, fearing she misspelled a word in her salutation to Winfrey. She checks the book: "Believe — ie or ei?"

"I before e except after c," Pattinson responds. She checks. "Oh, yeah," she says with a triumphant fist pump.

Pattinson laughs. "I almost spelled Oprah wrong. I almost wrote Opera."

The actors are keen to know how Eclipse played to the crowd at the screening and are pleased to hear that every element has been heightened: the horror, the romance, the three-way interaction among their characters, the touches of humor that often come at the expense of Edward and Jacob's rivalry — especially after they forge a testy alliance to save Bella from a roving gang of rabid newborn vampires.

Stewart says of Eclipse's positive early reception: "It is a well-oiled machine at this point. We have had a lot of time to establish what this thing is about and a lot of time to consider it. And they gave us so much more money this time. So that is exciting."

Pattinson, looking bemused, quickly clarifies her statement. "For the film. The budget."

Stewart is chagrined. "Oh, my God. No, no. That didn't even occur to me. They gave us so much more money to make the film look good!" The leads did get raises — Stewart and Pattinson are taking home a reported $7.5 million each plus a percentage of the gross, Lautner gets $5 million — while the production's price tag grew to $65 million, still modest compared with similar franchises.

Yet the few extra bucks seem to have paid off, especially with the effects. Even Lautner's CG wolf alter-ego is more adorable than in New Moon. "Yeah," says the actor, sheepishly. "It was very cuddly. I don't know if that's what we were aiming for."

He waffles over the wisdom of sharing an anecdote about the scene in which the vicious horse-sized beast sweetly nuzzles Bella and she scratches his ear. After a little coaxing, he relents.

"That day I came on set and put on this tight gray spandex suit ..."

"There is dialogue and I talk to him," Stewart explains. "I said, 'How am I going to do this without Taylor?' " So instead of the actress pretending that a massive computer-animated wolf was nearby, Lautner volunteered to be its stand-in.

"Basically, it looked like a Teletubby," he continues about his outfit. "I had this circle on the face but everything else was covered. It was weird. But, yeah, I stood there and would literally bend over ..."

"I would actually pet his head," Stewart adds.

Pattinson, meanwhile, struggled with Edward's rather formal proposal to Bella, which reflects the fact that although his vintage vampire looks 17, he hails from the turn of the last century.

"I was dreading the day it was coming," he says of the scene that was held until the very end of the shoot. "The first time I read the script, I thought, 'This is impossible.' " References to "promenades" and sharing "iced tea on the porch" as Edward explains how he would have courted Bella in the old days especially stuck in his throat. "It's so earnest. I finally convinced the producers that you can play it with a bit of awareness of not being a fictional character. I'm not trying to be part of a Gothic novel."

When Pattinson finally watched it, however, he was pleasantly surprised. "It seems different when you see it."

Their profiles have grown with each film, and celebrity status does afford them the chance to mingle with their own idols. Although, more often than not, the other stars are the ones bedazzled as they request autographs for their Twilight-crazed kids.

"I took a picture with Ron Howard last year at the Oscars," Pattinson recalls. "I thought it was the funniest thing. I asked, 'Is it for your kids?' He said, 'No, it's for me. I want to have it on my phone.' " Making the situation even odder: Howard's daughter, Bryce Dallas Howard, is in Eclipse.

Alas, Pattinson has yet to run into his favorite, Jack Nicholson.

Stewart pipes up: "I have."

Pattinson: "What? When did you meet?"

Stewart: "At a screening for Into the Wild," her 2007 coming-of-age drama directed by Sean Penn. "He was exactly like you think he would be."

Pattinson, sounding peeved: "You never told me that."

Lautner joins in. "I didn't meet him but I sat next to him at a Lakers game."

Pattinson, utterly exasperated: "What?"

Life beyond 'Twilight'

Next subject. The three are actively trying to ward off post-Twilight typecasting by doing solo projects in between. Stewart and Pattinson, both bookworms and drawn to art-house fare, earned OK reviews but underwhelming ticket sales for their two recent releases, the girl-band bio The Runaways and the romantic melodrama Remember Me.

But they continue to be in demand for more mature roles. Stewart is psyched to be a part of a big-screen version of Jack Kerouac's On the Road, which starts shooting in August. Pattinson recently wrapped his work on the London set of Bel Ami as a 19th-century social-climbing rogue opposite Kristin Scott Thomas, Uma Thurman and Christina Ricci. Does he bed all three?

"Yes, but they're not like typical love scenes at all," he says.
v Adds Stewart: "They're all a little weird. A little edgy. And a little nude." Chuckling ensues.

Meanwhile, Lautner — a natural athlete who played a high school track star in the box-office-topping ensemble comedy Valentine's Day— seems to be angling to become the next big action hero with upcoming roles in the thriller Abduction and Stretch Armstrong, a 3-D adventure based on a toybox muscleman.

Did he ever own one of the dolls, whose limbs could be pulled and elongated like taffy? "I don't remember having one at my house, but I totally remember stretching that sucker."

Then there is the next Twilight feature, Breaking Dawn, opening Nov. 18 next year. The fourth and presumably final book is so jammed with life-altering events — a wedding, first-time sex between Bella and Edward, a grotesquely painful birth — that there has been talk of doing two films back to back. And it might even be in 3-D. But the actors can confirm only their involvement.

What has been decided is that Breaking Dawn's director will be Bill Condon, the filmmaker behind Dreamgirlsand Oscar-nominated screenwriter of Chicago.

Have they met Condon, who already posted a letter on Facebook reassuring fans of his appreciation of the material and that the film most definitely will not be a musical despite his résumé?

Lautner nods yes.

Pattinson: "When did you meet him?" Lautner: "One day." Stewart: "Did you have a meeting?" Lautner: "No, no." Pattinson: "I literally met him three nights ago."

Stewart, in a mock snit: "Well, he obviously doesn't want to meet me."


CHICAGO - Fougueux échevelé, Robert Pattinson a une maladie infectieuse, rire aigu qu'il ne ferait jamais pour son séduisant amant vampire, Edward Cullen.

Par Susan Wloszczyna

Buff et poli, Taylor Lautner est un format de poche comparé à la stature imminente de son homologue loup-garou, Jacob Black.

Décontractée et cool, Kristen Stewart peut-être un vrai moulin à paroles, contrairement à sa lunatique Bella Swan, lycéenne, dans une lutte à la corde romantique entre ces 2 objets surnaturels du désir d'adolescent.

Chanceuse, non? "Ouais, mais c'est dans les films", dit Kristen à propos de donner vie à l'héroïne gothique des temps modernes de la série de livres follement populaire "Twilight" (85 millions d'exemplaires vendus à ce jour). "Je suis la fan ultime. Si tu lis une histoire et que tu l'aimes et que tu te connectes à elle, ça signifie probablement que tu t'es inséré dans l'histoire et je peux le faire au niveau le plus glorifié possible."

La fantaisie Hollywoodienne se confond régulièrement avec la réalité quotidienne de ces 3 chaudes étoiles montantes. Il a fallu un certains temps pour une navigatrice culturelle comme Oprah Winfrey pour donner naissance de zéro au feu derrière le phénomène littéraire. Mais en ce début de matinée de Mai, la fièvre Twilight fait rage aux Harpo Studios alors que les acteurs filent dans les coulisses après l'enregistrement d'une émission qui a été diffusé Jeudi. L'occasion? Eclipse, le troisième chapitre de la saga mondiale qui a déjà reçu un milliards de dollars qui arrive le 30 Juin.

Les acteurs sont imperturbables malgré les cris d'adoration du public largement féminin, beaucoup de Twilight t-shirt en noir, Team Edward et Team Jacob sont dument représentées, et tout est trié sur le volet pour leur passion pour la série épique de films basée sur les 4 tomes de la saga de l'auteur Stephenie Meyer.

"C'est si bien parfois, de prêcher à des convertis" dit le sex-symbol Robert Pattinson, 24 ans,né à Londres pendant la nuit et qui est la principale raison des cris. Merci à ces adoratrices dévouées, il a été élevé du statut de peu connu dans Harry Potter interprétant un joueur à l'une des 100 personnes les plus influentes dans le monde en moins de 3 ans. Ils étaient en vigueur la veille lors d'une projection du résultat inachevé d'Eclipse parrainée par Oprah. Par la suite, une tempête de tweets de fans surtout des "OMG" jaillit à propos de la suite tant attendue de Twilight de 2008 et New Moon de l'année dernière.

Une fois que Kristen, 20 ans, signe minutieusement le livre des invités d'Oprah et Taylor, 18 ans, cesse de pratiquer son numéro de lancer de raisins, les membres du cast s'installent dans un canapé en cuir beurré pour parler de sujets tels que les moments iconiques qui sont recrées dans Eclipse, les collaborations avec d'autres célébrités et ce que l'avenir post Twilight réserve.

Le jeu de la gloire.

Mais, d'abord, la douleur de la gloire qui vient du fait d'être sur la liste des plus recherchés des paparazzis est abordée. Lorsque New Moon est sorti l'automne dernier, à peine un jour sans voir un gros titre concernant Taylor Lautner et la mignonne chanteuse de country Taylor Swift ou la spéculation que Robert et Kristen sont un couple dans la vie réelle.

Même si, dernièrement, la frénésie s'est un peu calmée, à en juger par le nombre de couvertures de magazine sur Twilight dans les librairies. "Je ne sais pas si c'est la raison, mais nous sommes devenus meilleurs que l'année dernière pour nous cacher", dit Robert.

"C'est complètement la raison" confirme Kristen. "Ils créent juste une histoire pour aller avec les photos. Si ils n'ont jamais d'images, il n'y a pas d'histoires. Nous sommes juste bons pour nous cacher maintenant".

Ces subterfuges n'indiquent ni qu'ils confirment ni qu'ils nient qu'ils ont une relation. Pourtant, il y a clairement une sorte de lien particulier entre les 2 qui est avec leurs taquineries ludiques et leurs apartés personnels. Disons que ce n'était pas Taylor qui a placé une main sur la jambe de Robert pendant une partie de l'interview.

Mais tous les 3 prennent leurs fonctions liées à Twilight très à coeur, tout ce qu'ils pourraient avoir besoin. Kristen sursaute même dans un moment de panique, craignant avoir mal orthographié un mot dans ses salutations à Oprah. Elle vérifie le livre: "Tu crois... ie ou ei?"

"I avant le e mais après le c", répond Robert. Elle vérifie: "Oh, ouais" dit-elle avec un coup de poing triomphant.

Robert ris: "J'ai presque mal épelé Oprah. J'ai presque écrit Opera".

Les acteurs sont désireux de savoir comment Eclipse a été reçu par la foule lors de la séance et nous sommes heureux d'appendre que chaque éléments a été accru: l'horreur, la romance, l'interaction à 3 voix entre leurs personnages, les touches d'humour qui viennent souvent aux dépends de la rivalité de Edward et Jacob, surtout après qu'ils forgent une alliance pour sauver Bella d'un gang de vampires nouveaux nés enragés.

Kristen dit du début positif de la réception d'Eclipse: "C'est une machine bien huilée à ce stade. Nous avons eu beaucoup de temps pour établir ce sur quoi cette chose est et beaucoup de temps pour l'examiner. Et ils nous ont donné beaucoup plus d'argent cette fois. Alors, c'est excitant".

Robert regardant perplexe, clarifie la situation: "Pour le film. Le budget".

Kristen est chagrinée: "Oh, mon dieu. Non, non. Ça ne songe pas à moi. Ils nous ont tellement donné plus d'argent pour rendre le film meilleur!"

Les rôles principaux ont été augmentés - Kristen et Robert ont rapporté 7.5 millions de dollars chacun à la maison, plus un pourcentage du salaire brut, Taylor fait 5 millions de dollars - alors que le prix de la marque de production a augmenté à 65 millions de dollars, encore modestes par rapport aux franchises similaires.

Pourtant, les quelques dollars de plus semblent avoir portés leurs fruits, notamment avec les effets. Même le loup-garou alter ego de Taylor est plus adorable que dans New Moon. "Ouais" dit l'acteur avec un air penaud, "Il était très câlin. Je ne sais pas si c'est ce à quoi nous aspirions".

Il parle pour ne rien dire sur l'opportunité de partager une anecdote sur la scène dans laquelle la bête vicieuse de la taille d'un cheval frotte doucement son nez contre Bella, et elle se gratte l'oreille. Après un peu d'encouragement, il se radoucit...

"Ce jour là, je suis venu sur le plateau et j'ai mis ce costume en spandex gris..." "Il y a un dialogue, et je lui parle" explique Kristen, "J'ai dit: "Comment vais je le faire sans Taylor?"" Donc, au lieu que l'actrice prétend que le loup massif animé par ordinateur se trouvait à proximité, Taylor a été volontaire pour être son remplaçant.

"Fondamentalement, ça ressemblait à un Teletubbie" poursuit-il sur sa tenue. "J'avais ce cercle sur le visage, mais tout le reste était couvert. C'était bizarre. Mais ouais, je me trouvais là-bas et je serai littéralement pencher...".

"Je voulais effectivement la tête de l'animal" ajoute Kristen.

Robert, quant à lui, se débattait plutôt avec la proposition formelle d'Edward à Bella, qui reflète le fait que, bien que son vampire vintage paraît avoir 17 ans, il est originaire de la fin du siècle dernier.

"Je redoutais le jour où ça arrivait" dit-il de la scène qui a eu lieu jusqu'à la fin du tournage. "La première fois que j'ai lu le scénario, j'ai pensais: "C'est impossible..."" Il fait référence aux "promenades" et au partage "d'un thé glacé sur le porche" surtout coincé dans sa gorge, comme Edward explique comment il aurait courtisé Bella dans le temps. "C'est tellement bon. J'ai finalement réussi à convaincre les producteurs que tu peux jouer avec un peu de conscience pour ne pas être un personnage de fiction. Je ne cherche pas à faire partie d'un roman gothique".

Lorsque Robert l'a enfin regardé, il a cependant été agréablement surpris. "Il semble différent quand vous le voyez".

Leur profil ont grandi avec chaque film, et le statut de célébrité leur donne la chance de se mêler à leurs propres idoles. Bien que, le plus souvent, les autres stars sont ceux qui sont éblouis et qui demandent des autographes pour leurs enfants fous de Twilight.

"J'ai fait une photo avec Ron Howard l'an dernier à la cérémonie des Oscars" rappelle Robert. "J'ai pensé que c'était la chose la plus amusante. Je lui ai demandé: "Est ce pour vos enfants?" Il a dit: "Non c'est pour moi, je veux l'avoir sur mon téléphone"" Rendant la situation encore plus étrange, la fille de Howard, Bryce Dallas Howard, est dans Eclipse.

Hélas, Robert n'a pas encore pu se heurter à son favori, Jack Nicholson.

Kristen se fait entendre: "Je l'ai (rencontré)".

Robert: "Quoi? Quand l'as tu rencontré?"

Kristen: "Lors d'une projection pour Into The Wild" son entrée à l'âge adulte 2007 dirigé par Sean Penn. "Il était exactement comme tu penses qu'il serait".

Robert, ayant l'air irrité: "Tu ne m'as jamais dit ça".

Taylor se joint la conversation: "Je ne l'ai pas rencontrer, mais je me suis assis à côté de lui lors d'un match des Lakers".

Robert, totalement exaspéré: "Quoi?"

La vie après Twilight.

Sujet suivant. Les 3 cherchent activement à conjurer le transtypage après-Twilight en faisant des projets en solo entre les 2. Kristen et Robert, les 2 rats de bibliothèque et dessinés à la maison d'art, gagné des commentaires OK, mais les ventes décevantes de billets pour leurs 2 nouveaux films, le biopic sur le groupe de filles "The Runaways" et le mélodrame romantique "Remember Me".

Mais ils continuent à être en demande pour des rôles plus matures. Kristen est excitée de faire partie d'une version grand écran de "On The Road" de Jack Kerouak, qui commence à tourner en Août. Robert vient de terminer son travail sur le tournage Londonien de "Bel Ami" en tant que voyou arriviste du 19ème siècle face à Kristin Scott Thomas, Uma Thurman et Christina Ricci. Est-il au lit avec les 3?

"Oui mais ce ne sont pas du tout comme des typiques scènes d'amour" dit-il.

Kristen ajoute: "Ils sont tous un peu bizarre. Un peu nerveux. Et un peu nus" s'ensuit un petit rire.

Pendant ce temps, Taylor, un athlète naturel qui a joué une star de piste du lycée dans le box-office-topic ensemble la comédie Valentine's Day - il semble être pêché pour incarné le prochain grand héros d'action avec des rôles à venir dans le thriller Abduction et Stretch Armstrong, une aventure 3D basé sur un coffre à jouets d'hommes musclé.

A-t-il déjà eu une de ces poupées, dont les membres pouvaient être tirés et allongés quand on tire dessus? "Je ne me souviens pas en avoir une chez moi, mais je me souviens tout à fait d'étirements qui craignaient".

Ensuite il y a le prochain long métrage Twilight, Breaking Dawn, qui sortira le 18 Novembre de l'année prochaine. Le quatrième et sans doute le dernier livre est tellement coincé avec les évènements qui changent la vie - un mariage, le sexe pour la première fois entre Bella et Edward, une naissance grotesque et douloureuse - qu'il a été question de faire 2 films l'un après l'autre. Et il pourrait même être en 3D. Mais les acteurs ne sont pas en mesure de confirmer leur implication.

Ce qui a été décidé est que le réalisateur de Breaking Dawn sera Bill Condon, le scénariste de Dreamgirls nominé aux Oscars de Chicago.

Ont-ils rencontré Condon, qui a déjà posté une lettre sur Facebook, rassurant les fans de son appréciation de la matière et que plus certainement le film ne sera pas une comédie musicale en dépit de son CV?

Taylor fait signe que oui.

Robert: "Quand l'as tu rencontré?" Taylor: "Un jour". Kristen: "Avez-vous eu une réunion?" Taylor: "Non, non" Robert: "Je l'ai définitivement rencontré il y a 3 nuits".

Kristen, d'un air faux: "Eh bien, il n'a évidemment pas voulu me rencontrer".
Source:
#1
#2
#3
#4
#5
via
via