NOUVELLES photos ajoutées - Interview & Portraits de Kristen avec le magazine BILD (Promo d'Eclipse à Berlin)
Norbert Körzdörfer & Kristen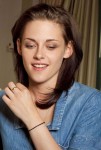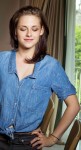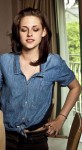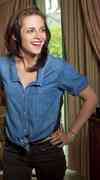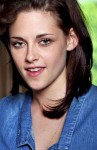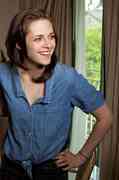 Interview
She smells like mowed grass. She hugs me like an old friend of hers. She looks at me with her smaragd-green eyes as if I´m a writing vampire from whose mouth blood runs down.

She´s the most mysterious woman of Hollywood.
Kristen Stewart(20), coming from L.A., is "Bella Swan" – the girl who loves an undead vampire, Robert Pattinson(24).

A box office phenomenon, with a lot of money: "Twilight" – 100 Mio. books. The third installment hits theatres on July 15th – a bloody romance for teenagers.

The phenomenon?
Millions of teenagers want to be just like her!

In love, lost, damned. How is SHE really? She is beautiful, slim, spontaneous.

How does her life look like?
Hotels, plains, journalists, cameras. Where am I? A little joke. Tomorrow is my day off, so I´m sight seeing in Berlin.

Do you google yourself? There´re like 25 Million hits…
She stretchs out in her crossed legged position…"Yeah, I have to know what´s going on. I'm a control-freak. I hate to not be in the know. But it´s insane! The things are kind of shocking sometimes. There´s a lot of sh*t in there…

Her truth is a carrier every one dreams of.
I´m working since I was a little girl. With the age of 11 she´s becoming the star of "Panic Room".

Single?
She smiles. And remains silent.

In love?
She laughs at me and shrugs with her shoulders, saucy but lovely. She is protecting her heart. She´s no vamp, no sexbomb. She ´s a girl becoming a woman. She smokes and loves the things she wants to.

What are you getting upset about?
That a lot of people think that i´m unthankful, conceited, arrogant. I love what I do. Of course, I make mistakes. But every one should be allowed to do so.

The Photo-Crew is coming in. Flashlights are klicking. Once again I take a taste of how her hair smells. Which parfume? She´s shaking her head. "I don´t like any parfume. Ah! You´re smelling the hairspray!" We both burst out laughing. We go.

The day after that she´s just a normal human. She walks through the Mudering Memorial (Holocaust). She eats at Zillenmarkt and hits the Bowling Hall in the evening. She´s wearing the shirt of the German National Soccer Team.
Elle sent l'herbe fraichement tondue. Elle me fait une accolade comme à un de ses vieux amis. Elle me regarde avec ses yeux verts, comme si j'étais un écrivain vampire avec du sang qui s'écoulait le long de la bouche.

Elle est la femme la plus mystérieuse d'Hollywood.
Kristen Stewart (20), en provenance de Los Angeles, est "Bella Swan" - la fille qui aime un vampire mort-vivant, Robert Pattinson (24).

Un phénomène au box-office, avec beaucoup d'argent: "Twilight" - 100 millions de livres. Le troisième opus sortira au cinéma le 15 Juillet - un roman sanglant pour les adolescents.

Le phénomène?
Des millions d'adolescentes veulent être comme eux.

Amoureux, perdus, maudits. Comment est-ELLE vraiment? Belle, fine, spontanée.

Comment est ta vie?
Des hôtels, des avions, des journalistes, des caméras. Où suis je? Une blague! Demain j'ai mon jour de libre. Je visite Berlin.

Recherches tu les sites qui te sont dédiés? Il y a 25 millions de visites... Elle se prélasse sur sa chaise, les jambes croisées. "Oui je dois voir ce qui se passe. Je suis une maniaque du contrôle. Je déteste ne pas savoir. Mais c'est incroyable! C'est effrayant ce qui est là. Terriblement beaucoup de me***.

En vérité tu as une carrière de rêve.
Je travaille depuis que je suis petite. A 11 ans elle est devenue une star dans Panic Room.

Célibataire?
Elle sourit. Et garde le silence.

Amoureuse?
Elle me sourit et hausse les épaules. Perdue mais douce. Elle protège son coeur. Ce n'est pas une vamp. Ni une bombe sexuelle. Elle est une fille qui devient femme. Elle fume et aime ce qu'elle veut.

Qu'est ce qui t'ennuie?
Le fait que beaucoup pensent que je suis ingrate, prétentieuse, arrogante. J'aime ce que je fais. Bien sur, je fais aussi des erreurs. Mais chacun à le droit à l'erreur.

L'équipe de photos va à l'intérieur. Des flashs tressaillent. Je sens ses cheveux à nouveau: Quel parfum? Elle secoue la tête. "Je n'aime pas le parfum! Ah? Tu sens la laque pour les cheveux!". Nous rions. Nous partons.

Le lendemain après ça elle est juste un être humain normal. Elle se dirige vers le Mudering Memorial Holocaust. Elle mange à Zillenmarkt et va au Bowling Hall dans la soirée. Elle porte le maillot de l'équipe nationale allemande de football.
Source:
#1
#2
#3