By Stewtothewood.
I went to Kennywood a few weeks ago and finally found time to post my pictures. If you are totally clueless as to what Kennywood is, it is the theme park where Kristen filmed Adventureland!

Obviously the park looks a little different considering it was filmed 3 years ago and was set in the 80's. Click on the images to make them bigger. Also, the Wipe Out ride that Lisa P works at (across from the trailer) was replaced by a different ride. Apparently the old ride collapsed on someone and killed them.... yeah. I'm just glad Em wasn't on ride duty if you know what I mean.
Je suis allé à Kennywood il y a quelques semaines et j'ai finalement trouvé le temps de poster mes photos. Si vous êtes totalement désemparés quant à ce qu'est Kennywood, c'est le parc à thème où Kristen a tourné Adventureland!

Évidemment, le parc est un peu différente compte tenu qu'il a été filmé il y a 3 ans et a été établi dans les années 80. En outre, le Wipe Out ride où Lisa P travaillé (en face du trailer) a été remplacé par un manège différent. Apparemment, le manège s'est effondrée sur quelqu'un et l'a tué .... yeah. Je suis simplement heureux Em n'était pas en service si vous savez ce que je veux dire.
Parking Lot Entrance

L'entrée du parc


Back Gate

Porte d'entrée


Games

Jeux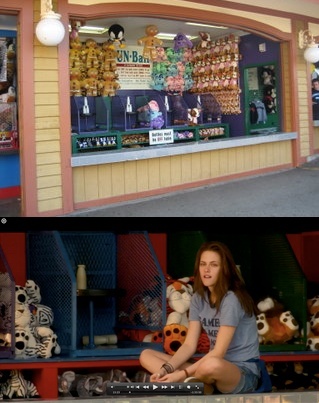 It was repainted. It is not the stand closest to the gate even though it is now the same colors. And of course I jumped up on the counter when no one was looking because I'm badass.
Il a été repeint . Ce n'est pas le stand le plus proche de la porte, même si il est maintenant de la même couleur. Et bien sûr, j'ai sauté sur le comptoir quand personne ne regardait parce que je suis une dur à cuire.


Rafraîchissements

Refreshment Stand


Kristen's Bumper Car! (I sat in it)

Autos tamponneuse de Kristen! (je me suis assise dedans)


Arcade

Jeux 'arcade'


Ski Ball



On the set