Chris Weitz parle de Kristen & du cast de Twilight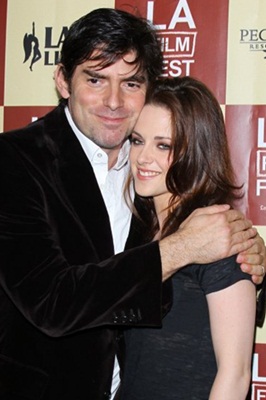 "I realized that I'm a bit of a teenage girl myself," he says. "I think I spent most of my late teens and 20s pining after people who were never going to come back. I remember explaining this to Stephanie Meyer and, maybe she didn't believe me, ... but I'd read too many 19th century English novels and I was very, very romantic so having the book — and having Kristen who's an exceptional actor — and then having that melancholic tendency in myself, I think we were all okay."

"[..] and then New Moon, I really liked Kristen Stewart. I think she's amazing and I thought it was like a blank slate for me to work on. I knew people would go see it and that was fantastic and that we could do all kinds of lovely artistic things to it, which is where I met Javier Aguirresarobe [cinematographer of New Moon, Eclipse and A Better Life] and I was able to work with composer Alexandre Desplat again and that was great. You know, I try to zig and zag as much as possible which is kind of problematic if you're trying to become a marquee director. No one really knows what the hell you're doing and why, but that's okay."

"Yeah. I really, really like those guys. Some of them are coming to support me tonight, which is really great. And I think that they're all terribly talented. It was part of the reason I did New Moon in the first place.
I wanna figure out how they shoot that part where the baby eats its way out of Kristen's stomach!"

Anyone you would love to work with again?
CW: Kristen, Rob, and Taylor. If they let me! Sure.

What does it mean to have the support of your former cast-members like Kristen and Taylor here tonight?
It's tremendous. I think it's really cool. I mean because every time they come out, they face a gamut of fans and get screamed at and everything and they have to dress up and think like 'Oh what am I supposed to wear tonight.' It would much easier for them to just watch the DVD at home. I'm really touched that they've come out tonight, and it's great to see them because I'm really fond of them.
"J'ai réalisé que je suis un peu une adolescente moi-même", dit-il. "Je pense que j'ai passé la plupart des dernières années de mon adolescence et ma vingtaine à me languir après des gens qui n'allaient jamais revenir. Je me souviens avoir expliquer ça à Stephenie Meyer et, peut-être qu'elle ne me croyait pas, ... mais j'avais lu trop de romans d'anglais du 19ème siècle et j'étais très, très romantique donc ayant le livre - et ayant Kristen qui est une actrice exceptionnelle - et ensuite ayant cette tendance mélancolique en moi, je pense que nous étions tous bien."

"[...] puis New Moon, j'ai vraiment aimé Kristen Stewart. Je pense qu'elle est incroyable et je pensais que c'était comme une 'ardoise vierge' pour moi de travailler avec. Je savais que les gens iraient le voir et ce qui a été fantastique c'est que nous pouvions faire toutes sortes de belles choses artistiques avec, dont Javier Aguirresarobe [directeur de la photographie de New Moon, Eclipse et A Better Life] que j'ai rencontré et j'ai pu travailler avec le compositeur Alexandre Desplat à nouveau et c'était super."

"Ouais, j'adore vraiment, vraiment ces gars-là. Quelques-uns d'entre eux vont venir ce soir pour me soutenir, ce qui est vraiment génial. Et je pense qu'ils sont tous extrêmement talentueux. C'était une partie de la raison pour laquelle j'ai fait New Moon en premier lieu.

Je veux comprendre comment ils ont tournés la partie où le bébé se fraie un chemin à travers le ventre de Bella en le dévorant!"

Quelqu'un avec qui vous voudriez travailler à nouveau?
Kristen, Rob et Taylor. Si on me le permet. Bien sûr.

Qu'est ce que ça signifie d'avoir le soutien de tes anciens membres du cast comme Kristen et Taylor ici ce soir?
C'est énorme. Je pense que c'est vraiment cool. Je veux dire, parce qu'à chaque fois qu'ils sortent, ils font face à un éventail de fans et se font hurler dessus et tout et ils doivent s'habiller et pensent genre 'Oh qu'est ce que je suis censé porter ce soir'. Ca aurait été beaucoup plus facile pour eux de simplement regarder le DVD chez eux. Je suis vraiment touché qu'ils soient sortis ce soir, et c'est génial de les voir parce que je les aime vraiment.
Source:
#1
#2
#3
#4