Eddie Izzard, Bob Hoskins, Toby Jones castés comme nains dans 'Blanche-Neige et le Chasseur'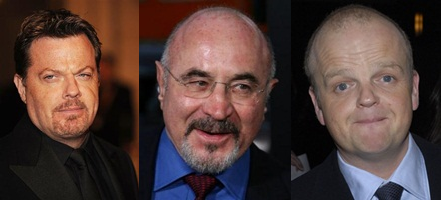 Ian McShane was cast first as the dwarf leader. The dwarf names are veering mightily away from the well-known Disney version, with McShane as Caesar, Jones as a timid dwarf named Claudius and Izzard will be Tiberius, described as the biggest and burliest of the crew. Hoskins will play Constantine, a blind dwarf.
Ian McShane a été le premier casté en tant que leader des nains. Les noms de nains sont vraiment loin de la version bien connue de Disney, avec McShane en tant que César, Jones en nain timide nommé Claudius et Izzard sera Tibère, décrit comme le plus grand et fort de l'équipe. Hoskins jouera Constantine, un nain aveugle.
Source