Nicki Minaj parle de Kristen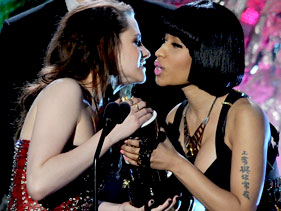 "[Kristen] had shoes on that didn't hurt her feet. And she didn't care that they looked really kind of crusty," Minaj pointed out. "But I did too! I had my Uggs on backstage."

"So that made me bond with her," she added. "She's cute."
"[Kristen] avait des chaussures qui ne faisaient pas de mal à ses pieds. Et elle s'en foutait qu'elles semblent vraiment vielles," Minaj a soulignée. "Mais moi aussi! J'avais mes Uggs dans les coulisses."

"Donc, ça me fait un lien avec elle," a t-elle ajoutée. "Elle est mignonne."
Source