Xavier Samuel parle de Kristen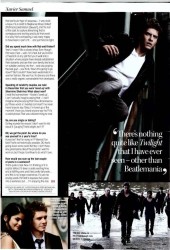 It must have been the biggest set you've worked on...

Well, I can't imagine a film that's generated that sort of response. It's funny thinking that regardless of what work I do in the future, I know that I'll never be a part of something that generates that particular type of response - it was really unique. It's a credit to Stephenie Meyer, Robert [Pattinson] and Kristen [Stewart], and the rest of the cast, to capture something that is contagious and exciting and build that world in a way that's compelling. I was really happy to have been a part of it... and just held on tight.

Did you spend much time with Rob and Kristen?

Yeah, it wasn't like a closed shop. Even though that was a fear - well, not a fear, but you're kind of hesitant on any job that you'll into a situation where people have already established their dynamic and their own family. And to be an outsider walking into that - and also playing the bad guy! - you think 'How's this going to go down?' But I couldn't have been welcomed in warmer fashion. We went out to dinners and there was a really organic camaraderie that developed.
Ça a dû être le plus gros plateau de tournage sur lequel vous avez travaillé...

Eh bien, je ne peux pas imaginer un film qui a généré ce genre de réponse. C'est drôle de penser que indépendamment du travail que je ferais dans l'avenir, je sais que ce ne sera jamais un rôle de quelque chose qui génère ce genre particulier de réponse, c'était vraiment unique. C'est un crédit à Stephenie Meyer, Robert [Pattinson] et Kristen [Stewart], et le reste du casting, de capturer quelque chose qui est contagieux et passionnant et construire ce monde d'une manière qui est convaincante. J'étais vraiment heureux d'avoir fait partie de ça... et je l'ai juste serré contre moi.

Avez-vous passé beaucoup de temps avec Rob et Kristen?

Ouais, ce n'était pas comme un magasin fermé. Même si c'était une peur, eh bien pas une peur, mais, tu es un peu hésitant sur n'importe quel travail que tu feras dans une situation où les gens ont déjà établi leur lien et leur propre famille. Et être un étranger qui arrive dedans, et qui joue également le rôle du méchant!, tu penses "Comment ça va aller?" Mais je n'aurais pas pu être accueilli de façon plus sympathique. Nous sommes sortis dîner et il y avait un esprit de camaraderie vraiment organique qui s'est développé.
Thx to
@Mel452