NOUVELLES/anciennes photos de Kristen & Robert habillés par Burberry (Promo de 'New Moon' à Munich, Novembre 2009)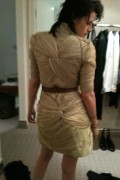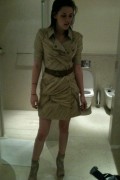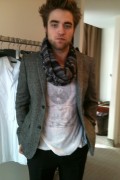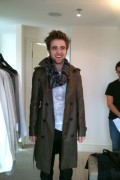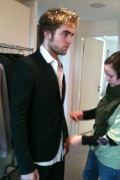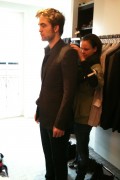 Candid shots of Pattinson and Stewart fitted by Burberry. As the stars of the hugely popular Twilight film franchise, Robert Pattinson and Kristen Stewart get to enjoy all the benefits of fame and fortune - including being showered with gifts by some of the world's top fashion houses. The actors are given the red carpet treatment wherever they go, and on one promotional trip to Germany last year (10), they were gifted with brand new wardrobes specially for the cameras, courtesy of Burberry. They were each fitted for their outfits at The Charles Hotel in Munich - Stewart, looking a little bleary-eyed, at 3am, while a more cheerful Pattinson was suited and booted by stylists at noon the following day. Rarely are the co-stars and rumoured lovers seen in such candid shots, but they have let their guard down for these photos, obtained exclusively by WENN. Munich, Germany - 2010 Michael Francis/WENN.com

ITsOTBY note: Wrong on the year, the pictures are from New Moon promo, November 2009.
Photos de Pattinson et Stewart habillés par Burberry. En tant que stars de la très populaire franchise de films Twilight, Robert Pattinson et Kristen Stewart profitent des avantages de la célébrité et fortune - y compris se faire couvrir de cadeaux par certaines maisons de haute couture mondiales. Les acteurs se voient dérouler le tapis rouge partout où ils vont, et lors d'un voyage promotionnel en Allemagne l'année dernière (10), ils se sont vu offrir de toutes nouvelles garde-robes spécialement pour les appareils photos, avec la courtoisie de Burberry. Ils ont été munis chacun de leurs tenus à l'hôtel 'The Charles Hotel' à Munich - Stewart, avec les yeux un peu rougis, à 3h du matin, tandis qu'un un peu plus joyeux Pattinson a été habillé par les stylistes à midi le lendemain. Il est rare que les co-stars et soupconnés amoureux autorisent ces photos, mais ils ont baissés leur garde pour ces photos, obtenu exclusivement par WENN. Munich, Allemagne - 2010 Michael Francis/WENN.com

ITsOTBY note: Faux sur l'année, les photos sont de la promo de New Moon, Novembre 2009.
Source
via