Photos/Interview avec Helen Hohne (TV Movie) & Aida Takla-O'Reilly (Young Hearts)
San Diego, Comic Con 2011
With Aida Takla-O'Reilly from Young Hearts (she is also the President of the 'Hollywood Foreign Press Association')
Avec Aida Takla-O'Reilly de Young Hearts (elle est aussi la présidente de la 'Association hollywoodienne de la presse étrangère')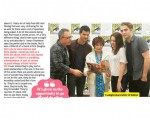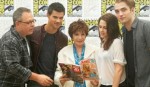 With Helen Hohne from TV Movie
Avec Helen Hohne de TV Movie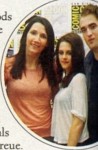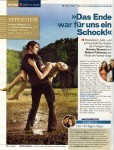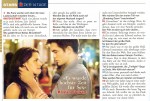 "The end was a shock for us"
Romantic, hot - and painful! In this way, the "Twilight" stars Kristen Stewart and Robert Pattinson experienced the final of the vampire saga.
TV Movie: Finally! The wedding bells are ringing for Hollywood's dream couple. For now, though, only in cinemas: In the first part of the "Twilight" showdown (part 2 starts in 2012) Kristen as a beautiful mortal, and Rob as a sexy vampire pledge their troth either to other. And: For the first time there are some really hot bed scenes! We met the young stars for an interview at San Diego's ComicCon.

TV Movie: Be honest: Was the film sex difficult for you?
Rob: Oh yes! I felt really uncomfortable.

TV Movie: Too many people on set?
Rob: No, a fear had rather something to do with Taylor and his fantastic body. Jacob, as a werwolf, has bared all already in the last two films. And to be honest, I can't keep up with him.

TV Movie: The fans will be pleased with the new passion nevertheless...
Kristen: After for year it's about time! (laughs)
Rob: They're very emotional scenes. For the first time I felt like a human, not like a vampire.

TV Movie: What do you think of Bella's wedding dress?
Kristen: I love it! It's old fashioned, though, but that's exactly what I like.

TV Movie: Would you wear such a dress on your own wedding?
Kristen: No, no. But it fits for Bella, and that's most important.

TV Movie: Do you believe in marriage?
Kristen: I like the thought of two people staying together for the rest of their lives. For me, however, this doesn't need to be sealed with signatures.

TV Movie: How would you describe the first part of "Breaking Dawn"?
Kristen: Mature is the right word. This time it's not about fighting, but the fact that we start a family.

TV Movie: The film is also very dark...
Kristen: That's right. Bella keeps saying that she would die for a life with Edward. In the movie she shows how seriously she takes it.

TV Movie: Is Edward the great hero like everyone thinks?
Rob: For me he's never been the great hero. Edward isn't interested in the rest of the world at all. Just at the end.

TV Movie: With the birth of his vampire daughter...
Rob: Exactly. The moment when the baby comes into world, he no longer thinks only of himself.

TV Movie: Part 2 is filmed already, the Twilight saga is over. What does it feel like?
Rob: I'm a bit paranoid and think after every film "That was my last one..."

TV Movie: What will you miss the most?
Kristen: I've been living in a different world for 4 years and I really liked it there (laughs). I'll miss everything.
Rob: Same for me. Especially the last day was a shock. I've never wanted to think about the end, and then it was suddenly there. Now we have to live with it.
"La fin a été un choc pour nous"
Romantique, chaud - et douloureux! C'est de cette façon que, les célébrités de «Twilight» Kristen Stewart et Robert Pattinson ont connu la fin de la saga de vampires.
TV Movie: Enfin! Les cloches de mariage ont sonnées pour un couple de rêve d'Hollywood. Pour l'instant, cependant, que dans les cinémas: Dans la première partie de "Twilight" (partie 2 commence en 2012) Kristen est une belle mortel, et Rob est un vampire sexy en gage de leur serment à l'autre. Et: Pour la première fois il y a quelques scènes vraiment hot au lit! Nous avons rencontrés les jeunes célébrités pour une interview à la Comic Con de San Diego.

TV Movie: Soyez honnête: Était t'il le film (avec du) sexe le plus difficile pour vous?
Rob: Oh oui! Je me sentais vraiment mal à l'aise.

TV Movie: Trop de gens sur le plateau?
Rob: Non, la crainte avait plutôt quelque chose à voir avec Taylor et son corps fantastique. Jacob, comme un loup-garou, a tout mis à nu déjà dans les deux derniers films. Et pour être honnête, je ne peux pas me maintenir à son niveau.

TV Movie: Les fans seront heureux de la nouvelle passion pourtant ...
Kristen: Après des années il était temps! (rires)
Rob: Elles sont des scènes très émotives. Pour la première fois je me sentais comme un humain, pas comme un vampire.

TV Movie: Que pensez-vous de robe de mariée de Bella?
Kristen: Je l'adore! C'est vieux jeu, cependant, mais c'est exactement ce que j'aime.

TV Movie: Voulez-vous porter une telle robe à votre propre mariage?
Kristen: Non, non. Mais elle s'adapte pour Bella, et c'est le plus important.

TV Movie: Croyez-vous au mariage?
Kristen: J'aime l'idée de deux personnes qui restent ensemble pour le reste de leur vie. Pour moi, cependant, cela n'a pas besoin d'être scellé avec des signatures.

TV Movie: Comment décririez-vous la première partie de "Breaking Dawn"?
Kristen: Mature est le mot juste. Cette fois, il ne s'agit pas de combats, mais le fait que nous fondons une famille.

TV Movie: Le film est aussi très sombre ...
Kristen: C'est exact. Bella ne cesse de dire qu'elle mourrait pour une vie avec Edward. Dans le film, elle montre à quel point elle s'y tient.

TV Movie: Est-ce Edward le grand héros, comme tout le monde pense?
Rob: Pour moi il n'a jamais été le grand héros. Edward n'est pas intéressé par le reste du monde. Juste à la fin.

TV Movie: Avec la naissance de sa fille vampire ...
Rob: Exactement. Le moment où le bébé arrive au monde, il ne pense plus qu'à lui-même.

TV Movie: La partie 2 est déjà filmé, la saga Twilight est terminée. Que ressent-on?
Rob: Je suis un peu paranoïaque et pense après chaque film «Ce fut ma dernière ...».

TV Movie: Qu'est-ce qui vous manquera le plus?
Kristen: J'ai vécu dans un autre monde pendant 4 ans et j'ai vraiment aimé là-bas (rires). Tout va me manquer.
Rob: Idem pour moi. Surtout le dernier jour a été un choc. Je n'ai jamais voulu penser à la fin, puis elle a été soudainement là. Nous avons maintenant à vivre.
via