Kristen sera une Blanche-Neige "précieuse" dit sa co-star Sam Claflin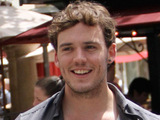 "I've only done one tiny scene with Kristen so far, but I have every hope in her," Claflin said. "I truly believe and trust in her and I'm pretty sure she'll do an absolutely diamond job of it. I'm pretty sure she's excited about the challenge."
"J'ai seulement tourné une minuscule scène avec Kristen jusqu'à présent, mais j'ai bon espoir en elle," Claflin dit. "Je crois vraiment et ai confiance en elle et je suis sûr qu'elle en fera un travail précieux. Je suis sûr qu'elle est très excité à propos de ce défi."
Source