Défilé Printemps/Été 2010 de Mulberry, Londres (18 septembre 2010)
Kristen was sitting next to Kate Moss & Romola Garai - Kristen était assise à côté de Kate Moss & Romola Garai
Arriving -
Arrivant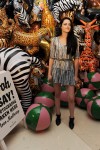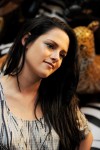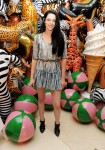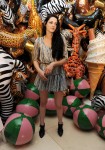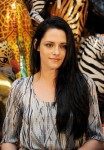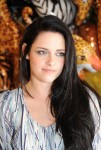 Show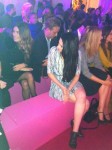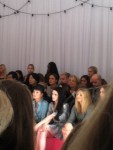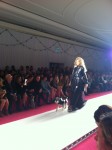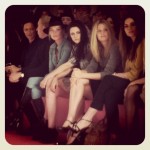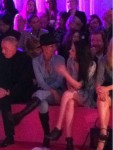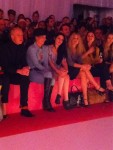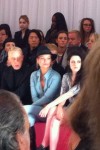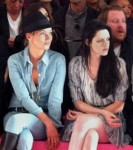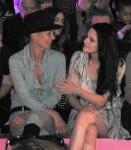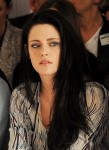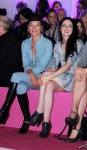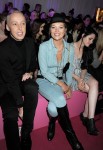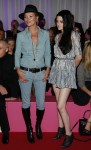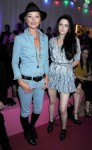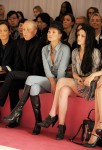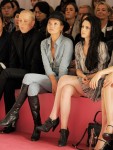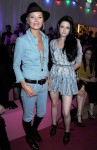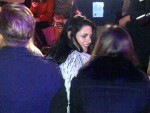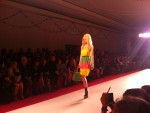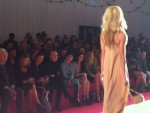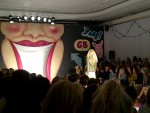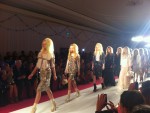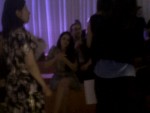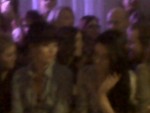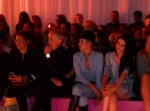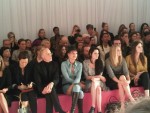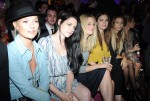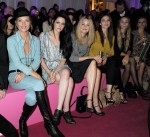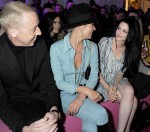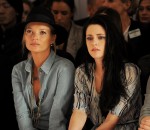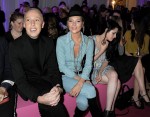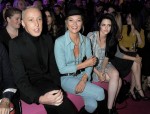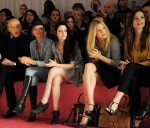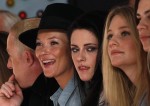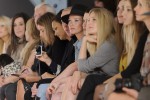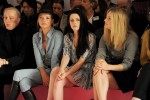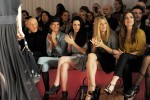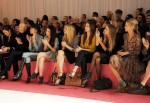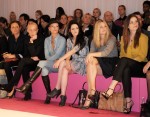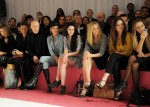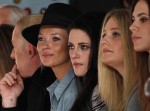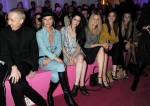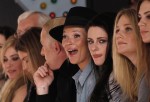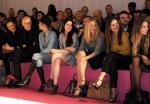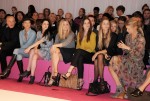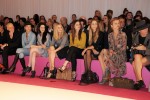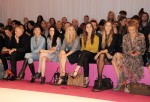 Backstage
Kristen with Emma Hill (Mulberry's creative designer), Kate Moss & the model MJ - Kristen avec Emma Hill (directrice artistique de Mulberry), Kate Moss & le mannequin MJ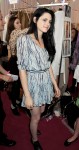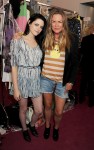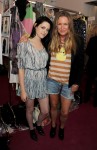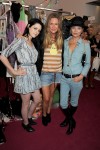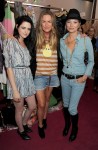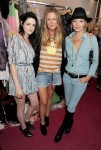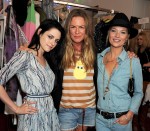 After party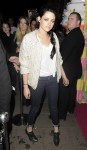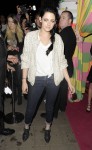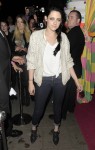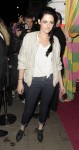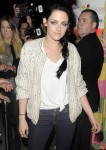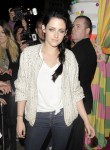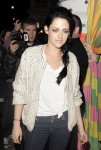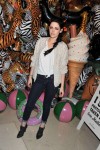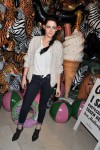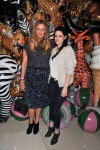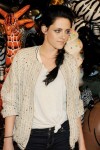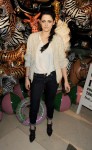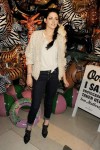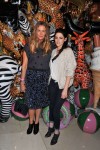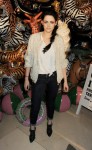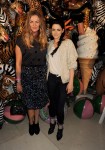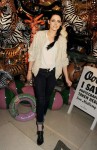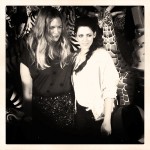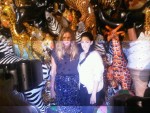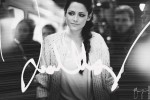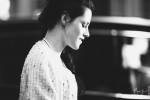 Videos/Interviews
Vogue
"I loved the yellow, it's actually my favourite colour,"
Stewart told us backstage after the show, confessing that going to shows isn't something she'd usually do.
"But I was really glad to come to this one. I wasn't expecting what I saw but it was - wow. The concept was out there but with the fun rain jackets it was practical too."
"The people are really great. I like walking around here, I don't really get bothered by anyone,"
the Twilight film actress told us post-show - at which, conversely, she was going anything but unnoticed, sitting as she was next to Kate Moss.
"Actors and actresses have a hand in both words [acting and fashion]. You have to stay involved in it to be interested. I love what I wear, I mean I love choosing what I wear,"
she said, impressed with what she had seen on the Mulberry spring/summer 2012 catwalk.
And what about her own style - how would she describe that?
"All over the place right now. I have different versions of myself and a standard uniform - I wear jeans. It's cool to have another side of things. I have phases,"
she told us.
Telegraph
Stewart, who rose to fame through her role in the Twilight saga, admitted she was a big fan of British fashion, and said of the show:
"Oh man, it was great."
Style
"I'm really a Converse and jeans kind of girl,"
Kristen Stewart told Style.com at last night's Mulberry after-party.
"I mean, these,"
she said, pointing at her heels,
"are a big departure for me. But I love Mulberry. They don't take fashion too seriously, which is perfect because neither do I."
WWD
SNOW WHITE, OR BLACK?:
"I know everyone thinks I wear black all the time, but I really do love vibrant colors,"
Kristen Stewart of the "Twilight" series said after taking in Mulberry's bright show Sunday morning at Claridge's.
Stewart, in London until November shooting "Snow White and the Huntsman," noted her take on Snow White is far from the cutesy Disney version.
"It's more based on the original telling of it, which is fairly dark…it says a lot of great things about vanity and image and strength and standing up for what's right,"
she said, describing the title role as a Joan of Arc type.
Vogue
"J'ai adoré le jaune, c'est vraiment ma couleur préférée"
, nous a dit Stewart en coulisses après le spectacle, confessant que les défilés ne sont pas quelque chose dont elle avait l'habitude.
"Mais j'ai été vraiment heureuse de venir à celui-ci. Je ne m'attendais pas à ce que j'ai vu mais il était - wow. Le concept était out mais avec les vestes de pluie amusantes c'était pratique aussi."
"Les gens sont vraiment super. J'aime marcher autour d'ici, je ne suis pas vraiment dérangé par quiconque,"
l'actrice des films Twilight nous a dit après le spectacle - à laquelle, inversement, elle était tout sauf inaperçue, car elle était assise à côté de Kate Moss.
"Les acteurs et actrices ont un pied dans les deux [comédie et mode]. Vous devez rester impliqué dedans et être intéressé. J'aime ce que je porte, je veux dire j'aime choisir ce que je porte"
, dit-elle, impressionnée par ce qu'elle avait vu dans le défilé de mode de Mulberry printemps/été 2012.
Et que dire de son propre style - Comment décrirait-elle cela?
"Partout dans chaque endroit maintenant, j'ai des versions différentes de moi et un uniforme standard - je porte des jeans. C'est cool d'avoir un autre côté des choses, j'ai des phases"
, elle nous a dit.
Telegraph
Stewart, qui a connu la gloire grâce à son rôle dans la saga Twilight, a admis qu'elle était une grande fan de la mode britannique, et a dit du défilé:
"Oh mec, c'était super".
Style
"Je suis vraiment une sorte de fille à Converse et jeans"
, Kristen Stewart dit à Style.com à l'after-party de Mulberry la nuit dernière.
"Je veux dire, celles-ci,"
dit-elle en montrant ses talons,
"sont un grand départ pour moi. Mais j'aime Mulberry. Ils ne prennent pas la mode trop au sérieux, ce qui est parfait parce que moi non plus."
WWD
BLANCHE NEIGE, OU NOIR?:
"Je sais que tout le monde pense que je porte du noir tout le temps, mais je n'aime vraiment que les couleurs vives"
, Kristen Stewart de la franchise "Twilight" a déclaré après le show lumineux de Mulberry dimanche matin au Claridge.
Stewart, à Londres jusqu'en novembre pour le tournage de "Blanche-Neige et le Chasseur," a noté qu'elle emmène Blanche Neige loin de la version mièvre de Disney.
"C'est plus basé sur le récit d'origine de celle-ci, qui est assez sombre ... il dit beaucoup de grandes choses au sujet de vanité et de l'image et la force et d'être debout pour ce qui est juste"
, a t-elle dit, en décrivant le rôle-titre comme une Jeanne d'arc type.
Source:
#1
#2
#3
#4
#5
#6
#7
#8