Nouvelle interview avec PopSugar sur le tournage de 'Blanche Neige et le Chasseur'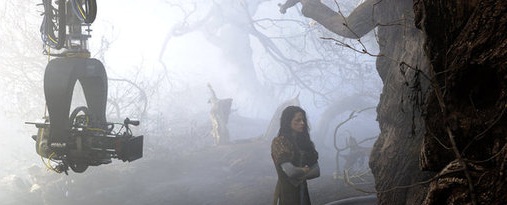 ITsOTBY note: This interview was conducted on the set (October 2011) with international journalists. So quotes may appear in multiple international publications.

Is there something you admire about Snow White?

Yes. It's strange playing a character that you actually could never truly embody. Her spirit affects people. . . I can't have Snow White's effect on people. I can't actually be completely selfless because nobody is. You can only really play a character like that in a fairy tale and play it with an awful load of integrity. She's very fully formed, but very farfetched-from-the-reality-that-we-live-in type of person. She also is strong in a very different way than you'd expect. Strength, yeah, but also gusto. I mean, she's strong. She can kick ass. It hurts very much to do so and so it's not like you're watching her go take down a kingdom. You're not watching going, "Yeah! Kill him!" Really it's more like you're watching someone having to do something that doesn't just go against your sensibilities or that you agree with. It's gutting. It's physically gutting, literally. A million reasons, but she's special.

Do you like that she's not like your prissy fairy tale?

Yeah, because that's just a very surface, though she is prissy sometimes. That's the other thing. It takes her the whole movie basically to become who I'm talking about now. I'm really sort of talking in retrospect. It's strange. It's a total identity movie. It's all about not finding yourself, but actually just being OK with who you always have been and not being ashamed of being the only one who sees the light. It's an enormous burden and she's so stunted. She was put away when she was 7 years old and your mother and your father were killed basically right in front of you. We're not doing the version of a fairy tale that wouldn't deal with all of those things, where you just sort of skim over all those things, and it's like all of these things are actually really important to the characters. She literally bleeds for her land and her people, and that's just such a cool concept for me because it's other people caring about people. It's very simple, but it's so common. Every day all the time you see people not caring about each other, and this is just about that.

She learns to be a leader or she's born a leader inside, do you think?

She's definitely a born leader. I mean, it's literally pumping through those veins, but it's been taken from her. She's been so stolen from.

Is it helping you get into the character's mindset to wear those cool costumes?

Absolutely. If you look down and something doesn't feel like you would definitely be wearing it, or if you go to grab your knife and it flops around or — basically [Colleen Atwood] thinks about every detail. It's so wearable. I also have puffy sleeves. Somehow she manages to make puffy sleeves look butch. I was always expecting to personally wind up in a — basically what I'm wearing underneath it, like that little blue dress, which is just thin and wispy. I was really happy that she's got something heavy on — a bit of armor before she actually finds her own armor.

How did you feel the first time you put on the armor? Did you feel more badass?

Yeah. That's the first thing you want to [pound your chest]. Also, my armor doesn't have a huge top on it. All the guys, unfortunately, they [raise their arms] and they hit themselves in the head. I can run around in mine. Somehow the armor on the men — unless they're on horseback and they look amazing, but there's also something kind of dainty about it, too, like pointy toes. It fits a woman's body better, I feel. I don't know, the guys running around suddenly look like little toys — slightly feminine little toys.

Both Snow White and Bella had traumatizing experiences in the woods — being led out to die or have her heart broken — compare those two experiences?

Well, it's funny. I think [Snow White] genuinely lacks that innate fear of death that we all have. She's got a serious, fierce survival — not skills, but insights. But she isn't afraid of anything. What's harder is to have dreams and hopes that you lived your whole life sort of be just shattered in front of you. So I think probably it's totally impossible to compare the two. And I know that doesn't make sense, but I kind of can't compare.

Can you compare the movies in general? Are there similarities at all?

Bella and Snow White both come to find that they're leaders. I mean, that's definitely a similarity. They're different. They're very, very, very, different people. Also, I guess in a very sort of righteous way as well it's all very like — everyone's telling them "no" and both of them I guess see the light. Both of them are sort of a little more intuitive and spiritually, for whatever reason, connected and their gut is always sort of dead right.

What about working with Chris surprised you? Did you have any preconceptions of him?

Before I met him, I was like, "gosh, so charming." You know what I mean? Like he's so ridiculously, seemingly nice. Movie-star caliber nice. But he really actually just is. But then again, it's strange working — cause I mean it's not a secret. It was completely different part before. It was totally like a rethought. So when he came in it was like "Wow! This is f*cking interesting!" I mean, it was like they really elevated it. Chris is an amazing, nice guy and also [has] great instincts and he can roll with everything on set. He's really relaxed, whereas I'm always like, "oh my god!" I use my anxiety to do this and he's always sort of like — he's a good energy for me. I really like working with him.

You actually punched Chris filming a scene and gave him a black eye?

It's actually a very confidence building experience. I don't like punching anyone. So, you know, when you dream and your hand just slides right down their face, it doesn't do that in real life. It really works. God, that really made me feel horrible, though. I mean, like instantly hot tears and I was like "oops!" We were watching it. It looks — it'll be in the movie.

Favorite fairy tale as a kid?

I honestly don't — somebody asked this the other day. I wasn't here til the end of fairy tales. I really liked The Jungle Book. I was obsessed with The Jungle Book.

Chris said Lord of the Rings and The Hobbit.

He is obsessed with Lord of the Rings and he was always like humming Enya as we were trudging up the mountain. I was saying basically, "You should make a remake of Lord of the Rings. Why are you doing this? . . . We're doing Snow White and the Huntsman, Chris!"
ITsOTBY note: Cette interview a été réalisée sur le plateau (Octobre 2011) avec des journalistes internationaux. Plusieurs citations peuvent donc apparaître dans de multiples interviews.
Y a t-il quelque chose que tu admires chez Blanche Neige ?
Oui. C'est étrange de jouer un personnage que vous ne pourrez jamais véritablement incarner. Son esprit affecte les gens.. Je ne peux pas avoir l'effet de Blanche-Neige sur les gens. Je ne peux pas vraiment être complètement désintéressé parce que personne ne l'est. Vous pouvez seulement réellement jouer un personnage comme ça dans un conte de fées et le jouer avec une dose terrible d'intégrité. Elle est très bien formé, mais vraiment tiré-par-les-cheveux-et-hors-de-la-réalité-du-type-de-personne-avec-qui-nous-vivons. Elle est également forte d'une façon très différente de celle que vous attendez. Forte, ouais, mais aussi enthousiaste. Je veux dire, elle est forte. Elle peut botter des culs. Ça fait très mal de le faire et ce n'est pas comme si vous la regardiez aller abattre un royaume. Vous ne la regardez pas y aller, "Yeah! Tue-le!" Vraiment c'est plutôt comme si vous observiez quelqu'un devant faire quelque chose qui ne va pas à l'encontre de vos sensibilités ou ce avec quoi vous êtes d'accord. C'est un carnage. C'est physiquement un carnage, littéralement. Un million de raisons, mais elle est spéciale.
Est-ce que tu aimes le fait qu'elle ne soit pas comme les filles prudes des contes de fées ?
Ouais, parce que c'est juste une apparence, si elle est parfois chichiteuse. C'est l'autre face. Ca lui prend tout le film essentiellement de devenir celle dont je parle maintenant. Je suis vraiment genre entrain de parler avec le recul. C'est étrange. C'est totalement un film d'identité. Ce n'est pas une question de vous trouver, mais en fait tout simplement d'être ok avec qui vous avez toujours été et de ne pas avoir honte d'être le seul qui voit juste. C'est un énorme fardeau et elle est tellement chétif. Elle a été mise de côté quand elle avait 7 ans et c'est comme si votre mère et votre père étaient tués en quelque sorte juste en face de vous. Nous ne faisons pas la version d'un conte de fées qui ne traiterait pas de toutes ces choses, où qui survolerait juste toutes ces choses, et on dirait que toutes ces choses sont très importantes pour les personnages. Elle saigne littéralement pour sa terre et son peuple, et c'est un concept si cool pour moi parce que c'est d'autres personnes qui se soucient du peuple. C'est très simple, mais c'est tellement commun. Chaque jour, tout le temps vous voyez des gens ne se soucient pas des autres, et c'est à peu près cela.
Elle apprend à être un leader ou elle est née avec une âme de leader, qu'en penses-tu?
Elle est certainement un leader né. Je veux dire, ça coule littéralement dans ses veines, mais on lui avait enlevé. Elle a été tellement volé.
Est-ce que ça t'aide d'entrer dans ton personnage de porter ces costumes cool?
Absolument. Si tu te rends compte que tu ne porterais jamais cette chose, ou si tu attrapes ton couteau et qu'il glisse ou -- en gros, Colleen Atwood pense à tout. C'est tellement un truc que tu peux porter. J'avais aussi des manches bouffantes. Elle a réussi à rendre des manches bouffantes masculines. Je m'attendais toujours à m'envoler -- ce que je porte en dessous, comme cette petite robe bleue, qui est parfaitement fine et légère. J'étais vraiment heureuse qu'elle ait quelque chose de lourd -- un peu d'armure avant qu'elle trouve sa propre armure.
Qu'as-tu ressenti la première fois que tu as porté ton armure? Te sentais-tu plus dur à cuire?
Oui c'est la première chose que tu voulais (gonfle la poitrine). De plus mon armure n'est pas énorme. Tous les autres, malheureusement, ils (lève les bras) et ils se cognaient eux même à la tête. Je pouvais courir dans la mienne. Quelque part, l'armure des garçons – à mois qu'ils soient à cheval et ils ont l'air magnifique, mais il y aussi une sorte de chic là dedans aussi comme les bouts des pieds pointus. Ça va mieux à un corps de femme, je pense. Je ne sais pas, les garçons deviennent soudainement des petits jouets – des petits jouets légèrement féminins.
Blanche Neige et Bella ont toutes les deux une expérience traumatisante dans les bois – laisser pour morte ou avoir le cœur brisé – peut on comparé les deux expériences.
Bien, c'est marrant. Je pense que Blanche Neige manque cruellement de cette peur innée de la mort que nous avons tous. Elle est une survivante sérieuse et fière – pas dans les capacités mais à l'intérieur d'elle même. Mais elle n'a pas peur de rien. Ce qui est le plus difficile c'est d'avoir des rêves et des espoirs que vous avez pour toute votre vie qui se brisent juste devant vos yeux. Donc je pense qu'il est pratiquement impossible de comparer les deux. Et je sais que ça n'a pas de sens mais c'est quelque chose d'incomparable.
Peut on comparer les deux films en général? Ont-ils des similarités?
Bella et Blanche Neige se sont toutes les deux rendu compte que ce sont des leaders. Je veux dire, c'est définitivement une similitude. Elles sont différentes. Elles très très très différentes, l'une de l'autre. De plus je suppose dans une sorte de voie juste, c'est toujours très – tout le monde leur dit "non" et toutes les deux, je suppose, voit une lumière. Elles sont un peu plus intuitives et spirituellement, pour différentes raisons, connecté et leurs tripes sont toujours en quelque sorte juste.
Qu'est ce qui t'as surpris dans le fait de travailler avec Chris? Avais-tu des idées préconçues sur lui?
Avant de la rencontrer, j'étais du genre « Mon dieu, tellement charmant ». vous voyez ce que je veux dire ? Il est si ridiculement, apparemment agréable. Le genre de star du cinéma agréable. Mais il l'est vraiment. Mais encore, c'est un travail étrange – parce que je veux dire, ce n'est pas un secret. C'était une parti complètement différente avant. C'était totalement comme repenser à quelque chose. Donc quand il est arrivé, c'était comme "Wow ! C'est intéressant !". Je veux dire c'était comme, ils l'ont vraiment élevé. Chris est un incroyable, agréable mec et il a aussi de supers instincts et il peut faire tout ce qu'on lui demande sur le plateau. Il est vraiment relax, tandis que moi je suis genre, "oh mon dieu !", j'utilise mon anxiété pour faire quelque chose et lui il est du genre – Il est vraiment une bonne énergie pour moi. J'ai vraiment apprécié de travailler avec lui.
Vous l'avez frappé au visage pendant le tournage d'une scène et lui avait donné un œil au beurre noir?
En fait, c'était une expérience très constructive. Je n'aime pas frapper les gens. Donc, vous savez, quand vous rêvez et que votre main glisse juste en plein dans leur visage, on ne fait jamais ça dans la vraie vie. Ça marche vraiment. Mon dieu, ça m'a vraiment fait me sentir mal. Je veux dire, j'ai tout de suite pleurer et j'étais genre "Oops !". Nous l'observions. Ça ressemblait – Ce sera dans le film.
Conte de fée favori étant enfant?
Honnêtement, j'en ai pas – quelqu'un me l'a demandé l'autre jour. Je n'étais pas là avant la fin de contes de fée. J'ai beaucoup aimé le livre de la jungle. J'étais obsédé par ce conte.
Chris a dit 'Le seigneur des anneaux et le Hobbit'.
Il est obsédé par le Seigneur des anneaux et il était tout le temps en train de chantonner Enya quand nous étions en train de monter en haut de la montagne. Je lui disais "Tu devrais faire un remake du Seigneur des Anneaux. Pourquoi tu fais ça ?... on est dans Blanche Neige et le Chasseur, Chris !"