Cinemas Bondi Junction, Sydney

Kristen, Chris Hemsworth & Rupert Sanders

HQ



MQ



Kristen & Verne Troyer



Fan pictures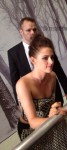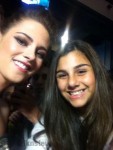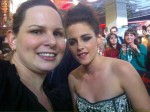 Picture by Adir - Photo par Adir


Videos/Interviews

Universal Pictures Australia

Ten News

The Dirt

AAP

The Hot Hits

Famous

Showtime Movie News

Movie Juice

MTV

Kristen Stewart and Robert Pattinson could be set for a post 'Twilight' on-screen reunion!

Yep, while the lovebirds may be saying goodbye to Bella and Edward in 'Breaking Dawn: Part 2' this November, K-Stew has revealed plans to nab her British beau for a 'Snow White and the Huntsman' sequel!

In an exclusive chat with MTV Australia at the Sydney premiere of the fairytale remake, the actress said of Rob joining her for a follow-up flick.

"Oh absolutely! Rob's invited to be on our cast. Definitely!"

But, it looks like R-Patz could have a bit of a battle on his hands for his leading lady's affections…

Kristen's 'Snow White' love interest Chris Hemsworth, who plays the part of the Huntsman in the Disney adaptation, told us he's also up for part 2.

"I don't know if it's officially going ahead, but there's definitely talk of [a sequel]."

"There seems to be a great interest in this, so definitely if there's another great script and the same cast then for sure!"

And luckily for Kristen, Chris (and possibly Rob), the movie's director Rupert Sanders has already started working on the next instalment!

"I can tell you that I'm working on a sequel now and it's really exciting," he told MTV Australia on the white carpet at Bondi Junction's Event Cinema.

"We all had a great time doing this one, so onwards and upwards."
Kristen Stewart et Robert Pattinson pourrait tourner pour une post 'Twilight' réunion à l'écran!

Ouep, pendant que les tourtereaux vont dire au revoir à Bella et Edward dans 'Breaking Dawn : Partie 2' ce novembre, K-Stew a révélé des plans pour ajouter son bel anglais à la suite de 'Balnche-Neige et le Chasseur'!

Dans une interview exclusive avec MTV Australia à l'avant première du remake du conte de fée à Sydney, l'actrice a dit que Rob pouvait la rejoindre pour la suite.

"Oh absolument! Rob est invité à être dans le casting. Définitivement!"

Mais, on dirait que R-Patz pourrait un peu se battre avec ses main pour les affections de sa dame.

L'amoureux de Kristen dans Blanche-Neige, Chris Hemsworth, qui joue le chasseur dans l'adaptation de Disney, nous a dit qu'il était aussi prêt pour la 2e partie.

"Je ne sais pas si c'est officielle que ça continue, mais on parle définitivement d'une suite."

"Il y a l'air d'avoir beaucoup d'intérêt sur cela, donc définitivement si il y a un autre script et le même cast pour sûr!"

Et avec chance pour Kristen, Chris (et peut être Rob), le réalisateur du film Rupert Sanders a déjà commencé à travailler sur le prochain projet!

"Je peux dire que je suis en train de travailler sur une suite et c'est vraiment excitant," a-t-il dit à MTV Autralia sur le tapis blanc à Bondi Junction's Event Cinema.

"On a tous pris du bon temps à faire le premier, du début à la fin."
Source:
#1
#2
#3
#4
#5
#6
#7
#8
#9
#10
#11
#12
#13
#14
#15
#16
#17
#18
#19
#20
#21
#22
#23
#24
#25
#26
#27
#28
#29
#30
#31
#32
#33
#34
#35
#36
#37
#38
#39
#40
#41
#42
#43
#44
#45
#46