Ray Winstone parle de Kristen avec HeyUGuys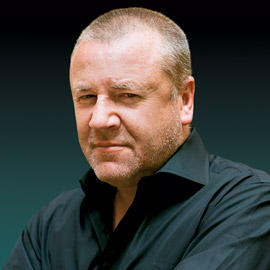 Q: What was Kristen Stewart like to work with?

She's tremendous. She's coming in the woods with eight hairy-ass dwarves who all know each other. From day one, she came in, was chatting with the boys, got to know us and then she quietened down and got on with her work. But she's a ballsy little girl, I say little girl but she's a ballsy woman! I shouldn't think of her any other way, she's a professional actress and a f*cking good one at that!
Q: Comment était-ce de travailler avec Kristen Stewart?

Elle est formidable. Elle est allée dans les bois avec huit nains poilu-du-cul qui se connaissaient les uns les autres. Dès le premier jour, elle est entrée, a discuter avec les garçons, a appris à nous connaître et puis elle s'est calmée et s'est attelée à son travail. Mais c'est une petite fille gonflée, je dis petite fille mais c'elle est une femme gonflée! Je n'aurai pas penser à elle d'une autre façon, c'est une actrice professionnelle et même une putain de bonne!
Source