Robert Pattinson parle de l'écriture d'un script avec Kristen et de Sur la Route.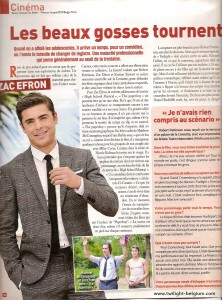 Did you see 'On the Road' in which your girlfriend, Kristen Stewart, has a role?
Rob: Yes and it's sort of weird to see her like this. To have people clapping for you at Cannes, a Festival that's a little crazy and with so many people, is funny. We might expect those kind of reactions but always end up being surprised.

Did you become up professional opponents?
Rob: No, never. For a year now we both had the chance to evolve in the job we love, especially in those amazing movie projects. Kristen is really ambitious. She knows how to find good scripts, she has the nose for that. I admire her. We wanted people to respect and understand our choices. During the Cosmopolis screening at Cannes, I was a nervous wreck. I was looking in front of me, behind me, trying to guess people's reactions. I was trying to listen for whispers. And in the end, I missed half the movie. *laughs* At the after party that followed, I was even more terrified at the prospect of having to face people's comments.

Will you be in a movie together after Twilight?
Rob: Yes, absolutely. We're trying to write a script together. It won't be for now but we've thought about it for a long time. The filming of the last two movies was long and difficult.My character doesn't change, he can't die. We finish on a high note.
Avez vous vu « Sur la Route », dans lequel joue votre copine, Kristen Stewart?
Rob: Oui, et ça fait bizarre de la voir là. Se faire applaudir à Cannes, festival un peu fou où ça grouille de monde, c'est amusant. On a beau s'attendre à ce genre de réactions, ça surprend toujours.

Vous êtes devenus des rivaux professionnellement?
Rob: Non, jamais. Depuis un an, on a l'un et l'autre la chance d'évoluer dans le métier qu'on aime. Surtout dans d'aussi beaux projets. Kristen est très ambitieuse. Elle sait détecter les bons scénars, elle a le flair pour ça. Je l'admire. On voudrait que les gens respectent et comprennent nos choix. Lors de la projection de 'Cosmopolis', j'étais hyper-nerveux. Je regardais sans cesse devant, derrière, pour deviner les réactions des gens. Je tendais l'oreille aux chuchotements. Et, du coup, j'ai manqué la moitié du film. (Rires) A la soirée qui a suivi, j'étais encore plus terrorisé à la perspective
d'affronter les commentaires.

Comptez-vous tourner ensemble après 'Twilight'?
Oui, absoluement. On essais d'ailleurs d'écrire un scénario ensemble. Sa concrétisation ne sera pas pour tout de suite, mais on y songe depuis longtemps. Le tournage des derniers épisodes de 'Twilight' a été vraiment long, pénible même. Le personnage ne change plus, il ne peut pas mourir. On termine en beauté.
Via + English translation
-
Source