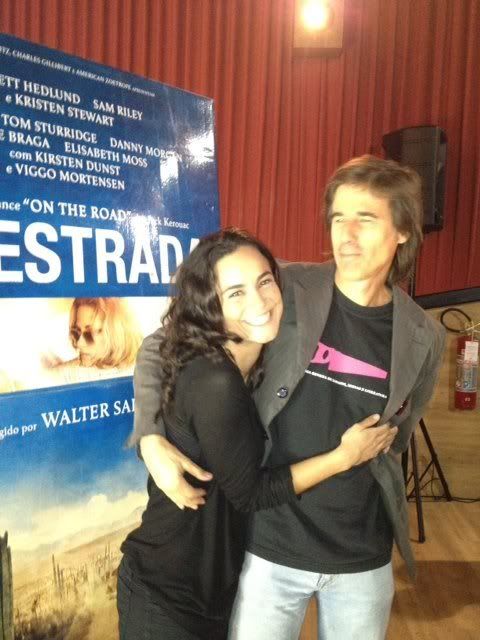 Director Walter Salles and Alice Braga (Terry) at the press conference in Brazil.
IG
- Walter Salles praises again Kristen Stewart - "The director praised the "loyalty" of Stewart with the project even after the "boom" of "Twilight" and its guarantees of a fortune (which was not the case with "The Road"), and already gave a hint of her future works. "She told me what she wants to do and are upstream movies (against the grain; counterculture). Box Office success is not a concern for her."
UOL
- Alice Braga on Kristen Stewart "Alice confirmed that Walter "discovered" Kristen Stewart before "Twilight" and hoped that people no longer associate her to the teen universe. "She's an complete actress since childhood and shows beyond the Girl from 'Twilight.'. I hope people stop to associate her to this teen idol and start to see her as a great actress of her generation."
Terra
- Alice Braga praises Kristen Stewart again - "The actress also praised the work of Kristen Stewart, who plays the young Marylou in the film and is considered a somewhat controversial choice of Walter, due to be better known since the Twilight movies. "Kristen is a great actress of this generation, goes far beyond Twilight. The lack of shame to make her sex scenes are brilliant," she said".
Le réalisateur Walter Salles et Alice Braga (Terry) à la conférence de presse au Brésil.
IG
-Walter Salles fait une nouvelle fois l'éloge de Kristen Stewart - Le directeur a salué la 'loyauté' de Stewart avec le projet, même après le "boom" de 'Twilight' et ses garanties d'une fortune (ce qui n'était pas le cas avec 'On the Road'), et a déjà donnée une indication de ses œuvres futures. "Elle m'a dit ce qu'elle veut faire et ce sont des films en amont (à contre-courant). Le succès au box office n'est pas une préoccupation pour elle."
UOL
- Alice Braga sur Kristen Stewart - Alice a confirmée ce que Walter a "découvert" sur Kristen Stewart avant 'Twilight' et espère que les gens ne l'associerons plus à l'univers adolescent. "Elle est une actrice complète depuis l'enfance et montre plusq que 'la fille de Twilight'.". J'espère que les gens s'arrêteront de l'associer à cette idole des jeunes et commencerons à la voir comme une grande actrice de sa génération."
Terra
- Alice Braga fait l'éloge de Kristen Stewart une nouvelle fois - L'actrice a également saluée le travail de Kristen Stewart, qui joue la jeune Marylou dans le film et est considérée comme un choix quelque peu controversée par Walter, qui devrait être mieux connue depuis les films Twilight. "Kristen est une grande actrice de cette génération, elle va bien au-delà de Twilight. L'absence de honte à faire ses scènes de sexe est brillant," dit t'elle.
Source
-
Via
-
Via