MAJ: Scans en meilleurs qualités - Entertainment Weekly - Twilight: The Complete Journey (le voyage complet)
Sept 30.
Sept 24.
New (very beautiful) picture of Kristen and Robert Pattinson from a rehearsal shot for 'Breaking Dawn Part 1'.
Nouvelle (très belle) photo de Kristen et Robert Pattinson lors d'une répétition filmée pour 'Breaking Dawn Part 1'.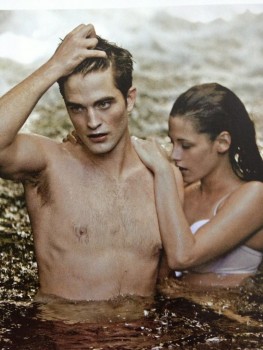 Sept 23.
Scans with NEW 'Breaking Dawn Part 2' stills!


Aug 30.
Publication date: October 2, 2012
Pre-order links: AmazonUS $12.21 - AmazonUK £10.22 - AmazonFR 14,52€
112 pages - Includes five posters based on original EW covers.
A gorgeous all-access guide to the Twilight saga from the magazine whose writers and photographers covered the phenomenon before anyone else and better than anyone else. "The Twilight Journey" follows author Stephenie Meyer and stars Robert Pattinson, Kristen Stewart and Taylor Lautner on their wild, five-year journey from the set of the first movie to the premiere of 2012′s "Breaking Dawn, Part 2." With funny, intimate, often shockingly frank interviews as well as set visits, trivia, book and movie guides, and dozens of now-iconic photographs. The book is not only a keepsake for fans to pore over but also a revealing portrait of an unassuming first-time author and three very different young actors coping with a fame so sudden and overwhelming that it not only transformed their lives but Hollywood itself.
Date de publication: 2 octobre 2 2012
Liens de pré-commande: AmazonFR 14,52€
112 pages - Inclus posters basés sur les couvertures d'EW.
Un guide magnifique entièrement dédié à la saga Twilight par le magazine dont les écrivains et photographes ont couvert le phénomène avant tout le monde et mieux que quiconque. "The Twilight Journey" suitl' auteur Stephenie Meyer et les stars Robert Pattinson, Kristen Stewart et Taylor Lautner dans leur sauvage voyage de cinq ans à partir du tournage du premier film à la sortie de l'année 2012 de "Breaking Dawn Part 2." Avec des interviews drôles, intimes, souvent scandaleusement franches ainsi que des visites sur le plateau, des anecdotes, des guides des livres et des films, et des dizaines de photographies désormais emblématiques. Le livre n'est pas seulement un souvenir pour les fans, mais aussi un portrait révélateur d'une modeste auteur-pour-la-première-fois et de trois très différents jeunes acteurs aux prises avec une renommée si soudaine et accablante qu'elle a non seulement transformée leur vie, mais Hollywood lui-même.
@epnebelle
-
KstewartUK
-
Gossipdance
-
EW scans
-
Via
-
Via
-
@londonstew
-
@epnebelle