NOUVELLES/anciennes photos de fans (+ témoignage) ajoutées - Première de 'Sur la Route' au Festival International du Film de Toronto (6 septembre 2012)
Ryerson Theatre, Toronto

Kristen, Garrett Hedlund & Kirsten Dunst
| VIDEOS/INTERVIEWS |
Red carpet - Tapis rouge

HQ



MQ



Fan pictures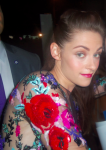 "I met Kristen Stewart on September 6th, 2012 at the On The Road premiere. I didn't know what to expect considering she seemed like a shy person but Tumblr sure did love her and they were right. She was so sweet, she took a bunch of time to tend to all fans. She was talking to everyone and took photos; something that even the nicest celebrities don't do. She was very kind and very beautiful in person. Overall, meeting Kristen certified me as a fan."
"J'ai rencontré Kristen Stewart le 6 septembre 2012 lors de la Première de Sur la Route. Je ne savais pas à quoi m'attendre vu qu'elle semblait être une personne timide mais Tumblr pour sûr l'aimait et ils avaient raison. Elle était si douce, elle a pris pas mal de temps pour s'occuper de tous les fans. Elle parlait à tout le monde et a pris des photos; quelque chose que même les célébrités les plus sympas ne font pas. Elle était très gentille et très belle en personne. Dans l'ensemble, rencontrer Kristen m'a certifié fan."
Photocall

HQ



MQ



Fan pictures



Inside/Q&A - A l'intérieur/Q&A

HQ



Fan pictures

Fashion
Kristen in Zuhair Murad with Jimmy Choo 'Anouk' pump - Make-up by Mai Quynhi, hair by Giannandrea and nails by Ashlie Johnson
Kristen en Zuhair Murad avec des talons Jimmy Choo 'Anouk' - Maquillage par Mai Quynhi, cheveux par Giannandrea et ongles par Ashlie Johns
Indiewire
- (New shorter cut of 'On the Road' will premiere at the Toronto International Film Festival) IndieWire recently chatted with IFC Films honcho Jonathan Sehring, and he elaborated on what audiences in Toronto will see. "The response at Cannes was that some people loved it and some people were respectful of it, like some people loved the book. And Walter took a lot of that to heart.
He's gone back, and we're unveiling a new cut in Toronto, which is about 15 minutes shorter. It's a little over two hours now. He's added certain things that weren't in the cut that was in Cannes,
" he explained.
Indiewire
- (Un nouveau montage plus court de 'Sur la Route' sera présenté au Toronto International Film Festival) IndieWire a récemment discuté avec Jonathan Sehring de IFC Films (distributeur US du film), et il s'est étendu sur ce que le public à Toronto verra. "Le résultat à Cannes était que certaines personnes ont adoré et certaines personnes étaient respectueuses de celui-ci, comme certaines ont aimé le livre. Et Walter a pris cela beaucoup à cœur.
Il a fait un retour en arrière, et nous dévoilerons un nouveau montage à Toronto, qui est d'à peu près 15 minutes plus court. Il est d'un peu plus de deux heures désormais. Il a ajouté certaines choses qui n'étaient pas dans le montage qui était à Cannes,
" at-il expliqué.
Source:
#1
#2
#3
#4
#5
#6
#7
#8
#9
#10
#11
#12
#13
#14
#15
#16
#17
#18
#19
#20
#21
#22
#23
#24
#25
#26
#27
#28
#29
#30
#31
#32
#33
#34
#35
#36
#37
#38
#39
#40
#41
#42
#43
#44
#45
#46
#47
#48
#49
#50
#51
#52
-
Fashion1
Fashion2