Juliette Binoche mentionne Kristen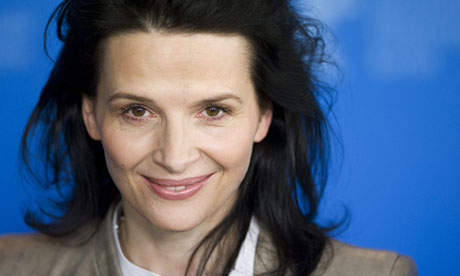 Co-star (and extraordinary French actress) of Robert Pattinson in Cosmopolis.

He's been going through a tough time …

Well I witnessed Jude Law going through hell as well – it can be a nightmare when people have to deal with their intimacies in public. It's not respectful, so I felt for him and for her [Kristen Stewart] as well.

Do you feel satisfied with your own level of privacy?

I'm guarding it. I'm not being bothered.

Does living in Paris help?

Each time there's been some sort of tabloid trouble I've attacked out of principle and I've always won because that's the law here – you're not supposed to be bothered by photographers … All these stories, it feels like being in a bad soap opera all the time. You feel like you've got to resist that stupidity. It's very weird.
Co-star (et extraordinaire actrice française) de Robert Pattinson dans Cosmopolis.

Il traverse une période difficile ...

Et bien j'ai été témoin de la descente en enfer de Jude Law également - ça peut être un cauchemar quand les gens ont à gérer leurs affaires privées en public. Ce n'est pas respectueux, alors j'ai compatis pour lui et pour elle [Kristen Stewart] également.

Vous sentez-vous satisfaite de votre propre degré de intimité?

Je la garde. Je ne suis pas dérangée.

Est-ce que vivre à Paris aide?

Chaque fois qu'il ya eu des ennuis avec les tabloïds j'ai attaquée par principe et j'ai toujours gagné parce que c'est la loi ici - vous n'êtes pas censé être dérangé par les photographes ... Toutes ces histoires, on se croirait à chaque fois dans un mauvais soap opera. On se sent comme on avait à résister à cette stupidité. C'est très étrange
Source
-
@cupidscloud