Nouvelle interview pour 'Sur la Route' avec The Guardian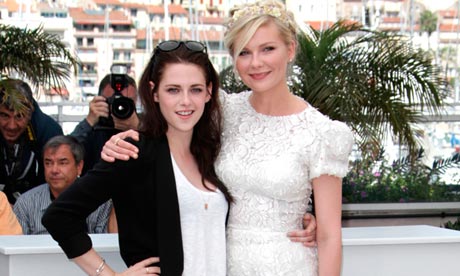 ITsOTBY note: This interview was conducted as a roundtable with international journalists. So quotes may appear in multiple international publications.

For many, On the Road is primarily one for the boys. Jack Kerouac's obsession with the egotistical and hedonistic drifter Neal Cassady dominates the book, with the female characters relegated to the back seat, disposable objects that float in and out of the tale at the convenience of the proto-beat lads.

That's one view. But to director Walter Salles, the novel's female characters, especially those based on Cassady's long-suffering wives, are "the silent heroines" of the piece. Accordingly, he has cast two of Hollywood's most sought-after actresses – Kristen Stewart and Kirsten Dunst – to play them.

Stewart is Marylou, the book's version of Cassady's first wife, LuAnne Henderson, who joined Cassady and Kerouac on their road trips across America; Dunst is Camille, aka second wife Carolyn Cassady, who stayed at home with the babies in San Francisco. Cassady flitted between these women, sleeping with Carolyn while married to LuAnne, keeping LuAnne as a lover after he had divorced her for Carolyn. Kerouac made little effort to give his female friends depth and dignity on the page; the film attempts to remedy that oversight.

Stewart's prominence in the promotion of the film reflects both that intention and the Twilight star's high profile. The 22-year-old also happens to be a surprisingly passionate fan of the book.

"On the Road was on the reading list in my freshman year and thank God, I chose it," she recalls. "It looked much more fun than any of the others. I knew that it was about counterculture, and when you're 14 years old and putting ridiculous anarchy signs on your backpack that's just what you're drawn to."

"You know, I'm from the Valley. I come from a very comfortable, very fortunate household, but the kind where you can become lazy and complacent. So when I read On the Road I thought: I have to find people like this, who will push me, who don't compromise on their desires, even if they're different to the norm. It really did inform how I wanted to live."

In this nonconformity, she's thinking of her character as much as the men. "I love Marylou. In the book she's fun, she's sexy, she's vivid, she's progressive for her time. She jumps off the page and smacks you in the face."

At the same time she admits that "it's not a book about the girls, they're on the outside of things", and that she had to depart from the story to flesh out the character. She met the late LuAnne Henderson's daughter, Anne Marie Santos, who "helped me unlock her mother, connect me to her as a real person", and listened to hours of taped interviews with LuAnne, made by the Kerouac biographer Gerald Nicosia, which proved to be revelatory.

"Suddenly LuAnne had a voice, and we all fell completely in love with her. Unlike the boys, she wasn't rebelling against anything, she was just being herself, being with the people she loved. For me, getting to know this woman made it so much easier to avoid the caricature of the sex object. LuAnne never made herself a commodity. And she really is this amazing link between the two boys; it's a grand statement to make, but that adventure might not have happened without her."

Dunst, 30, recalls a different attitude to the book when she first read it. "I was more drawn to female writers when I was younger – Sylvia Plath, Jane Austen, I loved the poetry of Edna St Vincent Millay. I only read On the Road because there was a guy who I had a crush on and that was his favourite book. So I kind of read it to be cool. But I was very young, 16 years old, and didn't really get it."

That said, she joined the film because "it's one of the great novels in American history, so of course you want to be a part of that". Moreover, she read and felt a strong connection to Carolyn Cassady's own, autobiographical account of that time, Off the Road, lines from which actually made their way into the film's screenplay.

"Carolyn is still alive, living in London. I missed the opportunity to meet her, but her book is what I based my choices on. For that period she was such a renaissance woman. She had a master's degree in theatre, and was a graceful, accomplished woman in her own right, but worked as a nurse to care for her children."

"She could have done a lot had she followed another path. But she met Neal and fell in love with him, it was as simple as that. He was so charismatic and handsome, and she was drawn to him like everyone else was, like a moth to a flame, no matter how much he would hurt her. I think it was amazing the way she lived on her own, raising the kids on her own, but was still generous in the love she had for both Neal and Jack."

The two actors had very different experiences making the film, in keeping with their characters. As the isolated Camille, who never got to gallivant in the Hudson Hornet, Dunst didn't meet her co-stars until late in the shoot; in contrast, Stewart was immersed in the bootcamp that Salles set up in Montreal as a research base for his cast, and the intimacy she developed with Garrett Hedlund and Sam Riley is evident on screen – on the road, in super-charged dance scenes with Hedlund, and love scenes that might surprise Twilight fans.

"The bootcamp was about so much more than research," she says. "We got to know one another so well. Garrett, Sam and I needed to feel safe and completely willing to lose control with one another. And it's hard to do that for me, because I'm the opposite of my character. I'm usually pretty self-conscious, but I didn't care at all when I was with these guys. I got to live more in those four weeks than I usually do. This experience was unparalleled, for me."

Despite Kerouac failing to do the women justice, Stewart and Dunst feel his celebrated work does have something to say for a modern audience. "It's an inspiring story that opens your mind to other ways of living your life, and that's timeless," says Dunst.
ITsOTBY note: Cette interview a été réalisée lors d'une table ronde avec des journalistes internationaux. Plusieurs citations peuvent donc apparaître dans de multiples interviews.
Pour beaucoup, Sur La Route est aux premiers abords pour les garçons. L'obsession de Jack Kerouac avec le vagabond égotiste et hédoniste Neal Cassady domine le livre, avec les caractères féminins relégués au siège arrière, comme des objets jetables qui flottent ici et là de l'histoire mettant en avant des garçons proto-beat.
C'est un point de vue. Mais pour le réalisateur Walter Salles, les personnages féminin du roman, particulièrement ceux basés sur les femmes très patientes de Cassady, sont 'les héroïnes silencieuses' du livre. En conséquence, il a choisi les deux actrices les plus recherchées de Hollywood - Kristen Stewart et Kirsten Dunst - pour les jouer.
Stewart est Marylou, la version du livre de la première femme de Cassady, LuAnne Henderson, qui a rejoint Cassady et Kerouac dans leur Road Trip à travers l'Amérique ; Dunst est Camille, alias la deuxième femme de Cassady, qui est resté à la maison avec les bébés à San Francisco. Cassady a virevolté entre ces femmes, dormant avec Carolyn tandis que marié LuAnne, gardant LuAnne comme amante après qu'il ait divorcé avec elle pour Carolyn. Kerouac a fait peu d'effort de donner de la profondeur et la dignité à ses amies féminines sur papier; le film essaye de remédier à cette vision.
La proéminence de Stewart dans la promotion du film tant cette intention que son haut-profile de star de Twilight. La femme de 22 ans est aussi étonnement une grande passionnée du livre.
« Sur La Route était dans la liste à lire dans ma première année de lycée et merci mon Dieu, je l'ai choisi, »
se rappelle-t-elle.
« Ça semblait bien plus amusant que tous les autres. Je savais que c'était à propos de la contre-culture, et quand vous avez 14 ans et vous mettez des signes ridicules d'anarchie sur vos sac à dos c'est juste ce à quoi dessiné. »
« Vous savez, je suis de la Valley. Je viens d'un ménage très confortable ; très fortuné, mais du genre où vous pouvez devenir paresseux et suffisants. Donc quand j'ai lu Sur la Route j'ai pensé : je dois trouver des gens comme ceci, qui me pousseront, qui n'acceptent pas de compromis sur leurs désirs, même s'ils sont différents de la norme. Cela m'a vraiment informé sur comment j'ai voulu vivre. »
Dans cette inconformité, Elle pense à son personnage autant que les hommes. « J'aime Marylou. Dans le livre elle est amusante, elle est sexy, elle est vive, elle est en avance pour son temps. Elle saute de la page et vous gifle dans le visage. »
En même temps elle admet que "ce n'est pas un livre sur les filles, elles sont à l'extérieur des choses" et qu'elle a dû partir de l'histoire pour étoffer le personnage. Elle a rencontré la dernière fille de LuAnne Henderson, Anne Marie Santos, qui « m'a aidée à découvrir déverrouiller da mère, à me connecter en tant que personne réelle », et écouté des heures d'interviews enregistrés sur bande avec LuAnne, fait par le biographe Kerouac Gerald Nicosia, qui s'est avéré être accusateur.
« Soudainement LuAnne avait une voix et nous sommes tous tombés complètement amoureux d'elle. Contrairement aux garçons, elle ne se rebellait pas contre rien, elle était juste elle, étant avec les gens qu'elle a aimés. Pour moi, apprendre à connaître cette femme était tellement plus facile afin d'éviter la caricature de l'objet sexuel. LuAnne n'a jamais fait d'elle une marchandise. Et elle est vraiment ce lien étonnant entre les deux garçons; c'est une grande déclaration, mais cette aventure ne pourrait pas être arrivée sans elle. »
Dunst, 30 ans, se rappelle d'un rapport différent au livre quand elle l'a d'abord lu. « J'ai été plus attirés par les auteurs féminins quand j'étais plus jeune - Sylvia Plath, Jane Austen, j'ai aimé la poésie d'Edna st. Vincent Millay. J'ai seulement lu Sur la Route parce qu'il y avait un type pour qui j'ai eu le béguin et c'était son livre favori. Donc je l'ai en quelque sorte lu pour être cool. Mais j'étais très jeune, 16 ans, et je ne l'ai pas vraiment compris. »
Cela dit, elle a rejoint le film parce que « c'est un des grands romans dans l'histoire américaine, donc bien sûr vous voulez faire partie de cela ». De plus, elle a lu et a ressenti une forte connexion au du propre compte-rendu autobiographique de Carolyn Cassady de ce temps, hors de la Route, des lignes dont a en réalité ont été intégrée dans le scénario du film.
"Carolyn est toujours vivante, vivant à Londres. J'ai manqué l'occasion de la rencontrer, mais son livre est sur quoi j'ai basé mes choix. Pendant cette période elle était une telle femme de renaissance. Elle avait un master dans le théâtre et était une femme gracieuse, accomplie à part entière, mais a travaillé comme une infirmière pour se soucier de ses enfants."
« Elle pourrait avoir fait beaucoup avait elle a suivi un autre chemin. Mais elle a rencontré Neal et est tombée amoureuse de lui, c'était aussi simple que cela. Il était si charismatique et beau et elle a été attirée comme tous les autres, comme une mite à une flamme, peu importe combien il la blesserait. Je pense que c'était étonnant la voie qu'elle a vécue toute seule, élevant ses enfants toute seule, mais était toujours généreuse dans l'amour qu'elle avait tant pour Neal que pour Jack. »
Les deux actrices ont eu des expériences très différentes faisant le film, conformément à leurs personnages. Comme Camille, isolée, qui n'est jamais arrivée pour faire la cour dans le Frelon Hudson, Dunst n'a pas rencontré ses partenaires jusqu'à tard sur le tournage. au contraire, Stewart a été immergé dans le bootcamp que Salles a mis en place à Montréal comme une recherche base pour son coup et l'intimité qu'elle a développée avec Garrett Hedlund et Sam Riley est évident sur l'écran - sur la route, dans des scènes de danse surcomprimées avec Hedlund et les scènes d'amour qui pourraient étonner des fans de Twilight.
« Le bootcamp était de tellement plus que de la recherche, » dit-elle. « Nous nous sommes appris à nous connaître si bien. Garrett, Sam et moi avons eu besoin de nous sentir sûrs et complètement consentants à perdre le contrôle entre nous. Et il est dur de le faire pour moi, parce que je suis l'opposé de mon personnage. Je suis d'habitude assez embarrassé, mais je ne me suis pas soucié du tout quand j'étais avec ces types. Je suis arrivé pour vivre plus dans ces quatre semaines que je vis d'habitude. Cette expérience était inégalée, pour moi. »
Malgré Kerouac laissant tomber de faire honneur aux femmes, Stewart et Dunst estiment que son travail célébré a vraiment quelque chose à dire à un public moderne. "C'est une histoire inspirante qui ouvre votre avis à d'autres façons de vivre votre vie et c'est éternel," dit Dunst.