The Pacific Design Center, Los Angeles
Videos:
Pictures: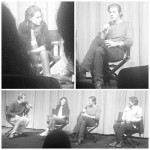 Fan encounter:
Mikethefanboy
- Then the q and a was over. It was time to try and get some autographs! There were a couple young girls in the front that ran up first. Kristen obliged them with a quick photo and then signed a photo for one guy and then my magazine. Billy asked her to sign his twilight poster and exclaimed, "You're the last one I need!" Kristen said, "Oh, and what are you going to do with this!" Billy said, "It's for me!" Kristen said, "Oh right!" I was like damn, Billy got schooled by Bella! LOL… The sad reality is that Billy is keeping that Twilight poster! Doh! After signing for Billy Kristen took off pretty fast, so we got lucky.
Overall, not a bad evening. I admit I was a tad stressed trying to get to the q and a but it turned out to be a great evening. I'm really happy that Billy got his poster signed and I was able to get my posters signed as well.
If you were a fan of the book On The Road I would suggest giving this adaptation a look. The performances, especially Garrett Hedlund were very good!
Source:
SagaAwards
-
#1
#2
#3
#4
#5
#6
#7
#8
#9
#10
#11
#12
#13