Ben Affleck abandonne 'Focus' en raison d'un emploi du temps de plus en plus chargé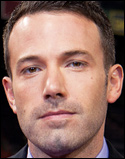 Variety
-
With an increasingly busy schedule, Ben Affleck has fallen out of Warner Bros.' "Focus." Sources close to Affleck tell Variety that while the actor very much wanted to do the film, the timing just couldn't be worked out.
Affleck is focused on writing, directing, producing and staring in "Live by Night" and is also in development on "The Stand" and the untitled Whitey Bulger project. Add in all the award-season promoting he's been doing for "Argo," and insiders said an April start date on "Focus" just didn't look possible for Affleck.
Sad news!
Variety
-
Avec un calendrier de plus en plus chargé, Ben Affleck a perdu "Focus" de la Warner Bros. Des sources proches de Ben Affleck disent à Variety qu'alors que l'acteur avait très envie de faire le film, le timing ne pouvait pas marché.
Affleck se concentre sur l'écriture, la réalisation, la production et son jeu dans "Live by Night" et est également en développement sur ​​"The Stand" et sur le projet sans titre de Whitey Bulger. Ajouter à cela toute la saison des prix et promotion qu'il fait pour "Argo", des insiders ont déclarés qu'une date de commencement en avril pour "Focus" ne semblait tout simplement pas possible pour Affleck.
Triste nouvelle!