Nouvelle interview de Kristen & Garrett avec Vulture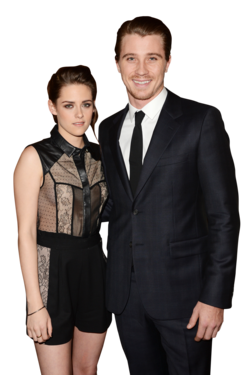 Quotes may appear in multiple publications - New York magazine interview.
Kristen Stewart and Garrett Hedlund are in the middle of a game of Q&A chicken. They're sitting in a courtyard at the Beverly Hills Four Seasons on a hot November morning, staring at each other over a small table, waiting for the other one to crack first and answer my question. The only movement comes from the smoke wafting off his cigarette and the slowly forming half-smile on each of their faces.
All I've done to provoke this battle of wills is to ask, "Which of you is most like your character in On the Road?" In the new film adaptation of the classic Jack Kerouac–penned road trip novel (which opens today in limited release), Hedlund plays the charismatic bohemian Dean Moriarty, and Stewart is cast as Dean's carnal free spirit of a girlfriend, Marylou. Neither actor wants to brag that he or she closely resembles an iconic literary character, so it becomes obvious to both that a round of mutual compliments is the only way out of this question. But who will be brave enough to suck it up and go first?
"He's got a lot of Dean in him,"
Stewart finally says.
"He's got a lot of teeth in him?"
Hedlund replies, in mock-confusion.
"Dean!"
she insists, as they both start laughing. It isn't hard to coax a smile from Stewart and Hedlund, even if their screen personas would suggest otherwise. Both are best known for their straightforward, sullen work in big-bucks franchise roles — she in Twilight, he in Tron Legacy — and you can see what drew them to On the Road, a film populated not by computer programs but flesh-and-blood people, where the characters aren't undead but instead, really living.
In truth, Hedlund and Stewart are both closer to their roles than they'd readily admit. Like Neal Cassady, the Beat figure who Dean is based on, Hedlund grew up in the heartland, spending his childhood on a farm so remote that you have to fly into Fargo and drive three hours away to find it. To win the part in On the Road, Hedlund channeled the vibe of the novel and wrote several soul-baring pages about his own life, offering them to director Walter Salles after his first audition by asking, sincerely, "Can I read you something I wrote?" It worked.
As for Stewart,
"You wouldn't be attracted to a project if you had to fake it,"
she says. Though Marylou is more impetuous and sexually assertive than the other roles she's played, Stewart claims,
"I don't feel like I'm stepping outside of myself when I'm playing parts. Even if it's really different from the apparent version of who I am, I'm always somewhere deep in there."
It isn't jarring to go from green-screen blockbuster work like Snow White and the Huntsman to something this intimate and sweaty? Again, Stewart half-smiles; she's spent most of her career alternating juggernaut Twilight films with barely budgeted indies like The Runaways and Welcome to the Rileys.
"I don't mind making big movies, 'cause you get to sort of bitch and complain with the other actors about what's keeping you from being able to really feel it,"
she says with a self-deprecating chuckle.
"But then at the end of the day, you could be in a white room; the whole thing about being an actor is you have to have an imagination."
A lack of inhibition helps, too. In On the Road, Hedlund plays a cool character full of Beat bravado, but he's still asked to do things that might make other young actors flinch, like shedding his clothes, dancing with wild abandon in long unbroken takes, or simulating rough sex with Steve Buscemi. Ask him about finding the freedom to go to those places, and Hedlund surprises by daring to quote not a venerated literary icon like Kerouac but Ethan Hawke, whose book Ash Wednesday, he says, made a big impression on him as a teenager.
"'The only thing in life worth learning is humility,'"
quotes Hedlund, who vaguely resembles Hawke with his brown goatee and earnest literary bent.
"'Shatter the ego, then dance through the perfect contradiction of life and death.'"
His explanation:
"It encourages you not to walk with your head down and your hands in your pockets and be closed off to life, but to be open and nonjudgmental and accessible to experience a lot of wonderful journeys within this short life of ours.
"
Do those inhibitions come down permanently after simulating the envelope-pushing sex scenes of On the Road? Stewart says yes and acknowledges that in general, she's perceived to be a closed-off person, but that she's working on it.
"It's funny: By putting up walls, you think you're protecting yourself, but you get to live less,"
says Stewart.
"If you're hiding behind a wall, then you can't see over it. You're depriving yourself of so much if you're trying to be too aware of what you're putting out there, you know?"
She adds,
"If you feel someone breaking those walls down, let them. Those are the people that you need to find in life, rather than people that you're just comfortable with."
With that in mind, it's no wonder that Hedlund and Stewart want to end our conversation by discussing Just Kids, Patti Smith's book about her artistically enriching and culture-defining friendship with artist Robert Mapplethorpe.
"It had a very similar effect on me as reading On the Road did when I was fifteen,"
says Stewart, who's currently reading the novel for a second time.
"I had a serious urge to create shit after I read it, to go out and find people, and travel."
When I bring up the recent report that Smith is a fan of Stewart's — suggesting that maybe one day, she could find herself starring in another adaptation of a bohemian coming-of-age book — Stewart demurs and meets eyes with Hedlund again.
"I will never be the type of person like Patti Smith who has that compulsion to be constantly creating,"
she laughs, confessing,
"You feel diminished somehow [after reading it]! You're like, 'God! I gotta build myself back up again! I need to actually use every second! Why am I sitting around, ever?'"
Des citations peuvent apparaître dans plusieurs publications - interview par New York magazine.
Kristen Stewart et Garrett Hedlund sont au milieu d'une session de questions-réponses. Ils sont assis dans une cour au Beverly Hills Four Seasons par une chaude matinée de novembre, à se regarder l'un l'autre sur une petite table, en attendant que l'autre craque le premier et réponde à ma question. Le seul mouvement provient de la fumée qui s'échappe de sa cigarette (ndt: à Garrett) et de la lente formation d'un demi-sourire sur chacun de leurs visages.
Tout ce que j'ai fait pour provoquer cette bataille de volontés est de demander: "Lequel d'entre vous ressemble le plus à votre personnage dans Sur la Route?". Dans la nouvelle adaptation cinématographique du classique du roman de road-trip de Jack Kerouac (qui sort aujourd'hui en sortie limitée), Hedlund joue le bohème charismatique Dean Moriarty, et Stewart est castée comme la petite amie charnelle et libre d'esprit de Dean, Marylou. Aucun acteur ne veut se vanter qu'il ou elle ressemble beaucoup à un personnage emblématique littéraire, donc il devient évident aux deux d'un cycle de compliments mutuels est la seule issue à cette question. Mais qui aura le courage d'y aller en premier?
"Il a beaucoup de Dean en lui,"
dit finalement Stewart.
"Il a beaucoup de dents en lui?"
répond Hedlund, assez confus.
"Dean!"
Elle insiste, en même temps qu'eux deux se mettent à rire. Il n'est pas difficile d'arracher un sourire à Stewart et Hedlund, même si leurs personnages à l'écran suggère le contraire. Les deux sont surtout connus pour leur simple, travail morose dans des rôles de grosses franchises blockbusters - elle dans Twilight, lui dans Tron Legacy - et vous pouvez voir ce qui les a attiré dans Sur la Route, un film qui n'abrite pas de programmes informatiques mais des personnes en chair et en sang, où les personnages ne sont pas des morts-vivants mais au contraire, vivent vraiment.
En vérité, Hedlund et Stewart sont tous les deux plus proches de leurs rôles que ce qu'ils admettent volontiers. Comme Neal Cassady, la figure Beat sur laquelle est basé Dean, Hedlund a grandi dans l'Amérique profonde, passant son enfance dans une ferme si éloigné que vous devez voler jusqu'à Fargo et conduire trois heures pour la trouver. Pour gagner le rôle dans Sur la route, Hedlund a canalisé l'ambiance du roman et a écrit plusieurs pages en se mettant à nu sur sa propre vie, les offrant au réalisateur Walter Salles, après sa première audition en demandant, sincèrement, "Puis-je vous lire quelque chose que je a écrit?" Ça a marché.
Quant à Stewart,
"Vous ne seriez pas être attiré par un projet si vous aviez à faire semblant,"
dit-elle. Bien que Marylou soit plus fougueuse et affirmée sexuellement que les autres rôles qu'elle a jouée, Stewart affirme:
"Je n'ai pas l'impression de sauter hors de moi-même quand je joue des rôles. Même si c'est vraiment différent de la version apparente de qui je suis, je suis toujours quelque part au fond là-dedans."
Il n'est pas choquant à passer d'un job d'écran vert de blockbuster (ndt: sous-entendus film à effets spéciaux) comme Blanche Neige et le Chasseur à quelque chose de si intime et moite? Encore une fois, Stewart a un demi-sourire, elle a passée la majeure partie de sa carrière en alternance les films Twilight avec d'à peine budget de films indépendants comme The Runaways et Welcome to the Rileys. Il n'est pas choquant à passer d'un job à l'écran vert d'un blockbuster (ndt: sous-entendus film à effets spéciaux) comme Blanche Neige et le Chasseur à quelque chose de si intime et moite? Encore une fois, Stewart a un demi-sourire, elle a passée la majeure partie de sa carrière en alternance les films Twilight avec d'à peine budget de films indépendants comme The Runaways et Welcome to the Rileys.
"Je ne crains pas de faire de gros films, car vous en arrivez à être une garce et à vous plaindre des autres acteurs,"
dit t'elle avec un petit rire d'auto-dérision.
"Mais alors, à la fin de la journée, vous pourriez être dans une salle blanche, le tout d'être un acteur est que vous devez avoir de l'imagination."
Un manque d'inhibition aide aussi. Dans Sur la Route, Hedlund joue un personnage cool plein de bravoure Beat, mais on lui demande toujours de faire des choses qui pourraient faire tressaillier d'autres jeunes acteurs, comme enlever ses vêtements, danser avec un abandon sauvage dans de longues prises, ou simuler une rude scène de sexe avec Steve Buscemi. Demandez-lui sur comment il trouve la liberté d'aller à ces endroits, et Hedlund vous surprendra en osant citer, pas une icône littéraire vénérée comme Kerouac, mais Ethan Hawke, dont le livre Ash Wednesday, dit-il, lui a fait une grande impression adolescent.
"La seule chose dans la vie qui vaut la peine d'être apprise est l'humilité,"
cite Hedlund, qui ressemble vaguement à Hawke avec sa barbichette brune et ses sérieuses aptitudes littéraires.
"Briser l'ego, puis la danse à travers la contradiction parfaite de la vie et de la mort."
Son explication:
"Il vous encourage à ne pas marcher la tête baissée et les mains dans les poches et être fermé à la vie, mais d'être ouvert et sans porter de jugement et accessible à l'expérience de beaucoup de merveilleux voyages dans cette courte vie qui est la nôtre."
Est-ce que les inhibitions tombent de façon permanente après avoir simulé des scènes de sexe lors du tournage de Sur la Route? Stewart dit oui et reconnaît que, en général, elle est perçue comme une personne obturée, mais qu'elle y travaille.
"C'est drôle: En mettant en place des murs, vous pensez que vous vous protégez, mais vous arrivez à vivre moins,"
dit Stewart.
"Si vous vous cachez derrière un mur, alors vous ne pouvez pas voir au-dessus. Vous vous priver de beaucoup si vous essayez d'être trop consciente de ce que vous donnez, vous voyez?"
Elle ajoute:
"Si vous sentez que certains brisent ces murs, les laisser faire. Ce sont ce genre de personnes que vous avez besoin de trouver dans la vie, plutôt que des gens avec qui vous êtes juste à l'aise."
Avec cela à l'esprit, il n'est pas étonnant qu'Hedlund et Stewart veulent mettre fin à notre conversation en discutant de Just Kids, livre de Patti Smith à propos de son amitié artistique enrichissante et de sa définitition de la culture avec l'artiste Robert Mapplethorpe.
"Il a eu un effet très semblable sur moi que l'a fait Sur la Route quand je l'ai lu à quinze ans,"
dit Stewart, qui est en train de lire le roman pour la deuxième fois.
"J'ai eu une sérieuse envie de créer des merde après l'avoir lu, de sortir et de trouver des gens, et de voyager."
Lorsque j'évoque la récent info que Smith est un fan de Stewart - ce qui suggère que peut-être un jour, elle pourrait se trouver en vedette dans une autre adaptation d'un livre sans âge bohème - Stewart hésite et rencontre les yeux d'Hedlund à nouveau.
"Je ne serai jamais le genre de personne comme Patti Smith qui a cette obligation d'être constamment dans la création,"
rit-elle, avouant:
"Vous vous sentez en quelque sorte diminué [après l'avoir lu]! Vous êtes comme: 'Dieu! Je dois me reconstruire! J'ai en fait besoin d'utiliser chaque seconde! Pourquoi suis-je encore assise?'"
Source
-
via