Le styliste Zuhair Murad parle de Kristen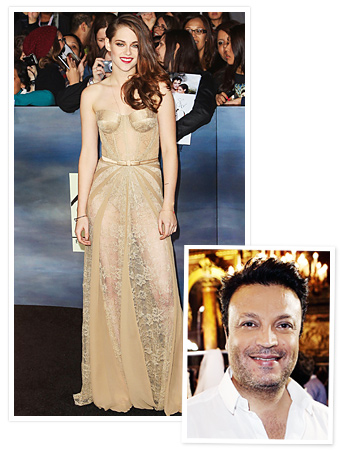 LA Times
- Zuhair Murad is the current winner of the celebrity dressing derby, and not just in France. He is especially popular with young Hollywood, his creations having appeared on Jennifer Lopez, Taylor Swift, Miley Cyrus, Blake Lively, Marion Cotillard and Kristen Stewart -- the latter star having famously worn his nearly-nude number to the premiere of "The Twilight Saga: Breaking Dawn -- Part 2" in Los Angeles in November.
"The dress was a good contrast with her personality,"
Murad said in our conversation backstage at his spring-summer 2013 haute couture show in Paris on Thursday.
"She's rock 'n' rock with her attitude, her hair and her makeup. The long dress was very delicate, feminine,"
and perhaps the transparency of the lace was
"a little bit shocking."
LA Times
- Zuhair Murad est le gagnant actuel de l'habillement des célébrités, et pas seulement en France. Il est particulièrement populaire auprès des jeunes d'Hollywood, ses créations ayant apparu sur Jennifer Lopez, Taylor Swift, Miley Cyrus, Blake Lively, Marion Cotillard et Kristen Stewart - cette dernière star ayant portée son célèbre numéro de quasi-nue à la première de "Breaking Dawn Part 2 "à Los Angeles en Novembre.
"La robe était un bon contraste avec sa personnalité,"
a déclaré Murad lors de notre discussion dans les coulisses de son défilé de haute couture printemps-été 2013 à Paris jeudi.
"Elle est rock 'n' rock par son attitude, ses cheveux et son maquillage. La longue robe était très délicate, féminine,"
et peut-être que la transparence de la dentelle était
"un peu choquante."
Via