Nouvelle photo de Kristen & Robert Pattinson avec une fan (19 mars 2013)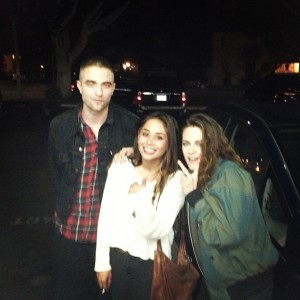 "Poor @lanypoo was attacked by vampires last night. #creaturesofthenight #robertpattinson #kristenstewart #twilight #vampires"
** Full story from the person that took the photo
:
Oh the power of social media. What I thought to be a humorous Instagram & Twitter post, very quickly turned into a viral (that word is horrible I know) celebrity news story. For those of you who don't pay attention to celebrity gossip… I shot a photo of my friend Lany Morrison with Twilight stars Robert Pattinson & Kristen Stewart since they happened to be hanging out at the same bar I was at with my friends on a Tuesday. Little did I know that photo was going to spread like wildfire across every entertainment media site around the world.
First of all, I have never even seen any of the Twilight movies… and I only recognized "Robsten" because you would have to be living under a rock to at least not know what they look like. With that being said, I definitely don't pay attention to celebrity gossip. I didn't know that these two were ever a couple… much less that they had been supposedly broken up and my photo was going to be the first proof in two months that they had even seen eachother in person. Had I known that there was so much media hype built around these two, I probably wouldn't have even asked them if I could take a picture, with the fear of making them feel uncomfortable and skeptical of my intentions. I almost didn't even post the image, thinking that it would be corny to blast out a "celebrity sighting". However, after posting the photo I quickly realized how diehard their fan base is and in turn, how hungry the media was for any dirt on these two. It's funny that I have been shooting photos for years and now my most publicized one is a blurry pic I took with an iPhone.
Within minutes the photo had been shared thousands of times on twitter, causing the tag "#robsten" to trend worldwide, and "liked" hundreds of times on Instagram. I was bombarded by tweets from fans asking me every little detail of what I saw, and e-mails & phone calls from every media outlet from People, to E!, to Perez Hilton, to US Weekly asking me the same questions. I had to turn all notifications off on my phone because I thought it was going to overheat from vibrating so much. Due to not wanting to cause drama and the Twitter character limit, I was vague in my answers giving responses like, "I just ran into them at a karaoke bar by my house… mellow night. They were just there hanging out with a few friends." And avoided questions that I knew would just foster rumors like if Kristen was pregnant, or if there was any PDA going on. I responded to those saying that I wasn't paying close enough attention to give an honest answer… because that was the truth. They were just normal people hanging out at a bar trying to enjoy themselves, I wasn't going to be all googly-eyed watching their every move. Quickly my words were twisted and assumptions had been made that these two were "officially back together" just because they were posing in a picture together.
I feel weird having caused such a huge uproar in celebrity gossip, so to set the record straight this is exactly what I saw that night. My friend Lany spotted Robert & Kristen with two other friends (one guy one girl) while we were standing outside our small, local karaoke dive bar, Ye Rustic Inn. Lany is a fan so she told me she thought it would be cool to get a photo with them. Being a photographer and used to approaching people for photos, so I walked up to them and asked if I could take a photo of them with Lany using my iPhone. Kristen was enthusiastic about it, putting her arm around Lany and cracking a smile… however Robert wasn't keen on the idea… jokingly trying to get me to take the photo with his back to the camera. Kristen told him to stop being an asshole and the result is the photo that spread like wildfire. After I shot the photo everyone headed into the bar and their group went straight into a booth in the back so they could have at least some privacy. From then on I mostly minded my own business. Occasionally I would glace over and their crew would be laughing or joking around with the bartender that was bringing drinks to their table… and their guy friend that was with them sang one karaoke song but "Robsten" never got on the mic. Once the bar closed around 2 everyone shuffled out and as I was biking home I saw their crew hanging around a truck talking, ready to leave to wherever they were going next. Yes they seemed to be enjoying eachother's company, yes Kristen Stewart is capable of smiling, yes they were sitting next to eachother in a booth… but none of which is clear evidence that Robert and Kristen are "officially back together"… even if my friend Lany told press that she had her hand on his back.
I guess I'm writing this because the 24 hours of dealing with all the fans and media was basically an interesting social experiment to me… I got to sit front row at a circus and watch and be involved in the craziness that ensued. On one hand it was insane to see how obsessed fans were about every single detail on "Robsten"… seemingly living their lives vicariously through a celebrity. But on the other hand it was entertaining to see how the media will take the smallest little thing, basically create a back story off of limited information, and run with it just to stir the pot. Most of which didn't even contact me for details, just basing the story and quotes around a few tweets I sent out. And in turn I watched all these hyper-fans eat up every little detail the media put out, and even imagine up their own more elaborate story of what happened that night based on the little information the media gave out. This unexpected "experience", I guess you could call it, has given me a brief glance at what some celebrities have to deal with on a regular basis… and to be honest, it's a little scary.
"Pauvre @lanypoo qui a été attaquée par des vampires la nuit dernière. #creaturesdelanuit #robertpattinson #kristenstewart #twilight #vampires
** Histoire complète par la personne qui a prise la photo
:
Oh la puissance des médias sociaux. Ce que je pensais être un message drôle sur Instagram et Twitter, s'est très vite transformé en une nouvelle histoire de célébrité virale (ce mot est horrible, je sais). Pour ceux d'entre vous qui ne font pas attention aux potins... J'ai pris une photo de mon ami Lany Morrison avec les stars de Twilight Robert Pattinson et Kristen Stewart quand ils étaient entrain de traîner dans le même bar où j'étais avec mes amis un mardi. Je ne savais pas que la photo allait se répandre comme une traînée de poudre à travers tous les sites de médias de divertissement dans le monde entier.
Tout d'abord, je n'ai jamais vu aucun des films Twilight... et je connais seulement "Robsten" parce que si vous ne savez pas à quoi ils ressemblent c'est que vous vivez sous une roche. Cela étant dit, je ne fais définitivement pas attention aux potins. Je ne savais pas que ces deux-là étaient toujours en couple... et encore moins qu'ils auraient rompu et que ma photo allait être la première preuve en deux mois qu'ils se voyaient toujours. Si j'avais su qu'il y avait tellement de battage médiatique autour de ces deux-là, je ne leur aurais probablement même pas demandé si je pouvais prendre une photo, avec la peur de les rendre mal à l'aise et sceptiques sur mes intentions. J'ai failli ne même pas poster la photo, pensant que ce serait ringard de poster une "celebrity sighting". Cependant, après avoir poster la photo je me suis vite rendu compte de combien leur base de fan était irréductible et en retour, de comment les médias avaient faim de toute salissure sur les deux. C'est drôle que j'ai prise des photos pendant des années et que désormais ma photo la plus médiatisée est une image floue que j'ai prise avec un iPhone.
En quelques minutes la photo a été partagée des milliers de fois sur twitter, mettant le tag "#robsten" en tendance mondiale, et "aimée" des centaines de fois sur Instagram. J'ai été bombardé par des tweets de fans me demandent chaque petit détail de ce que j'ai vu, et par des e-mails et appels téléphoniques de tous les médias de People, à E!, à Perez Hilton, à US Weekly me posant les mêmes questions. Ne voulant pas provoquer un drame et des limites de caractères sur Twitter, j'ai été vague dans mes réponses, donnant des réponses comme: "Je suis juste tombé sur eux dans un bar karaoké vers chez moi.. Ils étaient juste là à traîner avec quelques amis." Et j'ai évité les questions qui je le savais, encourageraient simplement les rumeurs qui disait que Kristen était enceinte, ou qu'il y avait un moment câlin. J'ai répondu à ceux qui disaient que je ne faisais pas assez attention pour donner une réponse honnête ... parce que c'était la vérité. Ils étaient juste des gens normaux qui traînaient dans un bar en essayant de s'amuser, je n'allais pas être grands yeux ouverts à regarder chacun de leurs mouvements. Rapidement mes mots ont été tournés et des hypothèses se sont faites sur ces deux qui étaient "officiellement à nouveau ensemble" simplement parce qu'ils ont posés dans une photo ensemble.
Je me sens bizarre d'avoir provoqué un tel énorme tollé de potins sur les célébrités, afin de mettre les pendules à l'heure voilà exactement ce que j'ai vu ce soir-là. Mon ami Lany a reconnu Robert & Kristen avec deux autres amis (un gars, une fille) alors que nous étions debout à l'extérieur de notre petit bar karaoké local, Ye Rustic Inn. Lany est une fan, elle m'a dit qu'elle pensait que ce serait cool d'avoir une photo avec eux. Etant photographe, et ayant l'habitude d'approcher les gens pour des photos, j'ai donc marché vers eux et demandé si je pouvais prendre une photo d'eux avec Lany en utilisant mon iPhone. Kristen était enthousiaste à ce sujet, en mettant son bras autour de Lany et ayant un début de sourire.. Mais Robert n'était pas emballé par l'idée .. plaisantant en essayant de me faire prendre la photo avec lui de dos à la caméra. Kristen lui a dit d'arrêter d'être un trou du cul et le résultat est que la photo s'est répandu comme une traînée de poudre. Après que j'ai pris la photo tout le monde est entré dans le bar et leur groupe est allé directement dans une cabine à l'arrière afin qu'ils puissent avoir au moins un peu d'intimité. A partir de là je me suis surtout occupé de mes propres affaires. Parfois j'ai regardé vers eux et leur équipe rigolait ou plaisantait avec le barman qui apportait des cocktails à leur table... et leur ami mec qui était avec eux a chanté une chanson au karaoké, mais "Robsten" n'a jamais eu le micro. Une fois que le bar a fermé tout le monde est sortir vers 2h et pendant que je prenais mon vélo pour rentrer à la maison j'ai vu leur équipe traînant autour d'un camion, prête à partir à l'endroit où ils allaient après. Oui, ils semblaient apprécier la compagnie l'un de l'autre, oui Kristen Stewart est capable de sourire, oui ils étaient assis côté l'un de l'autre dans une cabine .. mais rien de cela ne manifeste clairement que Robert et Kristen sont "officiellement à nouveau ensemble" .. même si mon ami Lany a déclarée à la presse qu'elle avait sa main sur son dos.
Je suppose que je vous écris ceci parce que les 24 heures d'interaction avec les fans et les médias ont été essentiellement une expérience sociale intéressante pour moi... Je suis assise au premier rang d'un cirque et regarde et participe à la folie qui suit. D'une part, c'était fou de voir combien les fans sont obsédés du moindre détail sur "Robsten"... apparemment vivant leur vie par procuration à travers une célébrité. Mais d'autre part c'était amusant de voir comment les médias avec la plus petite chose peuvent simplement créer une histoire, avec des informations limitées, et l'exploitée juste pour remuer le pot. Dont la plupart ne m'ont même pas contacter pour plus de détails, se basant simplement sur l'histoire et les citations autour du peu de tweets que j'ai posté. Et à leur tour je regardais tous ces hyper-fans mangaient tous les petits détails que les médias donnent, et imaginaient même leur propre histoire plus élaborée de ce qui s'est passé cette nuit-là sur la base du peu d'informations que les médias ont donnés. Cette "expérience" inattendue, je suppose que vous pourriez l'appeler comme ça, m'a donnée un bref coup d'œil sur ce que certaines célébrités doivent gérer régulièrement... et pour être honnête, c'est un peu effrayant.
Source
-
via