Nouvelle interview de Kristen dans le magazine Entertainment Weekly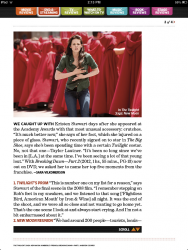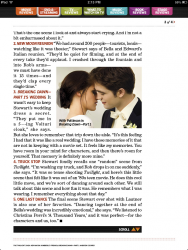 We caught up with Kristen Stewart days after she appeared at the Academy Awards with that most unusual accessory: crutches. "It's much better now," she says of her foot, which she injured on a piece of glass. Stewart, who recently signed on to star in The Big Shoe, says she's been spending time with a certain Twilight costar. No, not that one - Taylor Lautner. "It's been so long since we've been in [L.A.] at the same time. I've been seeing a lot of that young lout." With Breaking Dawn - Part 2 (2012, 1hr., 55 mins., PG-13) now out on DVD, we asked her to name her top five moments from the franchise.

1. TWILIGHT'S PROM "This is number one on my list for a reason," says Stewart of the final scene in the 2008 film. "I remember stepping on Rob's feet in my sneakers, and we listened to that song ['Flightless Bird, American Mouth' by Iron & Wine] all night. It was the end of the shoot, and we were all so close and not wanting to go home yet. That's the one scene I look at and always start crying. And I'm not a bit embarrassed about it."

2. NEW MOON REUNION "We had around 200 people - tourists, locals - watching like it was theater," Stewart says of Bella and Edward's Italian reunion. "They'd be quiet for filming, and at the end of every take they'd applaud. I crashed through the fountain and into Rob's arms - we must have done it 15 times - and they'd clap every single time."

3. BREAKING DAWN - PART 1'S WEDDING It wasn't easy to keep Stewart's wedding dress a secret. "They put me in f---ing Volturi cloak," she says. But she loves to remember that trip down the aisle. "It's this feeling I had that it was like a real wedding. I have these memories of it that are not in keeping with a movie set. It feels like my memories. You have room in your mind for character, and then there's room for yourself. That memory is definitely more mine."

4. TRUCK STOP Stewart fondly recalls one "random" scene from Twilight. "I'm washing my truck, and Rob drops in on me suddenly," she says. "It was so tense shooting Twilight, and here's this little scene that felt like it was out of an 80's teen movie. He does this cool little move, and we're sort of dancing around each other. We still talk about this scene and how fun it was. He remembers what I was wearing. I remember everything about that day."

5. ONE LAST DANCE The final scene Stewart ever shot with Lautner is also one of her favorites. "Dancing together at the end of Bella's wedding was incredibly emotional," she says. "We listened to Christina Perri's A Thousand Years,' and it was perfect - for the characters and us, too."
Nous avons discuté avec Kristen Stewart quelques jours après qu'elle soit apparue à la cérémonie des Oscars avec cet accessoire dès plus insolite: des béquilles. "C'est beaucoup mieux maintenant," dit-elle de son pied, qu'elle s'est blessé sur un morceau de verre. Stewart, qui a récemment signée pour jouer dans The Big Shoe, dit qu'elle a passée du temps avec une certaine co-star de Twilight. Non, pas celle-là - Taylor Lautner. "Ça faisait si longtemps que nous n'avions pas été à Los Angeles en même temps. J'ai beaucoup vu ce jeune voyou." Avec Breaking Dawn Part 2 (2012, 1h55, déconseillé au moins de 13 ans) désormais disponible en DVD, nous lui avons demandé de nommer ses cinq moments favoris de la franchise.

1. LE BAL DE PROMO DE TWILIGHT "C'est la numéro une sur ma liste pour une raison," dit Stewart de la scène finale dans le film de 2008. "Je me souviens d'avoir marcher sur les pieds de Rob avec mes baskets, et nous écoutions cette chanson ['Flightless Bird, American Mouth' par Iron & Wine] toute la nuit. C'était la fin du tournage, et nous étions tous si proche et on ne voulait pas déjà rentrez chez nous. C'est la seule scène que je regarde et où je me commence toujours à pleurer. Et je ne suis pas du tout embarrassée à propos de ça."

2. LES RETROUVAILLES DANS NEW MOON "Nous avions autour de nous à peu près 200 personnes - des touristes, des locaux - nous regardant comme s'ils étaient dans une salle de cinéma," dit Stewart des retrouvailles italiennes de Bella et Edward. "Ils étaient calme pendant le tournage, et à la fin de chaque prise ils applaudissaient. Je suis tombée dans la fontaine et dans les bras de Robert - on a dû la faire 15 fois et ils applaudissaient à chaque fois."

3. LE MARIAGE DE BREAKING DAWN PART 1 Il n'a pas été facile pour Stewart de garder la robe de mariée secrète. "Ils m'ont mise dans une putain de cape de Volturi," dit-elle. Mais elle aime se souvenir de cette traversée dans l'allée. "J'ai eu le sentiment que c'était comme un vrai mariage. J'ai ces souvenirs de cette scène, qui ne sont pas conforme avec un plateau de tournage. C'est comme si c'était mes souvenirs. Vous avez de la place dans votre esprit pour le personnage, et puis il y a de la place pour vous-même. Ce souvenir est définitivement plus le mien."

4. L'ARRÊT DE LA CAMIONNETTE Stewart se souvient avec émotion d'une scène "banale" de Twilight. "Je lave mon camion, et Rob me tombe dessus tout à coup," dit-elle. "C'était tellement tendu de tourner Twilight, et il y a cette petite scène qui semblait être tout droit sortie d'un film pour adolescents des années 80. Il fait ce petit mouvement assez cool, et on danse en quelque sorte, l'un autour de l'autre. Nous parlons encore de cette scène et d'à quel point c'était marrant. Il se souvient de ce que je portais. Je me souviens de tous les détails de ce jour là."

5. UNE DERNIÈRE DANCE La dernière scène que Stewart a tournée avec Lautner est aussi une de ses favorites. "Danser ensemble à la fin du mariage de Bella était incroyablement émotionnel," dit-elle. "Nous écoutions A Thousand Years de Christina Perri, et c'était parfait - pour les personnages et pour nous, aussi."
Source