Kristen dans le numéro des 'Plus Belles' du magazine People (Nouvelle citation + scan)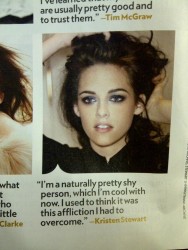 "I'm a naturally pretty shy person, which I'm cool with now. I used to think it was this affliction I had to overcome."
"Je suis une personne de nature très timide, ce avec quoi je suis à l'aise maintenant. J'avais l'habitude de penser que c'était cette affliction que je devais surmonter."
Scan via
@epnebelle