MAJ - La couverture réimprimée de Kristen ne sera PAS la première couverture de Vanity Fair France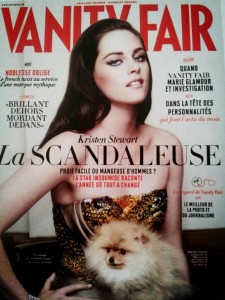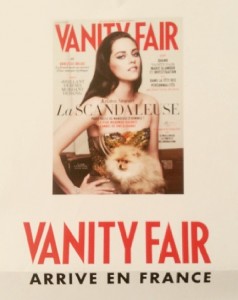 * UPDATE - MAJ *

C'est fou comme un numéro 0 peut engendrer de fantasmes ! Vous pensiez vraiment qu'on allait révéler la VRAIE couv' ?

— Vanity Fair France (@VanityFairFR) May 27, 2013
"It's crazy how a false cover (issue 0) can generate fantasies! Did you seriously think that we would unveil the first REAL cover?"



They got us LOL!

Comment on the article: "Actually, their comment doesn't say that Kristen isn't on the cover. Just that this isn't the real cover." Right.

Ils nous ont eu LOL!

Commentaire sur l'article: "En fait, leur commentaire ne dit pas que Kristen n'est pas sur la couverture. Juste que ce n'est pas la vraie couverture." Très juste.



--------------------

May 22, 2013 - 22 mai 2013
Kristen on cover of the 1st issue of Vanity Fair France (July 2013) - Kristen en couverture du premier numéro de Vanity Fair France (Juillet 2013)
"
Kristen Stewart
The SCANDALOUS
Easy prey or a manhunter?
The rebellious star tells the year where everything changed
"
The first issue of French Vanity Fair is set to hit newsstands on June 26.
Pictures from an subscription mailing from Vanity Fair France (Thx to
@mandinetweets
)
Note: That cover is a reprint of Vanity Fair's July 2012 issue
"
Kristen Stewart
La SCANDALEUSE
Proie facile ou mangeuse d'hommes?
La star insoumise raconte l'année où tout a changé
"
Le premier numéro du Vanity Fair France sort en kiosque le 26 juin.
Photos d'un courrier publicitaire de Vanity Fair France (Merci à
@mandinetweets
)
Note: Cette couverture est une réimpression du numéro de Vanity Fair de juillet 2012