Winona Ryder mentionne Kristen dans le magazine Interview (numéro de mai 2013)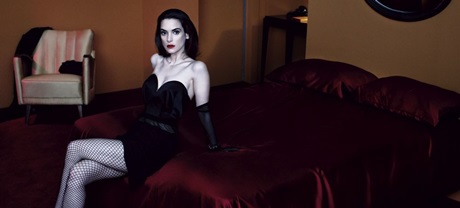 MOOALLEM: So what do you think when you see some of these girls, like Kristen Stewart and Jennifer Lawrence, go through what they're going through today?

RYDER: I have to say, I really wonder if I would become an actress if I was their age now. I've only seen part of Twilight [2008], but I've seen their other work and they're both super-talented. I don't know how they do it, though, in just trying to maintain some degree of a personal life and privacy. I don't know how you feel, but when Jodie Foster gave that speech at the Golden Globes, I heard people who were like, "Why is she talking about privacy when she's on stage?" But I have to say, I got what she was saying. Look, this is a story in Interview, so I do get how people complaining about privacy when they're actually doing very public things can come across as a bit hypocritical. But I do feel so lucky that I got to get in at least 15 years pre-whatever that show is called where they follow you around and then put it on the Internet. That stuff just didn't exist before. I also have yet to make sense of reality shows and the whole famous-to-be-famous thing where I don't really know what they do, but they're very famous—I know that's a whole other thing. But in terms of what happened to me or to other people who are friends of mine who have gone through difficult times where it's really publicized . . . You know, it's hard—and I do have feelings about it. So it's a combination of my heart goes out to them, but then at the same time I know that they don't know anything different.
MOOALLEM: Donc que pensez-vous quand vous voyez ce que certaines de ces filles, comme Kristen Stewart et Jennifer Lawrence, doivent traverser aujourd'hui?

RYDER: Je dois dire que, je me demande vraiment si je voudrais devenir une actrice si j'avais leur âge actuellement. J'ai seulement vu une partie de Twilight [2008], mais j'ai vu leurs autres films et elles sont toutes les deux super-talentueuses. Je ne sais pas comment elles font, cependant, pour tenter de maintenir un certain degré de vie personnelle et d'intimité. Je ne sais pas comment vous vous sentez, mais quand Jodie Foster a fait ce discours lors de la cérémonie des Golden Globes, j'ai entendu des gens qui disaient, "Pourquoi est-ce qu'elle parle de vie privée quand elle est sur ​​scène?". Mais je dois dire que, j'ai compris ce qu'elle disait. Regardez, c'est une histoire dans Interview, donc je comprends comment les personnes se plaignant du manque de vie privée quand ils font en réalité des choses très publiques peuvent donner l'impression d'être un peu hypocrite. Mais je ne me sens si chanceuse d'avoir été là pendant au moins 15 ans avant que ce show où ils vous suivent et le mettent sur Internet, ait un nom. Ce genre de choses n'existait tout simplement pas avant. J'ai aussi encore à comprendre les télé-réalité et le truc du célèbre-pour-être-célèbre où je ne sais pas vraiment ce qu'ils font, mais ils sont très célèbre - je sais que c'est une toute autre chose. Mais pour ce ce qui m'est arrivé à moi ou à d'autres personnes qui sont mes amis et qui ont vécu des moments difficiles vraiment médiatisés... Vous savez, c'est difficile - j'en ai ressenti des choses. Alors c'est une combinaison de mon coeur qui va vers eux, mais en même temps je sais qu'ils ne connaissaient rien de différent.
Source
-
via