Kristen rejoint SILS MARIA d'Olivier Assayas avec Juliette Binoche, Chloe Moretz, Tom Sturridge & Daniel Brühl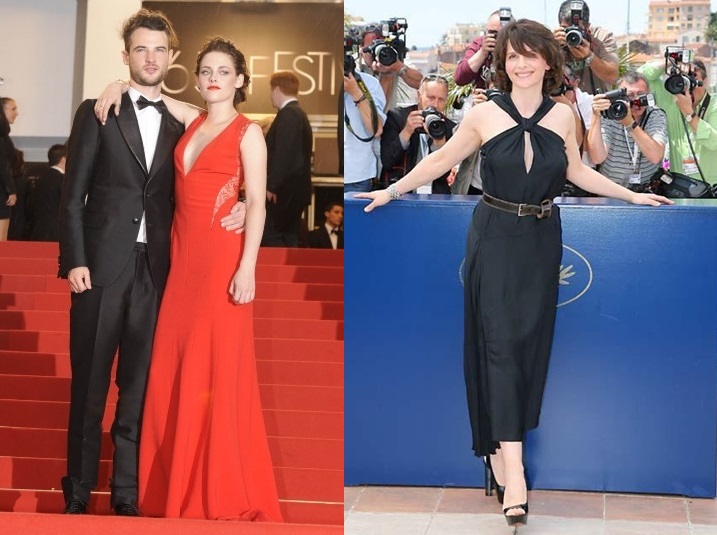 @jessiedior @mcavoydi Yes, i confirm both of them !

— charles gillibert (@charlegillibert) June 4, 2013
Question: "Pouvez-vous confirmer Daniel Brühl et/ou Tom Sturridge pour 'Sils Maria', aussi?" - Charles: "Oui je confirme les deux!"
After #SilsMaria to be shot in august #CGCinema starts the development of the next #OlivierAssayas movie to be shot in the US named #Hubris

— charles gillibert (@charlegillibert) May 22, 2013
"Après #SilsMaria tourné en aout #CGCinema commencera le développement du prochain film d'Olivier Assayas qui sera tourné au USA appelé #Hubris"
Deadling
-
Kristen Stewart has committed to star in back to back projects shooting this summer. She will star in Camp X-Ray, a politically charged drama written and directed by Peter Sattler, and she will also star in the Olivier Assayas-directed Sils Maria.
Stewart will join Juliette Binoche and Chloe Moretz in Sils Maria, the CG Cinema-produced English language film that Assayas wrote for his Summer Hours star Binoche.
The film explores middle age and that introspective period where one questions how they've spent their life so far and what they've accomplished. The title refers to the Swiss setting, and Stewart plays the assistant to Binoche's character, an actress who becomes obsessed with a young actress (Moretz) playing the role that made the older actress famous when she was young.
The film shoots this summer in Europe. IFC acquired this film for distribution just before Cannes.
Upandcomers
-
Most of the action will take place in one room and filming is set for this summer in Germany and Switzerland.
WRITER/DIRECTOR:
Olivier Assayas
CAST:
Kristen Stewart, Juliette Binoche (Maria Enders), Chloe Moretz (JoAnn), Tom Sturridge & Daniel Brühl
PRODUCERS:
Charles Gillibert with CG Cinema (Export/International Sales by MK2)
DISTRIBUTORS:
IFC (USA), Les Films du Losange (France) & Artificial Eye (UK & Ireland)
Deadling
-
Kristen Stewart s'est engagée à être de retour sur les plateaux cet été. Elle jouera dans Camp X-Ray, un drame politique écrit et réalisé par Peter Sattler, et elle sera également en vedette dans Sils Maria réalisé par Olivier Assayas.
Stewart va rejoindre Juliette Binoche et Chloe Moretz dans Sils Maria, le film en anglais produit par le CG Cinéma qu'Assayas a écrit pour sa star de L'Heure d'été, Binoche.
Le film explore l'âge mûr et la période introspective où l'on se demande à quoi on a passé notre vie jusqu'à présent et ce que l'on a accompli. Le titre fait référence à la Suisse, et Stewart joue l'assistante du personnage de Binoche, une actrice qui devient obsédée par une jeune actrice (Moretz) qui jouera le rôle qui a rendu l'actrice la plus agée célèbre quand elle était jeune.
Le film sera tourné cet été en Europe. IFC a acquis ce film pour une distribution/sortie juste avant Cannes.
Upandcomers
-
La plupart de l'action se déroulera dans une seule pièce et le tournage est prévue pour cet été en Allemagne et en Suisse.
SCÉNARISTE/RÉALISATEUR:
Olivier Assayas
CASTING:
Kristen Stewart, Juliette Binoche (Maria Enders), Chloe Moretz (JoAnn), Tom Sturridge & Daniel Brühl
PRODUCTEURS:
Charles Gillibert avec CG Cinema (Exportation/Ventes internationales par MK2)
DISTRIBUTEURS:
IFC (USA), Les Films du Losange (France) & Artificial Eye (Angleterre & Irlande)