Nouvelle/ancienne interview de Kristen avec le magazine Maxima (Portugal - lors de la promo de 'Sur la Route' à Cannes)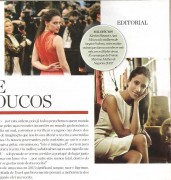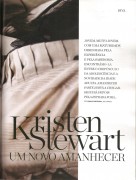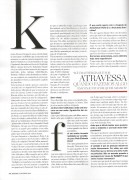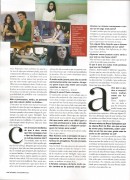 Kristen Stewart
A new dawn

Young, very young, with a maturity drawn by experience and wisdom. We found her between Twilight adolescence and adulthood novelty. Breaking Dawn: part 2 is coming. By then On the Road...
(By Paulo Portugal, in Cannes)

Kristen Stewart four years ago, she could never anticipate the turmoil that barely expects to sign the contract to start with Robert Pattinson, the couple romantic of The Twilight Saga, based on Stephenie Meyer's books.

This girl precocious talent, born and grow up in Los Angeles 22 years ago, was anything but alienated what was happening in the middle of the film. As her parents both worked in films and television, the constant visits to the sets shooting were part of her life. It was therefore natural that lived to 11 years relevant experience in the first film The Safety of Objects, in the company of Glenn Close. Sooner demonstrated tremendous expressive availability however used the creepy Panic Room, playing the daughter of Jodie Foster.

Before reaching maturity, had the privilege of being shaped by Sean Peen in masterpiece about the fury of living called Into the Wild. Until the age of 18, she was presented in the role that would change her life. Then begin the euphoria of gothic romanticism that had spawned many clones.

Here we come to Breaking Dawn: part 2, now after the birth of Renesmee, the daughter of Bella and the vampire Edward Cullen, a time when the couple will face the wrath of the Volturi clan. Even with supernatural beings of their own new species, Bella fulfil the most important challenge of her life: to defend the daughter that you guess a glorious epic end to the series.

Of course, her career is not limited to Twilight and the headlines in the media. Because soon after the sequel should assume it's the role in Snow White and the Huntsman, in which guesses will prolong diversity between blockbusters and challenges more independent. One goes through the expected participation in On the Road, the adaptation to the Brazilian Walter Salles made the legendary novel by Jack Kerouac. It was, indeed, the purpose of this film that we had the opportunity to interview Kristen Stewart during their world premiere in Cannes, and confirm how your life is marked by a before and after Twilight.

There are awkward moments in an interview, in which case the opposite of schedule. Instead of meeting with a media icon cautious, sensitive to certain issues and little available, we found a young casual in jeans and a T-shirt emblazoned with the logo of the pop band Blondie.

Visibly attacked by a violent cold, nasal voice, but without it affecting a speech fluent and intelligent.

Welcome!

I apologize but I am very congested. I got sick as soon as I arrived in Cannes. But I'm feeling a lot better now, thanks.

You must be accustomed to all this madness around you. Do you like giving interviews?

Of course it's different for each movie, but I think that it completes the process. And I have more and more fun. To be honest, I often only think certain things when someone asks me a question.

Being invited for "On the Road" was a dream come true?

It was my favorite book. I was 14 or 15 years old when I read it. In a sense it represents a stage of our life when we choose who is our family and who are our friends. It celebrates the fact that we establish new values and priorities in our life. It may seem obvious to say this, but life is not easy.

How do you feel about the arrival of "Breaking Dawn part 2" and the end of this franchise?

I didn't want it to go away. But I've lived with it so many years that I feel some pleasure to move on. Sometimes it happens the opposite; we're making a movie for 5 weeks and we keep the feeling of wanting more. In the case of "Twilight". I think I did the best I could and now its time to move on. However, I'm proud of what I did and all my colleagues.

In emotional terms, how would you define this experience?

It is a saga that touched me deeply. In this case, I can't choose the words well. because it was all very emotional. It is something that stays there, between the heart and the stomach. It is at the same time something spiritual and also physical. I was really lucky, it was nothing I had planned. I assume this projects because I feel some emotional connection with them. In "Snow White and the Huntsman" I'm proving myself at the same time that I keep credibility of the franchise. This without losing the credit of the independent cinema as it happens now with "On the Road".

Do you think that it is hard to keep a position between the industry and the side of being more independent?

I don't want to belong to an entertainment industry, neither I want to inculcate something to sell to people. So I don't really feel interesting, I think that my characters are more interesting than I am.

The truth is that people find you very interesting. It was, moreover, because of this franchise that you became an actress long recognized. Don't you get scared when people chase you because of Twilight? What do you feel in this moments?

The reason why I like what I do is because there is an energy that crosses ourselves when we do something with someone we love. We can be alone in a room and laugh at something that's funny, but it will be definitely different if there is someone in the room with us - there we will be rolling around laughing. Fortunately, I'm in a rare position where I feel very appreciated. Being able to share this with someone is something unique. Being able to be less intimate with the public that with the director or with actors or even in an interview. I would be craz if I don't feel affected with the possibility to share this feeling with so much people.

So people that can not define limits don't worry you…

I focus much more in people that like me than in people that are less well-intentioned. It is still crazy when I'm on tour or in a Twilight set. For those who are outside it is more delusional than it really is. The secret is to walk always really fast. But for me it's all ok…

With this mediatic madness that you are target, do you feel that you can not live the type of liberty that other people have?

In reality, I feel free to do everything that is in my head. I imagine that I protect myself a little, but I don't feel private to do anything. It's truth that it took a long time to establish limits. I mostly feel that I was far from my ideal. I felt that I could not keep that rationality. But, now, I know exactly what I want to do. And I think that it is a madness when people find interesting to sell themselves. There are people that can sell personalities. I don't know how they believe it. I'll never do that.

And you are still very young to don't feel always in the clouds. About that, who makes you feel that your feet are in land?

You, the press… (laughs)

(laughs) Really? You are joking…

It's funny, because you think that actors don't like doing interviews. Sometimes I only think in somethings when you do a certain question. And thins is someting that i don't talk with anyone else, it's someting that I develop only during interviews. Of course that I have a good affective basis, I have a family that is very united. Saying that they support me very much can be a cliché, but it's true.

At what point it's difficult to manage your personal life and the mediatic attention over you and Robert? Can you have time for yourselves?

As I said, I don't feel private of anything. I do what I want.

But we have the feeling that the security that you talked did not became arrogance. It was a difficult process?

It was not easy. It a process of learning, testing on the basis of the trial and error. I began very soon, but I tried to deepen it on the Twilight set. Now that I think about that, I think that at the age of 17 it's a bit soon to start thinking about me and to analyze my steps.

Kristen has started to work really early. Do you remember when this cinema experiments started to became more serious?

At the beggining I thought it was just a job. I admired my parents, that were fascinated for movies. What I wanted was that adults spoke to me. That's why I went to sets and wanted them to give me attention.

Is there a movie that helped you in that decision to be an actress?

Yes. A Woman Under the Influence, by John Cassavetes [1974].

Have you ever thought how would your life be if you weren´t an actress?

I really don´t now what to say. I think that I would have to go back to that choice to understand.

What's the most precious thing you take from Twilight?

Hummm... Interesting. It's hard to be specific. It were four years of my life. Now, you've got me unprepared... Every day I thought I could do better that I did the day before. The truth is that I end to feel that in each movie. At the end, it was another movie too...

Do you think that helped you to grow up? As a woman, as a human being?

Of course. It helped me in everthing I've done. I've been there so long, but that characters remain with us. I think some of the films affected me more than others, but my choices were always so rewarding that it's hard to choose one.

Bruce Springsteen has a music called Born to Run, in which you have to run to, finally, be able to walk at sun. Do you like most to run or to walk at sun?

It really is a perfect theme for On the Road. At some time, in our life, we have to walk at sun. We can't be permanently searching. That's why this insatiable men's life who couldn't walk at sun endend up, sometimes, in a tragic way. Fortunatly, my character lived until 80, had four weddings and a beautifull daughter. Yes, I think that at some time, we have to settle down... Although, I'm not old enough to answer very wisely to that question...
Kristen Stewart
Une nouvelle aube

Jeune, très jeune, avec une maturité dessinée par l'expérience et la sagesse. Nous l'avons découvert entre l'adolescence de Twilight et la nouveauté de l'âge adulte. Breaking Dawn: Partie 2 est à venir. D'ici là, Sur la Route...
(Par Paulo Portugal, à Cannes)

Kristen Stewart il y a quatre ans, n'aurait jamais pu prévoir la tempète qui l'attendrait à peine après avoir signer le contrat pour commencer à être avec Robert Pattinson, le couple romantique de la saga Twilight, basé sur les livres de Stephenie Meyer.

Cette fille au talent précoce, est née il y a 22 ans à Los Angeles et y a grandit, était loin d'être inconnu à ce qui se passait dans le milieu du cinéma. Ses parents ont tous deux travaillé dans le cinéma et la télévision, les visites quotidiennes sur des plateaux de tournage faisaient partie de sa vie. Il était donc naturel qu'à 11 ans elle ait vécue une première expérience pertinente dans un film, The Safety of Objects, en compagnie de Glenn Close. Elle a très tôt fait preuve d'une énorme palette expressive, utilisant dans le flippant Panic Room, en jouant la fille de Jodie Foster.

Avant d'arriver à maturité, elle a eu le privilège d'être façonnée par Sean Peen dans le chef d'œuvre sur la fureur de vivre intitulé Into the Wild. Jusqu'à l'âge de 18 ans, où elle a été présentée au rôle qui allait changer sa vie. A commencée alors l'euphorie du romantisme gothique qui allait donné naissance à de nombreux clones.

Nous voilà donc à Breaking Dawn Part 2, après la naissance de Renesmée, la fille de Bella et du vampire Edward Cullen, à un moment où le couple devra faire face à la colère du clan Volturi. Même avec des êtres surnaturels de nouvelles espèces, Bella devra relever le défi le plus important de sa vie: défendre la fille que vous devinez être, la fin glorieuse de la série.

Bien sûr, sa carrière ne se limite pas à Twilight et aux gros titres dans les médias. Parce que peu de temps après, la suite nous fait supposer que c'est le rôle dans Blanche Neige et le Chasseur, qui prolongera la diversité entre les blockbusters et les défis plus indépendants. On passe par la participation très attendue dans Sur la Route, l'adaptation qu'a fait le Brésilien Walter Salles du légendaire roman de Jack Kerouac. Il était, en effet, le film pour lequel nous avons eu l'occasion d'interviewer Kristen Stewart, lors de leur Première mondiale à Cannes, et de confirmer combien votre via est marquée par un avant et un après Twilight.

Il y a des moments maladroits dans une interview, à l'opposer du programme. Au lieu d'une rencontre avec une icône médiatique prudente, sensible à certaines questions et peu disponible, nous avons trouvé une jeune décontractée en jeans et t-shirt arborant le logo du groupe pop Blondie.

Visiblement attaqué par un froid violent, voix nasillarde, mais sans que cela affecte un discours fluide et intelligent.

Bienvenue!

Je m'excuse, mais je suis très encombrée. Je suis tombée malade dès que je suis arrivée à Cannes. Mais je me sens beaucoup mieux maintenant, merci.

Vous devez être habitué à toute cette folie autour de vous. Aimez-vous donner des interviews?

Bien sûr c'est différent pour chaque film, mais je pense que ça complète le processus. Et j'ai de plus en plus de plaisir à le faire. Pour être honnête, je ne pense souvent qu'à certaines choses quand quelqu'un me pose une question.

Être invité pour "Sur la Route" est un rêve devenu réalité?

C'était mon livre préféré. J'avais 14 ou 15 ans quand je l'ai lu. En un sens il représente l'étape de notre vie lorsque nous choisissons qui est notre famille et qui sont nos amis. Il célèbre le fait que nous établissons de nouvelles valeurs et priorités dans notre vie. Ca peut sembler évident de dire cela, mais la vie n'est pas facile.

Que pensez-vous de la sortie de "Breaking Dawn Part 2" et la fin de cette franchise?

Je n'avais pas envie qu'elle se termine. Mais j'ai vécu avec elle pendant tant d'années que je ressens un certain plaisir à passer à autre chose. Parfois le contraire arrive; nous faisons un film pendant 5 semaines et nous gardons le sentiment d'en vouloir plus. Dans le cas de "Twilight". Je pense que j'ai fait du mieux que j'ai pu, et maintenant il est temps de passer à autre chose. Cependant, je suis fier de ce que j'ai fait et de tous mes collègues.

En termes émotionnels, comment définiriez-vous cette expérience?

Il s'agit d'une saga qui m'a profondément touchée. Dans ce cas-ci, je ne peux pas bien choisir les mots. Car tout cela était très émotionnel. C'est quelque chose qui reste là, entre le cœur et l'estomac. Elle est en même temps quelque chose de spirituelle et physique aussi. J'ai eu beaucoup de chance, je n'avais rien prévu. Je suppose que je choisis ces projets parce que je sens un lien affectif avec eux. Dans "Blanche Neige et le Chasseur" je me prouve en même temps que je garde la crédibilité de la franchise sans perdre le crédit du cinéma indépendant, comme maintenant avec "Sur la Route".

Pensez-vous qu'il est difficile de garder une position entre l'industrie et le côté d'être plus indépendant?

Je ne veux pas faire partie d'une industrie du divertissement, pas non plus cultiver quelque chose à vendre aux gens. Donc je ne me sens pas vraiment intéressante, je pense que mes personnages sont plus intéressants que je ne le suis.

La vérité est que les gens vous trouvent très intéressante. C'est, en outre, à cause de cette franchise que vous êtes devenu une actrice depuis longtemps reconnu. N'avez-vous pas peur que les gens vous persécutent à cause de Twilight? Que ressentez-vous en ce moment?

La raison pour laquelle j'aime ce que je fais, c'est parce qu'il ya une énergie qui nous traverse quand nous faisons quelque chose avec quelqu'un que nous aimons. On peut être seul dans une chambre et rire de quelque chose qui est drôle, mais ce sera définitivement différent si il y a quelqu'un dans la pièce avec nous - nous serons écrouler de rire. Heureusement, je suis dans une rare position où je me sens très appréciée. Pouvoir partager cela avec quelqu'un est quelque chose d'unique. Peut-être moins intime avec le public qu'avec le réalisateur ou avec les acteurs ou même une interview. Je serais dingue si je ne me sentirais pas affectée par la possibilité de partager ce sentiment avec autant de monde.

Donc les gens qui ne peuvent pas définir les limites ne vous inquiétent pas...

Je me concentre beaucoup plus sur les personnes qui m'aiment que sur les personnes qui sont moins bien intentionnés. C'est encore dingue quand je suis en tournée ou sur un tournage de Twilight. Pour ceux qui sont à l'extérieur, c'est plus délirant que ça l'est vraiment. Le secret est de toujours marcher très vite. Mais pour moi tout est ok...

Avec cette folie médiatique dont vous êtes la cible, pensez-vous que vous ne pouvez pas vivre le genre de liberté que d'autres personnes ont?

En réalité, je me sens libre de faire tout ce que je veux. J'imagine que je me protège un peu, mais je ne me sens pas privé de faire quelque chose. C'est vrai qu'il a fallu beaucoup de temps pour établir des limites. Je pense surtout que j'étais loin de mon idéal. Je sentais que je ne pouvais pas garder cette rationalité. Mais, maintenant, je sais exactement ce que je veux faire. Et je pense que c'est une folie quand les gens trouvent intéressant de se vendre. Il y a des gens qui peuvent vendre une fausse personnalité. Je ne sais pas comment ils y croient. Je ne ferai jamais ça.

Et vous êtes encore très jeune pour ne pas toujours vous sentir dans les nuages. A ce propos, qui vous permet de rester les pieds sur terre?

Vous, la presse... (rires)

(rires) Vraiment? Vous plaisantez...

C'est drôle, parce que vous pensez que les acteurs n'aiment pas faire des interviews. Parfois, je pense à quelque chose quand vous posez une question précise. Quelque chose dont je ne parle pas avec quelqu'un d'autre, c'est quelque-chose que je développe seulement pendant les interviews. Bien sûr que j'ai une bonne base affective, j'ai une famille qui est très unie. Dirent qu'ils me soutiennent beaucoup peut-être un cliché, mais c'est vrai.

À ce stade, il est difficile de gérer votre vie personnelle et l'attention médiatique sur vous et Robert? Pouvez-vous avoir du temps pour vous-même?

Comme je l'ai dit, je ne me sens privé de rien. Je fais ce que je veux.

Mais nous avons le sentiment que la sécurité dont vous avez parlé n'avait pas d'arrogance. Ce fut un processus difficile?

Ce n'était pas facile. C'est un processus d'apprentissage, testé sur la base de l'essai et de l'erreur. J'ai commencée très tôt, mais j'ai essayée d'approfondir sur le tournage de Twilight. Maintenant que j'y pense, je pense que 17 ans, c'est un peu tôt pour commencer à penser à moi-même et à analyser mes pas.

Kristen vous avez commencée à travailler très tôt. Vous souvenez-vous quand cette expérience de cinéma a commencée à devenu plus sérieuse?

Au commencement, je pensais que c'était juste un emploi. J'admirais mes parents qui étaient fascinés par les films. Ce que je voulais, c'était que les adultes me parlent. C'est pourquoi je suis allée sur des plateaux, je voulais qu'ils me donnent de l'attention.

Y a t-il un film qui vous a aidé dans cette décision d'être actrice?

Oui. Une femme sous influence, de John Cassavetes [1974].

Avez-vous déjà pensé à comment serait votre vie si vous n'étiez pas actrice?

Je ne sais pas vraiment quoi dire maintenant. Je pense que je dois revenir à ce choix pour comprendre.

Quelle est la chose la plus précieuse que vous avez pris de Twilight?

Hummm... Intéressant. C'est difficile d'être précis. C'était quatre ans de ma vie. Maintenant, comme vous ne m'avez pas prévenu... Chaque jour, je pensais que je pouvais faire mieux que je n'avais fait la veille. La vérité est que je me retrouve à penser ça pour chaque film. A la fin, c'était un autre film aussi...

Pensez-vous qu'elle vous a aidé à grandir? En tant que femme, en tant qu'être humain?

Bien sûr. Elle m'a aidée dans tout ce que j'ai fait. Elle a été là pendant si longtemps, mais les personnages restent avec nous. Je pense que certains films m'ont touchés plus que d'autres, mais mes choix ont toujours tellement gratifiant qu'il est difficile d'en choisir un.

Bruce Springsteen a une musique appelée Born to Run, sur laquelle vous devez courir pour, finalement, être capable de marcher au soleil. Aimez-vous plus courir ou marcher au soleil?

C'est vraiment un thème idéal pour Sur la Route. À un certain moment, dans notre vie, nous devons marcher au soleil. Nous ne pouvons pas être à la recherche en permanence. C'est pourquoi la vie de ces insatiables hommes qui ne pouvaient pas marcher au soleil se terminaient, parfois, d'une manière tragique. Heureusement, mon personnage a vécu jusqu'à 80 ans, a eu quatre mariages et une fille magnifique. Oui, je pense qu'à un moment donné, il faut s'installer... Bien, je ne sois pas assez vielle pour répondre très judicieusement à cette question...
Thx to
TwilightPortugal