Lily Collins mentionne Kristen dans le magazine Glamour UK (numéro de septembre 2013)
This isn't the first time Lily has experienced intense press attention. "I had the experience with Kristen where there were paparazzi waiting outside a restaurant and we were followed afterwards, and I do think it's such a crazy job to follow someone in order to get a picture..."

"You have to take things as they come. I'd love to play Clary again and again because I love her, and if what happens with Mortal Instruments is anything like what Jennifer [Lawrence] and Kristen have gone through, then I think that's just a by-product of doing something that I love. I entered into this business knowing your private life can't always remain private."

Lily is close friends with Twilight star Kristen Stewart and The Hunger Games actress Jennifer Lawrence. She hopes to mirror their ability to handle fame as her profile in Hollywood grows.

"Kristen and Jennifer have both done an amazing job of not letting their jobs keep them from being normal, despite being in abnormal situations, so it's about making whatever 'normal' is work for you," she finished.
Ce n'est pas la première fois que Lily fait l'expérience d'une intense attention de la presse. "J'ai eu une expérience avec Kristen où il y avait des paparazzi qui attendaient à l'extérieur d'un restaurant et par la suite on a été suivi, et je pense que c'est un tel travail de fou que de suivre quelqu'un pour avoir une photo..."

"Il faut prendre les choses comme elles viennent. J'ai adorée jouer Clary encore et encore parce que je l'adore et si ce qui se passe avec La Cité des ténèbres ressemble à ce que Kristen et Jennifer ont traversées, alors je pense que c'est juste un produit dérivé de faire quelque chose que j'aime. Je suis entrée dans cette industrie en sachant que la vie privée ne peut pas toujours rester privée."

Lily est une amie proche de la star de Twilight Kristen Stewart et l'actrice d'Hunger Games Jennifer Lawrence. Elle espère refléter leur capacité à gérer la célébrité alors que son nom à Hollywood monte.

"Kristen et Jennifer ont toutes les deux fait un travail incroyable sur le fait de ne pas laisser leurs jobs les empêcher d'être normales, tout en étant dans des situations anormales, alors il s'agit de faire tout ce qui est 'normal' et qui marche pour vous," termine-t-elle.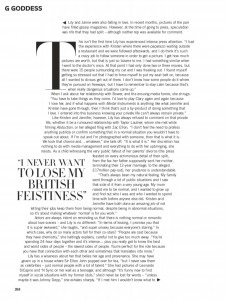 Source:
#1
#2
#3