Scan/Retranscription - Kristen & le maquilleur Beau Nelson parlent du fait de travailler ensemble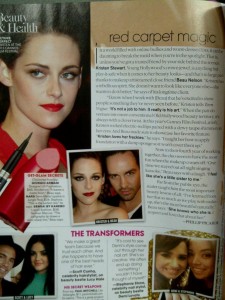 (Teen Vogue - October 2013 issue)

Red carpet magic

In a world filled with online bullies and worst-dressed list, it can be daunting to break the mold when you're in the spotlight. That is, unless you've got a trusted friend by your side behind the scenes.

Kristen Stewart, Young Hollywood's crown jewel, is anything but play-it-safe when it comes to her beauty looks - and that's in large part thanks to makeup artist turned close friend Beau Nelson. "Kristen has a rebellious spirit. She doesn't want to look like everyone else - she wants to do it better," he says of his longtime client.

"I know when I work with [Beau] that he's excited to show people something they've never seen before," Kristen tells Teen Vogue. "It's not a job to him. It really is his art." When the pair do venture into more conventional Old Hollywood beauty territory, it's always with a clever twist. At this year's Cannes Film Festival, at left, Kristen rocked electric-red lips paired with a dewy taupe shimmer on her eyes. And Beau made sure to showcase her favorite feature: "Kristen loves her freckles," he says. "I taught her how to apply foundation with a damp sponge so it won't cover them up."

Now in their fourth year of working together, the duo seem to have the most fun when the makeup comes off. "One time we stayed out all night singing karaoke," Beau says with a laugh. "I feel like she's a little sister to me."

Far from the public eye, the starlet taught him the most important beauty lesson of all: "I've learned from her that as much as we play with makeup, she's the most beautiful naturally," Beau says. "She knows who she is. I respect and love that about her."
(Teen Vogue - numéro d'octobre 2013)

Tapis rouge magique

Dans un monde rempli de brutes et de liste du plus mal habillé, ça peut être difficile de briser le moule quand vous êtes sous le feu des projecteurs. A moins que vous ayez un ami de confiance à vos côtés dans les coulisses.

Kristen Stewart, joyau de la couronne du jeune Hollywood, est tout sauf jouons-la-sécurité quand il s'agit de son apparence - et c'est en grande partie grâce au maquilleur devenu un ami proche, Beau Nelson. "Kristen a un esprit rebelle. Elle ne veut pas ressembler à tout le monde - elle veut faire mieux," dit-il de sa cliente de longue date.

"Je sais que quand je travaille avec [Beau] il est excité de montrer aux gens quelque chose qu'ils n'ont jamais vu auparavant," dit Kristen à Teen Vogue. "Ce n'est pas un travail pour lui. C'est vraiment son art." Quand la paire s'aventure sur le territoire plus conventionnel de la Old Hollywood beauty (Vieille beauté d'Hollywood) c'est toujours avec une approche originale et intelligente. Au Festival de Cannes de cette année, à gauche, Kristen a assurée avec des lèvres rouges électrique couplée à un taupe rosée sur ses yeux. Et Beau a fait en sorte de mettre en valeur son trait préféré: "Kristen aime ses taches de rousseur," dit-il. "Je lui ai appris comment appliquer la base avec une éponge humide de sorte que ça ne les couvre pas."

Désormais dans leur quatrième année de collaboration, le duo semble plus s'amuser quand la session de maquillage se fini. "Une fois on est resté dehors toute la nuit à chanter dans un karaoké," dit Beau en riant. "Elle est comme une petite sœur pour moi."

Loin des yeux du public, la starlette lui a enseignée la leçon beauté la plus importante de toute: "J'ai appris d'elle que, autant nous pouvons jouer avec le maquillage, elle est la plus belle naturellement," dit Beau. "Elle sait qui elle est. Je respecte et aime ça chez elle."
Scan via