Winona Ryder mentionne Kristen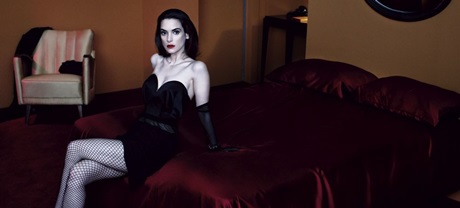 Today, a new generation of actresses is navigating territory charted by Ryder from the '80s till now. When pressed about what type of advice she might give to a young star hoping to cultivate a similarly iconic career, Ryder is overtly cautious.
"I was recently asked about Kristen Stewart and Jennifer Lawrence,"
she recalls.
"In answering I was very genuine, and I did say I thought they were both incredibly talented. But I mentioned something about their privacy and how my heart goes out to them, and the feedback I got was like, 'How dare she!' It's just another example of something being taken out of context, the interpretation was that I pitied them or something. I guess people decide to take things a certain way for headlines or Internet hits. But these are great actresses! I don't know what they think of me. I would never give advice because I would feel very presumptuous. Their success is very different than mine was, and it's a different time."
Aujourd'hui, une nouvelle génération d'actrices navigue vers les territoires tracés par Ryder depuis les années 80 à aujourd'hui. Lorsqu'on la presse pour savoir quel type de conseil pourrait t'elle donner à une jeune star dans l'espoir qu'elle cultive une carrière emblématique similaire, Ryder est ouvertement prudente.
"On m'a récemment questionnée sur Kristen Stewart et Jennifer Lawrence,"
rappelle t'elle.
"En répondant j'étais très authentique, et j'ai dit que je pensais qu'elle était toutes les deux incroyablement talentueuses. Mais j'ai mentionnée quelque chose à propos de leur vie privée et comment mon cœur est avec elles, et le retour que j'ai eu était comme, 'Comment ose-t-elle!' C'est juste un autre exemple de quelque chose qui est sorti de son contexte, l'interprétation était que je les plaignais ou quelque chose. Je suppose que les gens décident de prendre les choses d'une certaine manière pour les titres ou les visites en ligne. Mais ce sont des supers actrices! Je ne sais pas ce qu'elles pensent de moi. Je n'aurais jamais donner des conseils parce que je me sentirais très présomptueuse. Leur succès est très différent de ce qu'était le mien, et c'est une époque différente."
Via