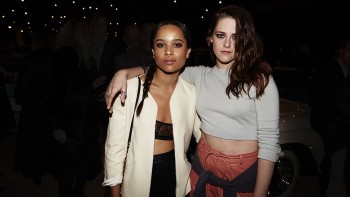 With a caption by Zoe Kravitz: "Me and this pretty thing" :)
Fair Park, Dallas, Texas

Kristen, Dakota & Karl Lagerfeld




STUNNING!!!!!

Scan from Elle (Australia)



Pictures

HQ



LQ/MQ



Fan pictures



Videos

Full show - you can see Kristen several times, at 0:55, 1:11, 2:02 & more

Interview (+ Gifs & Screencaps)

(1:48 & 2:57 + Gifs)


Fashion

Chanel Spring 2014 RTW



The full short film The Return (written & directed by Karl Lagerfeld and starring Geraldine Chaplin as Coco Chanel)


We're in Dallas celeb spotting at the #Chaneldallas welcome dinner. So far: Kristen Stewart, Dakota Fanning, Lauren Hutton & Alexa Chung...

— ELLE Canada (@ElleCanada) December 10, 2013
Dallas News
- Karl Lagerfeld, the outrageous, outspoken designer and the artistic director of Chanel, will present one of the French fashion house's most exuberant and visual annual runway shows at Fair Park.
The fashion show is invitation-only, with nearly 900 celebrities, members of the international fashion media and top Chanel customers expected to attend, helping to raise Dallas' profile as a serious fashion city on par with Paris and New York.
Called Métiers d'Art, the yearly extravaganza showcases the work of the 11 couture workshops that Chanel has been acquiring since 1985 — among them, a shoe cobbler, a button maker, a glove maker, a Scottish cashmere mill and an artisan company that specializes in intricate, hand-stitched embroidery.
WATCH THE DEBUT of the short film The Return, written and directed by Karl Lagerfeld and starring Geraldine Chaplin as Coco Chanel, at 7 p.m. Tuesday at CHANEL.COM - Facebook - Twitter
Source:
#1
#2
#3
#4
#5
#6
#7
#8
#9
#10
#11
#12
#13
#14
#15
#16
#17
#18
#19
#20
#21
#22
#23
#24
#25
#26
#27
#28
#29
#30
#31
#32
#33
#34
#35
-
Videos1
-
Video2