NOUVELLES Interview de Kristen with LA Times & Photo dans les coulisses de 'Camp X-Ray'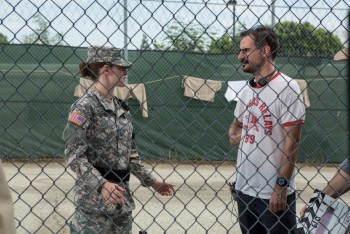 Note: "Says Stewart sitting in a Sunset Boulevard conference room a few days before the Sundance festival began."

Kristen Stewart says the Guantanamo-set 'Camp X-Ray,' in competition at the Sundance Film Festival, has everything she looks for in a project.

By Kenneth Turan - It is, Kristen Stewart agrees, just like falling in love.

"It's just a very familiar, necessary feeling when you read a script you want to do," the actress says, coming alive at just the memory. "I've gone with my gut, taken a lot of the thinking away, and been very lucky."

"As an artist," she continues, her energy rising, "If you view what you do as product, you'll never do anything true to yourself, never do anything you're proud of. I've never thought, 'My career should go in this direction.' There's no way to be tactical for me."

Stewart got that familiar feeling when she read writer-director Peter Sattler's script for "Camp X-Ray," which has its debut Friday as part of the Sundance Film Festival's dramatic competition.

A quietly involving drama, part character study, part meditation on the nature of shared humanity, "Camp X-Ray" is powered by Stewart's focused, convincing performance as Cole, a young Army guard at Guantanamo who makes a connection with a prisoner played by Payman Maadi, the star of Iran's Oscar-winning "A Separation."

"It had been two years since I worked, but it wasn't my choice to take a break," the 23-year-old actress says, sitting in a Sunset Boulevard conference room a few days before the festival began. "But nothing had given me that compulsion, nothing that made me feel it was meant for me to do."

Even though "Camp X-Ray" was "a tiny little movie, a million-dollar budget, five-week shooting schedule," Stewart responded to it at once. "The character seemed so whole to me," she says, "it was very emotional and a genuine fresh perspective on something current. It had everything I look for in a project."

Once Stewart committed, she was all in, reading extensively, watching films, talking to people who filled her in on the military mind-set. "I developed a back story for Cole, I know her father, her mother, I can tell you anything about that girl," she says. "It's important to be a real person, not a representation."

Stewart is also always on the lookout for what she calls "footholds, touchstones, little details that communicate to an audience, that make things evident without being heavy-handed."

To express Cole's uncertainty, for instance, the character wears tube socks and sandals on a day off, "trying to be cool but missing the mark." Even more vivid is the way Cole attacks her long hair, forcing it into the most precise bun imaginable.

"She takes her long hair and binds it, oppresses the … out of it," Stewart says. "These buns are a reflection of the soldier, and Cole's is perfection. The only moments she feels confident is when she is in uniform."

Even doing all this work doesn't stop the pre-production anxiety that is part of Stewart's experience. Though in person she is aware, lively and engaging, the actress says that "there is a scary thing about signing on to a project that feels ambitious: 'Can you stand up to it?' is the fear. I don't want to ruin a brilliant script. I give a disclaimer to every director I work with: I will do anything, I will jump off buildings, but I don't know if I will be able to deliver what you want."

That fiercer than fierce commitment to the part can also manifest itself during production. On "Camp X-Ray" Stewart is processing what happened during the shooting of the film's climactic emotional scene between guard and prisoner. It was a scene in which director Sattler made the decision to start with costar Maadi's coverage, with Stewart playing the scene off camera rather than the other way around, which the actress would have preferred.

"I am such a weirdo freak of an actor that I can't repeat anything, and Maadi has done a lot of theater, he likes to do a scene over and over," she says. Not having her first reactions on camera "made me hysterical, at the end of the day I sat in the cellblock crying, I was just done. I was so anxious to have that experience. Looking back on it now, it still makes me crazy, I want to bang my head through the table."

An established independent film actor before she took on the role of Bella Swan, Stewart is relieved to find the frenzy around the "Twilight" series starting to abate.

"It was crazy, it reached insane levels," she says, still a bit disbelieving. "People would ask about maintaining that and I said, 'Everyone take a breath. That is not going to happen.' There is no way you could ever want to stay at that level."

Smiling and saying that her "Twilight" experience "has given me a unique perspective on the world, that's the positive way of looking at it," Stewart wonders why it is sometimes difficult for others to realize that it was her unmistakable passion for the work and not a zeal for celebrity that led her to acting.

"It's not easy for people to understand my discomfort with the spotlight, they say, 'Why would you become an actor if you feel that way?'" Stewart says. "People don't know what to do with those feelings, they feel you're ungrateful, and that does kind of kill me."

"You can't be saying, 'You're wrong about me,' the worst thing is if you remotely sound like you're complaining. Then you become the misconception." All you can do, Kristen Stewart realizes, is to continue to do the work, and that's what she has done.
Note: "Dit Stewart assise dans une salle de réunion sur Sunset Boulevard quelques jours avant le début du festival de Sundance."

Kristen Stewart dit que 'Camp X-Ray', basé à Guantanamo et en compétition au Festival du Film de Sundance, a tout ce qu'elle recherche dans un projet.

Par Kenneth Turan - C'est, Kristen Stewart est d'accord, tout comme tomber amoureux.

"C'est juste une émotion très familière et nécessaire, quand tu lis un script que tu veux faire," dit l'actrice, prenant vie à la mention du bon souvenir. "J'y suis allée avec mes tripes, ne me suis pas perdu dans des réflexions, et eu beaucoup de chance." "En tant qu'artiste," poursuit-elle, son énergie augmentant, "Si tu visualises ce que tu fais comme un produit, tu ne feras jamais quelque chose de fidèle à toi-même, jamais quelque chose dont tu seras fier. Je n'ai jamais pensé, 'Ma carrière devrait aller dans cette direction.' Il n'y a pas de façon d'être stratégique pour moi."

Stewart a ressentit cette émotion familière quand elle a lu le script de 'Camp X-Ray', du scénariste-réalisateur Peter Sattler, qui a fait ses débuts vendredi en compétition au Festival du Film de Sundance dans la catégorie dramatique. Un film impliquant du drama, une partie à étudier les personnages, une partie à méditer sur la nature de l'humanité, "Camp X-Ray" est propulsé par la performance convaincante et sérieuse de Stewart en tant que Cole, un jeune soldat garde à Guantanamo qui se lie d'amitié avec un prisonnier joué par Peyman Maadi, la star du film iranien oscarisé "Une séparation". "Ça faisait deux ans que je n'avais pas travaillé, mais ce n'était pas mon choix de prendre une pause," dit l'actrice de 23 ans, assise dans une salle de réunion sur Sunset Boulevard quelques jours avant le début du festival. "Mais rien ne m'avait donné cette envie, rien ne m'avait fait ressentir que c'était fait pour moi."

Même si "Camp X-Ray" est "un tout petit film, un budget d'un million de dollars, un tournage de cinq semaines," Stewart a répondu oui immédiatement. "Le personnage semblait tellement fait pour moi," dit-elle, "Il est fort en émotion et a un regard neuf sur quelque chose d'actuel. Il avait tout ce que je recherche dans un projet."

Une fois que Stewart s'est engagée, elle s'est plongée dedans, lisant continuellement, regardant des films, parlant à des personnes qui l'ont aidés à se mettre dans l'état d'esprit d'un militaire. "J'ai crée une histoire à Cole, je connais son père, sa mère, je peux tout vous dire sur cette fille," dit-elle. "C'est important d'être une personne réelle, pas une représentation."

Stewart est aussi toujours à l'affût de ce qu'elle appelle des "points d'appui, des assises, des petits détails qui parlent à un public, qui rendent les choses évidentes sans être lourde." Pour exprimer l'incertitude de Cole, par exemple, le personnage porte pendant un jour de congé des chaussettes montantes et des claquettes, "essayant d'être cool mais à côté de la plaque." Encore plus frappant, la façon dont Cole attaque ses longs cheveux, les serrant dans le chignon le plus lisse possible.

"Elle prend ses longs cheveux et les attaches, les serre," dit Stewart. "Ces petits chignons refletent le soldat, et Cole l'est à la perfection. Les seuls moments où elle se sent en confiance, c'est quand elle est en uniforme."

Même en faisant tout ce travail ça n'arrête pas l'angoisse de la pré-production qui fait partie de l'expérience de Stewart. Bien qu'en vrai elle s'y connait, est vivante et engagée, l'actrice dit "qu'il y a une chose effrayante quand on signe un projet qui semble ambitieux: 'Peux-tu tenir le coup?' est la crainte. Je ne veux pas gâcher un scénario brillant. Je donne un avertissement à chaque réalisateur avec qui je travaille: Je vais faire tout ce que je peux, je sauterai d'un bâtiment, mais je ne sais pas si je serai en mesure de te donner ce que tu veux."

Aussi féroce que l'engagement farouche envers le rôle qui s'est également manifester lors de la production. Sur "Camp X-Ray" Stewart a du gérer ce qui s'est passé pendant le tournage de la scène du point culminant émotionnel du film entre le garde et le prisonnier. C'était une scène lors de laquelle le réalisateur Sattler a pris la décision de commencer à filmer Maadi, avec Stewart jouant la scène hors caméra plutôt que l'inverse, ce que l'actrice aurait préféré.

"Je suis une actrice si tordue que je n'arrive pas à répéter quelque chose, et Maadi a fait beaucoup de théâtre, il aime faire une scène encore et encore," dit-elle. Ne pas avoir ses premières réactions de filmer "m'ont rendu hystérique, à la fin de la journée je me suis assise dans le pavillon cellulaire pour pleurer, j'en pouvais plus. J'étais tellement impatiente de vivre cette expérience. Quand j'y repense maintenant, ça me rend toujours folle, j'ai envie de me cogner la tête contre la table."

Une actrice indépendante établie avant d'avoir pris le rôle de Bella Swan, Stewart est soulagée de voir que la frénésie autour de la saga "Twilight" commence à diminuer.

"C'était fou, ça a atteint des niveaux insensés," dit-elle, encore un peu incrédule. "Les gens se demandent si ça va rester à un tel niveau et je dit, 'Que tout le monde prenne une grande respiration. Ca ne va pas arriver.' Il n'y a pas moyen de souhaiter que ça reste à ce niveau."

Souriant et disant que son expérience sur "Twilight" "m'a donnée une perspective unique sur le monde, c'est la façon positive de voir les choses," Stewart se demande pourquoi c'est parfois difficile pour les autres de se rendre compte que c'était sa passion indéniable pour le travail et pas un zèle pour la célébrité qui l'a amenée à la comédie.

"Ce n'est pas facile pour les gens de comprendre mon malaise avec le feu des projecteurs, ils disent, 'Pourquoi as-tu voulu devenir une actrice si tu te sens comme ça?'" dit Stewart. "Les gens ne savent pas quoi faire avec ces sentiments, ils vous croient ingrate, et ça me tue."

"Tu ne peux pas dire, 'Tu te trompes sur ​​moi,' la pire chose c'est si tu sonnes à distance comme si tu te plaignais. Ensuite tu deviens un malentendu." Tout ce que tu peux faire, Kristen Stewart réalise, c'est de continuer à faire le boulot, et c'est ce qu'elle a fait.
Source
-
HQ