* UPD *
ScreenDaily
- The project was one of the most in-demand at the American Film Market (AFM), with Memento locking pre-sales at the market and since with Curzon for the UK, Splendid's Polyband for Germany, Icon Film for Australia, Frenetic for Switzerland, Svensk for Scandinavia, Baltics and Iceland, Sun Distribution for Latin America, Falcon Film for Middle East, Bir for Turkey, Golden Scene for Hong Kong, GreenNarae for South Korea to and Catchplay to Taiwan.
"production due to get underway in early March in New York City"
--------------------------

January 20, 2014
•
I just got confirmation from Memento Films - Kristen will star as Julianne Moore's daughter, Lydia in Still Alice
:) *happy dance*
Memento Films (who handles world sales of 'Still Alice') has put
a PDF of its Sundance 2014 line-up and Kristen's name is included in the cast of the film.
Sounds like confirmation to me. :)
+
official synopsis:
"Dr. Alice Howland is a world renowned professor of neuroscience at Columbia University. Happily married and the mother of three grown children, she doesn't really pay attention when small things seem to slip from her mind, but getting lost in her own neighborhood makes her realize that something terribly wrong is happening. That is only the beginning of her struggle to still be Alice."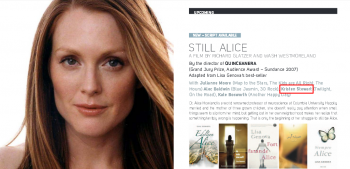 the PDF here

--------------------------

January 16, 2014


Just landed on my desk: Kristen is doing a film called STILL ALICE with Julianne Moore, Alec Baldwin & Kate Bosworth (was this announced??)
— epnebelle (@epnebelle) January 16, 2014
•
Variety
/
Collider
- Julianne Moore will play the title character in the feature adaptation of Harvard neuroscientist
Lisa Genova's debut novel
, Still Alice, about a 50-year-old woman diagnosed with early onset Alzheimer's disease.
"Still Alice" is scheduled to start shooting New York mid-February.
CAA is representing the film in the U.S. while Memento Films Intl. handles world sales.
The project is a Lex Lutzus and James Brown production in association with Killer Films. "Still Alice" is fully financed by BSM Studio, the newly launched one-stop-shop financing venture formed between Paris-based Backup Media and Marie Savare.
"Still Alice" has been translated into more than 25 languages and is the writing debut of Genova, who holds a doctorate in neuroscience from Harvard U.
Richard Glatzer and Wash Westmoreland are on board to direct the adaptation. The duo also directed and wrote "The Last of Robin Hood," which recently launched at the Toronto Film Festival, and "Quinceanera."
Here's the book synopsis:
Alice Howland, happily married with three grown children and a house on the Cape, is a celebrated Harvard professor at the height of her career when she notices a forgetfulness creeping into her life. As confusion starts to cloud her thinking and her memory begins to fail her, she receives a devastating diagnosis: early onset Alzheimer's disease. Fiercely independent, Alice struggles to maintain her lifestyle and live in the moment, even as her sense of self is being stripped away. In turns heartbreaking, inspiring and terrifying, Still Alice captures in remarkable detail what's it's like to literally lose your mind…
•
LisaGenova.com
-
She didn't want to become someone people avoided and feared. She wanted to live to hold Anna's baby and know it was her grandchild. She wanted to see Lydia act in something she was proud of. She wanted to see Tom fall in love. She wanted to read every book she could before she could no longer read.
Alice Howland is proud of the life she has worked so hard to build. A Harvard professor, she has a successful husband and three grown children. When Alice begins to grow forgetful at first she just dismisses it, but when she gets lost in her own neighbourhood she realises that something is terribly wrong. Alice finds herself in the rapid downward spiral of Alzheimer's disease. She is only 50 years old.
While Alice once placed her worth and identity in her celebrated and respected academic life, now she must re-evaluate her relationship with her husband, her expectations of her children and her ideas about herself and her place in the world.
Losing her yesterdays, her short-term memory hanging on by a couple of frayed threads, she is living in the moment, living for each day. But she is still Alice.
Still Alice is as compelling as A Beautiful Mind and as powerful as Ordinary People. You will gain an understanding of those affected by early-onset Alzheimer's and remain moved and inspired long after you have put it down.
•
Script-to-Screen
- A Killer film in development, Still Alice, is based on a successful novel written by Lisa Genova about a 50-year-old woman's sudden descent into early onset Alzheimer's disease. The potential cast for Alice will make you say 'ahhhhh' out loud and will hook in the financiers I'm certain. It hooked me.
Her daughter will be played by a young box-office draw from a major franchise.
'Ohhhh'. It's all very impressive. But not for the investors. There is one character in the script that is yet to be cast, the father, a supporting role. It's hard to cast to an A-list actor because of how small the role is, so financiers won't commit until someone 'suitable' is cast.
•
LisaGenova FB Page
-
"film adaptation starring Julianne Moore to be released in 2015"
*
IMDB
Page