| PART 2 |


Here are the FIRST reviews of 'Clouds of Sils Maria'!!!!!
Haters?!

Please keep in mind that reviews can contain spoilers, lots of spoilers, and that negative reviews can be interesting to read.
Standing ovations at both Cannes Film Festival press screenings!
(picture via @ACEFilmEditors)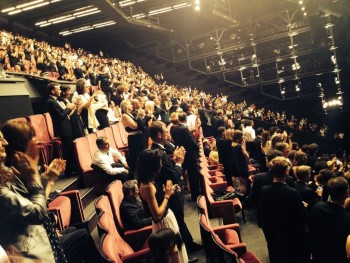 The standing ovation.. I'm so proud of her, it's sooo good to see her back on the big screen. *crying like a fucking baby*

— ItsOKtobeYOU (@Itsoktobeyouorg) May 23, 2014
•• My little review:
I have to say I was really looking forward to see Clouds of Sils Maria, and was not disappointed, at all. Clouds of Sils Maria is now clearly my all time favorite Kristen movie. It is so good, you'll want to watch it again & again!
It is clever, very funny, intense, and sometimes sad.. with a strong soundtrack. The movie deals with aging, the human side of actors, the cruelty of cinema.. without being too melodramatic or too much in the 'glitz and glamour'. Realistic is the word I would choose to describe it... magnetic, authentic.
Kristen's performance is just amazing, I'm still looking for a word to qualify it.. this role is so different from what she has done before! We all know how talented and dedicated she is, but here you really feel that she has reached a next step. Olivier had mentioned this simplicity, mischievousness and serenity, this new face.. after seeing the movie I can only agree with that. There's such freedom that emerges from her performance.. natural, fluidity.. Valentine is so funny, smart, deep. She is the realist people of the movie. THE role.
Olivier wrote the screenplay for Juliette Binoche, I wonder if he did not write it for Kristen too. Throughout the movie there're things that inevitably reminds us of her life, with well placed little comments. A beautiful middle finger up & grin!
The chemistry between Kristen and Juliette (Juliette.. is she even real?) is fascinating, SO credible and natural. I can't help but think of that one scene, the lake one: Exultant. Intense. - Thank you very much for this duo Olivier!
Let's talk about Chloë Grace Moretz. In a few scenes only, she imposes her presence.
I would add that the landscape plays a major role in the movie, the photography is truly magnificent, the colors are as intense as in stills.. And I really enjoyed e.v.e.r.y second of this movie, of this metafiction.
Basically: A must see, a must see, a must see. Definitely.
I am so going back to see it again! & I can't wait for everyone to see it too!
••
Hitfix
, Guy Lodge: It's the artist-assistant relationship, played with good humor and mutual appreciation by Binoche and Stewart, that finally gives depth and definition to this cool breeze of a film.
Delivering the film's most touching, textured performance, Stewart plays her gradual self-assertion beautifully, her signature underplaying building in light and shade, her sullen body language opening up as her co-star's turns appropriately tight and uncertain. There's a rueful twinkle, too, to her delivery as Valentine muses on the relentless pettiness of contemporary celebrity journalism. La Binoche isn't the only actress whose own career is under the magnifying glass here.
RT
@HitFixGregory
: Kristen Stewart has never been more relaxed on screen than in #CloudsOfSilsMaria
Screenplay for Clouds of Sls Maria is absolutely outstanding. So impressed.
••
Variety
, Peter Debruge: Contrasting styles between stars of two different generations make Cannes competition title a rich study of actorly insecurity.
Ultimately, Stewart is the one who actually embodies what Binoche's character most fears, countering the older actress' more studied technique with the same spontaneous, agitated energy that makes her the most compellingly watchable American actress of her generation. Heightening the effect still further, Assayas uses the inescapable "baggage" of Stewart's offscreen persona — from broken-marriage tabloid drama to a tossed-off eye-roll over the ridiculous rise in werewolf projects post-"Twilight" — to slyly alter the movie's pH.
••
Vanity Fair
, Jordan Hoffman: In Oliver Assayas's Clouds of Sils Maria, Kristen Stewart sticks it to anyone who ever slammed her for Twilight.
It may be Chloe Grace Moretz's character, the outwardly bratty tabloid sensation Jo-Ann Ellis, who flips a middle finger at the camera, but it's the real Kristen Stewart, franchise-famous celebrity, who flips a middle finger at the critics in Clouds of Sils Maria. Olivier Assayas' thoughtful and intelligent meditation on acting, fame, and age doesn't just offer Ms. Stewart the best role of her life; it grants her a moment at center stage to lay out, in eloquent yet non-didactic terms, a defense of actors in the kinds of movies that sound a heck of a lot like Twilight.
While the meta moment fits snugly in the flow of this movie (and no doubt would work well with another talented actress delivering the lines) it's impossible not to imagine this as a K-Stew cri de coeur, a suggestion that those who have been slamming the Twilight films maybe should water down their haterade. Stewart gives a striking performance in Clouds. Her character Val, a personal assistant and rock of Gibraltar to Juliette Binoche's film and stage star Maria, is self-assured, crafty, honest, perceptive and even a little bit warm. It's a 180 from the dead-behind-the-eyes Bella Swan. Here it radiates confidence, not Edward vs. Jacob indecision. Most of the film is just Stewart and Binoche in conversation, and Stewart more than holds her own. This film will fundamentally change your perception of this oft-mocked individual.
And that's as should be, as Clouds of Sils Maria is, in addition to other heady concepts, all about how sometimes an actor doesn't own a role; a role owns the actor. Or how a public image can be a cracked reflection of a notable individual.
••
The Hollywood Reporter
, Todd McCarthy: Binoche and Stewart seem so natural and life-like that it would be tempting to suggest that they are playing characters very close to themselves. But this would also be denigrating and condescending, as if to suggest that they're not really acting at all. Their give-and-take and the timing of their exchanges, particularly in the rehearsal sequences, is wonderfully fluid and non-theatrical; Binoche works in a more animated register, which makes Stewart's habitual low-keyed style, which can border on the monotone, function as effectively underplayed contrast. Moretz is all high-keyed confidence.
Given its narrow range of concerns, Clouds of Sils Maria will be mostly of interest to aficionados of theater, acting and the notion of how real and fictional lives can blur to those involved.
••
Movie City News
, David Poland: I have had the opportunity to chat with Kristen Stewart a couple times before Twilight and a couple of times since. I have never felt like the genuine person is being hidden. There is a lot going on in her world… and she has been tardy… and she seems genuinely unhappy being poked at by those near her and at a distance… and she may even be a brat at times, don't really know. But I like the person I've met. And I like this performance as much or more than anything I have seen her do. She reads as the person I have met, having been given that room by the screenplay and Assayas, and Binoche. It often feels like a beautifully lit document of two women to whom ideas are important, who respect each other, and who are worldly, each at very much their own age.
I don't think this is going to be the most popular of films with Cannes audiences. It doesn't click off every box. But I really enjoyed watching every moment of it. The discussions in the film should be discussions we all have about art and artists much more often.
••
Telegraph
, Robbie Collin: Rating 4/5
Binoche plays the role with elegance and melancholic wit – her character slips between fiction and fact in a way that recalls her role in Abbas Kiarostami's Certified Copy, although Assayas's film feels more rigidly constructed; not that that's necessarily a criticism. But it's Stewart who really shines here. Valentine is probably her best role to date: she's sharp and subtle, knowable and then suddenly distant, and a late, surprising twist is handled with a brilliant lightness of touch.
Slyly, Assayas stages the film with an intentional staginess: even natural conversations have the ring of written dialogue, and he ends every scene with a theatrical fade to black. This is a complex, bewitching and melancholy drama, another fearlessly intelligent film from Assayas and a strong end to this year's consistently impressive Cannes competition programme.
••
Cine-vue
, John Bleasdale: Rating 3/5
Meditations on art, mortality and performance are the lofty thematics explored in Clouds of Sils Maria (2014), a discursive drama from French director Olivier Assayas which features two exceptional performances from Juliette Binoche and Kristen Stewart.
Assayas has directed a subtle film with no big aspirations despite its star power. The theatricality of the piece is reminiscent of 1983's The Dresser, but the tone eschews melodrama, preferring a calm, mature restraint. There are no hysterics, or screaming rows. A subtle frisson of eroticism charges Binoche and Stewart's rapport, but again Assayas is discreet, fading to black and leaving it up to us to decide if anything actually happens in the interstices. Both actresses are excellent, with Binoche given more to do and she flips between attempting to get into the skin of her character and back to her normal self. Stewart, on the other hand, has an easy naturalism as she moves from devotion to rebellion without ever being able to fully express herself.
••
Allociné
, Brigitte Baronnet: 5 good reasons to see the movie:
- A mise en abyme of the actresses world in in which it's a delight to be immersed...
- It's subtle, it's funny, it's cruel...
- Juliette Binoche is wonderful, as always, literally exposing herself, the "normal" woman at the glamorous star
- Kristen Stewart is simply excellent
- For the scene of the TV show with Chloe Grace Moretz as a star 'destroy'!
••
Cinemateaser
, Aurélien Allin: The dual Binoche / Stewart, constituting 80% of the movie, works terribly. Kristen Stewart, in the best role of her career so far, delivers a performance of an imperial strength to face the charismatic ogress Binoche.
RT @cinemateaser Kristen Stewart is excellent in Sils Maria. Really excellent.
••
L'Express
, Thierry Chèze: "Sils Maria" by Olivier Assayas: a beautiful declaration of love to actresses. In this movie, the French director takes a look full of humanity, but also with cruelty, on these strange creatures that are the actresses.
In front of the camera, Juliette Binoche blows you away as we read on her face the echo and impact of this story on her. Facing her, Kristen Stewart - with her irresistible pout- fills the screen in an assistant role that allows her to play with her own star-hurt-by-the-gossips experience. Because here again reality and fiction often seem to be one same life. We can't wait to read the reviews of those who explained with such certainty full of arrogance that she would disappear after Twilight. And we enjoy even more how Assayas captures the bond between her and Binoche but also this hushed and instinctive dual that can oppose them, almost despite themselves, to succeed a scene like you'll win an arm-wrestling.
••
AP
, Jake Coyle: There's a clever irony to casting one of the most famous American actresses as the assistant to a European star, played by Juliette Binoche. But in Olivier Assayas' "Clouds of Sils Maria," Stewart does more than wink at her fame. She's natural and intelligent in a way she hasn't been perhaps since the 2009 "Adventureland."
••
Little White Lies
, David Jenkins: Juliette Binoche and Kristen Stewart excel in this beautiful, meta-textual two-hander.
To help her through this metaphysically trying time is assistant, Valentine, here played by Kristen Stewart, who delivers a performance of immense poise and texture, retaining good humour in the face of a full-time position which involves being locked in the professional mindset of another woman. Her character, replete with forearm tattoos, vintage band t-shirts and thick black-framed glasses, is one who initially seems like a satirical archetype of the carefree PR dolly, yet Stewart imparts an air of pensive solemnity, seldom exploding into grand, try-hard theatrics.
Assayas uses the women as a conduit through which to discuss the paradoxes of playing roles which (emotionally) can be close to home, and their rapport is complex, lived-in and also dashed with gentle undertow of romantic allure. The director is also using these women as a kind of juxtaposition of generations; literally in their cultural concerns, tastes and human connections, but also through their styles of acting, with Binoche doing hearty, expressive and impassioned (that laugh!) and Stewart more clipped, studied and unwilling to so open up to her touchy-feely employer. Alongside a sub-plot involving the tumultuous life of a hot young Hollywood starlet and paparazzi darling (Chloë Grace Moretz), Assayas is also making a subtle link to Stewart's off-screen persona as well as the Twilight roles which launched her into the stratosphere.
Though Sils Maria could be read as possessing the perfume of sly satire, its key strength is in fact its utter sincerity for both the lives and worlds it depicts. Assayas values so-called trash cinema as much as he values "classic" theatre, and is enthused by the human ability to find beauty in all cultural forms, irregular, vapid, mis-shapen and antiquated though they may be. It's a doleful, multi-layered expression of time-passing and culture changing to fit the world in which exists. Its subtly and tenderness are never forced and its performances usher in messy, confusing humanity by the hundredweight.
••
The Guardian
, Xan Brooks: Rating 4/5
Stewart again demonstrating what a terrific performer she can be away from the shadow of Twilight. She's sharp and limber; she's a match for Binoche.
Assayas knows what he's doing; we are in professional hands. The script has been polished and the performers rehearsed. The stage is now set for a plush piece of theatre to see this festival out. The director draws back the curtains with a satisfying swish.
••
The Dissolve
, Mike D'Angelo: Binoche does solid if sometimes slightly mannered work in the showcase part, but the movie ultimately belongs to Stewart, who wisely refrains from trying to sell Valentine's Sigrid-like role in Maria's life; it's a relaxed and unshowy yet deeply felt performance, conveying volumes with fleeting gestures. Only someone with tremendous self-confidence could underplay so beautifully.
••
Telerama
, Frédéric Strauss: Last film of the Cannes competition, "Sils Maria" is a beautiful declaration of love to the movies and its actors. With a Juliette Binoche spontaneous and right.
••
Nice Matin
, Philippe Dupuy: The photography is superb, the directing is a beautiful fluidity, the dialogues are meticulous, the confrontation between Juliette Binoche and Kristen Stewart keeps its promises and the arrival of Chloe Grace Moretz adds an extra dimension to this mise en abime already a tad dizzying.
••
Libération
, Olivier Séguret: Olivier Assayas delicately interweaves three generations of actresses.
••
FranceTV info
, Jacky Bornet: Rating 4/5
Juliette Binoche excels in her role, just like Kristen Stewart, one of the most talented, but also Chloe Grace Moretz [..] With this trio, Olivier Assayas made a movie about women, like many of his other movies. Balzac said about fiction: "When it's about a woman, it's interesting." "Sils Maria" is still a major proof of that.
••
Festival de Cannes
, Charlotte Pavard: Four years after Carlos, a great success in the Official Selection 2010, Olivier Assayas has directed a film about and for women, brilliantly performed by an international trio: Juliette Binoche, Kristen Stewart and Chloë Grace Moretz.
••
The Atlantic
, Jon Frosch: Another of the festival's best selections—and the last screened for the press—was Olivier Assayas's Clouds of Sils Maria, a playful and captivating hybrid of Ingmar Bergman's Persona, Joseph Mankiewicz's All About Eve, and quintessentially Assayas-esque meta-mischief.
Driven by mesmerizing performances from Juliette Binoche as an aging thespian, Kristen Stewart as her personal assistant, and Chloë Grace Moretz as a rising Hollywood star
, the film is both dense and nimble, sharp and sensitive in its dissection of the joys and agonies of being an actress. It is also, like most of the director's work, subtly alive to the social, cultural, and linguistic shifts of a rapidly globalizing world.
Binoche and Stewart, who has never before exuded so much mystery or nuance, share the screen for much of the movie, and they make a fascinating odd couple; with the former's high-strung intensity and the latter's cool watchfulness, the two are a study in contrasting performing styles.
After the screening, there were murmurs—and tweets—about a possible shared acting prize for the pair, though the field for that award is already crowded.
••
FilmDivider
, Craig Skinner: With shades of Bergman's Persona and a nuanced line in pop culture dissection, Olivier Assayas' The Clouds of Sils Maria, is an intricately crafted and highly compelling drama.
Maria is joined on this journey by her personal assistant and confident Val (Kristen Stewart). The relationship between these two women is the focus throughout, and it's expertly established for us in these opening sequences.
Dialogue between the pair overlaps, is interrupted by calls and sometime even hangs in the air as the topics up for discussion change and segue. There is an incredibly natural feel to their interchanges that comes from a great script performed by two fine actresses.
Binoche has long been known to be remarkable actress and so it's no surprise to see her in fine form, but Kristen Stewart is something of a revelation. Her previous work has tended towards the one-note, but here she delivers subtlety and range, going toe to toe with Binoche in their every scene. It's no mean feat.
Stewart's own life provides rich subtext and becomes a compelling meta-narrative to accompany the central proceedings. There's a scene in which Stewart, as Val, defends the underlying depth and emotional resonance in Ellis' superhero movie that becomes an explicit reference to Stewarts' work on Twilight.
The degree to which you find the extra-textual and meta-textual mischief in The Clouds of Sils Maria engaging and interesting will no doubt be the deciding factor in whether you find this film fascinating and deeply compelling or rather too on-the-nose and cute. I certainly fall in the former camp, and while I observed a few stumbles, particularly from the inconsistent, struggling Moretz, I feel Assayas has managed to create a truly compelling weave of fact and fiction.
••
Cinetastic.de
, Peter Gutting
(Translated from German by @Pichgonz, thank you)
: Of course there are also two types of cinema that clash here: Art Cinema a la Ingmar Bergman, and blockbuster á la Twilight. It is very meaningful that Assayas occupied the role of Valentine with Twilight star Kristen Stewart. She has repeatedly underlined its ambitions in character roles, such as in movies like "Welcome to the Rileys" and "On the Road". In the current work, she uses the chance to give this way again neatly gas. And can flash in one of the most moving scenes of the film, the subterranean message that it does not depend on categories such as art house or mainstream. But the fact that the emotions on the canvas are authentic.
••
Moviezine
(Translated from Swedish by @Pichgonz, thank you)
: Life imitates art, film merges with the theater and the actors are impeccable in Olivier Assayas chamber play. The dialogue - and there's a lot of! - Is lovely to analyze.
The film balances unexpectedly nicely between being pretentious and simultaneously accessible. Here everyone can probably find something here that they recognize and that reflects them. I get stuck (not unexpected for a reviewer) for the regular reflection on how different we can interpret the work as a film and theater.
In one scene goes Maria and Valentine to the cinema to see a lavish blockbuster. Discussions on the film's value is of course apart, the older woman says that it is stupid and easily digested while her young assistant claims that even a space movie can have a deep and human characters. Who is right is up to the audience to decide. That's the beauty of "Clouds of Sils Maria". The film does not judge any of his characters, and both "X-Men" and Chekhov's "The Seagull" comes up on the numbers.
For us in the audience will be an extra meta layer of "what is film and what is reality?". Juliette Binoche as we know, an Oscar-winning and renowned actress. Kristen Stewart has since her breakthrough in the "Twilight" series, been through its fair share of writings and Moretz played the super heroine in "Kick-Ass". It is a deliberate and very successful casting. It does not hurt that both Binoche and Stewart are perfect in their roles. Juliette Binoche is a pleasure to watch as she switches between characters and thrown between emotional states. Anyone who has ever doubted Kristen Stewart's acting ability just have not seen her in a movie like this inspired.
••
ComingSoonIT
: An intelligent movie, that fully reflects the culture in a text and a staging structured, deep yet clear, and linear.
••
TheNational
: Playing an assistant to a famous actress, Kristen Stewart gave the festival a self-referential and immediately acclaimed performance. Olivier Assayas's Clouds of Sils Maria revealed a new dimension of Stewart, acting in a European production alongside Juliette Binoche.
••
Mubi
, Daniel Kasman: Here is a film that feels its age, the age of its maker. But this doesn't mean a young hotshot's film or that of an old master—though Cannes had its share of both. French director Olivier Assayas is 59, and his Clouds of Sils Maria feels it. A unique thing, a movie that feels an expression of middle age, of considerate maturity, of a medias res—a favored storytelling technique for the director—movie very much aware of this age between the entitled, risk-taking energy of the young and the settled, comfortable wiseness the senior artist.
Yet it's not about him, the auteur, it's about a woman, an actress, a veteran: Juliette Binoche as an actress of Binoche's age (50), caliber and reputation. After the death of the playwright and director who made her acting name as the young girl in a psychosexual play opposite an older woman, she is moved to star in a theatrical revival now in the part of the older woman. Binoche's personal assistant, played by a very American Kristen Stewart, acts as a sounding board for the actress's worries swirling around the death of her mentor and a self-evaluation of her life, as well as a rehearsal partner for the old-new play. The relationship of the two clearly echoes that of the two women in the play, which sounds vaguely like Alain Corneau's Crime d'amour, where an older professional becomes dependent on—psychologically, professionally, sexually—her young protégé. To complicate things further, the young actress in the play's revival, played by Chloë Grace Moretz, is envisioned as a new generation of actor, a hybrid figure of professional training, a Kristen Stewart-like pop genre career in the movies, and the tabloid candy public life of someone like Lindsay Lohan.
This final figure in the triangle, and Clouds of Sils Maria is indeed structured in three parts, is definitive in expanding the scope of the film's inquiry into womanhood, acting, artistry and aging. Despite its staging of this swirl of female self-questioning in the majestic Swiss retreat of Sils Maria—a world away from the world, where the deceased author lived and after which his play is named, a kind of mythical-natural origin point, not to mention where Nietzsche spent some time—Assayas confronts Binoche's clearly Bergmanian persona crisis with the techno-pop world within which her work and life now exists. Though well integrated and true-feeling, Assayas reveals his age by his foregrounded interest in Skype calls to agents, the PA juggling iPhones and Blackberries, the seriousness and integrity (or not) of comic book movies, Google Image searches, wonderful simulated press conferences and an actress paparazzi freak-out, and the flattening of celebrity culture and acting. In a highlight, this attention to modern culture even lets the film exuberantly and joyfully stage a scene from a sci-fi superhero movie starring Grace Moretz and then have Bincohe and Stewart debate its artistic merits after the screening.
In other words, unlike Bergman's more abstract, interior, psychosexual Persona, Assayas sticks to the interwoven surface of the acting world which would inspire any actor of any age to continually question their work and themselves, on the inside.
The beautifully unshowy relationship between Binoche and Stewart is at the film's center and is emblematic, a blended dynamic touching that of employer/employee, peers, friends, lovers, and actors.
In Binoche's confident but erratically worried and self-doubting actress, we find the position of the film's director: she's at the height of her powers and sense of self, but inextricably aware of a rapidly aging world whose renewing, complexly layered youth are not only unavoidable in life and profession but necessary.
Yet the film is hardly as heavy as Bergman's psyche-probes, or, say, Jacques Rivette's theatre conspiracies, both of which Clouds of Sils Maria lightly touches upon. It moves with a direct clarity, introducing its ideas outloud and letting its excellent actresses move and articulate the mise en scène. The actresses—and a very particular sense of atmosphere to the Swiss setting, sun-drenched windows, open to the outdoors, necessary drives from town to chalet, the mountain hikes. It actually calls to mind the terrible English title of Assayas' last film, Something in the Air. The thin mountain air and characteristic lighting of this origin point, of this staging ground, of this retreat, suggest both a fragility and a serenity. As if, the closer to the top one gets, the older, the greater the vision and understanding, but also the greater the danger.
••
LeBillet.ch
, Sven Papaux: Rating 4/5
If the writing is really good, the duo formed by Binoche and Stewart is just as important. Binoche plays the role of an actress with her diva moments, shows all the extent of her elegance. Kristen Stewart is no exception, those who think she's a bad actress can go revise their judgments, the American plays perfectly her role yet not so simple to interpret.
Should also be noted the role of the young Chloe Grace Moretz who, as a rebellious teenager, has a surprising spontaneity.
Olivier Assayas delivers a very good film. Despite some lengths, Sils Maria is touching and moving. With
an excellent cast
, but also well-oiled plans, the filmmaker makes us take a great breath of fresh air in our Swiss mountains.
••
Myself4Myself
: Clouds Of Sils Maria or Sils Maria is a real pleasure for the eyes and ears. An astounding tribute to French cinema d'auteur and theater. A 2 hours long movie that is pure food for the soul. It is brilliantly orchestrated by Olivier Assayas who has a way with telling this story that can be qualified as refined. In this movie that he wrote and directed himself he mixes many different emotions and situations that are joyful and heart-breaking at the same time. Cries, screams, confessions, friendship, friendship that turns into obsession, selfishness, confessions, subtle intimacy, raw speeches, humour... It's formidable to see the movie come to life through the perfect casting. The trio of actresses that owes the movie. It's a movie for them and about them.
We are all victims of time. The movie tells the story of an actress Maria Enders who became famous around her twenties by playing the lead Sigrid in a play called Maloja Snake. After that she had a fufilling career, she worked with many people inside and outside of France, independent movies and blockbusters until she's asked to play in a remake of Maloja Snake but as another character called Helena. That's when the movie starts to get really psychological and philosophical and that's also when it gets extremely fascinating and captivating for the audience. Celebrities come and go but talent and great performances last forever. It's how I see it. Maria Enders played by Juliette Binoche got extremely famous playing Sigrid and now she's asked to come back and play the character opposite to her 20 years ago. The movie is cut in 3 parts. Two chapters and an epilogue. Throughout this adventure or this play/movie, movie/play a play in the movie or a movie shot as a play... Anyway throughout this piece you are taken on a trip to the Alps. There you discover the most important scenery of the movie and what a beautiful scenery it is. Sils Maria (which is a real place in Switzerland) is a breath-taking place. The views of the mountains and of the snake. There is an anedocte with the snake that is also very interesting. It's something that is very important during the second chapter.
The first chapter introduces the characters, especially the assistant Valentine played by Kristen Stewart. The character of Valentine also called Val is pretty mysterious. She knows everything about Maria, she knows a lot about many things and people, Maria is completely dependent on her but we don't know much about Valentine. She is this mysterious strong yet sensitive character that is always around and absolutely necessary to Maria as well as the movie even though she's just an assistant.
Never underestimate the status of a character because Kristen Stewart is by far the most touching and obsessive actress in the movie. I'll even go as far as to say that there were moments during the movie when my eyes would stay on Stewart. She was at times more bright in the darkness that surrounds her character than Binoche during her insightful speeches. Kristen Stewart with her mind-blowing and deeply subtle performance manages to stay in your every thought even when she's not on screen anymore. She owns the movie and the audience. She gets under your skin and you can't help but be a little obsessed about her character.
There is another important character called Jo-Ann Ellis played by Chloe Grace Moretz. She does a great job playing the American super star but her role is more subtle that that. She puts grace in it and holds her ground which isn't easy when playing opposite to Binoche/Stewart. She's eclipsed by the leads but her performance doesn't go unnoticed.
The second chapters cuts deep in the story and as far as Maria is concerned it cuts right where it hurts. Binoche does a fantastic job with Maria. Sometimes bare with her complicity with Valentine and sometimes heart-breaking with her vulnerability and coming to terms with the reality she's pushed against. She's locked in a room of truth, surrounded by 4 walls closing on her. Time, maturity, wiseness, loss. Time, for the time that passed. For Sigrid becoming Helena. Maturity, for doing what is right to honor the memory of the author even when everything in her tells her not to do it. Wiseness for putting into perspective the role she played 20 years ago, for how she sees it now 20 years later, for the role she must play now too. Finally loss, for the assistant, Valentine, that is slowly sleeping through her fingers until she disappears one day. Juliette Binoche played her role like the master actress she is.
Kristen Stewart and Juliette Binoche are one of the best female collaborations I've ever seen. They're a team, I don't feel a competition between them. In the second chapter when Val and Maria are rehearsing, reading the lines, that's when the magic takes life. That's when you have the priviledge to see a shock of generation, a shock of style, a shock of personalities, BOOM! A fusion, a union. They complete each other, they both push each other and it makes the performances epic. It makes the movie a must seen.
I highly recommend the movie to anyone looking for good acting performances and for a movie with style and content. Clouds Of Sils Maria / Sils Maria is, so far, my favorite movie this year.
Special mentions:
- Kristen Stewart glasses and batman shirt.
- Chanel beautiful work.
- The interesting soundtracks.
- Juliette Binoche's laugh and cussing.
- The humor, I didn't expect to laugh that much.
- There is a weird aura around the movie. I feel like the movie is not simulated or rehearsed.
It's honest.
••
Some/Things
, Floriana Castagna: Something in the Air, a farewell to youth. With an ability monstrous in scope, a grandeur that she will not allow to slip through her fingers anymore, Juliette Binoche plants her feet on the apex of performance, and she stands with perfect posture. She stands on the summit of a mountain with a head already dear to the divinities of the sky.
The piece is commissioned by Binoche herself introducing her attempts: her career ran alongside Assayas repeatedly until the film Summer Hours in which she was to be the object of his direction. But the artistic collaboration failed to happen – looking back on the missed connection with regret – until the actress herself seeks out the director to give it one more shot. Binoche had the idea, Assayas shaped it into words – the script was given the green light and the idea moved towards the screen. This is how masterpieces are made. When the muse inspires the artist as much as the artist inspires the muse.
A genuine prize-winning chameleon, Binoche has always transformed herself to the point of metamorphosis. Puffy face with tears. Deformed apparitions. Distress incarnate. The denial of her feminity – upon first sight flamboyant – is underlined by a short masculine haircut. Her androgynous wardrobe symbolizes the passage of a woman on the path of reconciliation. But the closer she gets to herself, Sigrid or youth incarnate, declares an open war on the vivid breaches of her sensitivity. Warrior, almost possessed by the need to shine and meet the challenges that are thrown at her – Maria ends up yielding to a bet that goes beyond her control. She will realize it sooner than she expects.
The smallest laugh is a drama, the smallest tear, an atonement. Maria is everything all at once: Narcisus, Eve, Bette Davis, Sigrid, Helena … and even Juliette Binoche sometimes. Thus the mythological fabric of our story is made up of several rough textures.
The story is remarkably served by Kristen Stewart and Chloë Grace Moretz. Young idols of the current generation of American youth, they are both guided intelligently by this director of exception and tamed by the charisma of our muse.
As for Binoche's performance, it is rooted in a truth close to perfection. So close that one would swear the beauty surrenders to be seized by life. Her own life. She has said before « through each role, you partly die ». Binoche – though strategically cunning – does not expect to fall into the trap of this very role. She offers us her fraying soul, in a corrosive act of self mockery.
The brutality of human relationships slides into an infinite palette of contradictory feelings: the spectrum of fading youth and cruelty towards the older woman; the struggle for self-awareness and megalomania; the melancoly of fame and oppressive need for recognition; disloyalty and proving ones loyalty at all costs; sicking jealousy and mind-blowing desire.
But the poetry of Assayas is never too far – it floats over the mountains of Sils Maria, a seductive and ethereal landscape. A director of a ballet of clouds passing over the peaks of the Engadin mountains (Switzerland). Without forgetting to pay tribute to one of its most devoted admirers - Arnold Franck primarily, the german director and pioneer of mountain cinema - he inserts images from 1924 in the middle of a film that, at its core, is pretty anchored in modernity.
The mass of clouds gliding in-between mountaintops and sweeping down into the valley seems to take the shape of the body of a snake, slowly slithering on a lush green paradise. It is the same snake that tempts Eve to bite into apple and he returns to poison the half-innocent Maria with his venom. He reinjects into to her soul memories that invade, toment and corrode inside of her. But the beauty is stronger than her torturer. In an breath-taking final scene, her vice seems to descend like a deus ex machina to save her.
The chronicles of the ordinary life of a great actress is analyzed with subtlety by Assayas without any ulterior motive. It is a drama that pushes one to laugh. And you laugh wholeheartedly in watching the irony of the situation. And you jubilate that little Binoche – the one who has exasperated us all at one point or another; the one we sometimes believed was lost, too early – is placing herself far beyond her compatriots. Cultural heritage before reaching a certain age, she deserves more than ever to be called a national pride.
After Something in the Air bid its farewell to youth, Juliette Binoche, is a radiant supernatural beauty with wrinkles that sparkle. Olivier Assayas, signs his oeuvre with provocative maturity: most importantly, is to exist.
••
Slant Magazine
, Diego Costa: Rating 3,5/4
Olivier Assayas opens Clouds of Sils Maria with nothing short of a master class on how to shoot a scene inside a moving train. The camera and cutting follow an organic and prophetic rhythm, at once condensing and announcing the film's themes and metaphorical fixations. There's something treacherous about this train, a sense that the sturdy tracks on which it travels conceal its true aim: chaos. Assayas's train neither derails nor performs the sterile background function of Lars von Trier's in the horny-teen-preys-on-married-man scene from Nymphomaniac: Volume I. This train is actually alive, a psychosomatic bomb of anxiety and turmoil (were it an airplane, the turbulences would be incessant) leading up to the deceiving stillness of the Swiss Alps, where we learn a seasonal gathering of clouds (the "Maloja snake" effect) has foretelling powers.
Inside the train there's a French star with an enviable international career, Maria Enders (Juliette Binoche), who's too serious about her craft to be a diva, but won't pass on a Chanel dress photo shoot right when her whole world is falling apart either. She's headed to an event in Switzerland, where she's to accept an award for the playwright responsible for her first big break. Enders is accompanied by her diligent, Converse-wearing personal assistant, Valentine (Kristen Stewart), whose talents for juggling multiple digital devices and inciting top-down erotic investment are unmatched. Before the train arrives at its destination, the characters learn the playwright has just passed away, which destabilizes Enders, who's in the middle of a nasty divorce. The story from then on follows the misleading simplicity of a Bergman script, and relies on the capacity for nuance of the actors' faces just as much. Enders is invited to perform a new version of the play that shot her to stardom when she was 18, a backhanded compliment considering that instead of playing the attractive young girl, she'll now have to play the girl's bitter, suicide-driven boss. It's a good thing Valentine is around to make her coffee, run lines, and disagree with her lofty interpretations of art and life, keeping her on her toes.
Enders and Valentine's personal relationship, treading the porous line between professional distance and erotic curiosity, mirrors the characters in the play in both discrete and obvious ways. When the two run lines with each other as they hike through the Alps, it can be deliciously impossible to know if they're lines from the play-within-the-film or from the film itself, as they're both so viscerally invested in their delivery. Yet this isn't like Abbas Kiarostami's Certified Copy, where not knowing what belongs to the fiction of the fiction was the core concept of the film and its principal source of pleasure. This is about getting lost in the various nooks and crannies of the text itself. If the metaphors are sometimes overplayed, the dialogue is so well written you wish Assayas would forget to snap from the play's rehearsals back to the film. The pleasure in watching Clouds of Sils Maria becomes a linguistic one as Binoche and Stewart masterfully sharpen their words and hurl them at each other like projectiles out of a blowpipe.
The friction between Binoche's gravitas and Stewart's unintimidated response to it make for a fascinatingly quiet drama.
This is in large part due to the brilliant way Binoche animates her English lines so differently than her French ones—as if she knows to keep her shit storm in a bain-marie for the Americans, and can't help but let her hysteria eke out in her mother tongue. Stewart is surprisingly self-assured as both a punching bag and launching pad for Binoche's tour de force. Stewart's acting strength lies in the way that she doesn't try to mimic Binoche's complexity, instead remaining resolutely an American, from the vulgarity of her tattoos to the putative plainness of her insights regarding the play.
Binoche and Stewart's co-inhabitance on the screen works so well because it's a non-encounter: Binoche classily refusing to slay Stewart, and Stewart respectfully accepting her smallness before the French star. This is a film about repression, about learning to treat desire with miserliness if one is to go on as if unwounded. Who better to embody such strategy than the awkward Stewart, whose movie-star reluctance is a pose so consistent it's as though her shoulders lean perpetually forward. In the über-flattering portrait of Stewart that Assayas penned for French Vogue, he compares his encounter with the Hollywood actress to Binoche and Kiarostami's in Certified Copy, and Maggie Cheung and himself in the exquisite Irma Vep: the kind of unlikeliness that creates, if not magic, a rather photogenic kind of spell. More than a film about the malice of language, Clouds of Sils Maria is, curiously, the capturing of this mesmerizing spark spawned by Binoche and Stewart's unlikely non-encounter, which escapes language proper, but fits rather handsomely inside a cinematic flask.
••
Toronto Oist
, Angelo Muredda: Rating 4/5
Dipping again into the metafictional waters of Irma Vep,
Olivier Assayas delivers the ultimate in Kristen Stewart fan appreciation with The Clouds of Sils Maria
. Stewart plays Valentine, personal assistant to major film and stage actress Maria Enders (Juliette Binoche). When the director behind her first starring role as an ingenue dies, Maria finds herself in talks for a new adaptation of the play, in which she is cast as the older, jilted lover of her former character Sigrid, a change that strains her relationship with the young Valentine as the women work through, absorb, and reflect the script.
Binoche and Stewart are terrific as the colleagues and sparring partners. Stewart is particularly magnetic in a tricky role that doubles as an essay on her own celebrity; she makes great hay out of Valentine's defence of the vulnerable performances the new Sigrid (Chloë Grace Moretz) gives in trashy blockbusters with werewolves.
If Assayas's script is guilty of clumsily over-annotating its themes, one still marvels at his poise: it takes a master to make material this heady go down so easily.
••
Scene Creek
, Adriana Floridia: Rating 4,5/5
Olivier Assayas' new film exemplifies the elegance of its leading star Juliette Binoche, who portrays a legendary stage actress at the pinnacle of her career. Gaining fame at a young age for her portrayal of a young girl who has an affair with an older woman, 20 years later she is approached to star in a new production of the play, taking the opposite role. This creates inner conflict for Maria (Juliette Binoche), who is fearful of facing her age and coming to terms with the character she was at odds with the first time around. She does not want to re-interpret the play from the opposing perspective because of the truth it may reveal about herself in the present, potentially tainting a memory from her past.
There's more to it, however, as her relationship with her assistant Valentine (Kristen Stewart), also mirrors the themes of the play. Maria and Valentine have an intimate relationship, composed of respect and admiration from Valentine's end, and reliance and support on Maria's end. However, as the film progresses, the tension between these two characters reaches new heights as their relationship becomes nearly as challenging of that of Sigrid and Helena in the play.
Acting as a grand metaphor both for the play within the film and for the real life personas of Juliette Binoche, Kristen Stewart and Chloe Grace Moretz, Clouds of Sils Maria is a deeply self-aware film that makes a grand commentary on Hollywood, the state of celebrity, and the trueness and falsity of relationships within this culture. Featuring stunning and lived in performances from both Juliette Binoche and Kristen Stewart, who truly showcases her acting ability in the film as she is perfectly cast, Clouds of Sils Maria is subtle but deep. This is a film that will linger on and become more and more fulfilling as you ponder over its many themes and questions.
••
The Arts Guild
, Talia C: Rating 8/10
In Olivier Assayas' Clouds of Sils Maria (2013), audiences follow actress Maria (Juliette Binoche) as she struggles to accept her own reality. Maria began her career in a play about a young woman who seduces her older female boss. Now, Maria is asked to act in the same play – but as the mature character. Inevitably, life begins to mimic art in this complex psychological drama, making it impossible to distinguish one from the other. In a film based heavily on conversation, it is crucial for the relationships to feel genuine and maintain interest, and this feat was achieved due to a sharp screenplay and
strong performances from both leading ladies. Binoche delivers a multifaceted and subtle performance, while Kristen Stewart adds energy as Maria's assistant Valentine. Watching these two characters interact is fascinating, as they adopt parallel roles to rehearse the play, and the audience faces the challenge of determining what is real and what is acting.
In each scene, Assayas builds tension and causes the audience to expect a dramatic moment before allowing it to drain away as the screen fades. An arresting score and breathtaking scenery are also paired as the majesty of the Swiss Alps is captured. Challenging yet accessible, this peek into the complex minds of two women is a film to be enjoyed as well as meditated upon.
••
Mr Will Wong
, Justin Waldman: Clouds of Sils Maria, the latest from Festival Circuit Favourite and acclaimed Director Olivier Assayas, focuses on Actress Maria Enders (Juliette Binoche) and her Assistant Val (Kristen Stewart) as they prepare Maria for the challenge of her Career. She established her Career as an Actress playing the Role of Sigrid in the Maloja Snake. Now some 20 years later, she is asked to revisit that exact Play. However instead of playing the role of Sigrid, she is being asked to play the much older role of Helena, for which Maria is now of appropriate age. Maria and Val disappear off into Sils Maria to focus on preparing Maria for the Role of her life. However, as time progresses and we delve deeper into the relationship between Maria and Val, seeing the Play and life itself driving a wedge between the two. Can Maria and Val remain Companions while maintaining their unique Employeer/Employee dynamic or is the damage too far down the road? As well, can Maria overcome her personal issues in conquering the Role of Helena?
Throughout Clouds of Sils Maria, we are presented with some riveting performances. Binoche undoubtedly is fantastic, but
the biggest surprise was Stewart who thrives in Val's emotional conflict, stepping outside her comfort zone
. The Film is a fascinating Story about Mentors and responsibility, as well as coming to terms with your life choices.
Its performances resonate and you truly feel something for the two Leads.
••
Black Sheep Reviews
, Matthew Hoffman: Rating 4,5/5
Life imitates art in CLOUDS OF SILS MARIA, the latest film from French auteur, Olivier Assayas. The legendary Juliette Binoche stars as Maria Enders, an aging film and stage actress who rose to fame after her debut as Sigrid in the play Maloja Snake. In recent years, Maria has distanced herself from the stage, becoming increasingly successful as a screen actress. Maria's entire career is kept organized by her assistant Valentine (Kristen Stewart). After the death of Maloja Snake's playwright, Maria is offered the chance to star in a restaging of the play, but this time appearing in the role of Sigrid's older lover Helena. The opportunity to star in the elder role, opposite the young Jo-Ann Ellis (Chloe Grace Moretz) has Maria examining her relationship with Valentine, her Hollywood career, and her own mortality.
CLOUDS OF SILS MARIA is an absolute master class in acting, screenwriting and direction. Assayas' screenplay is at times so delicately subtle, that if not paying close attention, a viewer can completely miss the subtext in a scene. This is definitely assisted by the acting talents of Binoche and Stewart, who play off each other wonderfully. At times, Assayas' script mirrors Ingmar Bergman's 1966 classic PERSONA, as the character traits spread throughout the film's stars, and Maloja Snake's characters, seem to carefully bounce from actor to actor. When it comes to great performances, Binoche is never a surprise. With films like CERTIFIED COPY and BLUE, Binoche has secured her place as one of the greatest French actresses ever to grace the silver screen.
The biggest surprise in the film comes in the form of Stewart's performance. Under Assayas' careful direction, the usually obvious and listless Stewart gives a perfectly restrained performance.
While CLOUDS OF SILS MARIA may seem slow at times to some, there is actually always something happening; you may just have to look a little deeper to find it. When the women's roles are this good, it's something you simply can't pass up.
••
Movie moves me
, Ulkar Alakbarova: Maria is a veteran actress who has risen to success due to her role in an acclaimed lesbian play in which she played the part of the younger character – Sigrid, opposite a middle-aged lover. Now, years later, she is offered a part in the same play, but, this time, as the older partner. Maria declines the role, as she does not see herself to be old enough to play the offered character. As Maria's (Juliette Binoche) life begins to mirror her art, she finds herself facing a younger version of herself in the form of Jo-Ann (Chloe Grace Moretz), an actress with scandalous reputation, who will co-star as 'Sigrid' opposite her. Extremely emotional and dependent Maria can see only one person to help her deal with her work and personal matters – her assistant – Valentine (Kristen Stewart).
"Clouds of Sils Maria" is one of those highly-acclaimed films that most certainly should be considered as a must-see for every cinema fan. The film premiered at the 37th Toronto International Film Festival, where the cinema-goers had a chance to admire the actress Juliette Binoche and the director Oliver Assayas shine on the red carpet. The creator of "Paris, Je t'aime" – the acclaimed French filmmaker, has probably brought to us one of the best films of this year so far.
"Clouds of Sils Maria" tells the story of an actress – Maria Enders (Juliette Binoche), who at the peak of her international career is asked to perform in a play that made her famous twenty years ago. Maria is going through series of personal issues – she is currently filing for divorce, the director of that same play has recently passed away. Due to all these events Maria begins to rely on her assistant – Valentine (Kristen Stewart) with whom she develops an unusual connection, which is yet to confuse Maria even further.
According to Olivier Assayas – he was inspired by the beauty and limitless talent of Juliette Binoche and this was why he decided to write a story where Binoche would play the role of an actress as famous as herself. Assayas has written an incredibly strong script, leaving no gaps and no place for questions that may occur later in the film. His film is not slow and the story develops at a smooth pace as it progresses. Every scene in "Clouds of Sils Maria" is filled with the incomparable magnetism, charm and beauty of Juliette Binoche, whose performance reminds me of being on a roller coaster – it goes up and down, but never ends.
The performance of the actors is something that must be specifically underscored to ensure that prior to watching this film, you will be prepared for something, that we as viewers can't immediately define – as the performance of these three actresses is absolutely extraordinary. Even though Chloe Grace Moretz does not have much screen time, her performance is both compelling and shocking.
Nevertheless, the real stars of the film are Juliette Binoche and Kristen Stewart. The chemistry between these two actresses on the screen is obvious and is a blend that cannot be ignored. As it goes in the saying – a flame cannot burn without fuel. This is exactly how I would describe the performance of the two lead actresses; Binoche appears on the screen like a flame, while Kristen Stewart is the fuel that controls over the emotional condition of Binoche's Maria. Every time when Kristen's Valentine puts a little bit fuel into the woods, Binoche turns into a ticking emotional bomb, which explodes when you expect the least.
It is almost impossible to put words into what those two actresses do. And if Binoche's exceptional performance would not surprise many of you, then I have some good news for those who lost all hope in Kristen Stewart after the "Twilight" series. Stewart delivers an absolutely outstanding performance. She is superb as Valentine and does her best to deliver her best performance even as she shares the screen opposite such a brilliant and masterful screen talent as Juliette Binoche.
In conclusion, "Clouds of Sils Maria" is a very unusual, dazzling and exceptional film by all accounts. It tells, very well, the story of a woman who tries to adapt to the new events and changes in her life and does not give up in the end. I could easily write so many nice words about this film, however – chef-d'oeuvre! It's one of the films that will make you pause at every single scene and replay it in your head again and again, as you would not want to stop enjoying the masterfully played scenes. If you are looking for a real definition of masterpiece or trying to describe something beautiful and magnificent – then you have to refer to "Clouds of Sils Maria". The only word I can use to describe this film is – an absolute chef-d'oeuvre and a true masterpiece.
••
Film School Rejects
, Sam Fragoso: Rating A
A searing satire of an antiseptic Hollywood system, a meta-commentary on "Celebrity" culture, a melancholic evocation on the impermanence of youth, a pensive portrait of clandestine love, Clouds of Sils Maria is all of this and more. And yet, to simplify or contextualize its intelligence into precise, aphoristic themes feels wildly inappropriate. Olivier Assayas' latest masterwork transcends superlatives – too daring and damning to be labeled. Its beauty is ineffable.
Seamlessly divided into two chapters (plus an epilogue), the film opens with the passing of Wilhelm Melchior, a lauded writer/director responsible for jumpstarting the career of Maria Enders (Juliette Binoche). Twenty years since playing the lead in Melchior's beloved lesbian drama "Maloja Snake," Maria is headed to the Alps to pay her respects at a posthumous retrospective. At her side is Valentine (Kristen Stewart), Maria's devout personal assistant responsible for essentially everything in her life.
Once the initial pretenses of the festival subside – the press, the photo shoots, the pseudo sentimentality – Assayas' introduces his first question: how are we supposed to behave in the wake of death? Maria is understandably distraught upon hearing the news of Melchior's death – so much so that she'd rather not attend the "posthumous homage" of his work. In the age of Twitter and the twenty-four-hour news cycle, how we grieve, publicly and privately, seems to be actively changing. When someone we've known and loved (or even someone we never met, but knew of) ceases to inhabit the same space we do, how do we appropriately respond? There is no proper etiquette in reacting. No formal protocol. It seems Clouds of Sils Maria contends that death is simply too painful for protocol.
No matter, life must proceed, and Assayas avoids the typical trappings of depicting death by continuing onward with his story.
By the beginning of the second chapter, Clouds introduces what is to become Maria's next project: a revival of the aforementioned play that made her famous two decades ago. Only now the roles are reversed. At the age of forty Maria would be assuming the role of Helena, the boss driven mad by Sigrid (Chloe Grace Moretz) the seductress.
Maria vehemently voices her reservations about the part to Valentine – convinced she's unable to play this character. But we know it's not a matter of if she'll do the play, but when. To prepare, Valentine and Maria rehearse in the Swiss town of Sils Maria.
The delicacy of practice sequences puts Stewart in an interesting position where she must act as if she can't act, while still conveying the underlying emotions of character. More interesting is how the "Maloja Snake" runs parallel to their relationship – a youthful, sexual 20-something caustically pulling at the heartstrings of an older woman. And the attraction between Stewart and Binoche is palpable – their playful rapport subtly signifying a relationship that extends beyond the professional.
Under the different circumstances, this central relationship would be a film's undoing. But Stewart is magnetic, devoid of the amateurish affectations that have plagued her in the past (the nail and lip biting, the hair twirling). In "Clouds" she's sexy, confident and articulate, with oversized rims and enough vulnerability to draw you in.
Binoche too is superb, slipping into the skin of a woman with perceptible regrets and fears. Her ability to simultaneous display a longing for and resentment of her youth is uncanny.
And that seems to be the terrain Assayas is working in here: the grey area between romance and friendship, art and consumerism, an obsession and a vocation. The characters, like anyone, grapple with these uncertainties. This is excellently explored in a scene where Maria and Valentine discuss the artistic merits of a superhero film they just watched. Both offer up their sound and coherent arguments, one thoroughly impressed by the iconoclasm of its protagonist, the other unable to see past the inherent stupidity of a cartoonish blockbuster set in space. Rarely do we see this sort of serious consideration for both points of view – and by extension, thoughtful conversations about the value of cinema.
The Upside: Everything.
The Downside: The first ten minutes of the epilogue, later redeemed by a devastating final shot.
••
Impressions of a cinematic life
: Rating A
After receiving some troubling news, renown actress Maria Enders (Juliette Binoche) agrees to perform in a revival of the play that made her famous 20 years ago. This time around instead of playing Sigrid, the young seductress, she will play the subject of the seduction, the older woman named Helena who is driven to suicide. Maria travels to Sils Maria, a remote region in the Alps, with her assistant Valentine (Kristen Stewart) to rehearse. As the rehearsal progresses, Maria struggles to embody the character especially in light of how the play favours the young starlet and paints her character as weak.
Directed by Olivier Assayas, Clouds of Sils Maria is a film that examines the process of acting. There is a misconception that acting is easy, that because it belongs to the entertainment industry it somehow comes without its share of challenges. But what most of us do not realize is that the act of embodying emotion is difficult. The performer must open herself/himself emotionally in order to adequately portray a role. The majority of Clouds of Sils Maria sees Juliette Binoche's Maria and Kristen Stewart's Valentine rehearse the play and discuss various subject matters. This is where the actress and the characters age come to play, as each has different perspectives that in turn create a lot of confrontations. For example: one of the discussions that I found most interesting is in regards to weakness. Maria sees the undesirable quality of being the suffering, flawed and weak older character playing second fiddle to the confident, cruel and ruthless young protagonist. For Valentine, weakness and suffering are signs of a much more complicated kind of character, whereas youthful confidence and cruelty stem from a lack of experience and arrogance about the world.
Compounding the great and interesting script is the performances, which are the best these actress have given thus far. Kristen Stewart is incredible as Valentine. She is charismatic, intelligent and intriguing. It is the most naturalistic performance I have ever seen of hers and one devoid of the usual mannerisms Stewart is known, and sometimes humiliated, for. Her chemistry with Juliette Binoche is palpable and they play off each other to brilliant effect.
Binoche is, of course, absolutely fantastic in this role that was written specifically for her by writer/director Olivier Assayas. She assembles such a complicated, charming, strong, at times frustrating and deeply arresting character. Even better is the fact that her character grows throughout the film, and Binoche is capable of revealing more and more facets to her Maria Enders.
The friendship between Binoche and Stewart's characters is the heart of the film and you only have to look at the rehearsal scenes to witness not only how layered their performances are, but also how in tune they are with each other.
In those scenes, these actresses are playing a character playing another character and the way they smoothly go in and out is astounding. Lastly, there is Chloe Grace Moretz who has a small but significant role in the film. She plays the famous young actress taking over the protagonist role that made Binoche's Maria Enders famous many 20 years prior. What I found interesting is that while on the surface her character seems like another troubled young starlet, the actual character displays an intimidating confidence and understanding on how the industry works. She is ruthless and is able to constantly challenge her more seasoned counterparts.
Clouds of Sils Maria is an excellent film. Writer/director Olivier Assayas has constructed a fascinating film populated with revelatory and
career-high performances from its cast
.
Juliette Binoche, Kristen Stewart and Chloe Grace Moretz blew me away. They provide us with subtle, compelling and human characters. There is a naturalistic quality to their performances that not only ground the proceedings, but also paints this industry of entertainment in a relatable light.
We are enthralled by the film's discussion on the nature of suffering, weakness, confidence, malevolence and time. Time is prevailing theme in Clouds of Sils Maria. This idea that society rewards and looks up to the young, but is deeply afraid aging. Moreover, the film examines through its protagonist how time changes our perspective on things. What you found compelling at young age might seem corrupt or negligible several years later. Objects remain the same, but we change depending on where we stand. Clouds of Sils Maria is a revelation of a film with top-notch female performances, and it is definitely a film you should not miss.
••
Film Comment
, Gavin Smith: Shut out of the awards, Olivier Assayas's Clouds of Sils Maria was certainly one of the festival's standouts, and the director's best since Summer Hours. Invoking the spirit of Ingmar Bergman (Persona in particular), it rematches Assayas with Juliette Binoche in a low-key, finely modulated psychodrama ostensibly about the relationship between successful actress Maria (Binoche) and her capable personal assistant, Valentine (Kristen Stewart). Reckoning with middle age, Maria agrees to revisit the stage play in which she made her name at age 18, in the role of a scheming assistant whose actions lead to the undoing of her businesswoman boss. In the proposed revival Maria will play the older woman, while a Lindsay Lohan–esque American (Chloë Grace Moretz) will essay Maria's original part. The ambiguous, shifting dynamics that play out as Maria discusses the role and runs lines with Valentine suggestively mirror and echo—and sometimes reverse—what's going on in the play. And then a truly stunning coup on a hilltop that culminates in a close encounter with the Sublime invites the viewer to completely rethink the relationship between actress and factotum. Under Assayas's tight direction, Binoche delivers one of her greatest, least self-indulgent performances, while
Stewart continues to demonstrate why she's one of the best actors of her generation
.
••
Culture Vulture
, George Wu: The movie's title, "Clouds of Sils Maria," refers to a natural phenomenon found in the Sils Maria municipality of Switzerland for which the fictional play within the film, "Maloja Snake," is also named. Both titles designate the same thing, spectacular clouds that snake around mountains in the Swiss Alps. Two different takes on the same thing is also a running theme in this latest film from writer-director Olivier Assayas, a fiction that runs in parallel to another fiction within the fiction.
Assayas starts off using a handheld camera on a shaky train, the film's wobbly image reflecting the hectic life of renowned actress Maria Enders (Juliette Binoche). She is in the middle of a fussy divorce and on her way to accept an award for Wilhelm Melchior, the playwright who discovered her over 20 years ago. Maria is stabilized only by her assistant Valentine (Kristen Stewart) who handles her stream of unending phone calls and micro-manages Maria's daily life. Whereas Maria is tense, unsure, and frequently agitated, Val is decisive, clear, together, and even more knowledgeable and aware.
While still on the train, Maria discovers that Wilhelm has just died, a suicide after a long illness as it turns out. Maria's breakthrough play by Wilhelm, "Maloja Snake," also became her breakthrough film, leading her to a long career in European films and then to Hollywood to work with the likes of Sydney Pollack and Harrison Ford. In "Maloja Snake," Maria originated the role of Sigrid, a young ingénue who becomes the assistant for a successful older woman, Helena. Helena falls madly in love with Sigrid and her obsession destroys her (a similar story was told in the 1972 martial arts film "Intimate Confessions of a Chinese Courtesan"). Now, a famous director, Klaus Diesterweg (Lars Eidinger) is bringing "Maloja Snake" back to the stage and wants Maria in the role of Helena while casting Jo-Ann Ellis (Chloë Grace Moretz) as Sigrid. Jo-Ann is a young boisterous hellion of an actress with a number of trashy antics captured on Youtube.
Maria is superstitious and does not want the part of Helena as the actress she originally worked with in the part died a year later in a car accident. She also identifies with Sigrid and not Helena and sees them as opposites. Klaus disagrees stating that they are one and the same person and that Sigrid will grow up to become Helena, precisely what Maria now does not want to do. But Val loves the play and Jo-Ann is Val's favorite actress, which makes Maria jealous. After being intrigued by Jo-Ann from searching the internet, Maria consents to Klaus. On the internet, Jo-Ann comes off with a haughty disregard for what others' think, but when she meets Maria, she is nothing but differential and showers her with flattery.
As the movie progresses, the parallels between the fiction of "Maloja Snake" and the events in Maria's life become unmistakable. Though not romantically attracted to Val except perhaps her youth, Maria's dependence on Val mirrors Helena's on Sigrid. Maria runs lines with Val in scenes of great intimacy and power, but Maria's disregard for Val's opinions begins alienating Val from her. Another distinguished actor, Henryk Wald (Hanns Zischler), worked with Maria when she was 18, had an affair with her, and abandoned her in a sort of role-reversal of the Helena-Sigrid dynamic. Assayas throws in some parallels to real life as well with Jo-Ann becoming famous from being in a superhero movie just as Moretz did from "Kick-Ass" while the character of Jo-Ann is clearly inspired by the likes of Lindsay Lohan and Paris Hilton. Maria herself is not that different in career trajectory from Binoche.
The movie gives a terrific sense of what the play "Maloja Snake" is like, and it makes one wish the play were real to experience whole. Despite establishing the play's story and then the film engaging in a lot of life imitates art imitates life symbolism, "Clouds of Sils Maria" is not predictable. Ultimately though Assayas' heart is less in the narrative than the ideas being presented. The movie is held together by Assayas' ruminations on people's perspectives and how it plays out in dynamics of age vs. youth and maturity vs. innocence. Maria's perspectives are biased by her disposition for clarity, the high brow, and realism, and they clash with Val's with her intrigue for ambiguity, the utility of low-brow genres, and fakery that can nevertheless get at deeper truths. But Assayas also shows Maria plagued by contradictions. She complains about Google and the internet until she needs it. She likes Jo-Ann's swooning over her until it stops. She rejects Val's input but prizes her dedication.
Assayas consistently has the characters turn what starts off as subtext in a scene into text reflected in dialogue. This shouldn't work, yet it does because the ideas are engaging and the acting so strong. With all of the overt dialectics, the film could easily become too self-conscious or academic or obvious. Assayas walks right up to that line but never crosses it. He takes his time setting up the entire complicated scenario of the film's plot, and the measured pacing could be off-putting if it wasn't all so capably done. Assayas' style is a literary as well as a visual one. Most of his films include many small character details and a hefty amount of emotional complexity, which aptly describes "Clouds of Sils Maria" as well. His direction only goes haywire in one out-of-place scene merging imagery of Val driving to a soundtrack of some particularly awful acid space rock.
Binoche is in her usual strong form, but
Kristen Stewart has never been better, possibly even overshadowing Binoche, which is high praise indeed. Stewart exudes a powerful lived-in quality in Val, a strong comfort in her own skin, and her presence matches Binoche's in every scene
. For once however, Moretz, who was so good in "Kick-Ass" and "Hugo," is the weak link in "Clouds." She lacks the self-assuredness of her character, which admittedly is the most plot-contrived element in the story. It's not beyond the realm of possibility that an arty theater director would cast an infamously bad-girl movie actress, but it's a stretch.
Yorick Le Saux does a masterful job lensing "Clouds of Sils Maria," and it doesn't hurt that he has the gorgeous Swiss countryside to work with. When the real Maloja Snake, the clouds of the title, finally makes its appearance, it's breathtaking.
••
Cinematographer
, Pat Mullen: Rating 4/5
The story behind Clouds of Sils Maria says that the film begins with a challenge from Juliette Binoche to Olivier Assayas to write a substantial and challenging female role. Assayas delivers on the test by offering Binoche the complex aging actress Maria Enders and Binoche assuredly meets Assayas's own challenge put forth to her in such a meaty role. Clouds of Sils Maria sees Binoche and Assayas create one of the richest characters of their respected and collaborative careers.
Clouds of Sils Maria thus makes one of the more notable feminist films of 2014 even though it's directed by a male. It's one of Assayas's most skillful and evocative films yet. (The cinematography by Yorick Le Saux must be praised immediately for its crisp, involving, and graceful use of the natural light and Alpine surroundings.) This complicated character study deftly plays on art and life as Binoche and Assayas find the poetry in an aging actress reinventing herself for a quality part at middle age. Maria still carries the talent, grace, and beauty of her early years, but the roles offered to her by her meticulous assistant Val (Kristen Stewart) tell a different story. Maria can play aliens, mutants, or moms, or she can hawk products in commercials for Latin American television. That's about it unless she wants to revel in reviews from the past and collect a royalty here or there.
The meatiest offer arises, though, when Maria receives a proposal to revive the play that made her a star. The timing is curious, since the film begins as she sits on a train waiting to accept an award for the director whose play launched her career. His unexpected death, however, reignites interest in his work, and soon an offer comes for Maria to return to the stage for Majola Snake, her breakout play, but not in her famed role as the young Sigrid and instead as the elder boss, Helena. It's a lot to ask an actress to put her legacy on the line and go toe-to-toe with someone else in her own part, but the role of a lifetime, literally in a sense, offers too much prestige and cash incentive for Maria to decline in lieu of some schlocky Hollywood garbage.
Clouds of Sils Maria offers a beautiful triangle of art imitating life as Maria relinquishes Sigrid to the current hot young thing, Jo-Ann Ellis (Chloë Grace-Moretz), and lets herself be compared against the memory of her most iconic work. Binoche, who remains one of the best and most beautiful stars of her or any generation, utterly relishes the chance to confront the myth that age affects one's ability to produce good art. Her multi-layered performance is a thing of beauty, for Maria often presents herself as acting a role within a role within a role as she plays an actress playing a scripted character, who in turn serves as an unscripted vehicle for her own fears and desires. Only a great actress can act while acting (but not make the acting look forced) and Clouds of Sils Maria puts Binoche in her most captivating, beguiling element.
Maria's cultural and generational clash ignites when her script reads with Val provoke alternative character readings than those for which she is famous. Val, far closer to Sigrid's age than Maria is, offers an intuitive and intelligent reading of the power dynamics and subtle innuendos that play out between Sigrid and Helena. Maria thus feels threatened in both art and life, for young minds are pushing her in and making her seem more antiquated, stuffy, and stiff as the very old-school thespians Maria herself replaced as a young upstart.
Clouds of Sils Maria really shifts the dynamics of art and life when the younger actor, Kristen Stewart, proves herself the revelation of the film whilst sharing the screen with one of film's most acclaimed players.
(Binoche remains the only actress to win both an Oscar and the triple crown of Best Actress triumphs at the Cannes, Berlin, and Venice film festivals.)
Stewart attacks the role with thrilling lust for life as Val digs into Sigrid and Helena's affair and sees her own dwindling relationship with Maria as a parallel to the play. Val ultimately proves herself the better actor of the two as she utterly loses herself in the role of the happy assistant and completely convinces Maria that all is well. Stewart gives a deep performance in Clouds of Sils Maria and, coupled with her moving work alongside Julianne Moore in Still Alice, makes her one of the top performing stars at TIFF this year.
Not quite as successful as proving herself the next Juliette Binoche, though, is Moretz in her spirited, if completely mechanical, performance as Jo-Ann. Moretz has a lot of fun playing the Lindsay Lohan-like flavour of the minute, but she still overdoes it, especially when cut in comparison to
Stewart's impeccably subtle feat
. Her visibly secondary skill works to the film's advantage, though, for Jo-Ann adds spunky naïveté to Clouds of Sils Maria to further the arguments that Val makes regarding age, experience, and the acting process in her debates with Maria.
This triangle of actors and arty types goes in an unexpected direction when Maria and Val finally take in the famed clouds of Sils Maria that lend their significance to the film's title. Maria and Val take a walk through the serene, majestic Alps, but things go awry before they hit Maria Von Trapp territory and Clouds of Sils Maria opens up like the scope of the mountains as the significance of the play shifts meaning forever. The titular clouds crawl along the mountaintops like a slinky snake, beautiful yet ominous, as Assayas finds a stirring metaphor for the storm to come. Actresses, like clouds, fade and re-appear, but sometimes only for fleeting moments of beauty.
••
The Daily Beast
, Marlow Stern: As the dedicated (and beleaguered) assistant to Juliette Binoche's diva, Swanson-esque movie star,
Stewart is bold, brash, and brilliant
. With more like this, she'll make us forget about those melodramatic Twilight flicks and properly laud her impressive turns in Adventureland, Panic Room, Into the Wild, etc.
+
Gala
short review
Le Monde Review (3:02)

Translation (via): "To prove his point, the director uses a duo of actresses: J. Binoche & K. Stewart, the latter particularly compelling. Kristen Stewart manages an absolutely outstanding performance. I've rarely seen something like this. She's merely the assistant but it's through her that we can see appear this opposition that isn't really one, between acting & reality."

TWEETS
RT @Thierry_SCL Sils Maria: beautiful declaration of love to the actresses carried by a trio in tune: J. Binoche- Kristen Stewart- ChloeGrace Moretz
RT @BBaronnet Big crush on #SilsMaria : a ball of actresses deliciously cruel or cruelly delicious
RT @Pzready Kristen Stewart is fantastic. Marion Cotillard is no longer a lock for the actress prize.
RT @MatchCuts Never though I'd tweet this, but Kristen Stewart is fantastic, a sharp deconstruction of generation she has come to represent. #Silsmaria
RT @StephChermont Superb #OlivierAssayas's #SilsMaria. #JulietteBinoche and #KristenStewart, a credible and amazing duo, a beautiful story of women, of drama.
RT @LaureCroisette magnificent Sils Maria. Assayas at the top of his art.
RT @ojoyard After #SilsMaria, #Cannes2014 is definitely a great festival of actresses. I'm fine with that.
RT @trim_obey Really glad I caught CLOUDS OF SILS MARIA, not least because Kristen Stewart gives her best performance ever in it. Loved her.
RT @gu__gu #SilsMaria ends elegantly the #Cannes2014 competition. The Binoche-Stewart duo is miraculous.
RT @becroll SILS MARIA paradox: as colorless filmsplainer, KStew has by far the worst role. And yet gives the best, most alive performance. Good job!
RT @DavidPoland Clouds of Sils Maria is the most Kristen Stewart of any role I have seen her play... funny, interested, thinking, demanding & shy.
RT @KarelleFitoussi Assayas's #SilsMaria. Here's my Palme. Goodbye and see you next year.
RT @drjonty The Clouds of Sils Maria is a modest meta-drama with a relaxed Binoche and accomplished Kirsten Stewart
RT @indiewendy Loved the dynamic between Juliette Binoche and Kristen Stewart in Sils Maria. Good confirmation that KStew is not just Bella.
RT @labuzamovies And yes K-Stew fans, she owns the role. Does so much with her gestural approach I was taken aback at her approach. Constantly inventive.
RT @FranckNesme Juliette Binoche and Kristen Stewart brilliant in the no less brilliant SILS MARIA
RT @_ann_lee Clouds of Sils Maria: Cerebral and elegant dissection of art, celebrity and ageing. Great chemistry between Binoche & Stewart.
RT @davecalhoun Juliette Binoche and Kristen Stewart make an intriguing duo in CLOUDS OF SILS MARIA as an actress and her assistant.
RT @aurelferenczi Sils Maria is a wonderful movie, its vision of the modern world is right and tasty, it just lacks a little Bergmanian cruelty...
RT @BlochAlice #SilsMaria is a fascinating and intelligent movie, carried by an incredible chemistry (and unexpected) between Binoche and Stewart!
RT @TaybackX "Definitely top five of #Cannes2014 , no question. #SilsMaria"
"The acting is great all around, Binoche and Stewart have several great dialogues that are sure barnburners. #Cannes2014 #silsmaria"
RT @jonfrosch_f24 Kristen Stewart will have haters rethinking things after seeing Sils Maria. She is superb.
RT @KarstenM I really, really liked Assayas' CLOUDS OF SILS MARIA; a lil' chamber piece w/ wonderful acting by all involved, yet Stewart steals the show.
RT @damien_leblanc Great performance of Kristen Stewart in #SilsMaria: she gives an unexpected soul to this dialectic Olivier Assayas movie
RT @jamie_graham9 Sils Maria: many layered meta-fiction on life & art. Shifting perspectives & power dynamics. Kristen Stewart, Moretz & Binoche all v strong
RT @mmiedl somebody is very much in love with Kristen Stewart. #CloudsOfSilsMaria #Cannes2014
RT @totalfilm Clouds of Sils Maria; clever art vs life narrative & great performances from Kristen Stewart, Juliette Binoche & Chloe Grace-Moretz.
RT @daveyjenkins SILS MARIA (Assayas) Very strong – nuanced and enigmatic echo-call to IRMA VEP with La Binoche on fire (not literally).
RT @passeurcritique #SilsMaria #kristenStewart best role ever #Cannes2014
RT @dzibz Clouds Maria : wonderful and fascinating reflection about the actress job. Beautiful shock
RT @robbiereviews Clouds of Sils Maria (Assayas): Rich, complex, teasing life-is-play, play-is-life meta-lark. Kristen Stewart particularly fab.
RT @jhoffman CLOUDS OF SILS MARIA is smart & elegant. Basically all Binoche & Kristen Stewart, and K-Stew holds her own. Great role for her.
RT @Trois_Couleurs #KristenStewart plays a flawless in Sils Maria, dizzying exercise of metafiction by Olivier Assayas at #Cannes2014
RT @damourparamour: "The movie is like a play within a play, but shot like a documentary of some kind. It also remind me a lot of Asian cinema especially Korean cinema. The way Olivier Assayas uses the mountains, the clouds, the sea, is just so Korean. Here the nature is a character, just as important as the actors. You can feel it.
This is an intellectual movie as well, there is a lot of critique about art snobbery in art, how we consume art, what we take from it or bring to it. So here Assayas is close to Godard.
So I really love the movie. Sure I might love it a lot because it made me think about Books like Waiting for Godo, and movies like All about Eve, and a lot of Korean movies (where a lot of dialogues are in the double meanings of words and where you have to be very aware of all the little things). All the actors were great. Juliette deserves a nomination for best actress. I hope Kristen was really good as well. Chloe was great. And the fucking music was perfect."
RT @Hejorama The movie was great and the sun is shining again. That should be a good and long night!
RT @TanjaBlomqvist I could watch the new Assayas, Clouds of Sils Maria, all over again right now. Wonderful!
RT @NeilMcGFilm So, SILS MARIA, basically a two hander between Stewart & Binoche. Stewart perfectly cast as Valentin
RT @Mueckerling I really loved SILS MARIA! Such a rich work. I think thats the kind of film this big silver thingy at the theatre wall was made for! And obviously I have to be a fan of Kristen Stewart from now on!
RT @KnowAKoch A solid chunk of CLOUDS OF SILS MARIA is Kristen Stewart defending the career of Kristen Stewart, and I was so down.
RT @stewartings The audience responded soooo good to the movie. Lot of laughs, giggles and they clapped 5 minutes after the movie.
RT @_MinusHabens she [Kristen] was so good, I actually got a bit emotional :). The movie takes a very philosophical approach to ageing. The script was so clever, and engaging.
RT @LaCamaraAzul Olivier Assayas receiving a standing ovation last night at the @cinemathequefr introducing his beautiful movie #SilsMaria
RT @aude_lgm Sils Maria is a beautiful movie. Among the best movies I've seen lately with Palo Alto.
RT @KiwiCinema Without being the masterpiece I expected, #SilsMaria is a very good movie with great exactness. Sils Maria excellent.
RT @damourparamour: Just out from COSM. I'm amazed. Juliette Binoche should be nominated this year at the oscars. Kristen was magnificent.
RT @RitaLubitsch #Binoche versus Stewart, two great actresses.
RT @jakella77 Just seen sils maria. It was amazing. KS is just brillant in it !wow! The dynamic between binoche and stewart is exceptional. Very surprised by Chloë.
RT @mariongalland Just saw Sils Maria, I already want to see it again
RT @surlaroute_ sils maria is excellent, a real little gem. The performance of Juliette Binoche in sils maria is full of truth, honesty, and humanity.
RT @FilmSwoon "Clouds of Sils Maria" was fantastic — stunning performance from Kristen Stewart. Best of her young career, undoubtedly.
RT @MissKrisbian So two words for describe Sils Maria : Phenomenal duo. Juliette & Kristen are terrific in it! Kristen & Juliette : perfect chemestry ! I think the audience really loved it too ! Lots a laught ! And the movie is very funny, there are times when I laughed to tears! But it is also sad and touching.
RT @AnneLaureCR #SilsMaria, very beautiful and deep, Juliette Binoche is fantastic
RT @lorralexandras Olivier Assayas's Sils Maria with Juliette Binoche, Kristen Stewart, Chloé Moretz, three actresses at the top!
RT @larryagross Assayas' Sils Maria unmistakably contains finest acting by Kristen Stewart to date.
RT @sannevanhassel Just saw 'Clouds Of Sils Maria'. Loved it. Kristen Stewart, you are brilliant.
RT @tarantallegra Kristen Stewart is kind of wonderful in "Clouds of Sils Maria," which is intimate and astute but odd and hard to situate.
RT @CordyQ45 Kristen & Juliette's performances on COSM were wonderful; they have an undeniable chemistry. Seeing strong, honest female performances = A+
RT @chowleen @mattzollerseitz have you seen #CloudsOfSilsMaria? That is a revelatory performance. Still thinking about it, a week after.
RT @AratiRaval Loved Clouds of Sils Maria & Jimmy's Hall. Both honest, both well written, both lovely. #MFF2014
RT @blakerutherford I was crazy for Olivier Assayas' "Summer Hours" & I felt nearly the same about "Clouds of Sils Maria," his rich, mesmerizing new film.
RT @coldplums Valentine is the obscure object of desire that animates Olivier Assayas' #CloudsOfSilsMaria, and Kristen Stewart embodies her perfectly.
RT @Hejorama Team designing the posters for the #MunichInternationalFilm Festivalfestival is doing an amazing work.