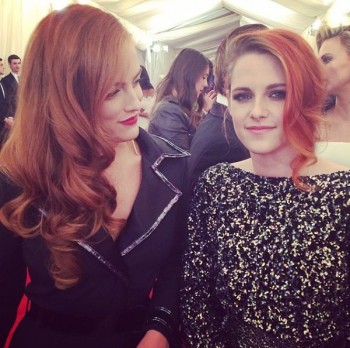 The Metropolitan Museum of Art, New York


The theme for the Met Gala this year is "white tie". :)

Arriving

HQ



MQ/LQ



Fan pictures



Inside

Kristen, Riley, Cara Delevingne, Amber Heard & Zooey Deschanel, Chloë Grace Moretz & Rebekah McCabe (vice president of Chanel's Public Relations)

HQ



MQ



Kristen & Stella McCartney


Kate Bosworth, Zoë Kravitz, Kristen, Stella McCartney & Cara Delevingne


Kate Bosworth, Kristen, Stella McCartney & Cara Delevingne

After party


---------------



Getting ready with her friend & 'The Runaways' co-star Riley Keough ♥

Riley's hairstylist Stacy Ho: "I retract all the awful statements I've made about KStew. I've been hanging out with her in her hotel room for past 2+ hours and she's hands down the coolest person ever... And yes, she does that nervous tick but it's adorable." Yep it would just have been nice if she didn't say hateful things in the first place & waited to know her.



Jillian: "#MetGala gorgeousness. Behind the scenes with Kristen Stewart"


Adir: "Last minute touchups with my beautiful friend #kristenstewart for the #metgala tonight. Get ready an awesome braid with deep 40's wave."


Adir: "This is how we have fun before the big night!!!!!! #kristenstewart #metgala #chanel" ♥♥


Adir: "#tbt to this beautiful friend before #metball2014. Miss this incredible girl so much! #kristenstewart @jilliandempsey"

People Magazine

Adir:
"Kristen had some friends in her room while getting ready,"
says Abergel, adding,
"We laughed a lot. It was like a beauty party!"
4:25 pm - Arrive at Kristen's hotel right on schedule!
5 pm - Turn on some classic rock and get to work.
5:15 pm - Order room service: pizza, salad and crostini.
6:15 pm - Last minute touch-ups: I pin the front of her hair so it doesn't move.
6:30 pm - Kristen leaves. I pack up and take a deep breath. My marathon day is finally over. Success!
Videos



(0:55)




Gifs

by itsoktobeyou.org



Fashion

Hair by Adir Abergel, makeup by Jillian Dempsey & nails by Gina Viviano

Kristen is wearing a Chanel black & gold sequin, tulle and feather embroidered dress from the Chanel Spring/Summer 2014 Haute Couture Collection & black Louboutin pumps

Trending worldwide!
Source:
#1
#2
#3
#4
#5
#6
#7
#8
#9
#10
#11
#12
#13
#14
#15
#16
#17
#18
#18
#19
#20
#21
#22
#13
#14
#15
#16
#17
#18
#19
#20
#21
#22
#23
#24
#25
#26