Digital scans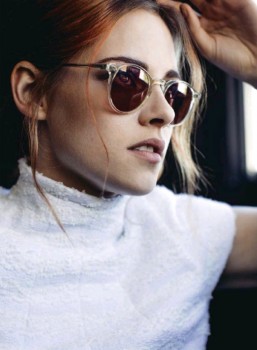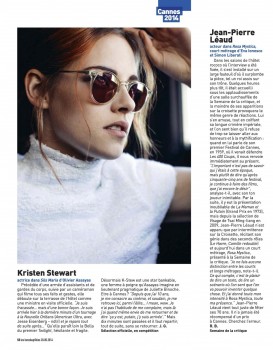 Short interview
Preceded by an army of assistants and bodyguards, followed by a cameraman filming everything she does, she arrives on the rooftop of the hotel like a Minister on an official visit.
"I'm shattered... but in a good way. I've arrived yesterday at the last minute from a shooting in New Orleans [American Ultra, with Jesse Eisenberg], and I'm leaving right after..."
Bella from the first Twilight seems so far away, hesitant and fragile.
Now K-Stew is a bankable star, a woman with a firm hand that Assayas imagines as a pragmatic Lieutenant of Juliette Binoche. To be in Cannes?
"Since I was 10, I consecrate myself to cinema and suddenly I find myself here among the elite.. I mean, wow. I am not used to revel, but here I want to turn around and say 'that's it, fuck, I did it'."
But ten minutes passed and it's time to leave, immediately, without looking back.
Scans
-
Source
- Translation by itsoktobeyou.org