Olivier Assayas parle de 'Sils Maria' & Kristen dans Cinemateaser (Numéro d'été 2014)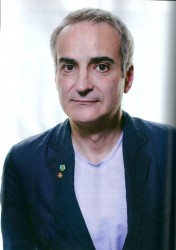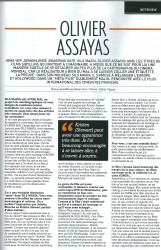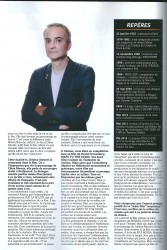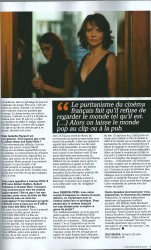 The genre of the movie is quite unclassifiable. It starts as a satire like Mankiewicz's All About Eve, then turns into a movie in camera Bergmanian, before taking a surprisingly light and comical turn. As if the movie transformed progressively during the filming and had become uncontrollable...

Olivier: (Laughs) You know, movies are always uncontrollable! I think the singularity of SILS MARIA is to be focused on the meeting between two persons. Not two characters but really two persons: Juliette Binoche and Kristen Stewart. At one point, the role of Valentine was supposed to be played by Mia Wasikowska. I love this actress, but that would have given a completely different movie, maybe darker, more disturbing. Kristen really brought to the movie its humor. I saw her open up, freeing herself in front of Juliette. I think we've never seen her as radiant. I was very scared at first because Kristen can have a very tough/harsh look. I really encouraged her to let herself go, to open up, smile. I think her meeting with Juliette was all about chemistry. So the mix of genres in the movie really comes from the experience of filming and what actresses have given me. I like the idea that SILS MARIA, seriously influenced by Fassbinder and Bergman, is a movie that explores the human with lightness and humor.

So for you, it's a comedy?

Olivier: Yes, even if the subject is not funny. I talk of aging you know! But somehow, I constantly pushed the filming to the comedy. I was feeling that Juliette and Kristen were in high demand of this.

This duality, Kristen Stewart comments it in the movie. We feel that through the character of Chloe Moretz, she talks about her own status in Hollywood. The dialogue sometimes even directly refers to what she experienced, especially this scandal. This is very disturbing and very surprising for such a famous actress to expose yourself.

Olivier: It's entirely to her credit. I met Kristen through the producer of ON THE ROAD, which is also the producer of this movie. He nagged me that I should meet her. I didn't feel this type of project would interest her and her fame seemed to me to contradict the film project. I was wrong, of course. She read the script, we meet. I immediately liked her enthusiasm. But I didn't know how to approach the question of roles with her. So timidly, I ask her the question. She had not even considered the role of the starlet. She wanted the assistant. I said "Are you sure? Because it will produce a weird thing!" She looked at me and told me: "This is precisely what I want!" I think she understood faster than me what disorder this character could create. She quickly took possession of my script. Kristen has a real strength, a humor we haven't seen enough in movies.
Le genre du film est assez inclassable. Il démarre comme une satire façon EVE de Mankiewicz, puis se transforme en huis clos bergmanien avant de prendre un tour étonnamment léger et comique. Comme si le film s'était transformé au fur et à mesure du tournage et qu'il vous avait échappé...

Olivier: (Rires) Vous savez, les films nous échappent toujours! Je crois que la singularité de SILS MARIA, c'est d'être centré sur la rencontre entre deux personnes. Pas deux personnages mais vraiment deux personnes: Juliette Binoche et Kristen Stewart. A un moment donné, le rôle de Valentine devait être tenu par Mia Wasikowska. J'adore cette actrice mais cela aurait donné un tout autre film, peut-être plus sombre, plus inquiétant. Kristen a vraiment apporté au film son humour. Je l'ai vue se révéler, se libérer face à Juliette. Je pense qu'on ne l'a jamais vue aussi solaire. J'ai eu très peur au début parce que Kristen peut avoir une apparence très dure. Je l'ai beaucoup encouragée à se laisser aller, à s'ouvrir, à sourire. Je crois que sa rencontre avec Juliette tient de l'alchimie. Donc le mélange des genres du film tient vraiment de l'expérience du tournage et de ce que les actrices m'ont apporté. J'aime l'idée que SILS MARIA, sous influence grave de Fassbinder et de Bergman, soit un film qui explore l'humain avec légèreté et humour.

Pour vous, c'est une comédie donc?

Olivier: Oui, même si le sujet n'est pas drôle. Je parle quand même du vieillissement! Mais d'une certaine façon, j'ai constamment tiré le tournage vers la comédie. Je sentais Juliette et Kristen très en demande de ça.

Cette dualité là, Kristen Stewart la commente dans le film. On a l'impression que via le personnage de Chloe Moretz, elle parle de son propre statut à Hollywood. Le dialogue renvoie parfois même directement à ce qu'elle a vécu, notamment ce scandale. C'est très troublant et très étonnant de la part d'une actrice aussi connue de se mettre ainsi à nu.

Olivier: C'est entièrement à son crédit. J'ai rencontré Kristen par l'intermédiaire du producteur de SUR LA ROUTE, qui est également le producteur de ce film. Il me tannait pour que je la voie. Je n'avais pas l'impression que ce type de projet l'intéresserait et sa notoriété me paraissait contredire le projet du film. J'avais tort, évidemment. Elle lit le scénario, on se rencontre. Son enthousiasme m'a tout de suite plu. Mais je ne savais pas trop comment aborder la question des rôles avec elle. Donc timidement, je lui pose la question. Elle n'avait même pas envisagé le rôle de la starlette. Elle voulait l'assistante. Je lui ai dit "T'es sûre? Parce que ça va produire un truc bizarre!" Elle m'a regardée et elle m'a dit: "C'est justement ce qui m'intéresse!" Je pense qu'elle a compris plus vite que moi ce que ce personnage pouvait créer comme trouble. Elle s'est vite emparée de mon scénario. Kristen a une vraie force, un humour qu'on n'a pas assez vu au cinéma.
Big thank you to my friend Aurél for the scans