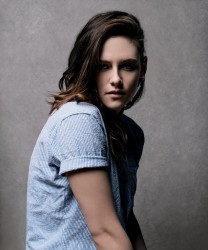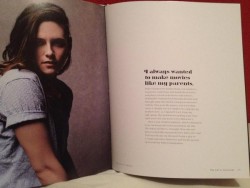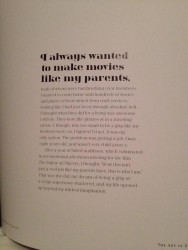 Transcript:
"I always wanted to make movies like my parents, both of whom were hardworking crew members. I wanted to come home with hundreds of stories and plates of food nicked from craft services, looking like I had just been through absolute hell. I thought what they did for a living was awesome. I still do. They were like pirates or in a traveling circus. I, though, was too small to be a grip like my brothers were, so, I figured I'd act. It was my only option. The problem was getting a job. I was eight yers old, and wasn't very child actor-y.

After a year of failed auditions, which culminated in an emotional afternoon meeting for the film The Safety of Objects, I thought, 'Wow this isn't just a cool job like my parents have, this is who I am.' That was the day my dream of being a grip or a script supervisor shattered, and my life opened up beyond my wildest imagination."
• NEW Sundance Portrait & Quote in Jeff Vespa's 'The Art of Discovery: Hollywood Stars Reveal Their Inspirations' book.
You can order it on Amazon.
"A portion of the proceeds from the sales of The Art of Discovery will go to support the arts advocacy programs of
The Creative Coalition
, the premier nonprofit, nonpartisan social and public advocacy organization of the arts and entertainment community."
Source
-
Scans via