| PART 1 (Toronto reviews) |
Click HERE to go directly to the new reviews
I've just added this function for easier access as there are now many more reviews on this master post. :)


Please keep in mind that reviews can contain spoilers, lots of spoilers, and that negative reviews can be interesting to read.
If you have more reviews, feel free to email me. :)
REVIEWS
••
Cinematographe
, Virginia Campione: Still Alice, based on Lisa Genova's novel, focuses on the woman's perceptions, initially ignoring the reactions of those around her: the drama is inside the protagonist's head and the first-person point of view makes us live fear and bewilderment with Alice, in a whirlwind that takes the audience in the darkness/light on-and-off's typical of the first stage of Alzheimer.
Not leaving any margin to pity, we watch the progressive fall of this existence in front of the family's eyes, who, in the most realistic of way, seems divided by the different ways of reacting and facing the issue. We have an husband (Alec Baldwin), who, under the alibi and the protection of a challenging career, tries his best to exorcise the "demon" by not looking at it. On the other hand, we have 3 kids: amongst them, the distinct and caparbious personality of Lydia emerges: the youngest, the rebel daughter who had fled from her mother's pressures to go to college like her siblings to pursue her dreams of becoming an actress.
The evolution of this mother-daughter relationship gives us the most beautiful and deep perspective on the movie: Alice and Lydia, antagonist at the beginning, re-discover the simple pleasure of knowing and understanding each other through the mother's journey. A mother who cannot count anymore on memory and language, is forced to trust her emotions; Lydia is an actress and she has a lot to offer to fill up the gaps in Alice's mind: theatre scripts, short and descriptive, help the woman keep her reading passion alive, and Lydia's empathy will teach Alice the supremacy of heart over memory.
The direction leans on Moore's expressive skills: the actress, without ever being too much, gives us a masterful portrayal of a woman, capable of mixing dignity and devastation without any wrinkle. An Oscar would be overdue now.
Some director choices could be questioned: the excessive use of out-of-focus sequences might leave the audience confused about the real symptoms of Alzheimer, that could have been better portrayed by Moore's acting skills.
It would have been great to have left more room to the family characters to express themselves; they sometimes stay in the shadow, not allowing us to better understand the reasons behind their behaviour.
Nonetheless, it's impossible not to notice the weight of Stewart's role: she finally proves she's not only completely "out of the Twilight zone", but also - even stealing a bit of spotlight from Julianne Moore herself! - of being able to get a co-protagonist role all for herself.
The movie is overall outstanding because it manages, delicately, in an inevitably tragic epilogue, to let hope shine through; not hope for healing, but for salvation that always powerfully resides in love, a force that not even the most devastating illness can touch. Love is capable of forging the true, untouchable essence and identity of the self.
Alzheimer can force Alice to not be a professor, a scientist or researcher anymore but it can't stop Alice from being Alice. (translated from Italian by
@catrux
)
••
@MlleKatMichele
: The film opens with a beautiful shot of Alice in her finest form, possibly (& sadly, last) the best you'll ever see her. Surrounded by family, sans her free-spirited youngest, celebrating her birthday. The first few scenes gives us a glimpse Alice and Alice's life at "the tops". As the film progresses, we see the steady decline of...* everything* due to the early-onset of her disease, Alzheimer's. Alzheimer's slowly but surely begins to eat away at the sense of essentially who "Ally" is. It is something she is neither expecting nor fully capable to grasp in the beginning. Who could really? Alice herself says, "I'd rather have cancer." Losing control, your memories, your mind, your sense of self, it is absolutely frightening. We see Alice's journey, slow reluctant acceptance, and finally...what is. The way co-directors, Westmoreland and Glatzer, filmed Still Alice is something to appreciate--the novel is written in first person, while the film does a splendid job of telling the story in an outside-the-box first person pov. The film revolves entirely around Alice - scenes are all inclusive of her and her interactions - yet there are moments we can kind of see through her eyes. It's something to see, so I'll leave it at that.
Life for the Howland family, as bleak as it is, translates into exemplary, outstanding performances by the cast, especially Julianne. Julianne's depiction of Alice as a world-renowned doctor to Columbia University professor to "afflicted" woman is realistic, endlessly moving, BEAUTIFUL. You empathize and you react expected and unexpectedly, as a result of her performance. It's transformative - you find yourself forgetting this is Julianne Moore - something really tragic is happening to someone you feel you know. It's awe-inspiring and like I said, her unraveling shouldn't be beautiful, but it is. It so is. Alec Baldwin, what a fine representation of John Howland; his love, care, worry *grief* for his "Ally". So many teary-eyed scenes between John and Alice, but the most tender would be with Lydia [Kristen Stewart]. We finally see a moment of weakness in John, when he briefly breaks down in front of Lydia [she moves back home to help care for Alice]. Hunter Parrish's Tom, present yet absent - forgive him, he's a doctor - but very supportive. Anna [Kate Bosworth], Anna is tough. I could not tell if she is supposed to be so off-putting, dismissive, standoffish as per the script, or if she is played that way. Anna is more...involved, sympathizing in the novel than the film. But, I will say this, Anna's phone call to Alice with her own genetic test results -- [we only hear her] wow, the subdued voice, her reaction to her plight, her future; well done, Kate. Now Lydia.
Oh, Lydia. The rebellious, free-spirited youngest Howland. The only one who did not finish school, moved to the other side of the country to follow her passion, her dream versus the family "business": doctor, lawyer, other highly esteemed profession. Somehow, Lydia is the one I connected with the most [also lends the best support to Julianne]. She is the most sympathetic, understanding, "indulging" to Alice, and very present throughout this "downward spiral" -- they grow the closest, they Skype continuously throughout Lydia's stay in California. As for that monologue. What can I say? If all her scenes and dialogue were to be removed right now, and just the monologue stayed...I'd still be ecstatic. That ending monologue is the perfect sum-up to Lydia: the delivery, the tone, the facial expressions, that break in her voice! The last 3 lines between Alice, whose condition rapidly deteriorated, and herself with liquid glass eyes and most tender expression, "it's about love" -- touching, twists+squeezes your heart, in such a good way. Kudos, Kristen.
How does one "quantify" such a movie? You can't. The feelings it generates is indescribable, unique to the viewer. As Julianne Moore mentioned during the Q+A, can you do it in a 90-minute film? Yes. Yes, you can. I wanted it to be longer, yet over as soon as possible. It drew the most visceral, raw, compassionate reactions I was not really prepared for; it stuck with me on my never ending 3hr drive home (ps made it in 2). You really empathize with Alice, the topic of Alzheimer's, and how close to home it really hits. Yet... Yet, you can't help but apply to your own self. Think what you would like for yourself. I'd trade cancer over losing my memories and inherently my life with my most loved ones any day. Thanks for the introspective inspiration, Alice.
••
Cinematografo
, Gianluca Arnone: Westmoreland and Glatzer's choice ends up cutting off a familiar drama that's vaguely explosive and to reduce the space dedicated to the family members, each one of them potentially interesting and portrayed by great actors (Alec Baldwin, Kate Bosworth, Hunter Parris -
and most of all - Kristen Stewart, who keeps getting better and better
). (translated from Italian by
@catrux
)
••
Film
, Mattia Pasquini: Even Alec Baldwin, often underrated and -
the indredible ? - Kristen Stewart, who will surprise the too many people who still make fun of Bella
, the vampire from Twilight. (translated from Italian by
@catrux
)
••
Metamagazine
, Francesca Bini:
Kristen Stewart is artistically more mature than ever.
(translated from Italian by
@catrux
)
••
Schermaglie
, Vincenzo Riccobono: [..]
charismatically portrayed by Kristen Stewart
(also really good in Sils Maria, Assayas' last movie, where she faces Juliette Binoche in an intense generational encounter). (translated from Italian by
@catrux
)
••
Silenzio in Sala
, Valentina Pettinato: [..] and
a wonderful Kristen Stewart
. (translated from Italian by
@catrux
)
••
il Centro
: [..]
an outstanding Moore and a just as convincing Stewart.
(translated from Italian by
@catrux
)
••
The Washington Post
, Alyssa Rosenberg: "Still Alice," which will have a limited Oscar-qualifying run in December before opening wide in January, deals with a different trajectory of illness. Dr. Alice Howland (Julianne Moore) is still teaching, still running and still enjoying the company of her husband, John (Alec Baldwin), when she is diagnosed with rapidly progressing early-onset Alzheimer's disease.
Unlike in "The Theory of Everything," Alice's condition deteriorates rapidly. And John does not falter under the burdens of her care. But the real revelation is how their daughter Lydia (
Kristen Stewart, in a performance of subtle warmth that ought to shame her detractors
) responds to her mother's illness. Lydia is an aspiring actress who feels alienated from her academic, stable, professionally oriented family, and her mother's illness draws out what is best in her: her patience, her eye for compromise and her sense for how art can reach someone who is slipping beyond language.
••
Awards Circuit
, Clayton Davis: Rating 3,5/4
Julianne Moore and Kristen Stewart are nothing short of magnificent in this emotional drama
It's hard to put into words why "Still Alice" from writer/directors Richard Glatzer and Wash Westmoreland is as effective as it is. A cinematic experience that will pull you through the ringer, similar to other tearjerking efforts like "Terms of Endearment" or "Stepmom," the film is a heartbreaking measurement of storytelling that is one of the surprising gems of the year. Helmed by a magnificent performance by Julianne Moore, "Still Alice" dodges most of the cliché tropes of disease-ridden dramas with spunk and warmth. It's not just about the struggle of Alice (Moore), it's also an in-depth and informative medical drama that not only breaks your heart, but provide valuable information and sensitivity to anyone who may know or will know someone in the future.
The film tells the story of Alice, a brilliant professor that is diagnosed with early on-set Alzheimer's disease at the age of 50. Terrified of the future, and the fear of forgetting the life she's created, "Still Alice" reflects not only on the ramifications of knowing such knowledge of your eventual demise, but how it affects those who know and love you. If your loved one was stricken with such an illness, would you, rather could you stand by their side no matter what? It's easy to answer with the socially acceptable response until you're faced with such a question.
"Alice" inhabits a simplicity that almost feels too uncomplicated and transparent to warrant a positive take but alas, here we are. Glatzer and Westmoreland create a sensitive, well-intentioned examination of a woman struggling with early on-set Alzheimer's disease. May sound like shameless, factory-standard Oscar bait, but its unlike any movie you'll see this year, dealing with delicate subject matter in a tender way. They cover different angles of the topic at hand without getting too preachy. Of course, this is mostly due to the brilliance of four-time Academy Award nominee Moore, but she's not the only one on her A-game. Co-star Alec Baldwin, who plays Alice's husband John, showcases one of his most layered portrayals yet. Internalized, disturbed, but very compelling in the way he chooses to execute his feelings. Baldwin's mannerisms and antics have not been put to better use in quite sometime.
Kristen Stewart continues to revitalize her image as an actress. "Clouds of Sils Maria" and "Camp X-Ray" are terrific examples of her talents put to great use but what she achieves as Lydia, Alice's youngest daughter is nothing short of spectacular. Glatzer and Westermoreland understand her abilities and limitations but heighten them to stunning results. If Stewart continues on this path, she could easily become one of our greatest working actresses. She's certainly one of the most exciting at the moment. Stewart is a gift.
The film can feel like a factory-standard creation passed over by the TV networks at times, mostly due to the style in which its shot. Cinematographer Denis Lenior keeps things straightforward but isn't adventurous enough to stand out in the crowd. Film Editor Nicolas Chaudeurge should also take a few cues from the playbook of Pietro Scalia, Stephen Mirrione, and Richard Marks, editors that know how to milk a scene for everything its worth. There are moments that will surely create a weep-a-thon in your seat, but there are missed opportunities to really push the audience over the edge. Composer Ilan Eshkeri however, takes his cues from famed musicians like John Williams and Howard Shore to swell the tearducts to maximum capacity.
Overall, "Still Alice" is a very rewarding experience, wrapped in a blanket of emotions held by Julianne Moore and Co.. It's one of those rare films that makes you think and gives you a debate to have with your loved ones. A deep, human movie that doesn't shy away from baring its soul and the vast complexities that come with it. Just plain great.
••
Variety
, Tim Gray: Julianne Moore racked up career-high applause at Toronto for her skillfully calibrated work as a professor facing early-onset Alzheimer's, and
her scenes with Kristen Stewart, a solid supporting actress prospect, are among the film's most quietly moving
.
••
@RKMovieNews
: STILL ALICE was a beautifully touching film that explored the concept of self in the wake of a debilitating illness. It was about family and most importantly about love. The film stayed very true to its book origins about a Columbia professor who is diagnosed with early onset Alzheimer's disease. Julianne Moore killed it as Alice Howland. Her strength and later vulnerability were heartbreaking to observe. Alec Baldwin was wonderful as her ambitious husband who longed to have the wife he had always loved back. In truth, I thought the film made him a lot softer than the book did.
Kristen as Lydia was a perfect fit and I could see in her small and classic ways how tightly she tried to wrap her emotions back as she watched the strong woman she always knew, deteriorate before her. Kristen was absolutely brilliant at this.
Hunter and Kate were both wonderful in their small but important parts as Alice's other children, Anna and Tom.
The elements of the movie that really stood out for me was the relationship between Lydia and Alice. Julianne and Kristen were brilliant in their portrayals of the first strained relationship between mother and daughter, that turned into the one that was most meaningful. These two were at times extremely funny and realistic. Something that as mothers and daughters we can identify with. And then I would see the sadness in Lydia's eyes when Alice forgot who she was. My heart broke for both of them.
The speech that Alice gave to the Alzheimer's meeting was so emotional that I'm positive there was not a dry eye in the theater.
By the end of the film, when Kristen as Lydia is reading to Alice and then asks her mom what the story is about, her mom struggles for the words but finally says, "love". At that point what was left of my heart shattered as Lydia's eyes watered and she nodded, "yes, it's about love". Lydia knew at that point that Alice didn't remember her but that didn't matter to her because she wanted her mom to know how much she would always love her. It still makes me emotional just thinking about it.
This film is truly another gift to the masses and a call to action for the fight against this deadly disease. Please see this movie if you can.
••
Film School Rejects
, Allison Loring: Rating A-
As Still Alice begins, we see Alice celebrating her 50th birthday surrounded by her family, and it's clear she's the strong matriarch holding this group together. Whether discussing her daughter Anna's (Kate Bosworth) desire to start a family, mediating a conversation between her son Tom (Hunter Parrish) and husband John (Alec Baldwin) or explaining why her youngest daughter Lydia (Kristen Stewart) is absent from the event, Alice is the pillar everyone looks up to.
The Howland family is an eclectic bunch and the actors have a natural and warm chemistry with one another, making them feel like a true brood that have spent many years together, but the film stays focused on Alice as she deals with (and descends into) her diagnosis. It is a choice that allows Moore to truly sink into the role to create a well-defined character that she slowly strips down as Alice's disease takes over.
Under the direction of Richard Glatzer and Wash Westmoreland (who also adapted the screenplay from Lisa Genova's novel of the same name), Still Alice is a slow burn that uses subtle moments to show how Alice is still there, but definitely changing. Alice will seem like her normal self, smiling at her daughter and making conversation, until you realize that Alice thinks she is talking to a stranger, not her own child. Moore fluidly shifts between the Alice we meet at the beginning of the film to someone who becomes a patchwork of her past self — sometimes she seems like herself, until a confused glance or question will suggest otherwise.
There are no sweeping orchestral swells meant to drive you to tears here. Still Alice instead takes its time to tell a story that is honest and provoking, but no less emotional. We watch as Alice fights to hold on to the woman she knows she is, and it's devastating to watch the little moments that prove she has no control over what is happening to her. When Alice loses her way in her own house, watching Moore panic between knowing she is lost and knowing she shouldn't be is both mesmerizing and heartbreaking.
In many ways, Alice begins to turn into a lost little girl who is fascinated by the world around her, but never sure of her place in it. Glatzer and Westmoreland use natural moments like Alice meeting her grandchildren to show how someone in Alice's condition can still appreciate tender simplicity, and it's in these quiet, unassuming scenes where Still Alice is able to deliver its true emotional impact.
While supported by an impressive cast, Alice's family members are sometimes given little to do other than sit back and watch as Alice fades away. When John, Tom and Anna discuss the best way to move forward and care for Alice, they are set out of focus in the background, further suggesting how they are becoming more and more removed from Alice's life.
One of the film's best scenes has Lydia reading to Alice, and the love between them and the impact of Alice's changed demeanor is palpable. Keeping the focus of the film on Alice makes sense and certainly works, but Still Alice would have also benefited from a few more scenes like this.
Still Alice almost feels like a documentary instead of a narrative feature the way cinematographer Denis Lenoir keeps things brightly lit, feeling like you are glancing in on a family instead of watching a film. Ilan Eshkeri's piano and string filled score adds a subtle influence that almost sounds like the music you would expect in a romance, and in many ways it is as Alice learns to love and embrace herself knowing the memories of who she is will start to slip away. Eshkeri wisely keeps the music from manipulating the emotions on screen (sometimes removing the music all together), allowing the characters to deal with their situation in a way that is raw and honest and again reinforcing the "fly on the wall" feeling Glatzer and Westmoreland have keenly established.
The Upside: Immersive performance from Moore; narrative is a slow burn full of honest and real moments; crisp cinematography; beautiful score that supports without overly influencing the emotional impact of the film.
The Downside: Underplayed supporting cast that could have used a few more meaty scenes.
On the Side: Every 67 seconds someone in the United States develops Alzheimer's and almost two-thirds of Americans with Alzheimer's are women.
••
Such Moving Pictures
, Clayton W: It would have been so easy for Still Alice to go wrong a dozen different ways. Stories about life-changing diagnoses are plum ground for melodrama and sappiness. These are the tales that activate our tear ducts, sometimes through manipulative means. Not so here. Richard Glazer and Wash Westmoreland have brought Lisa Genova's novel to the big screen with startling subtlety. Yes, Julianne Moore carries the film on her able shoulders, but her performance is just the main piece of a film that delivers on multiple fronts.
Moore plays Alice, a linguistics professor who is diagnosed with early-onset Alzheimer's, a rare occurence at her age. Her family rallies around her, even her rebellious youngest pursuing an acting career in Los Angeles, Lydia (Kristen Stewart). An expert on the way humans acquire language, Alice begins to lose control of her words, and her world. "It feels like my brain is fucking dying," she tells her loved ones, as her memory lapses more and more, and familiar places become foreign. She must "come out" again and again, as the situation comes into focus and every aspect of her life becomes more complicated.
Glazer and Westmoreland do a fine job of reflecting Alice's disease cinematically. The camera often focuses on the back of Alice's head, trying to penetrate through to her foggy mind. We are frustrated by the lack of cues from this perrspective, just as Alice is by the words that dangle in front of her but can't be reached. The use of shallow focus is expert, signalling how the world becomes unknowable, and how trapped within herself Alice is.
Moore has led one of the most impressive careers in Hollywood, defying typical Hollywood rules about age and beauty, continually proving to be among the best things about the movies she's in. She has straddled the worlds of drama and comedy, film and television, and has proven herself adept in any realm, on any budget, in any genre. Here, she gives perhaps her best performance, a tightrope walk of subtlely and power. All it takes is a miniscule change in her facial expression for us to know that Alice is in the midst of a memory lapse; her identity splinters as she becomes a student in the art of losing. Moore is heartbreaking, genuinely so. She never goes for the Big Oscar Scene, never showboats. She keeps the drama on a personal level, bearing the wear and tear of routine and family matters with what dignity can be salvaged in the face of such a tragic disease. The way Moore evinces Alice's maternal instinct, and pride in who is is and what she has done, is beautiful.
Kristen Stewart is at her best, doing her best work since The Runaways as the no-bullshit member of the family.
While the rest of the family walks on tiptoes or whispers behind Alice's back, Lydia boldly faces the music. Alice's condition gives the two a chance to reconnect, and their shared scenes are some of the film's most emotionally satisfying.
It's a very emotional, and satisfying, movie. I can't remember the last time a movie gutted me so. The cruel irony of the situation, the fragile family dynamics, the gradual loss of self - Still Alice doesn't shy away from the brual reality of being really sick. It's unfair, bizarre, and tragic. Here, it's the core of a heart-wrenching story, well and tenderly told.
••
Chapter 1, take 1
, Sim Carter: I shared a clip from the film Still Alice starring Julianne Moore and Kristen Stewart last week and told you I scored a ticket to 11/13 screening at the AFI film festival. It was the last day of the week long festival, held at the Chinese Theaters at Hollywood & Highland—not to be confused with what was formerly and famously known as Grauman's Chinese, where all the stars have their footprints in the cement, just a few doors down. Hollywood and Highland is more like a big, garish mall, overstuffed with shiny things to buy, and places to eat. For the most part these are the exact same shiny things and places to eat that you'll find in your hometown or the nearest large city. But it's in the heart of Hollywood so there's that. I go there so rarely I always feel like a tourist anyway; it's hard to ignore the studly Superman in costume asking if I want to take a picture with him. No. I don't. Pissed he thinks I'm a tourist or a sucker. Thanks anyway.
It's a bit of a kick seeing a movie at a film festival isn't it? The over-abundance of volunteers standing around in clutches in their AFI Fest T-shirts, the plastic encased credentials hanging on lanyards around their necks. They feel special and frankly there's something about seeing a film before it officially opens that always gives me a little thrill too. Like I'm finally one of the cool kids. I'm not that cool though, otherwise I would have been at last night's screening of Still Alice, the one where the actors were there for the Q&A. Today's screening is celebrity free, just a bunch of your everyday movie fan types. The guy next to me, young, in yellow jeans and red shoes that look like Converse but I think they're trendier and more expensive, has been every day this week. He says he's exhausted but he's got his ticket for Foxcatcher, the final presentation of the fest, screening tonight. The woman on my right is a talker, she's whispering to another woman she met and made friends with while they were waiting in line as the program director introduces the film, assuring us that we are in for something special, a beautiful movie about a family's struggle with a difficult situation, filled with beautiful performances.
There's something about the tone of his voice — an almost indiscernible catch in the throat, maybe — that makes me wonder if I've made a mistake. Maybe this movie will be too hard to sit through, to see in public; I don't want to break down in wracking sobs in a crowded theater, surrounded by strangers, a boy in yellow pants and red shoes, a woman who talks too much.
When the curtain opens, the first thing I see is a promo for AFI; it's a young Sophia Loren singing and dancing in a clip from an old film I've never seen but I know the song she's singing and I forget my worries. I'm at the movies. Tucked into my purse is a wad of toilet paper I grabbed from the women's room just in case. Naturally I forgot to bring tissues. I almost always do.
I don't know what Still Alice will be like for you, whether it will be as intense and powerful and emotionally moving as I found it to be. I think if you have someone you love who's been affected by the disease, your emotions may be magnified, multiplied to the power of 10. The same probably holds true for readers of Lisa Genova's gut-wrenching book, many of whom will flock to see this film when it's released countrywide in January. Because the performances by Julianne Moore as Alice and Kristen Stewart as her daughter Lydia are both so powerful, SONY is also releasing the film for a brief Academy Award qualifying run in December.
I think I've shared in this space that my mother died a couple of years ago, that she'd been living with Alzheimer's for years. While my mother had your basic garden variety brand of Alzheimer's, Alice—played to perfection by Julianne Moore—has a much rarer form of the disease, Early Onset Alzheimer's. While my mother was in her seventies when we knew for sure, Alice is only fifty. She's still a vital, attractive, and brilliant woman, working as a professor of linguistics, giving speeches, conducting seminars. Language is her life; watching her lose it is as horrifying to her as it is to us. Part of the pain comes from Alice's awareness of the problem, her understanding of the disease and how it will progress. She uses her intellect to compensate for her memory loss, just the way many of use post it notes or our phones to remind us of appointments to keep and things to pick up from the market. But Alzheimer's is progressive and unrelenting in its gobbling up of the brain, and Alice's intellect disappears and with it her ability to have any independent control of herself. You can't use your phone to remind you of a task when you've forgotten what a phone even is. Julianne Moore tracks that decline flawlessly. From the first look of confusion on her face to where she behaves like a docile child —there's a scene where she and her husband (Alec Baldwin) stop for frozen yogurt at Pinkberry's and she orders what he orders because she can no longer remember what she likes — to the phase where we see her, vacant, checked out, living deep inside her own head — Julianne Moore reminded me over and over again of my mother.
How could I not cry, tears just streaming quietly down my face in recognition as Baldwin helps Alice dress, pulling on her pants as she stands there quietly like a good little girl, when I remember doing the same thing for my mother? How could I not cry as Alice doesn't know her own daughter when I remember the first time that happened to me. I was walking with my mother and my ten year old son and my mother turned to him and asked him in all seriousness 'Do I know your mother?' Of course I cried, and instead of trying to dry my tears, attracting attention, I just let them flow. They were quiet tears and it was dark, hardly anyone would know. Maybe my neighbors but it didn't matter. They were equally moved. Throughout the film the woman who talked too much couldn't stop making little quiet outbursts: Oh no! Ohhh! The boy in the yellow pants grabbed his jacket and held it to his face; I think he was crying too.
I'm glad the filmmakers didn't take it further down the line in the progression of Alzheimer's disease, to the last and worst stages, where all the money in the world won't buy you nursing care that takes away the fact that the loving, laughing, vibrant, proud person you knew is gone. They've been reduced to wearing diapers, to muttering incomprehensible nonsense sentences if they can speak at all, that there is no way to keep them looking happy and engaged, that they'll sit alone, silent, and unresponsive and their eyes will close and their heads will nod and the person you knew isn't Still Alice or Still Enid or Still Your Parent. And nothing you can do will change that.
Phew. Sorry for being so maudlin, I know this isn't exactly helpful in terms of being a 'review' but it was a tough one to watch, and it sent me to a pretty sad place. Will it be as tough for you? I don't know. I know some of you avoid going to those sad, dark places, it's not what you look for in entertainment. If that's the case then skip Still Alice. Yes, it's incredibly moving and resonant for those of us who have a personal connection to the disease, but it was so well done, the material is so affecting and the acting so stellar, I think you'd have to have a pretty hard heart not to be deeply, deeply moved. It was, as the program director said, a beautiful film full of beautiful performances. Most notably Julianne Moore's whose face and body changed just as slowly but inexorably as did her mind. She was stunning in what has to be the most important role of her career.
Kristen Stewart, who I'm only just discovering having avoided the Twilight films, did a wonderful job as the daughter Lydia. Stewart was understated and believable in the role; her eyes speaking volumes. Her approach felt real to me.
I know I always talked to my mother matter of factly, I made sure I kept my emotions in check when I was around her, no histrionics. Alec Baldwin was terrific, as was Kate Bosworth as Alice's older daughter but make no mistake, it's Julianne Moore's movie. Her tour de force. And first in line for an Oscar nomination.
••
One paragraph review
, Oscar Rodríguez Górriz: Rating 9/10
"Still Alice" is a slow burning drama. At the beginning it feels like another forgettable movie with great performances, but as the plot unfolds you find yourself hooked and immersed in this moving story. Julianne Moore at her best; one of the most honest performance that I've seen this year. And
Kristen Stewart is on the right path, I'm glad that she is moving her career away from Hollywood blockbusters (at least for a while) and taking these kind of supporting roles with a lot of layers.
"Still Alice" is one of those movies that go so deep into the audience that you will remain seated during all the end credits just listening to the music and digesting the movie.
••
Complex
, Brian Formo: Rating 3,5/5
Julianne Moore is a ferocious crier. About one-third into Still Alice, the tear bomb hysterics we've seen in Boogie Nights, Magnolia, Short Cuts, Hannibal, Far From Heaven—seemingly, every Moore film except The Big Lebowski and Children of Men—​start coming. Alice Howland (Moore) has just told her husband, Dr. John Howland (Alec Baldwin) that she has an upcoming series of tests to determine if she has early onset Alzheimer's disease.
Not to make light of that horrific familial situation. I bring up many of Moore's previous tears because for about half the runtime of Still Alice, you feel bad for her because, as a moviegoer, you've probably established a relationship with Moore and grown to love her in a way. We're not given a deep understanding of who Alice is before she starts losing her facilities, but we're drawn to watch as they all escape her.
When Alice's sight goes fuzzy during a run on campus, and later she cries to John about feeling like thoughts are dropping out of her head, we're watching Moore, including her trademark mega-sob. But by the time Alice starts losing more memories, and becoming a more distant, shell of herself, I no longer saw Moore, and I started to sob. A lump in my throat felt permanent. To call Still Alice a tearjerker would do it a disservice. It's a punishing film, made more horrific because Moore, whom we trust and love, is able to make us feel Alice's futile attempts to focus on thoughts that are drifting further and further away.
Still Alice is akin to putting a movie star in Amour, but while Alice is less handsomely shot than Michael Haneke's film, it has a lot more actual "amour." In fact, "love" is the last said word in Wash Westmoreland and Richard Glatzer's film. And it's earned. Each family member is present, but struggles with how to cope with Alice's continual losses. It's Lydia, the more inquisitive, the youngest, the child gone solo, who doesn't shrink but actually begins to grow in her relationship with Alice.
Amour was about how long can someone watch a loved one suffer. In a way, through Lydia, Still Alice is more concerned about the balance of knowing exactly what someone is suffering feels like, and being present with them during it. And although it's a little clunky and one-note with the set-up, Still Alice achieves an almost perfect landing on all the harder second and third acts: Alice's feeling of being trapped by her mind, Anna and her husband's sense of being trapped by her illness, and Lydia's ability to communicate with her mother in ways she couldn't before. It makes sense that this is where the film feels equal in both dread and hopefulness. The writing-directing team is a married couple. One half of the duo (Richard) was diagnosed with ALS in 2011, just after they'd been hired to adapt Lisa Genova's bestselling book. Throughout adapting, Richard lost more and more motor skills, and had to communicate through an iPad voice system.
Perhaps it's their personal reverberation from their real life relationship change that elevates Still Alice from being a disease movie of the week. But it also helps to have a beloved performer like Moore take the audience's hand. She lets go when she's ready to lose herself completely.
••
Fanboy Comics
, Steven W. Alloway: There's a poignant moment in Still Alice wherein the titular character, played by Julianne Moore, says, "I wish I had cancer." When you have cancer, everyone wears ribbons in your honor, raises money, and gives you their utmost sympathy and, more importantly, respect. Alice doesn't have cancer. She has Alzheimer's. Instead of being embraced by society, she's made to feel embarrassed by the things she says and does. Instead of people's sympathy, she gets their pity, which is not the same. And, instead of destroying her body, the disease takes away her mind, piece by piece.
This last issue is particularly difficult for Alice Howland—Dr. Alice Howland, renowned professor of linguistics. She's used to being brilliant and independent, and now she has to rely on others for everything. Perhaps more importantly, she's used to having a great command of language, from analyzing its acquisition in children to playing Words with Friends with her eldest daughter, and now she has more and more trouble communicating with the people she loves most.
This movie is the most accurate portrayal I've ever seen of what Alzheimer's is really like. A lot of movies that deal with it concentrate on one stage—generally one of the later ones, wherein the person forgets who their family members are, or has unforeseen outbursts of anger and hostility. Still Alice shows the progression of the disease, which is much more powerful and much more difficult to watch. It starts at the very beginning—you can see the first subtle symptoms from the opening scene—and spans several years, showing Alice's decline to the point where she needs total care.
She's not helpless on this journey. She's a brilliant woman, and she finds ways of fighting back, of soldiering on despite her disease. When a task becomes difficult for her, she comes up with a different way of doing it, to accommodate the setback. She does exercises to keep important information in her memory and uses her smartphone to remind her of appointments, names, dates, etc. that she would otherwise forget. But, it's a losing battle. This movie cannot end happily. Even the medication she takes doesn't slow the progression of the disease, but merely alleviates the symptoms. Slowly but surely, despite all her efforts, Alice loses herself, and neither she nor anyone else can do anything but watch it happen.
Julianne Moore is phenomenal in the lead role. I sincerely hope she gets an Oscar for her performance. We see most of the movie through her eyes, watching her struggle and gradual descent, one painful step at a time. She doesn't carry the movie alone, though. Her family members also play important roles, each dealing with Alice's disease in their own way.
There's Kate Bosworth as the eldest daughter, who has little time for such things, as she's busy with her own life, trying to have a child. As such, she's often curt and condescending to her mother. There's Kristen Stewart, the rebellious younger daughter who has a slightly tempestuous relationship with her mother—and even more so with her "Miss Perfect" older sister—but who really wants to do right by her, if she can. And, finally, there's Alec Baldwin as Alice's husband. He, especially, may seem callous and unsympathetic towards his wife's plight, but he's not. He genuinely cares for her, loves her, wants to do whatever he can for her. But, he hates seeing her this way. He doesn't want to admit that this is happening to the woman he loves, and certainly doesn't want to witness it. Though I don't agree with all of his actions, I also can't say I blame him.
To some extent, this is the way it is with all of Alice's family. They come off as uncaring sometimes, but the truth is, they just don't know how to treat her or how to act around her. It's a delicate situation, and some of them handle it badly. That doesn't mean they don't still care.
This was a difficult movie for me to watch, as I have somewhat of a personal connection to Alzheimer's and watching a loved one slowly succumb to it. I was glad I did, though. It's a powerful film and very well made. One thing that struck me in particular was the camerawork. It's often designed specifically to give a feel of confusion and uncertainty. There's an excellent use of out-of-focus images to convey things that are so close, but still quite can't be grasped. In other scenes, important objects or characters are just out of frame, creating a palpable sense of frustration at not being able to see the thing that's being talked about.
Not only is this film an excellent and accurate portrayal of the struggle of Alzheimer's, it's also a very important reminder. As the movie progresses, Alice loses more and more of her memories, more and more of what made her who she was. But, she's still Alice. At every stage in the disease, there's still a spark left underneath it all, of who she was—who she still is. She can make jokes about it at times and let the whole family have a laugh, not at her, but with her. Even when she's at her worst, sometimes something shines through from underneath, and she reacts to what's going on in a way that only Alice can or would.
That's one of the things that makes the disease so difficult to watch. There are good days and bad days—and then the good days become good moments, and those moments grow further and further apart. But, every once in awhile, just for a second, they do something or say something that makes you see them for who they are underneath, the person you know and love. And, you realize that they're still there. Still Alice manages to capture that feeling a couple of times, in a way that few other movies have.
If you've had the misfortune to watch someone you love succumb to Alzheimer's (as many of us have), then you might not want to brave watching this movie. I wouldn't blame you for finding it difficult. But, believe me when I say that it's an incredible film, and though its heartbreaking, it's also important and worth seeing. If you haven't had to deal with Alzheimer's firsthand, then you should definitely watch the film. It paints a very real picture of the struggle, both of the sufferer and of their family, and can help you understand what it's like. And, when it comes to Alzheimer's, we could all use a little more understanding.
••
Shake The Glitter
, Lauren Jiggins: Still Alice, starring Julianne Moore, Alec Baldwin and Kristen Stewart is tipped for various Oscar nods this year, in fact just this morning it was announced that Julianne Moore was up for the Independent Spirit Award best actress nomination. This is well earned, as according to the directors of the movie, Wash Westmoreland and and Richard Glatzer, Moore "was put in touch with people in the field and was able to visit support groups, form friendships with people with early-onset Alzheimer's, and even go through the testing procedures used by neurologists to diagnose Alzheimer's just as a patient would. By the time she came on set, it was all there."
The film is something that you would imagine is close to the hearts of both directors – who are married – as Glatzer himself is living with ALS, a degenerative disease. This, although sad wouldn't give the film the Oscar buzz it has received though, and along with the superb acting, I believe it is the story that gives the film that special something. To date (Nov. 2014) it stands that 5.3 million people in the US have Alzheimer's disease, every 70 seconds someone in America develops Alzheimer's and 54% of the U.S. population has been touched in some way by Alzheimer's disease. With this, it's hard to ignore the fact that the movie is reaching out to a huge audience, and it is certainly helping the awareness of the disease. We see Julianne Moore as Alice, a woman who is healthy, intellectual and raising a family have her life cut short in a matter of seconds, and her family – Husband John (Baldwin), son Tom (Hunter Parrish) and daughters Lydia and Anna (Stewart and Kate Bosworth) are left struggling to pick up the pieces while worrying for themselves when they hear it's genetic. Sadly this is now a portrayal not just about modern day America, but about so many families in the world, and that's what makes the story all the more touching.
There are moments in the film everyone can relate to real life – children clearly shaped by the way they see their mother, a married couple devoted to one another, and the way family gets stronger in times of need – and this just makes 'Still Alice' even more heartbreaking.
Watch out for exceptional performances from Moore and Stewart, they both work amazingly together and you see them develop with one another over the course of the movie
, and Moore is captivating in her own right as you see Alice's life fall apart before her eyes. The film is brought into the modern day (the book is set a good 10 years ago), and for once we see a film portraying modern technology as something positive – Alice uses her phone to write questions to herself to answer each morning – although there is the question lingering of 'would this have been picked up sooner if my phone didn't have to remember for me?'.
The film has plenty of haunting moments, including when Alice, who cannot remember her children's names or how to spell 'October', finds a video recorded on her laptop – it's supposed to be the last message she'll ever see, when her mind has already deteriorated to a point where she can no longer continue living. The moment when you see the person on the video is her earlier self is compelling, and will definitely stir raw emotions, along with the moment Lydia asks her to describe what alzheimer's is like, all she can say is "I can see the words hanging there, and I can't reach them, and I don't know who I am anymore." What will truly sadden everyone about that moment is that we've all been there – having an identity crisis – but Alice can't pull herself back, we know it won't get better and this character we care for will be fading before our eyes.
This film is hard to watch whether or not you've been directly affected by alzheimer's, but as hard as it is to watch – you won't be able to stop. I wish the cast and crew all the luck with awards season because god knows they deserve it after the beautiful tragedy that is Still Alice.
••
My Life in Film
, Nicole A. Davis: Based on the 2007 novel by Lisa Genova, this Toronto Film Festival release places Julianne Moore at the centre of an emotional tour de force that illuminates the experience of Alzheimer's disease.
Moore plays Alice Howland, a distinguished linguistics professor at Columbia University, who is particularly fascinated by the relationship between memory and communication. Signposting her demise from the get-go, the film carefully drops hints that Alice's sharpness might be going blunt. A conversational mistake here and there, a name forgotten or a momentary fumbling for words. The stakes are immediately clear – this is a woman whose everyday existence depends and thrives on her grasping of language, just as she appears to be losing it.
Intellect is Alice's currency, her way of understanding the world – she supports her daughter's law career and her son's medical career, but her youngest daughter's aspirations to become an actor are deemed frivolous and unrealistic. Everything she has defined herself by centres around academia, and use of the mind. The devastation of Alice's diagnosis of early onset Alzeheimer's is compounded by the possibility of it being hereditary and the risk that if her children were carrier's they would be 100% likely to also suffer from the disease. Eventually, when Alice's lectures become increasingly erratic and muddled and she's forced to let her employees know of her medical condition, so unravels a fear of being redundant and useless.
There is a quote from The Great Gatsby that seems to illustrate Alice's experience well: "he must have felt that he had lost the old warm world… He must have looked up at an unfamiliar sky through frightening leaves and shivered as he found what a grotesque thing a rose is and how raw the sunlight was upon the scarcely created grass". Everything that seemed stable and simple now appears to her as strange or complex; her familiar sky has become incoherent. The film does a brilliant job of communicating this gradual deterioration of the mind.
When Alice goes for a run for example; she loses her bearings. Moore's frightened and disoriented expression becomes all the powerful considering this is her normal, repeated route. Camera movement and cinematography firmly locate our perspective with Alice's, employing blurred visuals and 360 degree rotations, as Alice becomes increasingly panicky, to simulate her sense of being untethered and utterly lost. This is also effectively contrasted throughout the film with crisp and focused close-ups; of ice on a branch, seashells in a bowl, etc., so when specifics become increasingly difficult for Alice to grasp and her mind become vague and unfocused, the cinematography becomes all the more potent.
It's tempting to call Julianne Moore a revelation, because her performance is so convincing, nuanced and heart breaking. But of course, Moore has been giving us stalwart, versatile and brilliant performances for two decades. Her Alice is at once brave, terrified, defiant and practical about her inhibited future. As she painstakingly loses grip of her reality, Moore's eyes become more vacant, her skin more colourless, her body cowers in frailty and vulnerability and finally, she loses her beloved words. It's a transformative performance – physically and intellectually – that won't fail to tug on your heart-strings.
Alec Baldwin meanwhile plays a subdued and supportive husband, whilst their three children: Anna, Tom and Lydia are depicted by Kate Bosworth, Hunter Parrish and Kristen Stewart respectively. As an ensemble they illuminate the variety of responses to dealing with Alzheimer's, from obliviousness to compassion to pandering to the disease. In part down to the precision of the script, the cast provide impeccable, subtle support without ever stepping on Moore's toes.
Stewart in particular reveals an attentiveness and vulnerability to her performance, as Lydia grows from being a distant, struggling actor to an emotional pillar of the family, and someone on whom Alice can rely. Her scenes with Moore are a testament to the virtue of stripped back storytelling, and together they articulate a stunning depiction of a mother-daughter relationship, tested by tensions, disparities and misunderstandings, but united by a profound love for one another.
Still Alice also goes a long way to changing the perception of people living with Alzheimer's. There's a particularly heart-wrenching speech that Alice delivers at an 'Alzheimer's Association' conference, which reveals her keen awareness of being patronised, ridiculed or victimised and how removed she becomes from the decision-making process which affects her life. But it's in the quiet moments of despair and misrecognition that Still Alice is at its most compelling and devastating, when Alice suddenly mistakes Lydia for someone else or when her sense of time lapses. You can't help but feel empathy and sadness for her struggle (it goes without saying that tissues should be close to hand).
The delicacy and sensitivity with which Alzheimer's disease is realised could in part be down to the fact that writing/directing couplet Richard Glatzer and Wash Westmoreland have had to deal with Glatzer's diagnosis of ALS or Lou Gehrig's disease. Whilst Alzheimer's attacks the mind, and ALS ravages motor-neurone functioning, their understanding of incremental setbacks and adjustments and of living with something that alters your perception of your self is very clear to see.
The soundtrack predominantly consists of piano or string compositions, which layer a melancholy into the narrative at times unnecessary. But there's also a discordant buzzing or tense crescendo in moments of memory lapse or crisis, that reiterate Alice's confusion, to terrifying and poignant effect. Integrated into the narrative are also snippet flashbacks of Alice's childhood, distinguished by a sepia-toned and grainy effect, until they eventually blur to non-existentence. This compositional synaesthesia weaves colour, sound and editing into its exploration of the disease, and work to dramatic effect to create for the audience a tangible and visible emulation of Alice's struggle. An especially striking compositional touch, was this shot to the right, where the several mirrors resonate with the idea that Alice perception of herself is fracturing.
Still Alice could be accused of putting a prettier face on the disease, choosing the elegant, athletic and 50 year old Moore, as opposed to a more senile protagonist. And in doing so suggesting that is somehow more painful and more of a loss to get Alzheimer's when you're well educated, middle-class and have everything to live for. Whoever you are and whatever ever age you are, the gradual disintegration of your memories and of all you've accumulated in life, is a harrowing experience to endure.
But ultimately, this is Alice's story and by extension, Moore's film. A story of one individual whose self-assurance and control is eroded, whose ability to remember and recall is lost, but whose intelligence and vitality will be remembered by her family, and whose memories are never entirely forgotten.
Verdict: One of the most understated, powerful and shattering films of the year. Julianne Moore gives herself over to portraying Alice and perhaps much like the disease' effect on her, this adaptation will leave you speechless.
••
Film Journal
, Kevin Lally: Four-time Oscar nominee Julianne Moore is assured another nomination—and quite possibly a win—for her beautifully modulated performance in Still Alice, the most gripping movie depiction of Alzheimer's disease since Sarah Polley's Away from Her. It's a particularly tragic (and rare) form of the affliction dramatized here—early-onset Alzheimer's, which strikes its victims at a shockingly young age.
In this adaptation of Lisa Genova's novel, Moore plays Alice Howland, an accomplished 50-year-old linguistics professor at Columbia University—a profession no doubt chosen by the author for its cruel irony, as language skills are among the first things decimated by the disease. The first hint of Alice's ailment comes during a lecture, when she suddenly loses her train of thought. Nothing any of us would panic about, but it's so uncharacteristic of this highly articulate communicator. The signs accrue: confusion about a dinner guest, and then frightening disorientation during her daily run on the Columbia campus.
Alice secretly consults a neurologist, who tests her short-term memory and delivers that devastating diagnosis. Even worse, he reveals that the condition is genetic and her three grown children have a 50 percent chance of inheriting it.
What makes Richard Glatzer and Wash Westmoreland's film special is their collaboration with Moore in creating a subjective view of the onslaught of Alzheimer's; you the viewer become intimately connected with Alice as she battles against her decline and gradually becomes disconnected from her family, her surroundings and her own vibrant personality. The filmmakers and their lead actress never make a misstep; their approach is both clinical and deeply intimate, and the emotional journey feels true and resonant.
Also heightening the tragedy is the idyllic nature of Alice's pre-diagnosis life: a successful and prestigious career; a solid marriage to an equally successful husband, John (Alec Baldwin); and a close bond with three beautiful children (Kristen Stewart, Kate Bosworth and Hunter Parrish). But there are tensions between Alice and John beyond the obvious challenge: When she loses her teaching post, she asks him to put his career on hold so that they can enjoy her last somewhat lucid months together, a sacrifice he isn't willing to make.
A pragmatist, Alice records a video to her future self, with instructions to take an overdose of pills once she reaches a certain degree of incapacity. In a remarkable sequence that will be Moore's Oscar calling card, Alice happens upon the video months later, but her memory is so intermittent that her would-be errand of mercy is doomed to fail. Equally powerful is the film's ending, a heartbreakingly poignant last connection between the vacant Alice and her aspiring actress daughter Lydia (
Stewart, giving a lovely performance
).
The filmmakers permit one great moment of triumph before Alice's light fades: an address by the former professor at an Alzheimer's conference that's likely to make you tear up just as her listeners onscreen do.
Still Alice has special meaning for the filmmakers, a married couple. In 2011, Glatzer experienced slurring of his speech and was diagnosed with ALS, a disease that attacks the body with the same relentlessness that Alzheimer's targets the brain. By the time production began, Glatzer could no longer feed or dress himself, yet he was on the set every day as co-director. That spirit of resilience and grace amidst terrible challenges infuses this understated and moving drama.
••
eFilmCritic
, Jason Whyte: Rating 4/4
One of my favorite films from TIFF this year is getting incredible attention and Oscar buzz for its lead performances by both Julianne Moore and Kristen Stewart for some of the best work in their respective careers.
And as well it should be, as STILL ALICE is an emotionally powerful and unforgettable movie about Alice (Moore), a famed professor who starts to lose her memory at age 50's and is diagnosed with Alzheimer's. We see a slight loss in her at first but eventually it gets worse, and the effects it has on everyone around her, and how through this illness she reconnects with her daughter (Kristen Stewart) whom she has never seen until now. Anyone who has had a family member with any kind of illness will be moved beyond words, but it also wonderful that director Richard Glatzer shows this topic with a lot of reality, strong characters and a willingness to show Alice's memory loss without holding back. There will not be a dry eye in the house by the end of its running time.
••
Spirituality & Practice
, Frederic and Mary Ann Brussat: Still Alice is directed by Richard Glatzer and Wash Westmoreland and is adapted from Lisa Genova's self-published bestselling novel. Genova holds a PhD in neuroscience from Harvard and is an online columnist for the National Alzheimer's Association. These credentials help explain the caring and compassionate portrait of Alice we see on the screen, which is carried home into our hearts by Julianne Moore's mesmerizing performance.
In one of the most powerful scenes, Alice delivers a speech at the Annual Dementia Care Conference. She tells the audience:
"Being diagnosed with Alzheimer's is like being branded with a scarlet A. But I am not what I say or what I do or what I remember. I am fundamentally more than that . . . Please don't look at our scarlet A's and write us off. . . . I am not suffering. I am struggling."
Perhaps Alice's most touching relationship is with her youngest daughter Lydia (Kristen Stewart) who has chosen to immerse herself in an acting career. Alice, who wants only the best for her, pressures her to go to college, but Lydia will not change her plans. And, as Alice's condition worsens, Lydia decides to become her caregiver. In the end, she is the only one who treats Alice as though she were still Alice. That bond is based on love and is a very spiritual act.
••
TimeOut
, David Ehrlich: Rating 5/5
Alzheimer's disease is a Greek tragedy: Preordained by genetics (if not the Fates themselves), the neurodegenerative disorder is an unfathomably cruel death march down a tunnel that disappears behind you and gets darker with every step. Still Alice, adapted by married couple Richard Glatzer and Wash Westmoreland from Lisa Genova's 2007 novel of the same name, is the rare film possessed with the courage required to shine a light into that abyss knowing full well that down is the only way out.
For illustrious Columbia University linguistics professor Dr. Alice Howland (an astonishingly controlled Julianne Moore, whose career-best performance lacks so much as a hint of stagy artifice), the first symptoms are subtly ominous. Just 50 years old, Alice is too young to assume that a momentary lapse might be an early sign of dementia. And then, over the length of a single devastating close-up, Alice learns that the rest of her life will be devoted to what she later refers to as "the art of losing."
After that bombshell diagnosis, there's only one direction in which Still Alice can go, and the film directly confronts the inevitability of its story. Profoundly moving but never exploitative, the script homes in on the mundane exchanges that form the foundation of our closest relationships—the particulars of a Pinkberry order, the shorthand of a text, the delay before a hug—and demolishes that bedrock in a series of masterfully precise explosions. Perhaps owing to the fact that Glatzer and Westmoreland know a thing or two about living with a debilitating disease (the former has ALS), the movie always evinces an acute understanding of how pity can be the most painful thing to feel for someone you love.
Even the script's more suspect choices, like a perpetual game of Words with Friends shared between Alice and her oldest daughter (Kate Bosworth), become avenues for the kind of shattering details that make each case of Alzheimer's its own struggle. Most resonant of all is the strained relationship between Alice and her actor daughter (
Kristen Stewart, continuing to defy expectations
), which is imbued with new tenderness when Alice's marriage to her husband (Alec Baldwin) begins to deteriorate at the same pace as her mind.
While Still Alice provides glimpses of Stewart performing plays by Anton Chekhov and Tony Kushner, the theatricality of those scenes illuminates the delicate visual style with which Glatzer and Westmoreland imbue the others. Relying on subtle uses of shallow focus and takes that run long enough for Alice to forget how they began, the story is told with such a damaged grace that it could be seen as a neurological snuff film, if not for the unyielding empathy for its characters that ultimately makes it such a rewarding experience. As tough as it is to watch (I think I cried more during these 99 minutes than I ever have in my life—cumulatively), Still Alice resolves as a beautiful illustration of why the art of losing should never be taken for granted.
••
The Wrap
, James Rocchi: Written and directed by the duo of Richard Glatzer and Wash Westmoreland ("The Last of Robin Hood," "Quinceañera,") "Still Alice" is a haunting, resonant drama. Based on Lisa Genova's novel, it's the story of Alice Howland, a wife, mother and linguistics professor who falls, terribly slowly and then terribly swiftly, into early-onset Alzheimer's disease.
Surrounded by her family, her career, and no small amount of material comfort, Alice's descent is as terrifying as it is ironic; a professor of linguistics who's studied language acquisition all her life is now unable to find the right words, but aware enough to track her downfall. Between the terror of the diagnosis and the irony of the circumstance, Alice is a part that would demand the best of any actress, not just to play it but also not to over-play it; how fortunate for us, then, that Julianne Moore, one of our finest actresses, plays the title role.
There's a possibility that the basics of "Still Alice" make it sound maudlin, or more on the frequency of a made-for-TV movie than what it is. But this is not only sensitive material handled with tact and humanity, it's also sensitive material bolstered and braced by Moore's stunning performance. It's not just that Moore has a steady and firm hand on her work even as Alice loses more and more control; it's the basic humanity of her performance that stuns you as she goes through her crises. "I wish I had cancer," she notes to her M.D. husband, John (Alec Baldwin), early on. "I wouldn't feel so ashamed. People put on pink ribbons if you have cancer."
For all the big scenes you would expect in a drama like this — the first time Alice tells her husband, the first time she tells her children (played by Kate Bosworth, Hunter Parrish, and Kristen Stewart), the meetings with her doctor as the diagnosis gets worse — it's also worth noting that every scene here is written with depth to match its force, with everyday realism to match its exceptional nature. Alice isn't above planning her own suicide; she's not above using her condition as leverage to get her actress daughter to go to college by framing it as one of her last wishes.
There's an extraordinarily tough and smart delicacy to "Still Alice," and it stretches far beyond the writing or Moore's performance or even the sympathy of the circumstance. The film superbly uses its own focus (as shot by cinematographer Denis Lenoir, "Carlos") as a device, with the world blurring and blooming into shapes and colors as Alice loses her train of thought and snapping back to crispness when — or if — she recovers her own mind from the ghostly hands dragging it down. The score, by Ilan Eshkeri ("Kick-Ass"), is also a standout, covering everything from beautiful notes in near-silence to sequences that are meant to — and do — evoke Alice's confusion and loss.
Moore's work has been earning raves since "Still Alice" debuted at the Toronto International Film festival, and with good reason: It's a careful performance, one that never steps too far forward into melodrama while at the same time never holding back. (A scene with Moore touring a Alzheimer's facility — ostensibly for a relative, but actually for herself — is a quiet masterpiece.)
All the other performers are excellent as well; Baldwin, torn between frustration and sympathy, between an extraordinary event and the need to move forward, is superb,
with Stewart a special standout as the most wayward daughter of the family, a would-be actor brought back to the fold by tragedy
.
Any drama can wring tears out of an audience; it takes a superb drama to deserve them. You'll want to see "Still Alice" to confirm that it contains one of the year's best female performances by the astonishing Moore, but it also — and thankfully — contains and embraces much, much more.
••
CutPrintFilm
, Chris Evangelista: Rating 8/10
Near the end of Still Alice, Lydia (Kristen Stewart) reads to her mother Alice (Julianne Moore) an excerpt from Tony Kushner's Angels in America: "Nothing's lost forever. In this world, there is a kind of painful progress. Longing for what we've left behind and dreaming ahead." It is a scene so emotionally devastating and poignant that one is tempted to declare Still Alice a rousing success. But do the kudos count if the most emotional moment in the film is a result of quoting someone else's work?
Still Alice details the life and illness of Alice Howland (Moore). Alice is a renowned linguistics professor, and words are her passion. So it's all the more cruel when Alice begins to suddenly forget words at random. When the problem becomes too serious to shrug off, Alice goes to see her a neurologist and receives devastating news: she has Early-Onset Alzheimer's. The diagnosis is a shock to both her and her husband John (Alec Baldwin). There's no cure for Alzheimer's, and the couple is forced to wait for Alice's mind to deteriorate.
It's a compelling set-up for a film, but the set-up is more or less all we get. Beyond the fact that Alice slowly loses cognition, there's nothing more to Still Alice. Writers and directors Richard Glatzer and Wash Westmoreland instead let us sit back and witness Alice's deterioration. At the forefront of it all is Moore, giving arguably her best performance in a career full of magnificent performances. The "suffering terminally ill hero" is the type of trope that hammy actors like to sink their teeth into with hopes of taking home awards, but Moore is so natural and so heartfelt as Alice. There's never a false moment, never an over-the-top scene of handwringing. We don't really get to see that much of Alice before her illness strikes, but Moore is so good that we are fully engrossed and sympathetic the second we find out she's sick.
Moore is assisted by some excellent performances by the actors playing her family. Baldwin, as her husband, is very reserved and controlled. It's a performance that could almost come off as cold if played a different way, but Baldwin finds the right balance–playing a man coming to terms with not just losing his wife, but also losing her mind. "You were the smartest woman I ever met," he tells Alice, and you can hear the utter heartbreak in his voice, even though it never waivers. Kate Bosworth, as one of Alice's daughters, is quite good, though given less to do in the film.
The real stand-out among the family members, though, is Kristen Stewart, as Alice's daughter Lydia. A struggling actress who doesn't get along nearly as well with her mother as her sister does, Lydia becomes the one member of the family who doesn't seem to sugarcoat Alice's illness. The others talk about it in hushed tones, if they even talk about it at all. Lydia asks questions about the illness that seem perfectly reasonable, but which result in scornful looks from her family. In one scene, she asks Alice what "it" feels like, and after giving her an answer, Alice says: "Thank you for asking." Stewart's performance is quiet, reserved, and most of all, natural. She plays off of Moore expertly.
This movie is devastating. I can't remember the last time a film affected me in a way in which few others have, and I felt like an emotional wreck as the credits rolled. But a film shouldn't rest on emotion alone, and one would have to be made of stone not to be at least a little affected by what's happening here. If only there were something more to the story–something beyond "Alice is losing her memory." Glatzer and Westmoreland adopt a few stylistic touches from time to time, such as keeping Alice in focus in the frame while everything beyond her is blurred. Most of the time, though, they adopt a standard point-and-shoot style that gives things a slightly flat feeling. Yet Moore's performance is too powerful to deny. One scene in particular really sells the impact of what has happened to Alice: right when she was diagnosed, Alice recorded a video of herself talking to herself on her Lap. Now, her cognition all but gone, Alice watches the video on her computer. The Alice in the video seems so bright and alive and intelligent; the Alice watching is lost, almost in a childlike state.
Still Alice is a good film, but it feels as if there was a "great" film somewhere within, waiting for a better screenplay to find it. There are several items in the film that just don't seem to fit; Alice has a son named Tom (Hunter Parrish), but he's barely a character. Alice's mother and sister were killed in a car accident when she was young, but this seems to have no real bearing on the proceedings. A scene where Alice gives a heartfelt speech about her illness at a conference in the middle of the film is sweet, but feels like a false "movie moment" in a movie otherwise committed to being realistic. But I can't fault Still Alice too much–I only wish the story had been something more than just a "painful progress."
••
ABC News/AP
, Jocelyn Noveck: Rating 3,5/4
When we refer to an actor's performance as breathtaking, we're usually engaging in hyperbole. Rarely if ever do we mean it actually affected our ability to breathe.
But during "Still Alice," watching the vital, sharply intelligent woman played by Julianne Moore slowly cede her mental faculties ? and, most painfully, her identity ? to Alzheimer's disease, I found myself frequently needing to gulp in big breaths of air, merely to steel myself for the next scene.
Of course this is partly due to the nature of the material. There's no way to tell a story about Alzheimer's that isn't ultimately devastating, and writer-directors Richard Glatzer and Wash Westmoreland clearly have no intention of sugar-coating the cruelty of this disease.
But as its title suggests, "Still Alice," based on the novel by neuroscientist Lisa Genova, is about one woman, and thankfully we have Moore, one of our most sensitive and nuanced actresses, in the role. She gives a warm, brave and shattering performance here ? one that's already earning accolades, and deserves many more before awards season ends.
We first meet Alice, a linguistics professor at Columbia, as she's celebrating her 50th birthday with family. Chic and accomplished, she's managed to work and travel and raise three adult kids in a beautiful home. She and her husband, John (Alec Baldwin), also an academic, live in a lovely brownstone with a great kitchen.
But one day, giving a lecture, Alice suddenly stops, mid-sentence. She can't remember a key word. She recovers nimbly with a joke, but we shudder. Back home, taking her usual jog around campus, she gets lost. The camera blurs, along with the connections in her brain. We shudder again. We know what's coming.
The meeting with the neurologist, for example, where her memory lapses become clear. Her first warning to her husband that something's wrong ? he brusquely dismisses her worst fears, as many would to protect themselves. The diagnosis of early onset Alzheimer's. The devastating news that her children might carry the gene.
Time passes ? too quickly, of course. Alice tries to keep working, but that proves unrealistic. Also unrealistic: that loved ones, in such circumstances, would behave like saints. Of course they don't. Alice's younger daughter Lydia (
an excellent Kristen Stewart
), going through a self-indulgent phase, struggles to make room for her mother's affliction. And John, as subtly portrayed by Baldwin, has trouble balancing his devotion to his wife with fears for the future ? and his own career goals.
But though these two relationships are key, the movie distinguishes itself from others about Alzheimer's by being, essentially, about Alice's relationship with Alice. It's about her fight to retain what she can of herself ? to remain the person that she knows.
A bitter twist, of course, is that Alice is a linguistics professor ? an expert in communicating. As her abilities fade, she agrees nonetheless to address a medical conference, and we're so afraid to see her get up there, a trembling shadow of the confident teacher she once was. But this scene ?and the message she manages to impart ? is one of the film's most powerful.
There's a behind-the-scenes element to the movie that makes it all the more poignant. In 2011, co-director Glatzer saw a doctor about slurred speech and discovered he was suffering from ALS, or Lou Gehrig's disease. He directed the movie using a speech-to-text app on his iPad. Whereas Alzheimer's attacks the mind and ALS the body, both attack one's sense of identity. As the directors express so well in "Still Alice," with the help of Moore's memorable performance, holding onto that identity is what keeps us alive and vital and connected to the world.
••
New York Observer
, Rex Reed: Rating 4/4
Like the way A.L.S. is revealed and examined without buckets of tears in The Theory of Everything, Julianne Moore, in the heartbreaking Still Alice, follows the arc of a devastating illness without pulling out the stops and torturing you with self-pity. This time the disease is the mysterious Alzheimer's, and thanks to this brave and gutsy actress' overwhelming candor and sincerity, you go away feeling educated, enlightened and more compassionate than you can possibly imagine.
The always startling actress is no stranger to forays into the dark side, but this time she's as real and as normal as inhaling playing Dr. Alice Howland, a 50-year-old distinguished professor of linguistics at Columbia, a well adjusted, happily married professional with a successful husband and three grown children. When she is diagnosed with early-onset Alzheimer's after her mind goes blank in the middle of a guest lecture at UCLA, she's shocked, then shattered. She's too young for this. Alzheimer's is a disease for senior citizens, right? Her blood tests are fine, but her memory losses are worrying and the profile fits. Determined to continue her research and lifestyle uninterrupted, with the full support of her husband (Alec Baldwin, in one of his more sensitive and totally natural performances) and family, Alice eschews the terror of what lies ahead and embraces logic and common sense.
Gradually, subtle changes do creep in, she loses her sense of direction during a routine jog through Central Park, forgets her keys, can't find the bathroom in her own house. Secretly she stores up pills for the inevitable time when her condition gets hopeless. Every study of Alzheimer's is different, but the saddest aspect of her particular case is that Alice has always been a woman defined by words, and suddenly she can't remember any.
The more the affliction increases, the more engrossing the film becomes. Coping becomes the function of a once privileged and orderly life, and panic sets in over something as simple as tying a shoelace or misplacing a cell phone. Alice's cloudless marriage is put to the test like an examination final, her job is terminated, and her children react in touching and disturbing ways, especially when they all discover her rare form of the disease can be passed on genetically and her married daughter is having a baby. Struggling to hold on to what's left of herself, live in the moment, hold onto her sense of humor and still stay connected to the facts without losing control of the Alice she has always known becomes an unexpected daily goal.
Ms. Moore shares her journey with boundless generosity. She makes you feel what it's like to lose the wind beneath your wings. The talented writing-directing team of Richard Glatzer and Wash Westmoreland, who last year guided Kevin Kline through one of his greatest roles in the sturdy, fascinating and underrated Errol Flynn biopic The Last of Robin Hood, have a special rapport with actors. The effects of Alzheimer's have been explored before, most notably by Julie Christie, Gena Rowlands, Joanne Woodward and Mia Farrow. The radiant Ms. Moore proves their equal. In the end, the two directors have extracted a nuanced and sensitively embroidered performance that is inventive without the slightest hint of contrivance. Through immeasurable loss, she shows how life can be sustained if we can only learn the value of negotiating our priorities and weighing our limitations until love is all that matters. It's a hell of a lesson in one hell of a motion picture.
••
Awards Daily
, Sasha Stone: Best Ensembles of 2014: Julianne Moore plays a woman afflicted with early onset Alzheimer's. It becomes a story of a mother doing everything she can to hold on for the sake of her daughters and their lives to come. Alec Baldwin is excellent as Moore's supportive husband, along with Kate Bosworth as the elder daughter.
But it is really Kristen Stewart alongside Julianne Moore who makes Still Alice so exceptional of a cinematic experience. Stewart's raw vulnerability and eagerness to both care for, relate to and help her mother is one of the most moving supporting performances I've seen this year. The way Stewart looks at her mother who is fast fading before her eyes is real and powerful. Moore responds to this and the two of them take this film where it needs to go.
Moore has been giving standout performances for years, and gave another one this year in Maps to the Stars, which would be on this list if it were coming out this year. But here, she adopts little affectation in bringing Alice from an alive spark to a vanishing imprint of who she used to be. This is some of the best acting you'll see this year not because it is showy or funny but because it is so organic and real – they are communicating clearly to each other, through their characters, through themselves.
••
New York Post
, Lou Lumenick: Rating 3,5/4
You won't see a better performance by an actress on film this year than Julianne Moore as a linguistics professor struggling to hold onto her personality after a diagnosis of early onset Alzheimer's in the unforgettable drama "Still Alice."
The Oscar front-runner — who's demonstrated her virtuosity for years in films as varied as "Boogie Nights'' and "Far From Heaven" — gets to the very soul of the brainy Alice, who receives the rare and shocking diagnosis at age 50 after she forgets the word "lexicon'' during a speech.
This drops like a bomb on her workaholic husband (Alec Baldwin), who, like Alice, is on the faculty at Columbia University. Her three adult children (Kristen Stewart, Kate Bosworth and Hunter Parrish) learn they each have a 50 percent chance of inheriting the condition — and could in turn pass it on to their children.
But this superb adaptation of Lisa Genova's novel mostly focuses on Alice's fight against mental deterioration, which she meticulously charts in various ways, including Words With Friends. Her scores on that game app plummet, and she loses her teaching job as the increasing difficulty she has concentrating forces her to tell her boss about her illness.
By this point, Alice has already planned a secret exit strategy to spare her family and herself the ultimate agony of losing her once-brilliant mind altogether: She's recorded an iBook video detailing step-by-step suicide instructions to follow once she dips below a certain cognitive threshold.
Married writer-directors Richard Glatzer (who is afflicted with ALS) and Wash Westmoreland ("The Last of Robin Hood") rigorously avoid schmaltz while providing the kinds of devastating scenes that clinch Best Actress Oscars.
Baldwin, who played the husband to last year's Oscar winner, Cate Blanchett, in "Blue Jasmine," is very good as Alice's husband, who initially refuses to believe the diagnosis — and is later torn between her plea for him to take a year's sabbatical and a chance at a coveted job.
Stewart is even better as Alice's youngest child, an aspiring actress. The two have had a difficult relationship, yet she alone has the emotional depth and strength to be there for her mother in the end.
But it's the lead actress' subtle gestures and line readings — call it "the less is Moore" approach — that makes for a tour de force performance.
"Still Alice" may be set in the relatively privileged world of upper-tier academia, but it presents a disease that can devastate any family, anywhere, with unsparing truth and great compassion.
Don't miss it.
••
New Republic
, David Thomson: What are you scared of? The movies love to indulge that question. They say, "Can you imagine the monster waiting, and watching you, in the attic, in the cellar, or in the little house down the lane? I dare you to find out." The gotcha game is played for fun, and it teases all the real scary thoughts we have. Even in Texas, the whims of politicians are more troubling than the chance of a chainsaw massacre in the backcountry, preying on lost motorists. Texas is not as interesting as that.
But we are all afraid of being lost—we always have been. The grip of Cormac McCarthy's novel The Road is that of order, grace, and tolerance being lost. A man walks the toxic land alone, having to survive—that is bad enough, but the dread is greater because he has his child, a boy, with him. The fear that haunts most people is the vulnerability of being a parent—you could lose your treasure. Life is easier if you are unattached, but that solitude can drive you crazy. The thing that frightens me is being unable to finish a sentence I've begun. (As readers of this column, you may say you know exactly what I mean—or thought I meant.)
In Still Alice, Alice Howland (Julianne Moore) is 50, and a professor of linguistics at Columbia. She lives in the city with her husband John (Alec Baldwin). They have three grown children who are out in the world, to some degree. She is said to be a very good teacher and she lectures to large classes until one day she loses her thread. She goes to a neurologist and discovers that she has early-onset Alzheimer's. This is rare for someone her age, but it is additionally alarming because the younger you are, the faster the disease moves. Reviews are supposed to leave movie endings unspoiled. But no one is going to go to Still Alice with too much hope. It's a more effective proposition in the movie business to say the Earth is cracking in two—and of course it is, metaphorically speaking.
Why has Still Alice been made then? Well, its two directors, Richard Glatzer and Wash Westmoreland, found a novel, by Lisa Genova, and they were the more struck by its potential because Glatzer was beginning to suffer from ALS, the neurogenerative disorder known as Lou Gehrig's disease. The two directors are married, and they made an intriguing movie based on the life of Errol Flynn—The Last of Robin Hood—which flopped. Glatzer was ill as Still Alice was made, and Westmoreland has said that Glatzer's illness gave everything, "a sense of deeper purpose." So it should. Alzheimer's is as daunting a subject as being sent to Riker's Island or ending up a bag lady on the street. (I knew a screenwriter once who was working on those fates befalling a middle-aged, "successful" married couple.)
I suspect we are in the Stone Age of neurogenerative disorders. We may prove geniuses at dealing with them—though that genius has a long shopping list these days. We may learn that current estimates, of one in 85 people suffering from Alzheimer's by 2050, are unduly conservative. Maybe we need to know much more about the subject. Nothing except knowledge will spur the research that is required, or support the experience that awaits some of us. So Still Alice is a necessary film, or a step toward an essential process of education. It's a film about which you will ask yourself, Do I really need to see it this Christmas? That question will be hooked on the near certainty that Julianne Moore will be nominated for her performance. That will be her fifth nomination, and she is an entirely deserving candidate. If our world was founded on the principle of justice.
Julianne Moore is extraordinary at revealing the gradual loss of memory and confidence, and at showing the hulk of physical persistence that remains after intellect and reference have gone. But she is restricted by the destination of this film, and by the flat naturalism of its family life. If this had been an opera, it might be legitimate for the disease to liberate scalding lyrical arias of protest. But dutiful realism cannot go there and instead it asks Moore to mine her weakest resource, that of pained distress. Over the years, looking at The Hours again (and she was nominated for that), I find her would-be suicide irritatingly subdued and locked into the film's predetermined pattern—its schedule almost—of forms of suicide or retreat. I prefer the actress in Magnolia and Short Cuts where she can burn with anger, fun, and explosiveness.
What I'm trying to say is that Still Alice is not a very good movie, but I'm not sure that it needs to be. Its purpose and its thrust are very close to those of documentary, and one of the most satisfying things in the film, I found, was Stephen Kunken as the neurologist, talking a lot of fact into the picture while being a credibly touched and sympathetic human being. We need to know so much more about this disease, and the plight of the Howland family sometimes feels like mere convenience in that larger cause. So I care about the subject more than I ever did for this family.
That said, there is a smoldering performance to behold. Kristen Stewart plays the Howlands' problem child, Lydia, who is striving to be an actress. She is still too easily confined by her role as Bella in the Twilight films and by wardrobe malfunctions that the Internet exists to report. It is high time we took her seriously as an actress. This was evident in a few scenes from On the Road, and it will be obvious in the forthcoming Clouds of Sils Maria, where she plays with Juliette Binoche and steals the picture. With little to go on in the script here, she establishes a troubled, sulky energy in the would-be actress who feels desperate for her mother. Stewart may be as good as Julianne Moore, and a day should come when they both have Oscars.
••
Salon
, Andrew O'Heir: I'm not a big fan of the film-critic dodge where you say that some actor delivers a tremendous performance in a bad or mediocre movie. If the person's acting is so great, why isn't the movie better? Since we do not (yet) possess the technology that can extract actors from their context — and since a movie is a complicated collaborative and holistic enterprise, not a neutral stage for thespians – then what the hell are you trying to say? Is the damn thing worth seeing or not? And now here I am, face to face with "Still Alice," also known as the WASP Family Christmas Early-Onset Alzheimer's Special, dealing with that precise contradiction.
In fairness, "Still Alice" is not exactly a terrible film, or at least it doesn't seem like one until you step away and start to think about it. It's a crisp and streamlined melodrama from the writing-directing duo of Richard Glatzer and Wash Westmoreland (of "Quinceañera" and "The Last of Robin Hood"), who turn a tear-jerking commercial novel by Lisa Genova into a showcase for the luminous Julianne Moore, likely Oscar-bound for her mesmerizing portrayal of a brilliant academic descending into dementia. Moore plays Alice Howland, a composed and successful Columbia linguistics professor who begins to forget things right around her 50th birthday. At first it's just the occasional word she can't get hold of – a linguist forgetting the word "lexicon," ha ha. (The next one she can't remember is "pariah.") But then she introduces herself to her adult son's girlfriend (whom she's already met) and gets lost running on the Columbia campus, where she's worked for years.
This is meant to be dramatic irony at work, I suppose: Alice is intelligent, beautiful, accomplished and rich, but that cannot protect her from freakishly bad medical news. She has a happy marriage with a workaholic medical researcher played by Alec Baldwin (the default setting for all self-absorbed husband roles). She has three adult children, two of them thriving. (
Her unsuccessful actress daughter is played by Kristen Stewart, another ha ha, who is actually very good.
) Alice has only a minor and highly normative amount of family discord, she could pass for 10 years younger than her chronological age, and she lives inside an Upper West Side bubble of white-people privilege and decency. Her kitchen is flooded with light, every meal includes fresh vegetables and good wine, there are never dirty dishes in the bedroom or dirty laundry on the floor. She has a standing order at Pinkberry: the "natural" yogurt, with blueberries and shredded coconut. In other words, this person would be supremely annoying were she a real person and not Julianne Moore; we are almost tempted to root for her downfall (and then to feel bad about it).
Alice has also been covering for her mental deterioration for a long time, most likely. As her movie-neurologist explains, high-functioning and highly educated people develop all kinds of coping strategies: She relies on smartphone scheduling a little more literally than the rest of us, she Googles family recipes she can no longer remember and she leaves herself a trail of virtual breadcrumbs, from labeled folders on her computer desktop to Post-it notes on the kitchen counter. Forgetting the word "lexicon" is just the sign that the façade is breaking down. Viewed in the abstract, "Still Alice" is an utterly conventional movie-of-the-week, whose every step is familiar. But there's nothing formulaic or rehearsed about Moore's performance; her moments of midnight terror, fierce resolution, painful struggle and worsening confusion burn with passionate intensity. There's a devastating scene late in the film that I won't give away, when Alice tries to follow the step-by-step instructions she left for herself in a video a few months earlier, about exactly what to do when she can no longer answer basic factual questions about her own life.
Moore is on-screen in every scene and almost every frame, as we follow Alice from the early days of her shocking diagnosis, when she tries to push forward with a semblance of normal life, to later episodes when she cannot reliably recognize her own children, or locate the bathroom in her family's beach house. (You have to have a beach house in the first place, let us note, before you can get lost in it.)
She is nicely balanced by Baldwin and Stewart
, who serve as a Kübler-Ross Greek chorus, first seeking to deny the obvious transformation in Alice, then trying to bargain with it and contain it. I suppose the question for all viewers will be whether the excellence of the acting and the cleanliness of the filmmaking make up for the fact that "Still Alice" is basically a Lifetime production injected with a little indie DNA.
Don't talk to me about realism or relevance when it comes to "Still Alice," by the way. Yes, millions of American families deal with Alzheimer's, and with our rapidly aging population that's only going to become more common. But Alice's diagnosis is truly exotic: Early-onset Alzheimer's in one's 50s is exceptionally rare, and her variety is rarer still, a genetic form that was inherited and can be transmitted. In other words, each of her kids has a 50 percent chance of carrying her flawed genetic code – and if they do, they are virtually certain to develop early Alzheimer's symptoms themselves. Yes, it could happen and it has happened, but that's not the point. Cannibalism and crocodile attacks happen too, but we'd have no difficulty identifying them as outlandish devices in drama.
Moore gives a gorgeous and compassionate performance, and if she brings home the hardware in awards season she deserves it. (Yeah, I cried, and if you've known or loved anyone with this disease you probably will too.) But consider the grim and hilarious reality that a 54-year-old actress at her level of talent and radiance has to play a woman with Alzheimer's to become a major player in the Oscar race. That reveals way too much about the movie industry and its priorities.
Aided by witty and understated work from Baldwin and Stewart and the capable direction of Glatzer and Westmoreland, Moore does her utmost to pull "Still Alice" toward the realm of meaningful social drama.
Let's put it this way: It's a way better movie than it ought to be, but not good enough to escape its pulpy, mendacious roots.
••
USA Today
, Claudia Puig: Rating 3/4
Julianne Moore taps into Baby Boomer fears with her mesmerizing portrayal of a professor stricken with early-onset Alzheimer's disease in Still Alice.
Just the idea of such a fate can be scarier than the most terrifying horror movie, yet Alice treats the subject with grace and compassion.
Moore's portrayal of 50-year-old Alice Howland, adapted from Lisa Genova's 2007 novel, is one of the best of her career. That's saying something given her array of impressive roles, including a bored housewife in Far from Heaven, a lesbian mom in The Kids Are All Right and a porn star in Boogie Nights.
Her performance powerfully captures the growing confusion caused by the debilitating illness. At first Alice dismisses her random acts of forgetfulness as middle-aged memory malaise. Then she panics when, on her daily run, she becomes disoriented. The world looks hazy and unfamiliar as Alice struggles to find her way home.
Shortly afterward, she is diagnosed with a rare hereditary form of Alzheimer's. Her husband, John (Alec Baldwin), and three grown children respond in unexpected ways as her composed, capable persona begins to slip away.
Told in linear style, the drama focuses on Alice's emotional reaction to the diagnosis, even more than it does on the vicissitudes of the illness. It's a deeply intimate saga that lays bare Alice's struggles.
As a linguistics professor at Columbia University in New York, Alice's stock in trade is words. Her fascination with them remains even after her memory loss is apparent. Her specialty was language acquisition and the audience watches as her own words begin to slip away.
The progress of her disease and its acceleration are captured deftly as we witness her changing world through her eyes. Moore's facial expressions convey her mounting agitation. Images are distorted effectively and sound is amplified to make it all the more terrifying.
Technology plays an intriguing part in her tale, not just the word games she plays on her smartphone, but also in the daily questions she poses to herself and answers on her phone. She clings to her shrinking gray matter in a way that is both understandable and heartbreaking.
Some plot points feel contrived, and a few supporting parts, particularly her older daughter Anna (Kate Bosworth), don't ring as true as Moore's.
But Kristen Stewart's performance as Lydia, Alice's black-sheep daughter, is one of her best. She evolves from self-absorbed to the most caring and tenderhearted of Alice's children.
While other Alzheimer's-related films, including Amour, Iris and Away from Her, delved more deeply into the subject, Alice is understated yet still moving.
••
Awards Watch
, Erik Anderson: There is a scene early on in Still Alice where Julianne Moore's Columbia University professor Dr. Alice Howland is giving a speech on linguistics to a group of college students and she forgets what she's saying mid-sentence. There is a pause and Alice snaps back with a self-deprecating comment, "I knew I shouldn't have had that champagne!" to the audience's laughter. It's a carefully observed moment. The irony isn't lost on her and definitely not on us.
Before I go any further, all cards on the table; my father-in-law is suffering from early on-set Alzheimer's and while that will obviously color my review it shouldn't, and doesn't, guide it. It's given me an understanding and a place of reference that's more than academic or simply seeing it portrayed in other films. By an even more direct token, husband directors Richard Glatzer and Wash Westmoreland (of the fantastic Quinceañera) have a personal angle as Glatzer suffers from ALS, an equally degenerative disease.
Based on the novel by neurologist Lisa Genova, Still Alice chronicles the degeneration of a noted scholar, a woman whose occupation is a world of words, after she receives a diagnosis of Alzheimer's disease. The scene of this reveal is quite something; while the doctor is speaking we're held tight on Moore's face, watching every reaction, every thought rush through her mind in that moment. It's extraordinary to watch one of our greatest actresses find nuances and subtlety in a moment like this. Julianne Moore gives an astonishing, Oscar-worthy performance, one of her finest ever. There almost aren't enough superlatives to describe Moore here; genuine, effortless, extraordinary, graceful. What she imbues to Alice is like a culmination of a career.
This is an intimate film, even inverted. That's largely because we're getting a POV of the main character, not the people around her. That's a significant distinction and change from how we've seen this disease represented before. Alice also keeps the news from her children for as long as she can as she and husband John (a wonderful Alec Baldwin) in order to figure out how to best deal with it and to avoid holiday gloom, as it will likely be her last cogent one. Alice's approach is predictably logical and academic. She tests her memory with kitchen chalkboard flash cards, giving herself a timer to remember them. She sets quizzes on her phone asking the names of her children. When it's discovered that hers is genetic and could be passed on to her children she has to tell them.
Of her three children, prickly lawyer Anna (Kate Bosworth), quiet Tom, a doctor (Hunter Parrish) and brash Lydia, a struggling actress (
played by Kristen Stewart, who is superb here
), it's Lydia whom Alice comes to rely on the most, even though she's 3,000 miles away. Despite Lydia never living up to Alice's expectations ("you could be so much more"), the two are kindred spirits in their resolve, in their sense of self. Alice and Lydia clash in classic mother/daughter ways but not in a generic way. They're both outsiders in their own family now. Lydia knows her struggle to be a working actor is real, she has no agent, she takes money from her father to fund a play to have work. But she's 100% secure in her path. Alice is no different, except her path has a horizon in sight. Thankfully the story never devolves into a 'I need to do this-and-that before I die' diatribe.
There are moments in Still Alice as gut-wrenching and harrowing as anything I've seen. When visiting Anna in the hospital after she's just given birth, Alice asks to hold the baby, if it's "ok." There is a pause and her son-on-law asks, "Is that a good idea?" Pain, regret, fear, anger and sadness all wash down Alice's face in an instant and all with the most careful and steely resolve. Alice doesn't want to be a burden, doesn't want to be perceived as weak or dangerous and doesn't want to let her family see that either. But none more heartbreaking than when Alice, at her most lucid, makes a video for future Alice, an Alice far beyond repair, detailing how to commit suicide by pills while no one is home. As a viewer you are helpless to stop what is happening, just like as a family member you are helpless to stop the disease.
But don't think that means this story is an ultimately depressing tale, it's not. When John decides to take a job in Minnesota at the Mayo Clinic and Lydia moves to New York to become her mother's full-time caregiver (a nearly impossible job for a single family member), there is a bond made deeper. A scene near the end of the film has Stewart reading some of Harper's dialogue from 'Angels in America' that is so pure, so appropriate and so what this story is about. It's a story of self, of identity and even of hope.
The film begins an Oscar qualifying run in New York and Los Angeles on December 5th and then opens in limited release mid-January.
••
At home in Hollywood
, Lisa Johnson: Still Alice is one of those remarkable films that elegantly treats a tragic topic without leaving you feeling fearful and depressed. This is mostly thanks to Julianne Moore's luminous performance of 50-year-old Alice Howland, an accomplished professor, wife and mother of three who is diagnosed with Early-Onset Alzheimer's.
If you're like me, you watch Still Alice very closely, realizing that you've made many of the same memory slips, and wondering if, god forbid, you too could be suffering from the same disease. But Alice's version of it has an even more devastating twist still that I won't spoil for you. Suffice it to say that instead of making the film unbearably sad, it becomes an interesting character study of how she and her family deal with it.
Not only is Moore's performance Oscar worthy, but the supporting cast is at their career best. Alec Baldwin, whom I think is mostly overrated, is superb as her husband in denial.
Kristen Stewart (yes, Twilight's Bella) is at her absolute career peak as the youngest daughter who defies family expectations to become an actress.
Kate Bosworth is cool and composed as the eldest, an attorney with fertility issues. Each responds to Alice's malady differently, and each evolves as best they can. Throughout Still Alice, you can't help but ask yourself, how would I respond if my mother or spouse was diagnosed with this mainly incurable disease?
But most of all, you ask yourself, "What would I do if it were me?" Alice has a number of very clever ways to battle it, but in the end, she can't help but be defeated. At that point, when similar films become sappy and maudlin, Still Alice transcends to become radiant. The ending is, in a word, perfect.
••
Hamilton Today
, Dave Bril: Rating B+
Alzheimer's Disease is a scary and devastating disease, in which you start to lose your memory and it can progress so much that you may not ever remember who your own family is. Could you imagine that, having all your memories, ripped away from you and your ability to recognize the one's you love, the one's who mean so much to you. Many films have tried to tackle the disease and normally that results in a Oscar baiting showing performance from the lead.
One of the very best films about the illness was 2007′s Away from Her in which Julie Christie character suffers from it and it brilliantly shows the effects on her husband played superbly by Gordon Pinsent (robbed of an Oscar nomination) a man who's heart is breaking every second his wife can't remember him. I suppose the hardest people hit by the illness is the family, as they have to sit hopelessly and watch as their loved one slips away and comes to a point were they can't even remember them.
Still Alice based on the 2007 novel of the same named and directed by Richard Glatzer and Wash West, isn't as powerful as Away From Her, but still manages to no be all about a showy performance, but more about the horrible effects that the illness can have on both the person with it and the family of the person with it. It takes its time to establish the relationships, before diving deep into the world of Alzheimer's. It slowly but effectively shows the progression of the diseases, thanks in part to a great performance from Julian Moore.
The story focuses on Moore's Alice, a College professor in Cognitive Psychology, who is very intelligent, has a loving husband John (Alex Baldwin) and 3 children who think the world of her, Tom (Hunter Parrish), Anna (Kate Bossworth) and Lydia (Kristen Stewart). Alice slowly starts to show signs that something is wrong with her memory, when while at a family diner she introduces herself to Tom's girlfriend twice and while on a run through the city, she becomes at a total lose of were she is at and how she got there. Fearing something is wrong she goes to see a doctor, who after running some tests figures out she has early onset Alzheimer's Disease.
Alice is devastated by the news. She becomes ever more devastated to find out that it is hereditary and that if her kids are carrying the gene it is 100 percent they will develop the same disease. John refuses to expect that fact that his wife is going to soon lose her memory and this frustrates Alice when she tries to tell him what is happening. However her kids are much more supportive and equally as devastated by the news. We watch in sadness as the film moves, the more Alice seems to be going deeper and deeper into the disease. Alice wants to continue as long as she can with her duties as a professor and a family women.
What I love about Still Alice is the way the screenplay, allows the family moments to unfold and really give us a feel for the love that everyone has for Alice and each other. The movie is filled with mother daughter moments that really bring a strength to the devastation, as Alice slips deeper. We see scenes with Alice talking to Lydia, in which she gets frustrated with Lydia from everything to her career choice (struggling actress), to her critique of a speech Alice writes. Yet still Lydia clearly loves her mom so much that she never loses her cool with her. It makes some of the later scenes in the movie all that much more touching.
The acting in the film is fantastic on all fronts.
Julian Moore in perhaps one of the best roles of her career, stunningly shows the progression of the illness and nails every single moment of it. She gives herself entirely to the role. When you watch scenes when Alice pisses herself because she can't remember were the bathroom is, or when Alice has to come up and down the stairs numerous times because she can't remember the instructions she just watched on a video, you heart breaks for her and that is all Moore. An Oscar nomination is a lock.
Alec Baldwin as John her husband is equally as effective in my books, playing a man who clearly loves his wife with all he's got, but just can't handle the effects the illness is taking on his her. You can see his heart breaking every time the illness shows its ugly head and he just doesn't know what to do.
Also terrific here is Kristen Stewart who is light years away from her Twilight days, giving a career high performance. If there was any justice Stewart would be nominated for an Oscar right alongside Moore, she is that good!
till Alice is a heartbreaking film, its not your typical feel good film, it tackles difficult issues and never eases up. The longer the film goes on the more difficult it is to watch as you can't help but feel heartbroken as this women's life is being taken away from her. The acting is top notch from everyone involved, with Moore stealing the show with a performance that is destined to be remembered for years to come. Still Alice can sit right next to Away from Her on the shelf as movies that perfectly capture the horrible effects of this crippling disease.
••
New York Times
, . O. Scott: "Still Alice" is a movie that addresses a nightmarish circumstance with calm, compassionate sensitivity. Based on Lisa Genova's novel and directed by Richard Glatzer and Wash Westmoreland, it follows the deterioration of a Columbia linguistics professor who learns she has early-onset Alzheimer's disease. Alice Howland (Julianne Moore), along with her husband and three children, must endure a cruel and absurd ordeal that has no real chance of growing easier. With what seems like shocking rapidity — the film's chronology is appropriately fuzzy — Alice slides from a witty, intelligent, capable adult into a fragile and confused shadow of her former self.
The title suggests otherwise, of course, and one of the tragedies of Alzheimer's for the friends and family of the afflicted person is that the sufferer seems present and absent at the same time. "Still Alice" examines both the philosophical and emotional aspects of this paradoxical situation, and the principal vehicle for the inquiry is Ms. Moore's exquisitely nuanced performance. From the early scenes, when brief memory lapses signal that something is wrong, through the subsequent deterioration of her cognitive ability, she conveys both the collapse of Alice's inner world and the panic it causes. The structure of her face seems to change from scene to scene, as her eyes grow duller, her mouth and jaw slacker. As she did in "Safe," she finds a way to communicate the pathos of emptiness.
But the film as a whole functions mainly as a scaffolding for this remarkable feat of acting, and also for Kristen Stewart's excellent work as Alice's younger daughter, Lydia. The success of the "Twilight" movies has allowed Ms. Stewart's gifts to be underrated, but her more recent roles (here, in " Camp X-Ray" and in "Clouds of Sils Maria," which will open next year) should help re-establish her as an insightful and unpredictable talent.
There are tensions at the beginning between Lydia and her mother — in an early scene, Alice picks apart her daughter's life choices with relentless, passive-aggressive skill — but Lydia is also frequently the only member of the family brave or honest enough to accept who her mother becomes and to find ways of staying connected to her.
It's not that the others fail, exactly. Alice's husband, John (Alec Baldwin), a research physician, works hard to be tender and supportive, as do the other children, played by Kate Bosworth and Hunter Parrish. The problem is that the film, concentrating on the accurate portrayal of Alice's condition, leaves the other characters undeveloped, and their social and domestic milieu hastily sketched. The test of realism in a movie like this — the thing that would separate it from a conventional, made-for-television disease melodrama — is whether you can imagine lives for the secondary characters when they aren't on screen.
"Still Alice" lacks that kind of thickness. It surrounds Alice and her family with the signifiers of a perfect, privileged life: impressive jobs, well-raised children, a Manhattan brownstone and a lovely beach house, neither one too showy. But all of this feels like a too tidy garden that has been planted for the sole purpose of introducing a blight and observing its ravages. The story is sad and sincerely told, but it is too removed from life to carry the full measure of pain that Alice deserves.
Losing your mind is a terrible thing to watch, but the splendid acting in "Still Alice" makes it worth the pain. Scarier than any Elm Street nightmare, a horror film for the rest of us, it succeeds despite itself not because of one strong performance but two.
The accomplished Julianne Moore stars as respected academic Alice Howland, shocked by her diagnosis of early onset Alzheimer's disease, and the actress' work as someone coping with the ravages of the unthinkable deserves all the plaudits it's going to get.
But if it wasn't for costar Kristen Stewart, who plays Alice's daughter Lydia, "Still Alice" wouldn't be nearly as emotionally effective as it is. Moore and Stewart have been off-screen friends for more than a decade, and that bond only enhances the work they do here.

As scripted by the writer-director team of Richard Glatzer and Wash Westmoreland from a novel by Lisa Genova, "Still Alice" does have obstacles to overcome. Elements of its plot have the standard quality of a Hallmark production, and the work of some of the film's costars is a bit too on the nose. But, with Moore and Stewart on the case, we feel the presence of something real here, something that can't be shrugged off or ignored.
Alice is introduced at the usual cinematic happy event where no one realizes it's going to be all downhill from here. It is the 50th birthday celebration for this celebrated Columbia University professor of linguistics, with her loving if a trifle overbearing husband, John (Alec Baldwin), and two of her three adult children (Kate Bosworth, Hunter Parrish) present at a Manhattan restaurant to raise a glass.
Not attending is third daughter Lydia (Stewart), an aspiring actress who lives out in Los Angeles. Alice uses the opportunity of a speaking engagement at UCLA to look in on Lydia and to express, clearly not for the first time, her frustration that this daughter has chosen not to go to college in favor of following her passion.
One pleasure of "Still Alice" at this early stage is the chance it gives us to see Moore playing a happy, well-adjusted woman. The actress is so good at aberrational characters — her unhinged Havana Segrand in David Cronenberg's forthcoming "Maps to the Stars" is the latest example — that we don't get enough chances to see her playing normal yet still involving, which is nowhere near as easy as it may sound.
But "Still Alice" is not about staying normal to the last frame. Like viewers of "Titanic" who know that the ship is destined to sink without a trace, we wait for that first indication — it turns out to be a memory lapse at that UCLA talk — of the decline we know is inevitable.
Alice shrugs that one off, but back home in New York things get worse, and when she finds herself disoriented jogging near her home, a visit to a neurologist is unavoidable.
The eventual diagnosis is as shocking as it is incontrovertible, with this being a hereditary condition Alice might have passed on to her children making things only worse. The heart of "Still Alice" is the wrenching business of watching as all the things that define this woman to herself and her family gradually drain away, one by one by one.
Moore is especially good at the wordless elements of this transformation, allowing us to see through the changing contours of her face what it is like when your mind empties out. When Alice says at one point "I feel like I can't find myself," it is all the more upsetting because we've already watched it happen.
"Still Alice" does have situations that feel contrived and overly familiar, like an all-but-preordained heart-to-heart talk by the ocean, which is why the film is especially fortunate to have not only Moore but Stewart to keep things honest.

As she demonstrated working with Juliette Binoche in Olivier Assayas' Cannes favorite "Clouds of Sils Maria," Stewart is especially good at going toe to toe and holding her own with veteran actresses, and the intensity she brings to the part of a daughter determined to do things her own way is essential here.
Finally, though it doesn't say so in so many words, "Still Alice" wants you to remember that its title is only one letter off from "Still Alive." Alice is struggling to be who she once was, and that is a battle we have to respect no matter what.
••
Film Racket
, Blake Crane: Rating 3,5/4
The thought of having your mind and memories stripped away or watching a loved one transform into a shell of themselves is horrific on several levels. As a subject for cinematic drama that plays on those fears, Alzheimer's could easily be fodder for stark sentimentality or extraordinary tragedy. Still Alice avoids both of those pitfalls, and while it's understated to the point of feeling occasionally cold yet sidesteps much of the potential discomfort, the film is anchored by a remarkable performance from Julianne Moore that's engrossing and powerful in its restraint.
The warning signs start small but quickly escalate for Columbia University linguistics professor Alice Howland (Moore). She trips up while giving a presentation, but recovers with a joke. She gets disoriented while jogging and introduces herself multiple times to her son's new girlfriend. Worried, she consults with a neurologist who diagnoses her with early-onset Alzheimer's. Her disease is familial, meaning her three grown children – lawyer Anna (Kate Bosworth), med student Tom (Hunter Parrish), and aspiring actress Lydia (Kristen Stewart) – have a 50/50 chance of having it passed on to them. As her family deals with her deterioration, Alice attempts to take as much control of her present and future as possible.
In adapting Lisa Genova's 2007 best seller, writer/directors Richard Glatzer and Wash Westmoreland take a measured approach to the material that is surely informed by their personal experiences. The filmmakers are married in real life and Glatzer is living with ALS, so there's real perspective that honestly grounds the film. They're not too interested in the dramatic high points that mark the stages of disease, but prefer to put us in Alice's headspace. The POV is a bit artificial early on, with the camera following directly behind Moore, but it's still effective. Some clever choices with timelines and editing that help us identify with the character work better.
A standout scene has the neurologist's off-screen voice peppering Alice with probing questions. Moore's tone and subtle mannerisms make her answers feel wholly extemporaneous and we can't help but become invested in the process from the beginning. Especially when presented with a memory quiz involving a man's name and address – I remembered the name, but needed the multiple choice options to recall the street. The approach gets a tad clinical with discussions of PET scans and beta amyloids that sound as if they're read from a brochure by Alice, her neurologist, and Alice's doctor husband John (Alec Baldwin) – three smart people who can converse rapid fire on the issue. There are some interesting nuggets of wisdom, including the fact that intelligent people go undiagnosed for a time because they develop workarounds to manage the disease.
With the focus on Moore, supporting players mostly fade into the background and are relegated to reactionary roles. Many of the emotional beats are confined to single scenes that zap their impact. It's convenient that Alice has three children when there are three potential outcomes for a test that reveals if they've inherited her disease – having it, not having it, or not wanting to know. This information is passed on in a phone call and never explored further. Baldwin is even-keeled as John, always supportive of Alice but never coming off as empathetic, having one minor breakdown that rings a little hollow.
Only Stewart is given some meaningful interactions with Moore and the actresses always make it work – even over Skype.
Moore has never been better and completely disappears into a character that is marked by an evaporation of her mental faculties, but not totally defined by it. There are defining moments – a triumphant speech at the Alzheimer's Association, a failed attempt by a depleted Alice to follow grim instructions left by her former self – but, to the credit of Glatzer and Westmoreland, they allow character to tell the story rather than plot. To (and through) the end, this is an emotional struggle that can't have a completely clean resolution, and Still Alice doesn't try to force one.
••
Very Aware
, Courtney Howard: Rating 2,5/5
It starts with forgetting little things – details about schedules and missing words, brain farts if you will, in the middle of practiced lectures. It escalates into getting lost on familiar turf. For Alice Howland, this is how her journey into the dark recesses of her mind begins in the film STILL ALICE. Writers-directors Richard Glatzer and Wash Westmoreland have crafted a heartfelt piece that, rather unfortunately, only scratches the surface. Chock full of missed opportunities to really immerse audiences in what it's like to have a degenerative condition, the drama is bolstered by the ensemble's performances.
Based on the book by Lisa Genova, Howland is a world-renowned linguistics professor at Columbia University when she learns some devastating news. Not only does she have early onset Alzheimer's, but her disease is genetic, meaning she may have passed it onto her three children – Med student Tom (Hunter Parrish), Lawyer/ wannabe mom Anna (Kate Bosworth) and actress Lydia (Kristen Stewart). As her denial-riddled but supportive husband John (Alec Baldwin) continues to put on a brave face, Alice also attempts to continue with a normal life. Until she can't anymore – and that occurs far sooner than anyone is ready to admit.
While this film should have been ground zero for the audience's emotional heartbreak, it's actually quite the opposite. Time and time again, Glatzer and Westmoreland take a spectator's approach to showing us Alice's devastating disease instead of completely immersing us in the throes of it from the inside. The only scene in which the pair manage to do so comes very late in the film – where it shows the distance between Alice in focus in the foreground and her family, gathered around, talking like she's not even there. Given the subject of Genova's source material, and the fact that film is such a visual medium, there was ample opportunity to put us in our heroine's mind. But astoundingly, the filmmakers chose not to seize this brass ring, and it comes across looking like a lazy Hallmark Channel movie instead. We leave just as confused as Alice is trying to find the bathroom in her family's beach home.
From the pushy score by Ilan Eshkari (who's completely capable of doing great work, having done so on THE INVISIBLE WOMAN), to the constant cutaways to home video footage of Alice's childhood with her mom and sister, the film feels disingenuous – and worse, maddening. We never get to know her deceased mother and sister, so those cutaways mean nothing to us. But perhaps the worst offender is when Alice makes a pivotal speech to the Alzheimer's Association about her disease; Eshkari's score swells as cutaways show audience members crying. However, we (the audience) are not. It would have been far more effective had the camera held on Moore, slowly going into a close up as she reads this speech – minus the manipulative cutaways and music. I also couldn't help but wonder what kind of story we'd see if Alice's economic class had been different; after all, Alzheimer's breaks down race, gender and economic barriers – not just rich, white women.
Though STILL ALICE suffers in many respects, what it has going for it are the strong, stoic performances from Stewart and Moore. Their scenes together are amongst the film's most genuinely affecting and engaging. Moore's vulnerability and pathos elevates the lackluster screenplay. Much like Moore, Stewart gives a restrained performance – especially during the scene where her mother no longer recognizes her. They are at their best when paired together, working off each other. The pair bring subtlety and nuance – key ingredients this picture needs.
In fact, the rest of cast, never dip into melodramatic territory – a true feat given the milieu.
While STILL ALICE does provoke thoughts as to how we'd handle a devastating diagnosis and stokes our compassionate fires, it's never deeply impacting. More so, it's ironically forgettable.
••
Pasadena Star-News
, Bob Strauss: "Still Alice" strikes all the notes that you'd expect from a disease-of-the-week movie. But uncompromised intelligence, extraordinary acting and — that rarest of camera-captured qualities — palpable love are what we'll remember about the film, not its cliches.
Julianne Moore's Alice is a Columbia University linguistics professor with three beautiful, adult children (Kristen Stewart, Kate Bosworth and Hunter Parrish) and a researcher husband who, although played by Alec Baldwin with his trademark hints of smarm, seems like a pretty OK guy.
Some minor memory lapses send Alice to the doctor, and the prognosis is the worst she could fear: early onset Alzheimer's. She and the family try to cope as the standard litany of public embarrassments, intimate devastating moments, occasional triumphant reclamations and suicidal spirals plays out.
Moore is, of course, playing an incredibly smart woman, which makes for a little added pathos but, more importantly, disciplines the actress to play it smart, too. There is very little uncalled-for melodrama in the performance, and the way Moore expresses Alice's diminishing intellect (especially her self-defining verbal skills) is a masterful display of pinpoint acting. In a season when both Marion Cotillard ("Two Days, One Night") and Reese Witherspoon ("Wild") are setting new standards of natural precision, Moore is keeping it similarly real in what is unavoidably a showier role.
The supporting cast is likewise up to speed. Stewart, as she's been doing a lot lately, is especially tuned-in, and sets up the film's great epiphany in a wonderful way, simply by reading aloud.
The script, by directors Richard Glatzer and Wash Westmoreland, maintains much of the clinical specificity from neuroscientist Lisa Genova's source novel. The film refuses to talk down to the audience and it's bracing, not to mention highly informative. (I learned much more about early onset Alzheimer's from "Still Alice" than "The Theory of Everything" taught me about the universe.)
While its brains definitely make "Still Alice" stand out from the dementia movie pack, the greater accomplishments are in heart and soul. Glatzer has ALS, and his and husband Westmoreland's experience appears to inform much of this movie. There's an affirming sense of acceptance to the piece, not just of Alice's inevitable decline but of every character's capacity for giving. Some have more than others — none is a better or worse person because of that — and it's marvelous to watch a movie family function, for a change, almost as if it were the real thing.
••
The Young Folks
, Jon Espino: Rating 8/10
We'd like to believe that we are more than the sum of our experiences, connections and memories. Ideally, there is something extra and irrevocable that makes us who we are, even when Alzheimer's disease has already taken everything else away. The ravages of the disease take away everything, even a person's autonomy, so what then is left? Still Alice doesn't have an answer, but there's a reason for it.
Alice (Julianne Moore) just turned 50, but is still in peak physical condition. She is a professor at a prestigious university, a mother of three and a wife to an equally ambitious man doctor, John (Alec Baldwin). We know that wine is one of the few things that get better with age. Memory isn't one of them. At 50, Alice is starting to notice that she is becoming more forgetful and having a hard time recalling things and remembering words. To everyone else it appear normal, but after a diagnosis, she realize it is only the beginning of a real problem. Early onset Alzheimer's is the problem, and it's genetic. If her mother and sister hadn't died in a car crash when she was young, she would have known about her inherited condition earlier. Now she has to worry about her two daughters, Anna (Kate Bosworth) and Lydia (Kristen Stewart), who have an almost 100% chance of getting the disease, and her son Tom (Hunter Parrish), who has a very low chance of getting it.
Completely immersed in routine and the familiarity of her surrounds, she has been able to cope with her condition. No matter how many safeguards or contingencies she puts into place, she cannot outrun the already rampant disease. We see her hastened descent in the dark recesses of this disease. Time fades away. In the blink of an eye, months have passed, adding to the confusion inherent in Alzheimer's. After her mind has been ravaged, and she is reduced to a shell of her former self with brief moments of semi-lucidity, is she really still Alice?
Julianne Moore shows us that she is still in her prime, playing to every subtle nuance of the degenerative disease with precision and respect. Her character earns our respect and sympathy not through over-exaggerated examples of the disease's effects, but through understated sentiment.
Kristen Stewart's performance is also noteworthy, making it one of her best in the past year, and maybe even longer than that.
This film is wholly character driven and at no point do you feel forced or coerced into feelings of empathy; everything comes off as genuine, which is the film's greatest strength. This completely makes up for the film's biggest shortcoming, and that would be the unremarkable visual style.
Still Alice, based on the novel of the same name by Lisa Genova, is more of a question than a statement. When our mind starts to betray us, taking away our memories, our experiences and even our independence, are really still the person we used to be? Are we still Alice? Julianne Moore's inspired performance may sway you one way or the other on the topic, but ultimately leaves it open-ended. Aside from the great performance, it's earnest sincerity elevates what could easily come off as a made-for-tv Lifetime film. Instead, it leaves you understanding what going through that type of situation feels like, even if you've been fortunate enough not to have witnessed Alzheimer's effect first hand.
••
Battleship Pretension
, Scott Nye: When discussing the possibility of being rendered unable to speak or communicate, kept technically alive purely through machinery, but unable to experience any of life's joys, some people will insist their loved ones pull the plug and let them fade to death. "I won't be myself," they might say, or some variation thereof. Richard Glatzer and Wash Westmoreland's Still Alice ponders where that line between life and lifelessness might be, or if indeed it exists at all. In telling the story of a woman who suffers from early onset Alzheimer's, they explore the process through which a person loses all the hallmarks of herself, yet still retains a core humanity that they or their loved ones should not be denied, no matter how difficult the hardship. It's a remarkably generous and empathetic experience, sometimes to a fault.
Julianne Moore stars as Alice Howland, a professor of linguistics, who, with her three children (Kristen Stewart, Kate Bosworth, and Hunter Parrish) out of the nest, is looking forward to the next stage of her personal and professional life, during which she and her husband (Alec Baldwin) can focus on their academic careers while truly spending time together. Only she keeps lapsing, mentally. At first it's small – a misunderstanding in a conversation, her place in her notes during a lecture, or a name. One day, while out for a run on what seems to be her usual route, she finds she has no idea where she is. She sees a neurologist. Tests are done, and a diagnosis is made.
The diagnosis is less a way of explaining the present than charting the future. Every moment, potentially the last of its kind, is tinged with sadness. As good as Moore is at playing her character's eventual helplessness, it is these in-between moments in which she really shines, as Alice has to come to terms with the limits of her own ingenuity and, to a certain extent, stubbornness. Alice has clearly succeeded in nearly everything she set out to do in life, and is now confronted by something that simply cannot be beat. Her pride is too great to let go naturally.
Glatzer and Westmoreland, who wrote the screenplay as well (adapted a novel by Lisa Genova), smartly chart this course by dropping in on specific moments along Alice and her family's journey. Months might go by between cuts, and the dialogue they use to get us "caught up" never feels overly expository, while still suitably accomplishing the task. Their direction is generous to actors, framing around their performance, but their choices in where to place the camera and when to cut is very well-considered. In Alice's first appointment with her doctor, we don't see the doctor at all. The entire scene plays out with the camera on Moore, allowing us to see the way she processes his requests and questions. Later, while making Thanksgiving dinner, the cutting becomes rapid, highlighting Alice's confusion with so many elements at play, to the extent that we expect some sort of disaster. The relief is intensified, then, when one does not come. Directors on these sort of films are usually quite content (or even expected) to simply provide coverage, gathering a series of medium shots that can be cut in a conventional manner, but Glatzer and Westmoreland have a grounded, thoughtful sense of pace and how to use the camera to tell a story without making the camera the subject.
Each of the family members react to Alice's disease in different, sometimes surprising ways, but the film seems reticent to invest too heavily in the more negative ends, letting entire life-altering plotlines simply drop the moment they are raised. There is an extent to which the film's singular focus on Alice allows this, as not everyone can bear to be around someone who requires so much of them, but this is not quite fully developed either. In the moments in which it is addressed, it provides for some of the most dynamic material in the film, making the exclusion of it at others all the more difficult to accept.
It indulges here and there as a sort of rallying cry for research into the disease, hardly the most ignoble pursuit, but one which divests it from the real soul of the film, as Alice's struggle brings her exponentially closer to her youngest daughter (Stewart), with whom she previously had a rather difficult relationship.
Stewart is magnificently generous, able to sit in the background listening in a very active manner, engaging in even the quietest moments with a sense of compassion that is at once somewhat selfish, yet totally giving.
"What does it feel like?" she asks her mother, in a way that suggests she's asking purely for her own curiosity, but which opens up a conversation Alice desperately needed. Still Alice quietly acknowledges that intimacy is built largely upon mutually compatible needs.
While it loses sight of this vulnerability from time to time, Still Alice is nonetheless a heartfelt, caring portrait of one the more difficult struggles a person can undergo, to slowly lose oneself while remaining ever present. It diverges here and there, but its honesty and compassion are beautifully developed and expressed.
••
Word & Film
, Lisa Rosman: Without Julianne Moore, "Still Alice" might not be much of a film. This is not to say the adaptation of Lisa Genova's 2007 novel about a fifty-year-old woman stricken with early-onset Alzheimer's disease is otherwise mediocre, although it is so unobtrusively constructed that its virtues may be overlooked. But because it focuses on the perspective of a person with Alzheimer's rather than on the perspective of her caregivers, a uniquely gifted actor is required in the titular role. Who but Moore, with her radiant fusion of fortitude and empathy, could soldier us through a narrative whose unhappy ending is as inevitable as that of the Titanic?
Initially, Alice Howland seems like she has it all. A celebrated Columbia University linguistics professor, she is happily married to fellow academic John (an unusually muted Alec Baldwin), and the couple enjoy their three grown children as well as their well-appointed Long Island beach house and NYC brownstone. If she is a tad thorny when things don't go her way - her youngest daughter, Lydia (Kristen Stewart), an aspiring actor, bears the brunt of her mother's tenacity - it's nothing extraordinary in a modern Type A woman. But when Alice can no longer write off her memory loss and growing confusion as mere middle-aged malaise (read: menopause side effects), her worst fears are outstripped: She is diagnosed with a rare strain of Alzheimer's that is inherited and can be transmitted. "I wish I had cancer," she weeps, and although those with cancer might take umbrage at her disease comparison-shopping, we understand what she means. Especially in her line of work, she does not know who she will be without her formidable brain.
Although this narrative is completely linear, we are quickly discombobulated. The film's progression mirrors Alice's decline so that time itself seems to dissolve, like all the rituals, goals, and memories to which she clings with a devastating inefficacy. Daily runs become impossible; soon she can no longer remember regular appointments without the aid of her smartphone. Sooner still she forgets the layout of her own house: One afternoon, she soils herself before she can find the bathroom. Every time Alice finds a way to manage a new set of limitations, the ground beneath her feet crumbles again, and we live right inside her growing panic and sorrow. As her ability to perceive her surroundings deteriorate, even the film's clean lines grow fuzzy.
Because of Alice's high intelligence, her Alzheimer's has likely gone undiagnosed longer than it would have had she possessed fewer compensatory resources (ways to remember what she did not remember). The irony is she and her family possess very few "compensatory resources" once her now-rapid degeneration becomes evident; as cerebral people, they are especially ill-equipped to navigate her ever-increasing mental challenges. John, in particular, proves disappointing. "You are the smartest woman I know," he tells her early on, and when their shared value of independence proves no longer possible, we learn that objectifying a woman for her brain is as problematic as objectifying her for her beauty. Marriage on any contingency plan is precarious.
It can be argued that "Still Alice" is too Lifetime-for-TV neat; that its secondary characters are too two-dimensional. While I'd never claim this film was avant-garde, I admire directors and screenwriters Richard Glatzer and Wash Westmoreland's resistance to "fake stakes," the peaks and valleys that normally shape a film narrative. Instead, the hurdles that Alice clears - an instance in which she successfully collects herself after dropping her notes during a speech, an aborted suicide attempt - only pave the way for our growing acceptance that there is no way to subvert her ultimate obstacle. Similarly, it makes sense that Alice's family and friends don't feel quite real; long before she actually forgets their names, her ability to distinguish personality nuance has been compromised. We're there with her. Of course, this doesn't excuse everything: a linguistics professor who loses her words is admittedly a smack on the nose, as is the discovery of Alice's genetic disorder just as her eldest daughter (Kate Bosworth) is attempting to get pregnant.
What works beyond a shadow of a doubt is Moore herself. For a long time now, she has demonstrated an uncanny range and power without ever subjecting us to a shred of vanity. Here, she outdoes herself, channeling Alice's physical, mental, and emotional devolution with an alchemy that is as thrilling as it is harrowing. Her luminous features slacken, her cadences falter, her bright life force dulls.
Scenes with Stewart are especially heartbreaking. The younger actor is finally stirring back to life after all that mucking about with vampires, and the careful attentiveness she displays as Alice's daughter is key to the one form of hope that this film offers us: By definition, true love never changes form.
••
The Dissolve
, Scott Tobias: Rating 3/5
In Still Alice, a celebrated Columbia linguistics professor gets diagnosed with an aggressive form of Alzheimer's, makes a valiant attempt to hold onto her memory and her dignity, then stands by helplessly as the disease dismantles her life. That's it. That's the movie. Much like Michael Haneke's Amour, Still Alice has no illusions about what Alzheimer's can do, both to the victim and to the victim's family, who are present for the agonizing, day-by-day process of watching their loved one slip slowly away from them. For the purposes of movies like Still Alice and Amour, the disease has a built-in three-act dramatic mechanism: Early signs and diagnosis, treatment and decline, the inevitable letting go. So it's on the dramatist to figure out something original or insightful to say about Alzheimer's and its impact on a person's life and family, and that's where Still Alice suffers from a failure of imagination. It's undeniably moving, but straightforward to a fault.
Adapting Lisa Genova's 2007 bestseller, writer-directors Richard Glatzer and Wash Westmoreland do get a career-best—or career-best-equivalent, anyway—performance out of Julianne Moore as Alice, an academic whose intelligence and ingenuity are cruelly turned against her. Now in her 50s, Alice shares a beautiful home with her equally ambitious husband John (Alec Baldwin) and has three grown children, two of them settled professionals (Kate Bosworth and Hunter Parrish), and the youngest (Kristen Stewart) a struggling actress. When the first signs of Alzheimer's make themselves known—a forgotten item here, a hiccup in a class lecture there—it's easy enough to brush them off as standard-issue middle-age forgetfulness. But as her condition worsens, both before and after her diagnosis, Alice comes up with ingenious systems that help her remember things, while obscuring the speed of her deterioration from others and from herself. Before she falls away entirely, though, she has to live with the revelation that her strain of Alzheimer's is hereditary, so she may have passed it to one of her children.
The relationship between the progression of Alice's disease and her methods for coping with it is the most heartbreaking element of Still Alice, because it speaks to her brilliance at problem-solving and its utter uselessness in stemming the disease's pace. She's like Guy Pearce in Memento, devising little notes and breadcrumb trails to fill in the gaps, but Pearce has largely fixed his short-term memory problem, while Alice's memories (and basic functionality) are draining through a sieve. Moore handles the role beautifully, emphasizing Alice's fastidiousness and dignity as they unravel against her will.
Though Stewart's performance is bound to be overshadowed, she's every bit as good as the black-sheep daughter who feels a tug of responsibility as Alice's husband and other children grow more distant.
Glatzer and Westmoreland, whose spotty filmography includes the gay comedy The Fluffer and the recent Errol Flynn biopic The Last Of Robin Hood, go light on any artistic flourishes. Glatzer was diagnosed with ALS in 2011, and the directors seem to share an instinct to make this story as honest and unfussy as possible. But they still prod too much for emotional effect, and they so studiously avoid commentary on the family's extreme wealth and privilege that Alice's loss of the good life seems too central a part of the tragedy. So much of Still Alice rings true, but there's a thinness to it that makes it shrink in comparison to other films about the disease, like Amour or Sarah Polley's Away From Her. Alice's condition only accounts for some of its air of inevitability.
••
Movie Nation
, Roger Moore: Rating 3/4
Alice Howland is a woman of science, a Columbia University academic whose expertise is linguistics, the common ways babies learn languages as infants.
So if anybody instantly grasps the consequences of what her neurologist tells her, it's Alice. She's been forgetting things, having "senior moments" and bouts of disorientation. She's smart enough to consider the possibility of a brain tumor.
But no. The doctor uses the "A-word" — Alzheimer's, "early onset." A brilliant woman at the peak of her career has to, in an instant, process that and what she stands to lose. Julianne Moore, one of the best actresses to never have won an Oscar, lets us read all that on Alice's face. There is fear, a barely controlled panic. There is grief at what she knows is coming. And there is guilt, the slim chance that what she's facing could also doom the adult children who just joined her in celebrating her 50th birthday.
"Still Alice" is a melodrama about a disease, yet another screen survey of the course of the illness that robs us of our memories and thus, our identity. What separates this seemingly generic trip to ground that "Away from Her" or "The Notebook" or other film treatments covered isn't just Moore's performance, which is subtle, flinty yet warm. It's the generally unsentimental approach that co-directors Richard Glatzer and Wash Westmoreland stick to, the cool, rational decisions Alice makes while she is "Still Alice."
Alice is a smart cookie, but she's no saint and she's not made of stone. She may visit a city nursing home to get a peek at her fate, may hang onto teaching as long as she can. But in her sleepless nights, she breaks down. She wants one last year with her equally career-driven husband (Alec Baldwin).
But he insists that "We have to keep the important things going in our life." His research, the career that has taken up too much of his spare time — can she talk him into giving up that, even for love?
Alice wants to see her oldest daughter (Kate Bosworth) give birth, her doctor son (Hunter Parrish) find love and her youngest, Lydia, to find herself.
Lydia is an aspiring actress, and mom isn't above using her illness to try and manipulate her to go to college or figure out a more stable career.
Many of the best scenes of "Still Alice" are the brittle, yet sometimes funny mother-daughter debates between Moore and Kristen Stewart, perfectly-cast as a pretty, promising would-be actress a little too obsessed with her hair.
The family dynamic — sibling name-calling, even into adulthood — feels real. The dry doctor-patient interaction, putting Alice through memory tests, are quietly alarming.
And every so often, Moore's Alice slips, fails to make a joke that works about forgetting this or that, and breaks down. And our hearts break with hers.
Alice is the heroine of Lisa Genova's novel, and of the film. But it's a stretch to call her heroic. Moore makes us root for Alice, not for a cure, which still seems a reach, but for a completion of her life's goals, a chance to control her fate as long as she has the wherewithal to do it.
The guts of this gutsy performance are that we know, as she does, that this is the best she can hope for.
••
Texas Art & Film
, Dustin Chase: Rating B+
The 2014 Oscar race was in need of a frontrunner for best actress, and following the first screening of Still Alice at the Toronto Film Festival, they found it in long overdue Academy Award nominee Julianne Moore (The Hours, Far From Heaven). Originally it seemed Moore's supporting performance in Map of the Stars would land her in the gold derby for a 5th time, but that film is still dealing with distributor/release date issues. Still Alice is the exact type of film that gets actors nominated; it's honest, focused on a medical issue, and requires it's lead actor to not only study, in this case Alzheimer's, but deliver a progressive performance throughout the film. Moore, arguably one of the most prolific and uninhibited actresses of our generation, couldn't be more deserving of what is about to happen.
​ Dr. Alice Howland (Moore) is a professor of linguistics at Colombia, thriving on the positive stress and workload of her job while balancing three grown children and a loving husband. At age 50, Alice begins to forget simple words, introductions and the path to return home after a run in the park. She quietly sees a neurologist who, after a MRI and PET scan, gives her the bad news that she has rare, early onset familial Alzheimer's disease, which is causing her sporadic memory dysfunction. Devastated at the news, she reluctantly informs her husband (Baldwin) and then the children, since the familial part means it's handed down through generations. They begin to cope and comfort Alice as she fights to endure and retain as long as she can.
​Moore isn't the only actor in the road to Oscar, delivering a performance dealing with a progressive disease. Eddie Redmayne as Stephen Hawking in The Theory of Everything also showcases the small steps towards a gradual conclusion. Still Alice is a straightforward and simple film that follows a chronological narrative and honest interpretation of Alzheimer's. The script will likely be scrutinized due to the fact this is a wealthy family dealing with problems, and sure the struggle might have been a bit more interesting following someone who wasn't wealthy with three children, two homes, medical insurance and a live in care taker, but it is what it is.
​ ​I never felt like script or direction by Wash Westmoreland and Richard Glatzer, who cannot speak due to ALS and directed the film through a speech app on iPad, was intentionally sentimental. Each tear shed or heartfelt moment is truly earned, never more so than when Alice, in sound mind in the beginning, leaves her future self a video message. Scenes like Alice addressing her disease with the family and apologizing for it really help put into perspective what someone struggling to come to terms with Alzheimer's experiences. The film asks the audience to self-reflect for about 90 minutes, inevitably creating our own reactions and decisions in facing a similar struggle. The lean script could have used more of Baldwin and especially Stewart as the younger daughter.
Final Thought – Moore delivers an extraordinarily complex and heartbreaking performance.
••
Dana Stevens
: For several days after watching Still Alice, a tender and deeply sad adaptation of Lisa Genova's best-selling novel about a woman living with early-onset Alzheimer's, I caught myself scouring my everyday behavior for evidence of my own impending decline. Why couldn't I remember the name of a familiar character actor when his face popped up on TV? (It turned out to be Zeljko Ivanek, whose name you'd think would be simple to remember, if not to pronounce.) What were my house keys doing in the dog's empty water bowl? The degrees by which Alice Howland (Julianne Moore), a linguistics professor who's diagnosed at the shockingly young age of 50, becomes aware of her condition are gradual enough at first that blunders as small as this might matter. And Moore is so hauntingly good as Alice that, having spent the film's swift-moving 101 minutes in her company, you can't help feeling you've already walked some way down the path of dementia with her.
I didn't yet know while watching it that the production history of Still Alice uncannily mirrors the film's themes and story. The two directors, who also co-wrote the script, are married, and one of them, Richard Glatzer, was diagnosed with ALS shortly before he and husband Wash Westmoreland decided to adapt Genova's novel—in fact, it was the shock of that diagnosis that prompted them to take on the material. During the filming, Glatzer's condition deteriorated to the point of needing to communicate through a text-to-speech iPad app. The wisdom lent by this experience—of being a couple struggling with degenerative illness while collaborating on a film about that very subject—may be what gives Still Alice its quiet, unmelodramatic directness. Glatzer and Westmoreland don't need to stack the emotional deck on Alice's behalf or wring tears from the irony of a brilliant linguist's cognitive decline. They just leave the camera on Moore's beautiful but increasingly faraway face, and our tears come on their own.
Before Alice Howland's diagnosis, she has just about everything a person could reasonably want from life: a tenured professorship at an Ivy League school, teaching a subject she cares passionately about. An adoring, successful research-scientist husband (Alec Baldwin). Three grown children (Kate Bosworth, Hunter Parrish, and Kristen Stewart) who are all more or less happily making their way in the world. A Manhattan brownstone that's pristine and exquisitely appointed even by the standards of Hollywood-movie brownstones. Alice has even lucked into whatever genetic oddity it is that creates human specimens as impossibly good-looking as Julianne Moore. But Alice's lifelong luck is about to run out. A few days after her 50th birthday, she goes jogging on the Columbia University campus and suddenly gets disoriented. Standing outside the library she's used for years, she can't remember how to get back home—a fact the filmmakers establish not with dialogue or voiceover but through the use of unsettling music (the score is by Ilan Eshkeri) and shallow focus that turns Alice's surroundings into an indistinguishable blur (the warm-hued cinematography is by Denis Lenoir, known for his work with the French masters Olivier Assayas and Jacques Audiard).
Still Alice's script isn't always up to the level of Moore's performance, which is so profound and simple, so devoid of sentimentality or actressy self-regard, that it almost seems obscene to mention the word Oscar (even if I am now firmly on Team Julianne). The stages of Alice's decline are sometimes too clearly signposted and foreshadowed, in a way that can make the audience feel we're simply hunkered down waiting for the other shoe to drop—though to be fair, that faintly tedious sense of entrapment probably resembles the actual experience of loving an Alzheimer's victim. There are breaks in the entropy, though, including one genuinely inspiring scene in which Alice, in the middle stages of her decline, is asked to give a speech for a gathering of fellow Alzheimer's patients and their families. Having stubbornly insisted on preparing her talk according to the exacting linguistic standards of her old professorial self, Alice seems to have set herself up for humiliating failure. But the speech is an unexpected triumph—though Alice's radiant smile at the enthusiastic ovation she receives is edged with sorrow. This carefully worded and painstakingly rehearsed speech, we realize, was intended as an official farewell to the mastery of language she once so effortlessly commanded.
As Alice's mind begins to slip, her relationships shift in surprising ways. Her apparently stable marriage begins to reveals its cracks even as she grows closer to her youngest daughter, an aspiring actress who has disappointed her scholarly mother by flatly refusing to go to college. (
Kristen Stewart, who I think by now has earned the right to leave Twilight associations in her past, is perfect as the rebellious and cranky prodigal daughter.
) No movie that kicks off with a diagnosis of Alzheimer's is going to have what you'd call a happy ending, but some late scenes between Moore and Stewart capture the way the disease, in stripping away the person you thought you knew, can reveal someone new and precious underneath. Near the end, Stewart's Lydia, preparing for an audition, reads her mother a long, lyrical passage from Tony Kushner's play Angels in America. "What do you think that was about, Mom?" she can't resist asking, in an attempt to get inside her mother's increasingly foggy head. Alice takes a moment to find the word, but when she comes up with one, it's le mot juste: "love."
••
Immersion Online
, Levi DeYounge: Rating 3,5/5
Directors Richard Glatzer and Wash Westmoreland's (The Last of Robin Hood, Quinceañara) Still Alice tells an important message about the struggle and tragedy of Alzheimer's disease. Based on author Lisa Genova's novel of the same title, the film focuses particularly on early-onset Alzheimer's as the main character, Alice, quickly slips into dementia following her fiftieth birthday at the beginning. Not only does the film look at the problem facing Alzheimer's patients getting taken seriously, but it also tells a genuine narrative. The audience follows four-time Academy Award-nominee Julianne Moore's (The Hunger Games: Mockingjay—Part 1, Don Jon) Alice Howland and her family as her memories, abilities, and personality fade from memory. While it may not win several awards this year, Still Alice will get nominated for sure. It should be noted that co-director Richard Glatzer, himself suffering from the debilitating disease of ALS, directed the film through communicating by an iPad application.
The lauded highlight of the film is Moore's performance as Alice. Before her depressing descent into memory loss, Alice has quite the reputation as a game-changing linguistics professor working out of Columbia University. Her husband is a successful doctor, her oldest daughter and new son-in-law begin starting a family, her son looks poised to follow his father's figurative footsteps, and her youngest daughter acts on stage in Los Angeles. After losing herself on a campus jog, Alice decides to seek some help that leads to painful conclusions. The rest of the film follows Alice's struggle to find a place in the world now that her Alzheimer's has inhibited her. Still Alice was filmed out of sequence, meaning Moore had to gauge Alice's condition on a given day of shooting similar to Eddie Redmayne's performance as Stephen Hawking in The Theory of Everything. An Oscar nomination in 2015 seems like a lock for Moore's performance in this film.
Oscar-nominee Alec Baldwin ("30 Rock," Blue Jasmine) plays Alice's husband, a loving spouse who ultimately makes a selfish decision. While not drawing awards attention for his performance in Still Alice, Baldwin delivers a solid, real performance as John. At first in a state of semi-denial about his wife's condition, John quickly has trouble adjusting to caring for Alice's new set of needs. His career looks to be taking a bright turn toward Rochester, Minnesota, and the Mayo Clinic just when Alice's dementia begins to take an ugly turn. Many critics felt unaffected by John's ultimate decision, but it is neglectful and selfish simply judging by his final breakdown into tears on screen. It was great seeing Baldwin and Moore act together again after sharing terrific chemistry during Moore's guest role on "30 Rock."
Vampire-tween-fiction icon Kristen Stewart (the Twilight Saga, Snow White and the Huntsman) takes the next prominent supporting role as Alice's younger daughter, Lydia.
The other siblings, Anna and Tom, have more stability in their lives and live close to Alice and John's home near Columbia in New York City. Lydia works as an actress in Los Angeles and has a rocky relationship with Alice at film's start due to the instability of making a living working in the arts.
Stewart's performance has a layered nuance—holding back anger directed at her mother sometimes so as not to waste it on someone who would forget it anyway. As her mother needs more help from the family, Lydia appears to be the most receptive family member to her mother.
While telling a necessary tale about the patients and struggle of Alzheimer's disease, Still Alice gets disorienting at times—perhaps to put the audience in Alice's predicament if only for a moment? It can get a bit confusing when these time jumps occur without a nod or even a subtitle. Some longer shots focusing on the main character (jogging or evaluation) make the film a bit more compelling as the long shot technique seems popular for this awards season (Birdman and Whiplash also employ long takes). The message about love at the end feels a little thrown in for good measure, but the audience would never doubt one character's love for another in the film as the cast boasts strong primary and secondary performances.
Despite confusing time jumps that seem to coincide with Alice's memory lapses, Still Alice ultimately sticks with the viewer because of Alice's important speech in the second act. The characters and situations are real and believable—there isn't a Hollywood ending where Alice finds herself miraculously recovering and her family selfishly doesn't put Alice first when they should at times. The film doesn't boast the score of The Theory of Everything, the concept of Boyhood, the impressive ensemble of Birdman, or the budget of Interstellar, but it should at least find itself in Lead Actress award conversations. More important than awards and statues, however, Moore's compelling performance as Alice will make one misty-eyed and even fearful of developing dementia. Still Alice would have its audience take that fear and use it as a drive to eradicate Alzheimer's once and for all.
••
DY Film
: Rating 4/5
Still Alice is not the best movie of 2014, it may not even come close, but it is certainly the most affecting and the most brave. Where other films beat around the bush when it comes to tough subject matter, shying away from truly diving in, Alice is completely bold and honest in it's portrayal of a middle-aged woman suffering from Alzheimer's disease. The depth at which Alice's "struggle". as she refers to it, is examined here is second to none and at times truly heartbreaking.
Julianne Moore has been named a front-runner to take home the Best Actress trophy come Oscar night, and anyone who watches this movie will immediately understand why. She completely carries this movie, appearing in almost every shot. In the hands of a lesser actress, Still Alice could have become a very different movie. Where some actresses would've gone big and probably ventured into melodrama, Moore plays it completely understated. She plays Alice with such a realistic simplicity that when the character does inevitably break down it is both shocking and electrifying to watch.
She is surrounded by a very capable cast, though this really is Alice's story and she gets almost all of the screen time.
Kristen Stewart, playing Alice's daughter Lydia, makes the biggest impression. Stewart is an actress who is still having to prove to people that she is more than Bella Swan, and this is another great performance from her that could very well make you a believer or even a fan. Alice and Lydia's mother-daughter bond is the most important relationship in the movie and though she only has a few scenes, Stewart shows a raw intensity that captivates.
While the film is affecting and brave, it is also somewhat dull. This isn't a big issue to me personally but I know that a lot of people have had a hard time getting over the look and feel of the film which has been compared to that of a made-for-TV movie. I can see why some would feel that way, especially because of the cinematography. There are some really beautiful shots in the film but there are significantly more that look quite amateur and leave a lot to be desired. I also feel that at times the plot of the film definitely feels Lifetime like. The only real thing setting the film's plot aside from one that you can find flipping through channels on a Sunday afternoon is the intensity of the film, especially during the last half hour or so.
With an incredible performance from Julianne Moore that you will certainly see honored with at least a ton of nominations, a daring approach to the portrayal of Alzheimer's disease and a story with more heart than maybe any other movie this year, Still Alice is one of the most surprising films of the year, if not the most surprising. There have been many better movies this year, but none that feel so human and so honest.
••
Out Magazine
, Armond White: Some of the best movies by the best gay filmmakers are not about gay people. Think of the legends: Cocteau, Visconti, Almodóvar elevated world cinema by extending their sensibilities to address the essence of the human condition as in Orpheus, Bellissima, Senso, White Nights; often by concentrating on universal experiences or a female lead character whose actions and emotions illuminate all relationships as in Women on the Verge of a Nervous Breakdown. That's the model Richard Glatzer and Wash Westmoreland follow in Still Alice.
Julianne Moore plays linguistics professor Alice Howland, a 50-year-old married mother of three, who is diagnosed with Early-Onset Alzheimers Disease. How she suffers the loss of her thinking ("I am defined by my intellect, articulation, language") makes for a story of identifiable sorrow and tenderness. Glatzer and Westmoreland, partners who live together and have made collaborative films since 1994, think and feel outside the gay ghetto. Westmoreland, whose filmmaking apprenticeship includes several porn features, expands their repertoire.
Still Alice's non-frivolous subject has personal significance for the duo (Glatzer was diagnosed with ALS in 2011) but the film is notable for the continually broadened scope of their filmmaking (beginning in 2006 with Quinceañera which observed a teenage Latina's coming of age). Awareness of the larger world is also part of Glatzer and Westmoreland's humanity, their gay humanity, their artistry.
The essential subject matter of art does not change for gay artists. Alice's interactions with husband John (Alec Baldwin), son Tom (Hunter Parrish) and daughters Anna (Kate Bosworth) and Lydia (Kristen Stewart) have the requisite—and recognizable—tonal differences to make their varied personalities credible. Some scenes recall the familial insight of Thomas Bezucha's The Family Stone, another outside-the-gay-ghetto touchstone.
In Still Alice's best scenes, Glatzer and Westmoreland convey the value we place on our human functions and the complexity of family tensions. They casually and pointedly detail Alice's life habits: teaching, cooking, cleaning, speaking—everyday rituals that foreground and introduce mortality.
Westmoreland and Glatzer engage Alice's dilemma by showing what gay artists have learned from the AIDS crisis about humanity and mortality—from porn to profundity. The AIDS experience has taught the world compassion. That lesson is felt, despite the film's stylistic ordinariness, in Alice's conflicts with rebellious Lydia whose struggling acting career mirrors Alice's clinical struggle with self-expression.
Moore and Stewart have complementary acting rhythms with Stewart showing intensely beautiful anger and remorse; she channels it into Lydia's performance of a scene from Chekhov's Three Sisters and her own recitation of a speech from Angels in America, Part II (Perestroika).
Playwright Tony Kushner wrote Angels in America as an attempt to exceed party politics and sexual politics through visionary poetry ("souls were rising, floating up like sky divers in reverse"). He implied that spirituality transcends sexuality and his effort is affirmed when Alice fumbles to describe the play's scope but says "scape." It's a good gaffe because the landscape of gay filmmaking needs precisely the expansion of storytelling territory as Glatzer and Westmoreland demonstrate. That's how Still Alice differs from gay filmmaker Todd Haynes' repugnant Safe (1994), in which Moore also played a heterosexual woman plagued by illness.
Haynes' inability to empathize except with pathological conditions is an artistic disability. It is the opposite of what Cocteau, Visconti and Almodóvar have taught; opposite the broad humanity gay director Patrice Chereau showed in Son Frere, which transferred AIDS crisis to a wider experience; opposite Robert Altman's great leap forward into female and gay consciousness in Come Back to the 5 & Dime, Jimmy Dean, Jimmy Dean.
Moore's Alice, struggling with "the art of losing," isn't a high camp virago like a drag version of Bette Davis in Dark Victory or Susan Hayward in Stolen Hours; neither is she a non-camp drip like her role in Haynes' pseudo soap-opera Far From Heaven. Dealing with non-gay experience so sensitively, Glatzer and Westmoreland consider our spirituality. Still Alice awakens our human responses.
ELLE US Review, Karen Durbin
"Stewart, in particular, shines here as a deadly serious dramatic actor."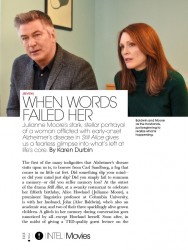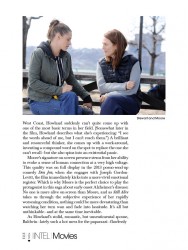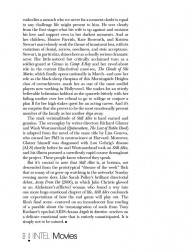 (thanks to @AdoringKS for the scans)

Deadline Review, Pete Hammond


Whistler Film Festival Review
"Kristen Stewart plays her concerned daugher and matches Ms. Moore beat for beat in their scenes together."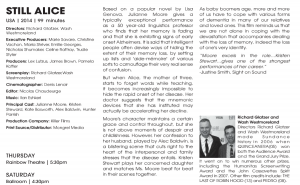 TWEETS
RT @teenogrigio The book made me bawl like a baby. The movie made me cry a river. So good!
RT @hamptonsjaylord #StillAlice intense, beautiful, heartbreaking
RT @sincerelyelaysa 'cause we just watched #StillAlice at the #FilmFestivalRoma and it is an a m a z i n g film!
RT @KetchumAtMovies Just saw Still Alice. Blown away by Kristen Stewart's performance. How can she not win the Oscar after voters see the film? Unbelievable. ♥
RT @davekarger Finally saw #StillAlice. Yes, Julianne Moore is that great. Not a false moment. 5th nod for sure and maybe even a 1st win (we can dream!).
Kate is very good as is the whole cast. Kristen Stewart is the supporting standout though.
RT @paulinagamiz what tragic yet, truthful n beautiful way to tell this story. #StillAlice
RT @__KRISTOFFER__ #StillAlice: 9.5/10
RT @AwardsCircuit Just cried with a lot of Academy members. Still Alice is fantastic. Julianne Moore is heartbreaking. Kristen Stewart is sensational.
RT @kerensacadenas KStew is amazing in Still Alice. Her reading a scene from Angels in America is everything I want ever aka future wife.
RT @Lulamaybelle #StillAlice: @_juliannemoore and #KristenStewart give strong, stoic & subtle performances in a heartrending tale. #AFIFEST
RT @schmvngpctrs Still Alice features Kristen Stewart's best performance since The Runaways.
RT @winifredtbh Julianne Moore just killed me in Still Alice. Fantastic, heart-wrenching performance. She's getting that Oscar come February.
The last scene in Still alice though. Damn, Kstew's been killing it this year!
I'm officially fully converted into a Kristen Stewart fangirl. Love her ♥
RT @dazedsunshine Wow! I still can get the words to explain Still Alice! Julianne Moore hand down win for Best Actress. Kristen Stewart powerful performance!
RT @bscritic #AFIFEST You know I almost never cry at a movie. But #StillAlice - bwaaaah
RT @TheDWHall Julianne Moore in #StillAlice - masterful, exquisitely nuanced & humane performance. Brilliant mother/daughter dynamic w/ Kristen Stewart
RT @BechdelTestFest Just saw Still Alice. Stunningly sad performance from JM. Marvellous mother-daughter story with beautiful Kristen Stewart. Sniff
RT @_ann_lee Thought it was a really beautiful story about mother/daughter/sister relationships. Kristen Stewart's finest work yet #StillAlice