'Still Alice' won for 'Best Movie About Women' and Julianne Moore for 'Best Actress' with 'Still Alice'. :)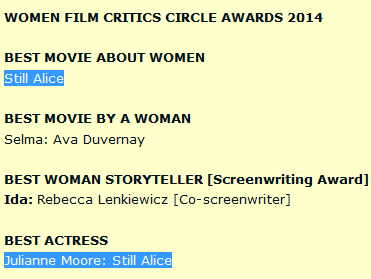 You can find the winners here.

December 10, 2014

'Camp X-Ray' and 'Still Alice' have been nominated for 'Best Movie about women', and Kristen for 'Best Actress' with 'Camp X-Ray'!
Julianne Moore is also nominated for 'Best Actress' with 'Still Alice'. :))
Congrats!!




You can find the full nominees here.

I haven't found when the winners will be announced so if you know please leave a comment below. :))

"The Women Film Critics Circle is an association of 57 women film critics and scholars from around the US and internationally, who are involved in print, radio, online and TV broadcast media. They came together in 2004 to form the first women critics' organization in the United States, in the belief that women's perspectives and voices in film criticism need to be recognized fully. WFCC also prides itself on being the most culturally and racially diverse critics group in the country by far, and best reflecting the diversity of movie audiences."
Thank you to @InfamousRosie20 for the tip! :)