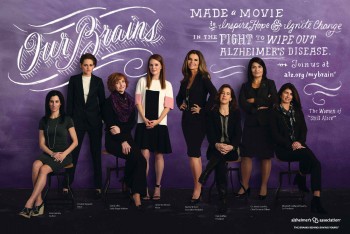 (Photographed on December 8, 2014 at the 'Still Alice' press days in L.A.)
| ALZ.ORG/MYBRAIN |
• From 'Still Alice' executive producer's blog
MariaShriver.com
: "Still Alice," may be receiving awards season buzz for the amazing performance of Julianne Moore, but the film, which unapologetically tells the story of an early-onset Alzheimer's diagnosis through the eyes of the title character Alice, is a project that aims to go further than film screens.
Co-executive produced by Maria Shriver, "Still Alice" hopes to raise awareness and ignite action in the fight to wipe out Alzheimer's disease — which one American develops every 67 seconds. Shriver is leading the charge, in partnership with the Alzheimer's Association, to engage women in using their brains to wipe out the disease. In this photograph she is joined by (from left to right) "Still Alice" author Lisa Genova, actress Kristen Stewart, Alzheimer's Association early-stage advisor Sandy Oltz, actress Julianne Moore, film producer Pam Koffler, chief science officer to the Alzheimer's Association and film advisor, Dr. Maria Carrillo and co-producer Elizabeth Gelfand Stearns.
Join her [Maria] in a Twitter brainstorming session today at 2p.m. EST/11a.m. PST to come up with ways we can all use our brains to fight Alzheimer's.
Use the hashtag #MyBrain to join.
• About the movement - Still Alice page •