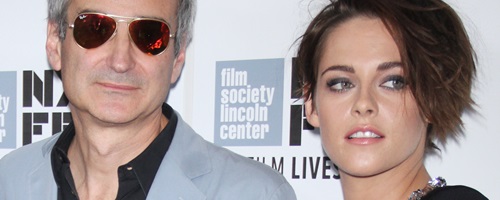 Eyeforfilm.co.uk
-
Richard Mowe: Can you elaborate on the different acting styles of Kristen Stewart and Juliette Binoche?
Olivier Assayas: That is very much what the film is about. They are actresses coming from completely different cultures. They have a completely different background and I have a completely different relationship with both of them. Acting is also part of what goes on between an actor and a director. It is just not out there on its own. Juliette is a very experienced actress who went through many phases. She is an actress who has had periods like a painter would have periods. In the early stages of her career she was heading in to a direction of controlling what she was doing and maybe intellectualising what she was doing and now she has gradually loosened up. She understood that she could be confident enough to improvise and to reinvent the scenes and to try things. Basically it is the process all actors go through because it is the only way they can have fun doing what they are doing. Someone like Kristen was doing the film because she felt she had something to learn from Juliette. She thought she had been limited in what she has been able to do in terms of her acting by the rules and stiffness of what is expected of a young American actress in an American film. She had a sense of that there was more to acting, there was more space and that she could try things the same way Juliette tries things. What made the chemistry between them in this film was the fact that Juliette understood that and understood that she could give her something and they started very far apart and gradually got closer and closer. They learned to function as a couple – and even at times seemed to become one person. I saw Kristen trying things she obviously got from Juliette and that she wouldn't have touched during the early days of our shoot.
RM: You seem to be attracted to strong women in your films. Why?
OA: Not just in my films – in my life too! I have been lucky to have made movies with great actresses. I have been privileged – I have worked with Juliette and Kristen and Maggie Cheung, Asia Argento, Jeanne Balibar and so on. It is difficult to explain what inspires you but I think that portraying women in modern society is exciting and interesting. There is a sense that what defines the contemporary world is the way women have been empowered and how they have learned to use that power and that has been a subject that has fascinated me not only in films but in real life and in art and how society is changing.
RM: What did Kristen Stewart bring to the table?
OA: I suppose she was able to play around a bit with fame and Hollywood and her Twilight persona. She brought a new dimension. Juliette was part real and part fiction and suddenly Kristen also was part real and part fiction. It became a very different kind of film – in my other movies I try to erase the actors and have them blend in to the characters whereas here I realised that it was important that you were in and out of their personas. The film hovered between their characters and themselves as individuals.
Clouds Of Sils Maria is released in the UK on 15 May. Richard Mowe talked to Olivier Assayas at the Rendez-vous with French Cinema in Paris.